AUBURN
Film Study: Red-hot running game has revitalized Auburn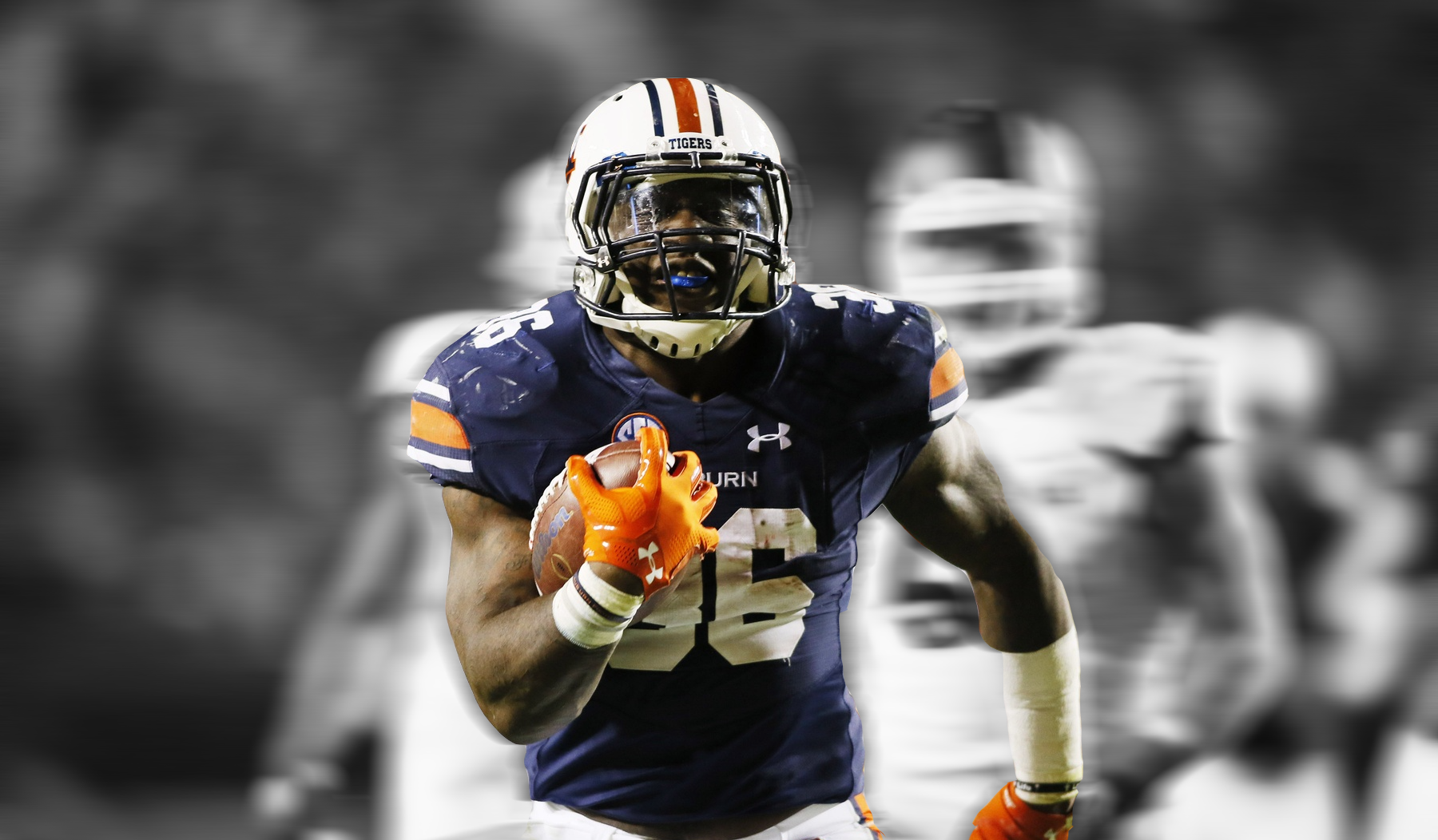 Film Study: Red-hot running game has revitalized Auburn
By Matt Hinton
October 27, 2016
A weekly look inside an SEC playbook.
Of all the conceivable turns the 2016 season could have taken, here's one you probably didn't see coming in mid-September: Auburn is good again.
Depending on your allegiances, you could argue that Auburn is really good and getting better by the week. In a little more than a month, the Tigers have surged from also-rans with an embattled head coach to become the fastest-rising team in the nation, owners of a four-game winning streak and, as of last weekend, the most productive rushing attack of any major-conference offense.
The breakthrough was last week's eye-opening, 56-3 romp over Arkansas, a culmination of weeks of progress that brought to mind Gus Malzahn's best Auburn teams at full throttle. Against a division rival that came in ranked 17th in the nation, the Tigers piled up 543 yards rushing — an SEC record for a regular-season conference game — en route to their largest margin of victory over an SEC opponent in 46 years.
It was the best rushing total this season for any FBS team, and the best rushing total for any team against Arkansas, ever. Auburn scored touchdowns on eight of 12 offensive possessions, including scoring drives that covered, 58, 67, 69, 78, 80, 86, and 91 yards. Big plays abounded: The Tigers broke seven runs of 20 yards or longer, compared to three 20-yard runs in their first three SEC games combined. The last time an Auburn offense looked this good against a ranked opponent, it was punching its ticket to the national title game.
For a team that was so recently teetering on the brink of irrelevance, the blowout was validation that it can still be a player in the rough-and-tumble SEC West. Pollsters were convinced enough that the Tigers have turned a corner to elevate them to 15th in the AP Poll and 17th according to the Coaches, the biggest jump this week in either poll along with LSU. Analytic and stat-based ratings were even more impressed, with Auburn landing in the top 10, according to Jeff Sagarin, Kenneth Massey, S&P+ and ESPN's Football Power Index. With four games to go until the all-defining trip to Alabama, the Tigers are in better position than anyone who saw them in their early losses against Clemson and Texas A&M could have guessed. The question now is, do they have the staying power to capitalize?
Back to Basics.
The offense that will take the field this weekend against Ole Miss has evolved from the one we saw against Texas A&M in several ways, some big and some small. At the top, Malzahn surprised everyone by handing over play-calling duties to his 33-year-old offensive coordinator, Rhett Lashlee, whose career prospects have taken off as a result.
Personnel-wise, the Tigers have doubled down on sophomore Sean White as the full-time quarterback and reshuffled the starting offensive line, moving Austin Golson from left tackle to center and turning to Texas transfer Darius James to fill the vacancy at LT. John Franklin III, the dynamic JUCO transfer who commanded so much of the offseason attention in the QB race, has been relegated to garbage time as White's backup. Senior Jeremy Johnson, once regarded as a rising star, hasn't taken a snap since the opening-night loss to Clemson.
But the single biggest development between then and now is the emergence of sophomore running back Kamryn Pettway as a productive, high-volume presence between the tackles — a role that, six weeks ago, it looked like Auburn wasn't going to be able to cast.
In fact, if not for a wave of attrition since last winter, it's unlikely that Pettway would have figured into the Tigers' backfield rotation at all: As of late August, his most relevant qualification was that he was one of only two scholarship backs left from the 2015 roster following the premature departures of the team's leading rusher (Peyton Barber), his top backup (Jovon Robinson) and a former five-star recruit (Roc Thomas) with two years of eligibility remaining.
Even then, first crack at the starting tailback job in 2016 fell to sophomore Kerryon Johnson. Pettway, a former three-star recruit who started out at fullback, didn't record a carry last year as a redshirt freshman, or in the first game this year.
From that point on, though, he's been the hardest-working back in the conference, logging nearly 20 carries per game in the five games he's played (He sat out the Tigers' blowout win over Louisiana-Monroe with a bruised quad). In the two games since the injury, Pettway has taken the cliché every-down back to literal extremes:
He shouldered 39 carries against Mississippi State, the highest single-game total this season for a major-conference back, en route to 169 yards and 3 touchdowns; against Arkansas, he ran it 27 times in the first three quarters alone — he wasn't needed in the fourth — for 192 yards and 2 more scores. This week, he comes in as the SEC's leading rusher, exceeding Peyton Barber's average last year by 38 yards per game.
More importantly, for an attack that had been groping for an identity, Pettway has given Auburn a consistent, coherent focal point from one down to the next. Like Malzahn's best teams, this is a power-running outfit at heart. Everything else is built on top of that foundation.
From the Ground Up.
Before we get to the highlight reel against Arkansas, a quick recap of the lowlights. The last time I broke down Auburn's offense in mid-September, the statistic that set off the loudest alarm was the sheer volume of negative plays: Through three games, the Tigers had already allowed 32 tackles for loss, twice their 2015 rate, and the most in the nation up to that point. The game film against Clemson and Texas A&M was full of plays that looked like this one — slow-developing and immediately detonated by an edge defender aggressively attacking the mesh point on the read option.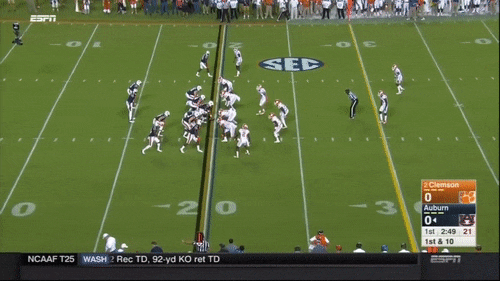 That was a recurring theme in those early games, much to the frustration of right guard Braden Smith (No. 71), who was repeatedly asked to pull to his left and block defensive ends charging upfield much too quickly for Smith to do anything but lunge futilely as they passed by. Note the complete lack of interest on this play for Clemson's Clelin Ferrell (No. 99) in the end-around action to his side of the formation.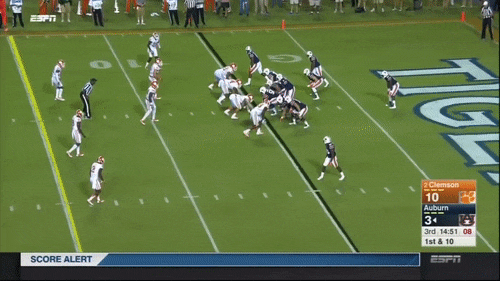 After Clemson's success attacking the mesh, A&M took the same approach with its blazing-fast edge-rushers, Myles Garrett and Daeshon Hall, with similarly destructive results. Clemson finished with 14 tackles for loss against Auburn; the Aggies racked up 13.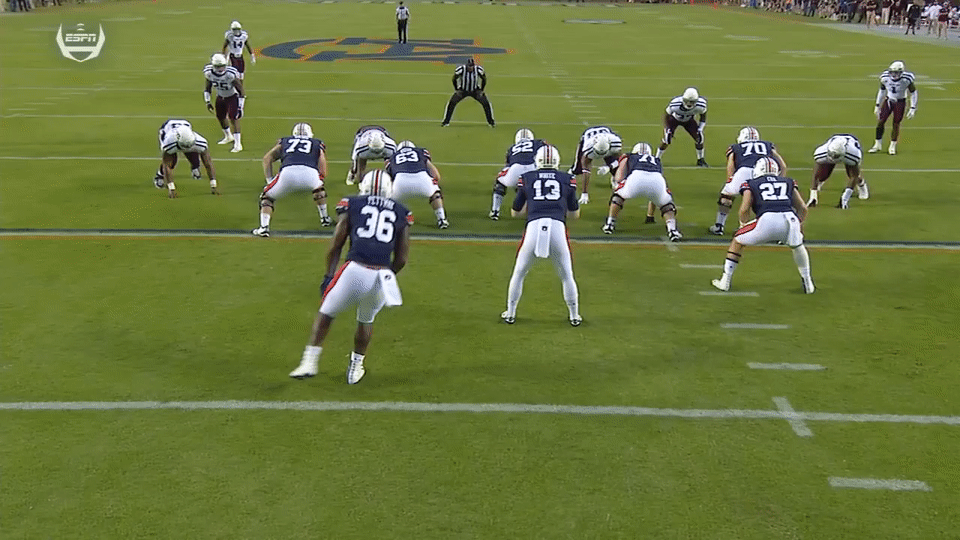 In the meantime, though, those negatives have plummeted — LSU managed just 4 TFLs against Auburn, as did UL-Monroe the following week, Mississippi State recorded 3, Arkansas recorded none. The average across those four games (2.75 TFLs/game) would rank among the best rates in the nation for the entire season, a full, 180-degree turn for a unit that started out among the very worst. And the best explanation for that improvement is that, with Pettway at the center, the base running game has become very basic.
For example, take a look at the play-by-play for this pair of touchdown drives against Mississippi State, which came on back-to-back possessions in the first half. Pettway's carries are shaded: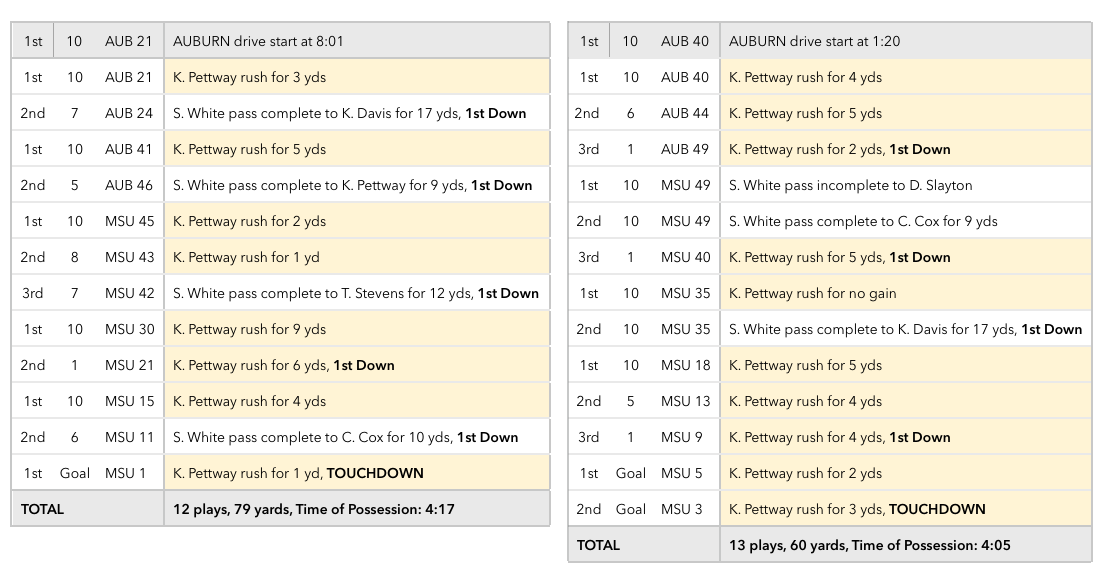 On those two drives alone, that comes out to 18 carries (!) for 65 yards in roughly one quarter's worth of time of possession, with a long gain of just 9 yards. That is straightforward, salt-of-the-earth stuff, and if you dare to watch those possessions unfold on film, you'll see that they looked as archaic in real time as they do in the box score: No receivers in motion, few if any reads by the quarterback, barely even a pulling lineman (Aside from a quick toss and a couple of buck sweeps, both Malzahn staples, the rest of Pettway's carries on these drives were no-frills inside zone plays).
The game plan was essentially Pettway plunging straight ahead, as quickly as possible, as many times as necessary, with some safe, play-action passing mixed in. And that largely worked.
So what does that plodding, methodical mentality against Mississippi State have to do with the Tigers' gonzo performance against Arkansas? A couple things: Most obviously, it remained the default setting for Pettway's career night against the Razorbacks, which again was the result of his ability to churn out 5- and 6-yard gains on a consistent basis.
It's no small feat for an individual back to rack up 192 yards against an SEC defense without breaking any big runs — Pettway's long gain vs. Arkansas went for 27 yards, just shy of his best gains against MSU (29 yards) and Texas A&M (33) — or being brought down behind the line even once. But in addition to reaffirming his between-the-tackles bona fides, Auburn was also able to exploit them to maximum effect.
Take the Tigers' first play from scrimmage, a tone-setting, 78-yard touchdown run by true freshman Eli Stove on a jet sweep. Design-wise, there's not much to this; the closest thing to a wrinkle is that Sean White moved under center for the snap, whereas Auburn usually works exclusively out of the shotgun. Otherwise, it's a play Auburn has run for years under Malzahn, a straight outside hand-off to one of the fastest players on the team running behind a pair of open-field blocks by fullback Chandler Cox (No. 27) and wide receiver Tony Stevens (No. 8) to spring him down the numbers.
Keep an eye on Arkansas' linebackers, though, and it's easy to see how integral Pettway's presence is to this play's success: Despite the pre-snap motion (not to mention the subsequent hand-off), neither LB initially reacts to Stove at all. Instead, with no pulling linemen to lead them outside, their first steps are straight up the field in anticipation of clogging the middle against the kind of straight-ahead run they'd seen on film ad nauseum.
That allows them to be easily outflanked by LT Darius James (No. 78) and LG Alex Kozan (63), who neutralize any inside-out pursuit on the second level. The same goes for the unblocked defensive end to the play side, Deatrich Wise Jr. (48), whose first priority is to close down an inside running lane rather than charging upfield and risk being caught out of position vs. a Pettway cutback. He's effectively "blocked" without an Auburn player laying a finger on him.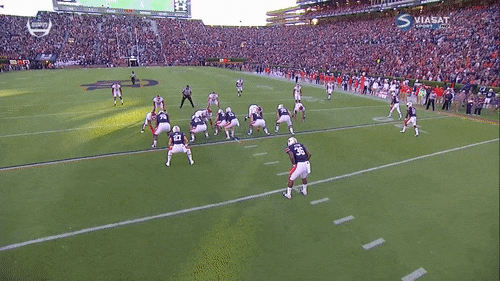 It was that kind of night for the Razorbacks, who not only absorbed a down-by-down pounding from Pettway, but were repeatedly caught flat-footed and outnumbered by the rest of the Malzahn/Lashlee playbook as well. Later in the first half, having effectively rammed the ball down the Hogs' throat for most of the night, Auburn returned to the jet sweep action, this time with Ryan Davis in motion, and Pettway replaced in the backfield by recently converted wide receiver Stanton Truitt.
At this point, Truitt had already run for one touchdown to extend the Tigers' early lead to 21-0, and White's only pass attempt beyond 5 yards downfield was a badly underthrown ball in the first quarter that should have been intercepted. His second attempt would fare much better.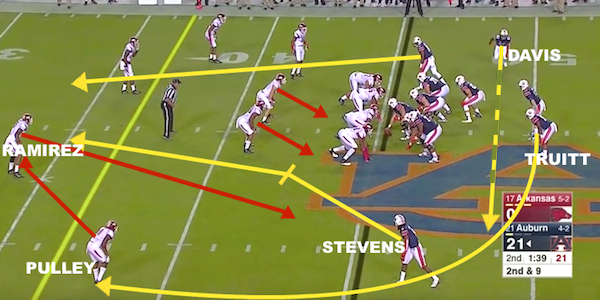 Understandably, having been burned once by the jet sweep and yet to be challenged deep, Arkansas safety Santos Ramirez (No. 9) reacts aggressively to the pre-snap motion to his side of the field, flying into the box as soon as Davis starts across the formation. At the same time, though, that left cornerback Ryan Pulley (No. 11) all alone vs. Tony Stevens, who (just as he did on Stove's ice-breaking touchdown run) initially works inside as a would-be blocker before taking off down the middle of the field.
Although he has deep-middle help from the opposite safety, Josh Liddell, Pulley still elects to follow Stevens inside, leaving Truitt all by himself on a well-timed, well-executed wheel route out of the backfield.
(The RB wheel is another Auburn staple: Against Mississippi State, the Tigers gained 42 yards on a similar concept that left freshman Kameron Martin as wide open down the sideline as Truitt was on the play diagrammed here. For a quarterback like White, who is smart but decidedly lacking in next-level arm strength, creating open targets out of the backfield is a key aspect of manufacturing a downfield passing game that consists of something other than jump-ball heaves).
Sticking with the jet-sweep theme, let's jump to the fourth quarter, by which point the score was out of hand, Pettway had called it a night and the Razorbacks had more or less conceded to their fate on the wrong end of a historic rout. Again, Truitt is the tailback, this time with John Franklin III in for White at quarterback. Again, Ryan Davis is the motion man, commanding the attention of seemingly every member of the defense — this time, watch both linebackers and both safeties over-pursue to the wide side of the field, leaving a massive crease for Truitt right up the gut.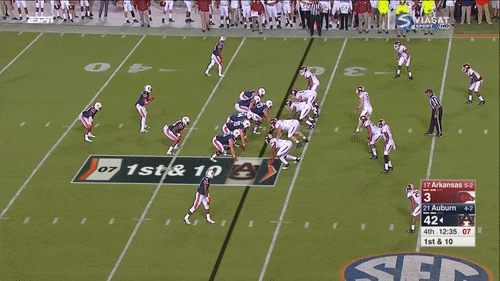 Truitt's emergence in this game as a big-play complement to Pettway and Kerryon Johnson (who didn't play at all due to a sore ankle) was a pleasant surprise, and when you add Kam Martin — who capped the scoring with a 51-yard run later in the fourth — suddenly the position that looked like the thinnest on the team in August looks like arguably the strongest backfield in the conference outside of LSU's.
But watch this play again: That is a worn-out defense, the end result of a 240-pound workhorse and a veteran offensive line gradually, repeatedly imposing their will for the majority of the night. After all, when you've reached that point against an otherwise respectable defense, the holes start to look like this…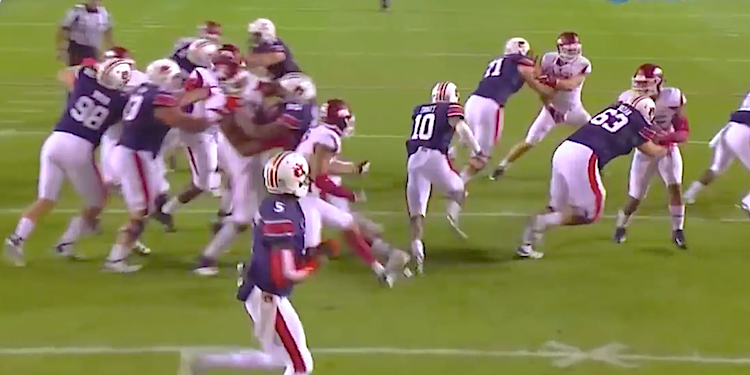 … and it hardly matters who's been assigned the pleasure of running through them. But getting to that point is another story.
To Saturday and Beyond.
Good news for Auburn this weekend on a couple fronts: One, Kerryon Johnson is expected to be back at full strength, adding another threat to the equation that Arkansas didn't even have to contend with. And two, Ole Miss ranks dead last in the SEC in rushing defense, having yielded at least 200 yards on the ground in all four conference games. Alabama and LSU have both gashed the Rebels for more than 300 yards.
If the Tigers get out of Oxford with their conference record and their resurgent reputation intact, then the stakes in November will be very real: At 4-1 in the conference, all that would be left standing between Auburn and a winner-take-all Iron Bowl with the SEC West on the line are dates with Vanderbilt, Alabama A&M and a Georgia team that, so far, has yet to live up to the "G" on its helmets.
(There's also the possibility of a three-way tie at the top of the West standings with Bama and Texas A&M, as long as we're jumping ahead). Hypothetically, that sounds like legitimate 2013 territory — the prolific ground game, the midseason surge, the out-of-nowhere usurping of Alabama for the SEC crown. It's all within reach. You know, in theory.
And as farfetched as that scenario may sound right now in reality, the only reason it's even a speck on the horizon is the glimpse Auburn just gave us into its enormous potential on both sides of the ball (The current defense is undeniably better than the 2013 edition, still the most generous unit to play for a championship in the BCS/Playoff era). That will hold up until further notice.
The Tigers have identified what they do best, made it their bread-and-butter and are just beginning to figure out how to exploit their other skill players within that identity. Their early losses at the hands of teams that currently reside in the AP top 10 with a combined 13-1 record, are easy enough to write off in retrospect as growing pains.
Meanwhile, each win has been better than the last. The improvement over the course of just a few weeks is reason enough to suspect the best may be yet to come. If the evolution continues at anywhere near the same pace, anything is still possible.