AUBURN
Auburn Bulldogs? Tigers taking some heat for posting graphic featuring Matthew Stafford, Todd Gurley and AJ Green
It's that time of the year as college programs are getting creative to come up with graphic ideas during the offseason.
While not nearly as bad as some of the content we've seen come out of Florida State's graphic team over the years, Auburn has produced an interesting graphic featuring all the accomplishments of the program's current coaching staff.
This comes after Auburn had a disappointing showing in the 2021 NFL Draft with just four total selections during the event and none within the first two rounds.
The idea to showcase the achievements of Bryan Harsin's staff is a good one, as the 10 assistant coaches on The Plains have won a total of 30 conference championships, coached in 82 bowl games, and have over 150 years of college coaching experience.
Auburn did a great job highlighting that.
On the other hand, the Tigers likely would have been wise to leave Matthew Stafford, Todd Gurley and AJ Green off this graphic, even if current Auburn coaches developed those players at Georgia.
Showcasing the talent your rival produces isn't going to win over many fans.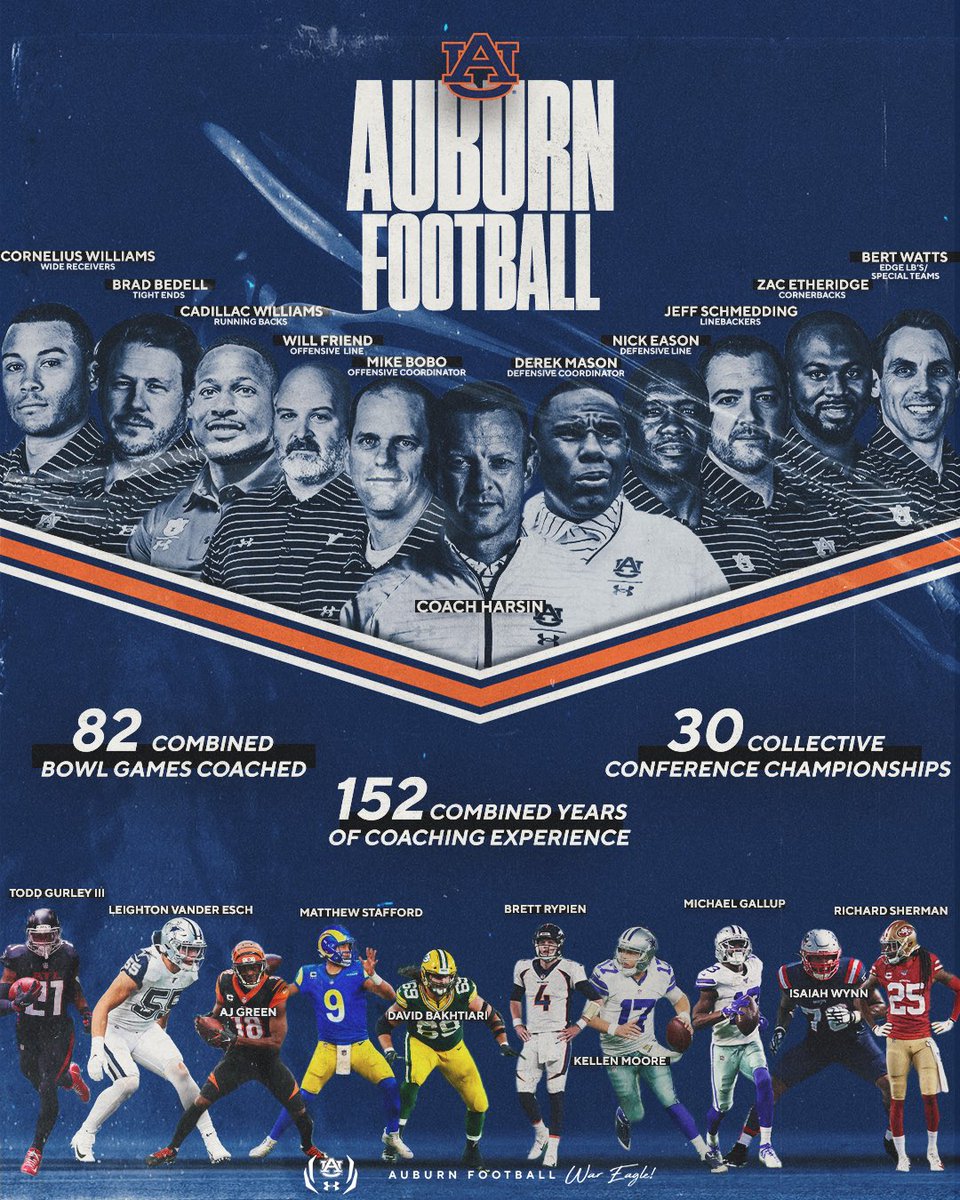 As you could have expected, many of the comments to this graphic were unkind:
An interesting way to say "Go Dawgs" but we'll take it? https://t.co/cie5s7OnYN

— Payton Bradford (@paytonmbradford) May 4, 2021
Just noticed there are 4 Georgia guys on there 🤣

— lane weitz (@leweitz62) May 4, 2021
This is hilarious and sad at the same time.

— John Banks (@Johnban97600686) May 3, 2021
None of which played for AU. This is an embarrassing graphic. Do much better

— Martin Starling (@Martin_Danger) May 3, 2021
This is an embarrassment, maybe I should switch to @GeorgiaFootball

— Eddie Wood🎣🇺🇸 (@renegade_ed) May 4, 2021
Ouch, UGA fans are about to have fun with this 😫

— Matt Culver (Auburn Equestrian 8-1) (@matthew0054) May 3, 2021
Please keep producing content like this. Makes Bama look even better. Highly doubt any 5 stars are looking at this poster and saying "I want to be the next Rypien"

— e g z h e (@egzhe) May 4, 2021
Go Dawgs. LMAO.

— John McKay (@itseasymmkay) May 4, 2021
— The Saban Factor (@TheSabanFactor) May 4, 2021
— Drew (@drewtunnell) May 4, 2021
— Troy Sims (@troysims8) May 4, 2021