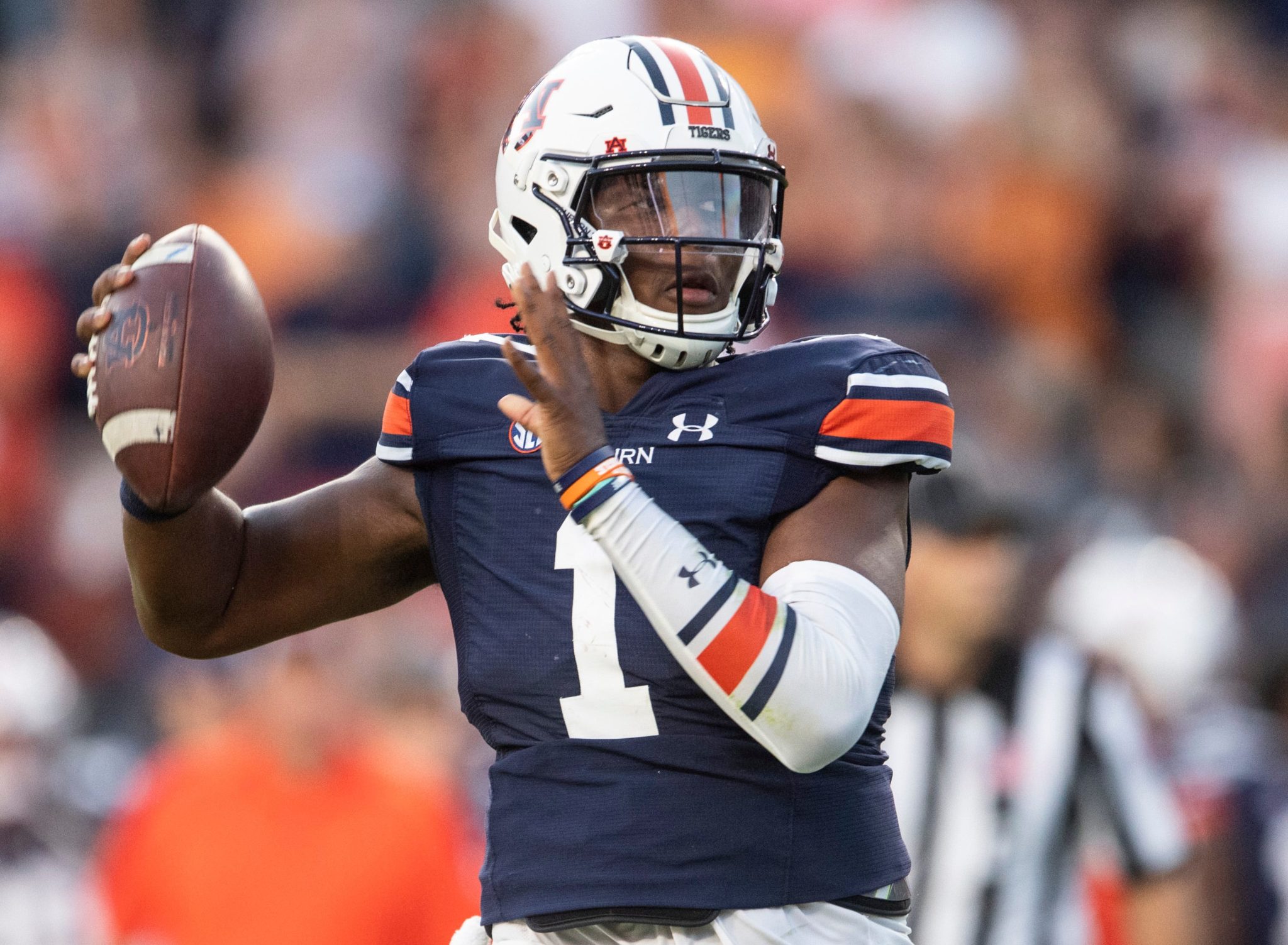 AUBURN
Hayes: Auburn has a QB problem that's going to get Bryan Harsin fired
There's a safe convenience to it all. The orange jerseys, the orange out, and if you keep saying orange over and over, you just might forget the undeniable that's unavoidable 3 weeks into the season.
Auburn doesn't have a quarterback.
That's a brutal place to be for coach Bryan Harsin, who spent much of the spring trying to avoid getting fired by the Auburn administration before eventually keeping his job in what looks like a one-shot opportunity.
Ask Scott Frost how that works.
Now here we are at the first checkpoint of the early season and rolling into a big nonconference game against Penn State, and Harsin found himself earlier this week defending a quarterback room that – if possible – is uglier than the attempted coup this spring by Auburn's boosters.
"They were OK, both of them," Harsin said of quarterbacks TJ Finley and Robby Ashford. "We were good enough to win at the end of the day."
Against San Jose State — against a double-digit underdog that shouldn't have been sniffing victory. But there the Spartans were, trailing by 4 in the fourth quarter before eventually losing by 8.
You don't have to look far to figure out why. Auburn has an elite defense, and the Tigers have one of the top running backs combinations in the SEC. What Auburn can't do with efficiency is complete a pass. The Tigers have thrown 1 TD pass in 2 games. Only 4 Power 5 programs have thrown fewer. They average 190 passing yards per game — 103rd in the country.
Finley didn't complete a 3rd-down throw against San Jose State until his last throw of the game midway through the fourth quarter. Auburn got the ball once more, and Ashford finished by running zone read and bleeding the final 2 minutes.
Because he certainly wasn't going to throw the ball, which has become an adventure with each attempted pass over the first 2 games against FCS Mercer and Group of 5 San Jose State.
Just how hideous is the passing game? Harsin was asked about his wide receiving corps, which other than the quarterback room, is next in line in dysfunction. His response was telling and brutal all at once.
"You've got to get the ball to the receivers," Harsin said. "It wasn't their fault. We threw to the other guys. You've got to throw it to our guys."
It is here where I remind everyone that Auburn still must play the SEC West and Georgia, and quite frankly, the way the Tigers throw the ball, every game moving forward is difficult. You can't compete at this level, and the first problem that needs fixing with the passing game is throwing to the right team. Only 3 teams in the country have thrown more interceptions than Auburn (4) — and 2 of those teams have played an extra game already.
This thing is a mess because it hasn't been recruited and developed properly for years, both by this staff and the previous staff (led by former coach Gus Malzahn). The top 3 quarterbacks on the roster are transfers: Finley (LSU), Ashford (Oregon) and Zach Calzada (Texas A&M), the curveball in this bizarre offseason of finding your best quarterback.
Calzada apparently still isn't ready to play after Harsin pronounced him "full-go" physically in May – but said in August that Calzada was still "catching up" in preparation to play. If you're confused now, don't let your eyes fool you.
We've seen Calzada play, we watched him make big throws last year in a win over Alabama. His arm talent is among the best in college football. He's a tough player who is willing to stand tall in the pocket and take hits.
Unless Calzada isn't physically "full-go" as Harsin declared in May or isn't playing because of an undisclosed problem/punishment, there's no reason for him to not be on the field at this point. Right now, in this game.
Harsin spent as much time during this week's media availability defending his quarterbacks as questioning them. He talked about the three-step process in the passing game, and how it's not all on the quarterbacks.
It's pass protection, it's receivers getting open and catching the ball, and it's quarterbacks throwing on time and with anticipation.
You know who he didn't mention? Calzada.
We're 2 games into the season – 2 ugly performances by 2 quarterbacks against overmatched teams – and it's clear what's playing out at quarterback isn't going to cut it.
Finley had opportunities at LSU and Auburn, and it hasn't worked. Ashford played more baseball at Oregon than football and is a talented project, but he's not a thrower. At least not yet.
This is where Auburn sits heading into an important game against Penn State, and with the entire brutal SEC West schedule (and a game at Georgia) still ahead. At this point, the Western Kentucky game in November isn't guaranteed.
"Turnovers hurt us," Harsin said of the quarterback play against San Jose State. "The (interception) TJ threw, the kid made a good play on it. The other one (from Ashford) was just not a good throw. We've had 4 turnovers and gotten 0."
Harsin paused for a moment and continued while underscoring the reality of the moment.
"That's not a good formula that's going to be sustainable," he said.
Until Auburn gets better quarterback play, or until Calzada suddenly becomes ready to play, that formula isn't changing. The ball doesn't go downfield, and defenses roll up and sit in a 15-20-yard box and don't have to defend the entire field.
They load up to stop the run and force 2 quarterbacks who struggle to throw the ball to prove they can win by throwing. Mercer and San Jose State didn't have the talent to make it work.
Penn State does – and so does the rest of the SEC.
All the orange in the world isn't going to cover that ugly.