AUBURN
LOOK: Bruce Pearl convinces Apple CEO Tim Cook to add Auburn basketball emoji to his Twitter profile
Apple CEO Tim Cook is a Mobile, Alabama, native and went to Auburn for his undergrad college experience. He then went to Duke to get his Master's degree.
Therefore, come football season, he's an Auburn fan and, come basketball season, he's a Duke fan. Until now. This year, Auburn is going to the Final Four, while Duke lost in the Elite Eight to Michigan State.
After the big win, Cook congratulated coach Bruce Pearl on the first trip to the Final Four, and Pearl responded with a simple request. As you can see below, he asked Cook to add an Auburn basketball emoji to his Twitter profile:
Done. War Eagle!

— Tim Cook (@tim_cook) March 31, 2019
Cook was a man of his word, as you can see here: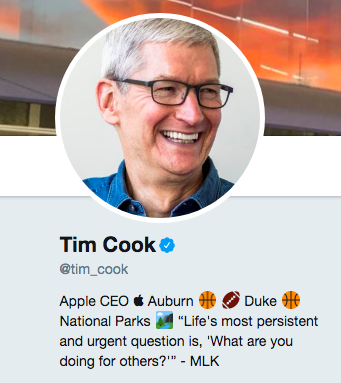 Cook will be rooting for the Tigers against Virginia and potentially against either Michigan State or Texas Tech in the title game.