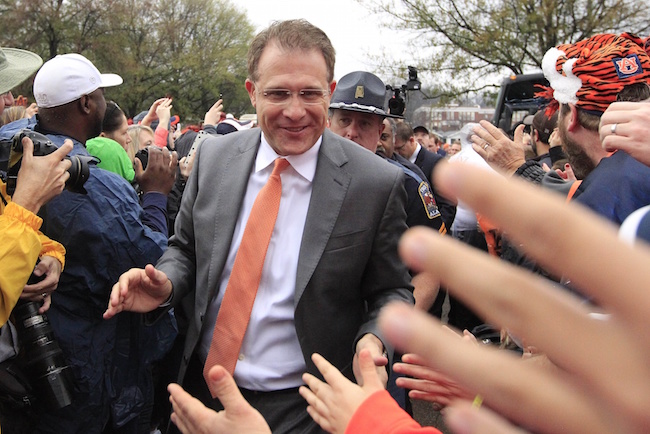 AUBURN
5 reasons Auburn will be a top 25 team in 2016
Is this even possible? A team that aimed so high and fell so low in 2015, ranked in the top 25 next season?
Of course, it's possible. It's Auburn, a program that suffers through down years but bounces back to the top with regularity. There is plenty of time between now and the start of 2016 for Auburn to address the problems that nagged them in '15, for new coaches to make smart decisions and for players to compete, mature, and develop.
Here are five reasons why Auburn can get back into the top 25 next season:
1. Kevin Steele will bolster Auburn's defense. First of all, the defense will be riding momentum from the bowl game win over Memphis, where they shut down a highly-effective quarterback (Paxton Lynch) and passing offense. Second of all, Carl Lawson is confirmed to return to the team next year, which means the heart of the defense will remain intact. Third, Auburn has a secondary that is still developing, but has shown tremendous potential over the past season. And lastly, Kevin Steele, the coordinator who managed the fifth-best defense and third-best rushing defense in the SEC last year at LSU, will be leading the charge.
2. The quarterback play is bound to improve. At times, it felt like the only missing piece to Auburn in 2015 was the right quarterback. Sean White and Jeremy Johnson both struggled mightily at times this season, but both will be back and the year's experience should be helpful. They're not alone at the position, however. New recruits are on the way, which should make for some healthy competition at the position, both in the spring and in fall practice.
3. Valuable recruits will add depth and options to the team. Auburn's 2016 recruiting class ranks fifth in the SEC and eighth nationally. So far, it consists of one five-star recruit, eight four-star recruits, and nine three-star recruits. It also consists of players who could have an positive impact on the team right away. Four-star receivers Kyle Davis and Eli Stove add much needed personnel to a position that needs depth and reliability. Five-star defensive end Marlon Davidson and four-star defensive tackle Antwuan Jackson will fill holes on defense. And four-star dual-threat quarterback Woody Barrett could see playing time with Malzahn's tendency to switch things up on offense.
4. Tough opponents have been spaced out in the schedule. Auburn's toughest stretch in 2016 may consist of just two consecutive games in October – at home against Arkansas followed by one on the road against Ole Miss. Otherwise, the Tigers have very little chance running into a multi-game losing streak with the way their nonconference games are spread out.
And don't feel nervous that Clemson is Auburn's season opener. If anything, it's an opportunity for a straight shot into the top 15 if Auburn proves victorious. Win or lose the national championship, Clemson will be a highly respected team to face in 2016. An Auburn loss will sustain little to no damage, especially that early in the season, whereas a win could launch Auburn high up the rankings.
5. Malzahn could be coaching for his job. This reason isn't a direct correlation to why Auburn should be a top 25 team next year, but it could be tangentially related. When a fire is lit behind your back, you tend to have much more motivation. Malzahn's tenure as Auburn's head coach has been marked by one nearly successful national championship run, and then two solidly mediocre seasons, each more disappointing than the one before. Auburn has been known to fire a head coach after his fourth year even after that coach won them a national title. Now Malzahn is entering his fourth year. He can do the math himself.