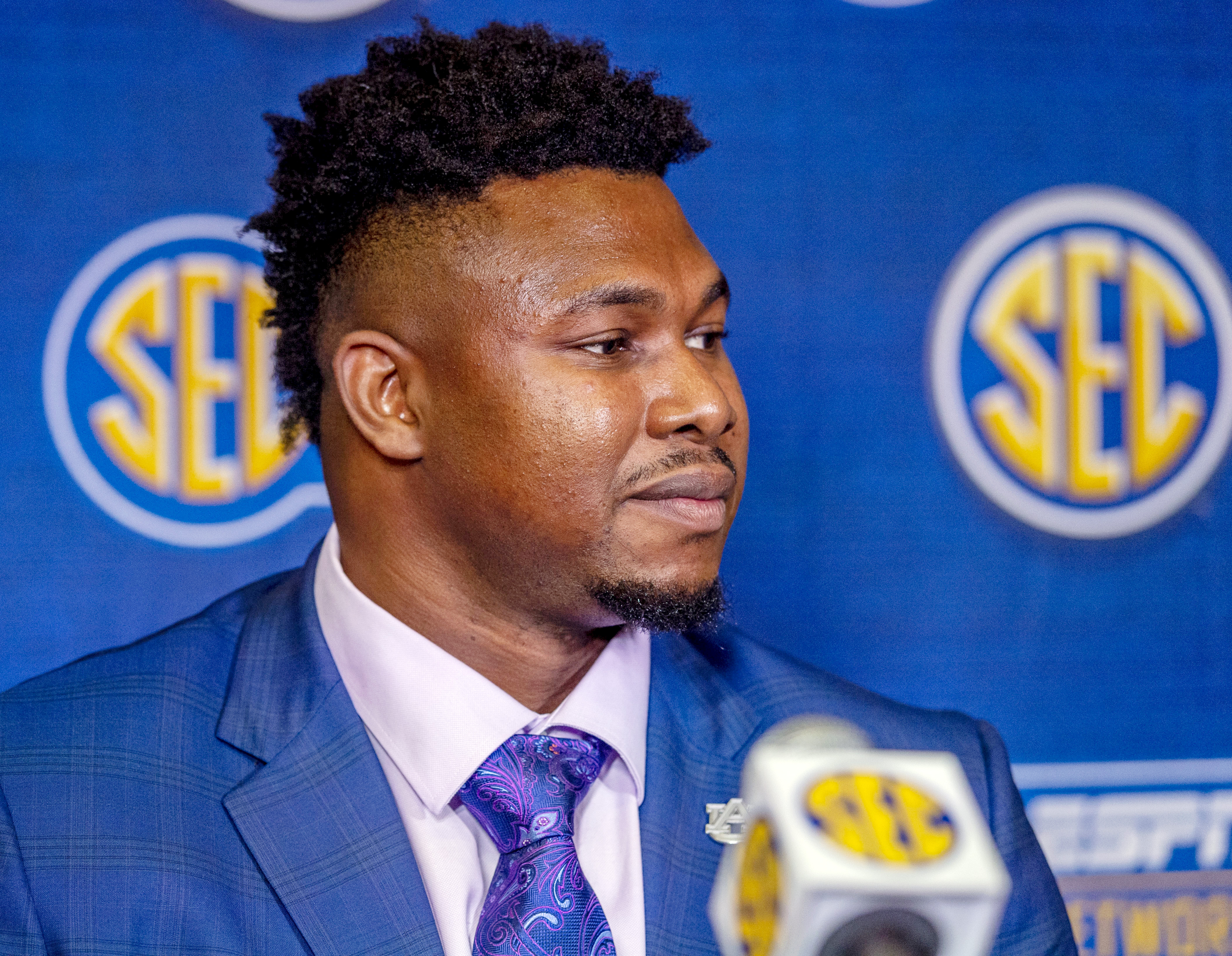 AUBURN
SEC Media Days: Focus on the QBs all you want, Auburn's goals rest on the progression of its OL
HOOVER, Ala. — The biggest question this offseason on The Plains is the wrong one to be asking. While most naturally point to the uncertainty regarding Auburn's starting quarterback for the coming season, the program's goals and aspirations this fall will be either be met or destroyed by the progress of the team's offensive line.
The Tigers are set to start the same five up front this fall — left tackle Prince Tega Wanogho, left guard Marquel Harrell, center Kaleb Kim, right guard Mike Horton and right tackle Jack Driscoll — with all five entering their senior seasons on The Plains. Four of those linemen started all 13 contests for the Tigers in 2018, the exception is Kim, who started eight games last fall.
Getting an entire starting line back is not only atypical, it's generally celebrated as a point of optimism for the coming season. The only exception to that hopefulness comes when an offensive line was a weakness for an offense. Considering Auburn ranked 13th in the SEC in rushing after eight league games and allowed 46 tackles for loss in those contests, labeling the offensive line as a weakness may be putting too kindly.
While the stats from last season may not lead to much optimism in the unit, Gus Malzahn expressed why he has confidence in his line heading into fall camp.
"I will say this about our offensive line, they were the least experienced group, I think, in our league last year. They had some growing pains and they got beat up," Malzahn said during his Thursday appearance at SEC Media Days. "They are all back, they are all seniors, they have something to prove. They have a chip on their shoulders and I think that's good."
The line better have a chip on its collective shoulder as starting a freshman at quarterback, whether that's true freshman Bo Nix or redshirt freshman Joey Gatewood, could result in disaster if the big uglies don't come out with some fire against Oregon Week 1. With the offense breaking in a first-year starter under center, there's no doubt Malzahn will be leaning heavily on his blockers immediately out of the gate against the Ducks.
The failures of the line to open holes for the team's running backs doomed the offense last year and if they can't improve in that area coming out of fall camp, it's hard to see a freshman signal-caller coming up with some heroics away from Jordan-Hare during the first week of the season.
One thing Auburn's offensive line will have going for them heading into the team's big season-opening matchup? There's no chance the Oregon defense will provide a tougher test for the Tigers' line than they see every day in practice.
"Working with our defense, the defensive line that we got, training against the best will make you the best, and we do that every day," Prince Tega Wanogho said on Thursday. "We should improve our standard for ourself, as individuals and as a team. That's what we are trying to do, be the best we can be. Play with that chip on our shoulder and just be physical."
And who is winning those battles in practice? It's easy to envision Auburn's elite defensive line having its way with the O-line but that's not the case according to Marlon Davidson. Here is Auburn's senior lineman when asked about the progress he's seen from the offensive line this offseason on The Plains.
"They are pretty talented and they have showed that they can be great," Davidson said. "They block us every day. It's not like we are dominating practice."
Considering the source, that comment should give Auburn fans plenty of faith that the offensive is ready for the season. If they can handle the Tigers' deep and talented group of defensive linemen, they can likely handle any challenge thrown their way.