AUBURN
Why JJ Pegues' position switch is a bummer in one sense, but terrifying (for the SEC) in another
Last October, Lane Kiffin gave me an answer that totally caught me by surprise.
I assumed that the Ole Miss coach had an opinion on J.J. Pegues — the former blue-chip Oxford High School recruit and Auburn freshman tight end — ahead of his team's matchup with the Tigers. Pegues was a week removed from becoming a spinning, hurdling viral sensation. It's not every day you see a true freshman pull off such a move out of the wildcat formation, much less one tipping the scales at 300 pounds.
Pegues epitomized the recruiting label "athlete" to a tee. In his first 5 games at Auburn, he played wildcat quarterback, H-back, tight end and he even turned heads on special teams (Kiffin later said that he saw Pegues "knock someone out" playing special teams).
Even with all of that context, something Kiffin said stood out.
"I never got a chance to meet with him, unfortunately. It is what it is," Kiffin said back in October. "Special player. The guy plays special teams at that size, speed, ran wildcat and if he ever wanted to go to the other side, he'd probably be a top-5 pick as a 3-technique."
Wait a minute.
"He'd probably be a top-5 pick as a 3-technique."
Well, Bryan Harsin either heard that message or he came to the same realization that Kiffin did. Pegues' future? It's on the defensive line. That's what we found out during Auburn's spring camp, where Harsin announced that Pegues would be switching to the other side of the ball.
That's noteworthy not because Pegues was some freshman All-American. He wasn't. If you looked at his raw numbers, you'd see:
7 catches for 57 yards
5 rushes for 14 yards
1-1 passing for 0 passing yards
Again, nothing earth-shattering.
But then look at his snap count and you'll see why Pegues was a football unicorn from the jump in the SEC (via Pro Football Focus):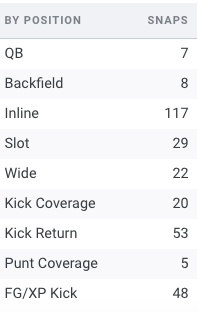 Mercy.
From the sound of it, though, Pegues' role in the Harsin regime won't be nearly as versatile.
"J.J. is a guy now who has done a tremendous job working with the offense. We made that move and put him on the defensive line," Harsin said, per the Auburn Rivals site. "I had a conversation with J.J. and this is what I am thinking, a guy like Pegues, and really anybody like this on the team, you have those conversations of 'anything you need me to do.' He is athletic. He can do a lot things. I think this position fits him.
"I think he is a really great culture guy to be in that room. I think he is a leader on this team."
I'll be honest. My initial reaction to that was a deep sigh. Like, the type of sigh you have when you're a kid doing something you're not supposed to be doing and the adult comes into the room and tells you to stop.
This is not what 300-pound true freshmen are supposed to be doing in the SEC:
JJ Pegues, a 6-2 300lb freshman TE running wildcat for Auburn 👀 pic.twitter.com/bVjnvAaf4w

— Dynasty Mark 🏈 (@Dynasty_Mark) October 10, 2020
Oh, and this clip of him "blocking" is enough to make anyone cackle:
😤 JJ PEGUES & TANK 😤 pic.twitter.com/JsIRQQITj2

— Power of Dixieland (@Power_Dixieland) October 24, 2020
Now, it appears, Harsin is taking that out of our lives. I sighed again just typing that.
But this harks back to Kiffin's point. Pegues' future isn't being a gadget player. It's finding a legitimate home and keeping those rare, freakish traits on the field as much as possible, which he'll get to do at defensive line.
The explosiveness, the ability to win 1-on-1 matchups and that aggressiveness at the point of attack will be on full display. More relevant for Harsin is that it'll help his team win football games. It'll help a defensive line that struggled to replace generational players like Derrick Brown and Marlon Davidson.
Brown, of course, wasn't a top-5 pick as a 3-technique, but he was darn close. He went No. 7 overall after finishing his prolific career as the SEC Defensive Player of the Year in 2019. The way he took over games changed how Auburn was able to run its defense under Kevin Steele, and it also gave an up-and-down true freshman quarterback some breathing room at key moments.
Pegues won't be asked to make a Brown-like impact from the jump. He's going to need plenty of snaps to master the "technique" in "3-technique." But for new defensive coordinator Derek Mason, talk about a blessing. At Vanderbilt, Mason never got a chance to even get a seat at the table with the type of decorated recruit Pegues was. Remember, hometown Kiffin didn't even get a seat at the table to recruit Pegues.
(That stemmed more from Pegues' desire to want to branch out from his hometown roots, and it probably didn't help that Ole Miss went through a coaching change just a couple of weeks before he signed with Auburn.)
The Tigers need some firepower up front. Last year, they ranked No. 8 in the SEC defending the run and they were No. 82 in FBS in tackles for loss per game. It was the first time in 5 years that Auburn ranked outside of the top 20 nationally in scoring defense.
While he'll start at defensive tackle, Pegues figures to move around on the defensive line. He did that in high school, just not as much. Pegues certainly drew interest from programs who wanted him to play on the defensive line. It wasn't that he was totally against that, but as his high school coach Chris Cutcliffe said, Pegues wanted to have the ball in his hands at tight end, just as his dad once did at Arkansas State.
Now, Pegues will have the opportunity to add a new chapter to his football story. Once upon a time, Pegues looked like he could become the next Jason Peters, who famously earned all-SEC honors as a 300-pound tight end during the Houston Nutt era at Arkansas. Peters switched to offensive tackle once he got to the NFL, and it yielded 9 Pro Bowls in a 17-year career.
It's still much too early to say what Pegues' position switch will yield. Pegues has always been the guy who picked up everything quicker than others (he could light it up from 3-point range). Playing defensive line at an elite level in the SEC is his toughest challenge to master yet.
Fortunately for him, he's got a full offseason to get up to speed. And if history has told us anything, well, it doesn't matter where you line Pegues up.
He's always terrifying with a head of steam.