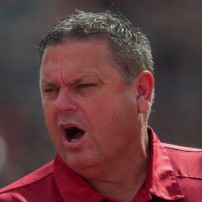 Sam Pittman
Offensive Line Coach, Georgia Bulldogs
Sam Pittman became Georgia's offensive line coach for the 2016 season.
The Georgia Bulldogs hired Sam Pittman away from the Arkansas Razorbacks. Pittman joins Kirby Smart's coaching staff.
Hired in 2013 at Arkansas, Pittman handles associate head coach, recruiting coordinator and offensive line duties for the Razorbacks as one of Bret Bielema's closest assistants. Pittman spent two seasons at Tennessee prior to Arkansas following five years with the North Carolina Tar Heels. In the 2013 and 2014 NFL Drafts, a total of eight players coached by Pittman were selected.
More On This Coach