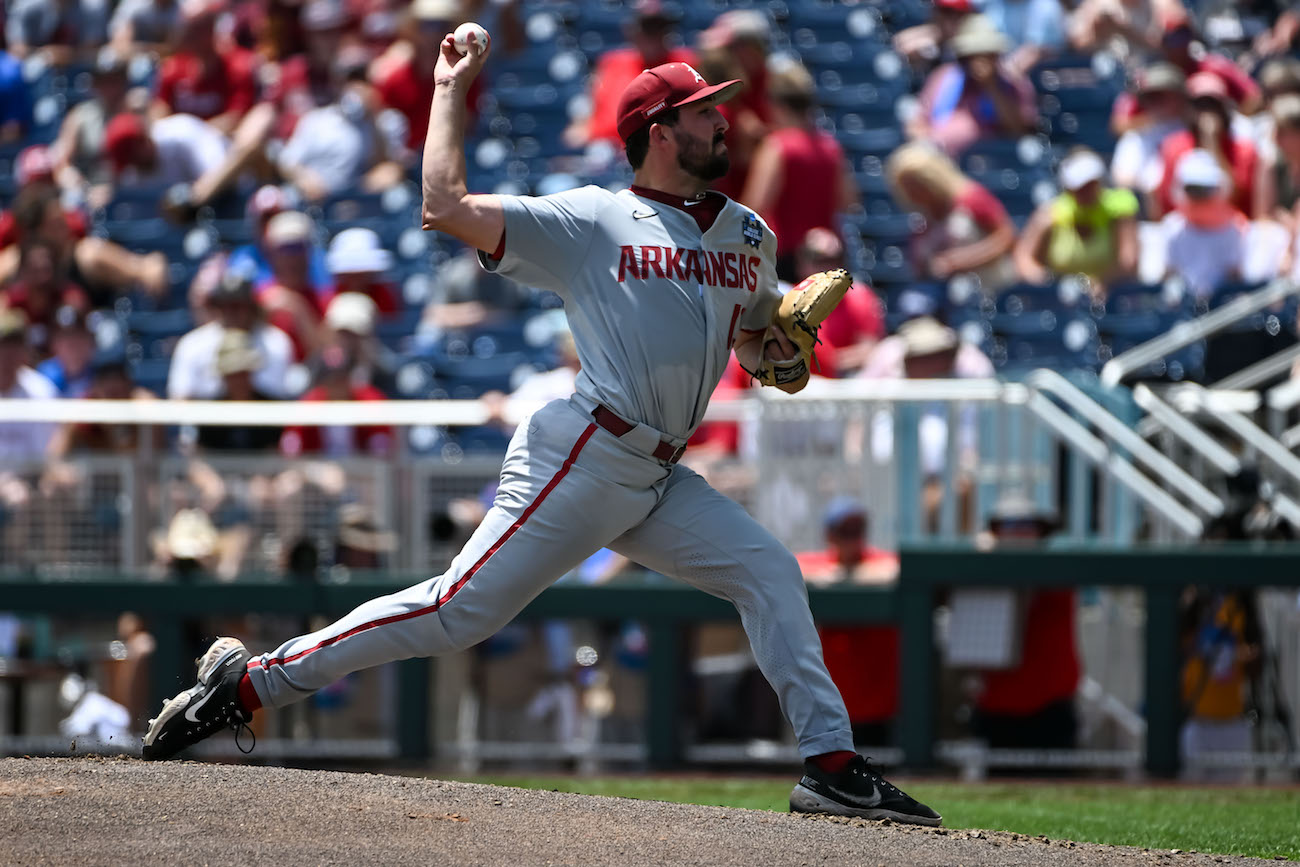 BASEBALL
Arkansas pounds Stanford in opening round of College World Series
The Arkansas Razorbacks start the College World Series 1-0 after pounding the No. 2 seed Stanford Cardinal 17-2.
Arkansas advances in the winner's bracket and will face the winner of the late game between Auburn and Ole Miss. Stanford will face the loser. The Cardinal became the third seeded team to lose in 3 games in the opening round.
Hogs starting pitcher Connor Noland shut down Stanford's offense after a leadoff opposite field home run by Brock Jones. Noland threw just 41 pitches through 5 innings, and he was downright dominant. Noland didn't strike out many hitters; however, he got several ground outs, including a couple of big double plays. He lasted 7.2 innings, allowing just 6 hits and 1 earned run. He threw just 79 pitches, too.
Things were tied 1-1 in the 5th inning when Arkansas broke it wide open. The big hit of the inning came from Chris Lanzilli, who demolished a 3-run home run. The Hogs took a 6-1 lead after the 5th inning.
Wicked good homah 💣 pic.twitter.com/Ddijmguafu

— Arkansas Baseball (@RazorbackBSB) June 18, 2022
Arkansas later put up 3 runs in the 7th, 2 runs in the 8th and 6 runs in the 9th to extend the lead.
The Razorbacks have averaged over 9 runs per game in the NCAA Tournament, and they are one of the hottest teams in Omaha. In fact, every Arkansas starter recorded at least 2 hits Saturday.
Catcher Michael Turner recorded a game-high 4 hits. First baseman Peyton Stovall had 4 RBIs. Robert Moore reached base 5 times. Cayden Wallace also recorded a 2-run bomb in the 9th inning.
Cayden Wallace ROCKED IT! 😱

📺 ESPN#MCWS x @RazorbackBSB pic.twitter.com/vqhQH6iGap

— NCAA Baseball (@NCAABaseball) June 18, 2022