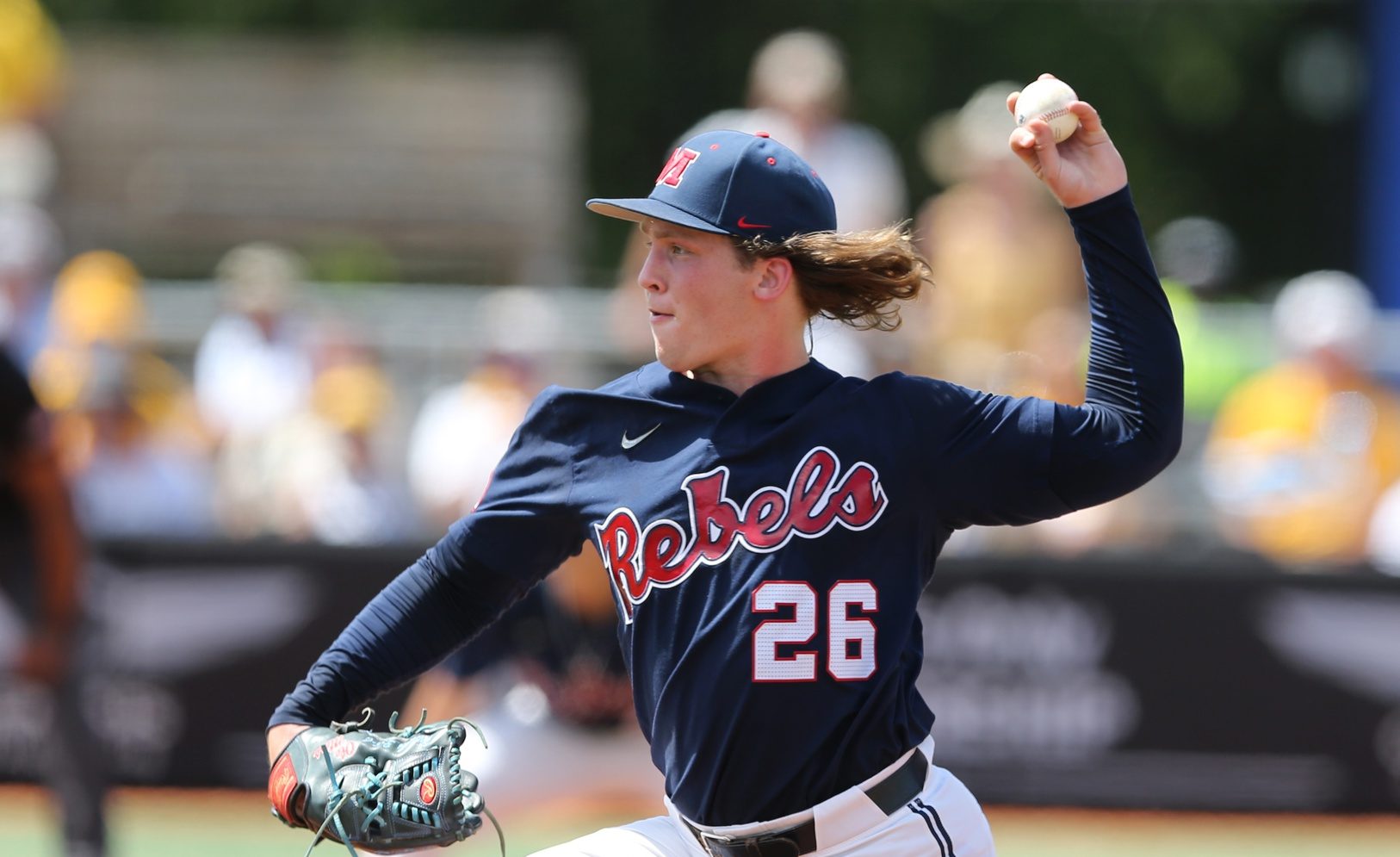 BASEBALL
More Magnolia State magic in Omaha? Ole Miss trying to follow Mississippi State, make CWS history
Could college baseball be owned by the state of Mississippi? The Ole Miss Rebels enter Omaha as a definite underdog, but that hasn't stopped them in a remarkable postseason run. A year ago, Mississippi State entered NCAA Tournament play as something of an afterthought behind Arkansas' overall greatness and Vandy's two pitching aces. The Bulldogs outlasted both and a year later, the intra-state rival Rebels could change the sport by pulling their own brand of Omaha magic. How crazy would this be?
Well, there is some historical precedent. Five times before, a pair of different schools from the same state have won back-to-back CWS titles.
Twice it was California (Cal and USC in 1957 and '58, and then USC and Cal State-Fullerton in 1978 and '79). Twice it was Arizona (Arizona and ASU in 1976 and '77, and then again in 1980 and '81). Texas is the last state to claim a dynasty doubleheader of different state schools winning it all — Texas in 2002 and then Rice in 2003.
But was there any indication that State and Ole Miss might add their names to the list?
Mississippi State was a program with a long and distinguished history, but no titles before 2021. That was their 12th appearance in Omaha, and the closest call before last season was 2013, when State made the finals before getting swept by UCLA. Still, excluding the 2020 season when no postseason play was held, State was coming off a pair of appearances at the CWS even before winning the title. The Bulldogs' run at the title wasn't totally unexpected.
Ole Miss' history doesn't render them quite as likely.
The Rebels are making just their 6th appearance in Omaha, and only their second since 1972. The 2014 Rebels won a pair of games in Omaha before falling in the semifinal round to Virginia (Vandy beat UVA to win the CWS). But before that, Ole Miss hadn't won a CWS game since 1969. Since 2014, postseason play hasn't been kind to the Rebels. They were swept out of the 2015 and 2016 NCAA Tournaments, with the second pair of losses coming at home. Likewise, in 2018, Ole Miss lost in a regional final that they hosted. In 2019 and 2021, the Rebels won regional matchups that they hosted but got blasted in the Super Regionals. In both matchups, the Rebels won Game 2, but they lost the other two games by 22 runs in 2019 and by 19 runs in 2021. Of course, the Rebels' 2022 season included a 14-16 record in league play and a No. 9 seed at the SEC Tournament in Hoover after a regular season that coach Mike Bianco termed a journey "to hell and back."
The rivalry between the two schools is so deep that not only do they face each other in a typical 3-game division series, but they play a 4th game, fighting for what once was the Mayor's Trophy and is now the Governor's Cup. The extra game was canceled due to COVID in both 2020 and 2021, but before that, State won the previous 4 matchups. Ole Miss took the Cup in 2022, but State owns a 22-19 edge in the series.
Given that they are separated by a narrow strip of Mississippi, members of the same conference and even division, how big of a story would it be for Ole Miss to win it all? And how crazy would it make Mississippi State fans? Well, one sign that the usual tense relations between the rivals could be cooling came in a Tweet from 2021 CWS star Tanner Allen.
If I had a son I'd want his role model to be @TimElko. I respect the way you and the rest of your team has handled the critics all year long and still found your way to Omaha…best of luck. #TGBTG??

— Tanner Allen (@Tanner_Allen10) June 12, 2022
Yes, that's Rebels first baseman Tim Elko whom Allen singles out as a potential role model for his future son. Quite a shift from this comment a year ago after winning in Omaha.
Tanner Allen "I'm proud to say I love this place. And go to hell Ole Miss!"

— David H Murray (@DawgsBiteMag) July 3, 2021
Could it be that the Bulldogs are actually rooting for their foes from down the road in Oxford to continue their NCAA success? While that might be a bit optimistic, the chance at some NCAA history has to be pretty sweet for the Rebels. And even if the Bulldogs might not be exactly gung-ho about the possibility, a state dynasty is a pretty sweet thing even if they can only claim a one-half interest.