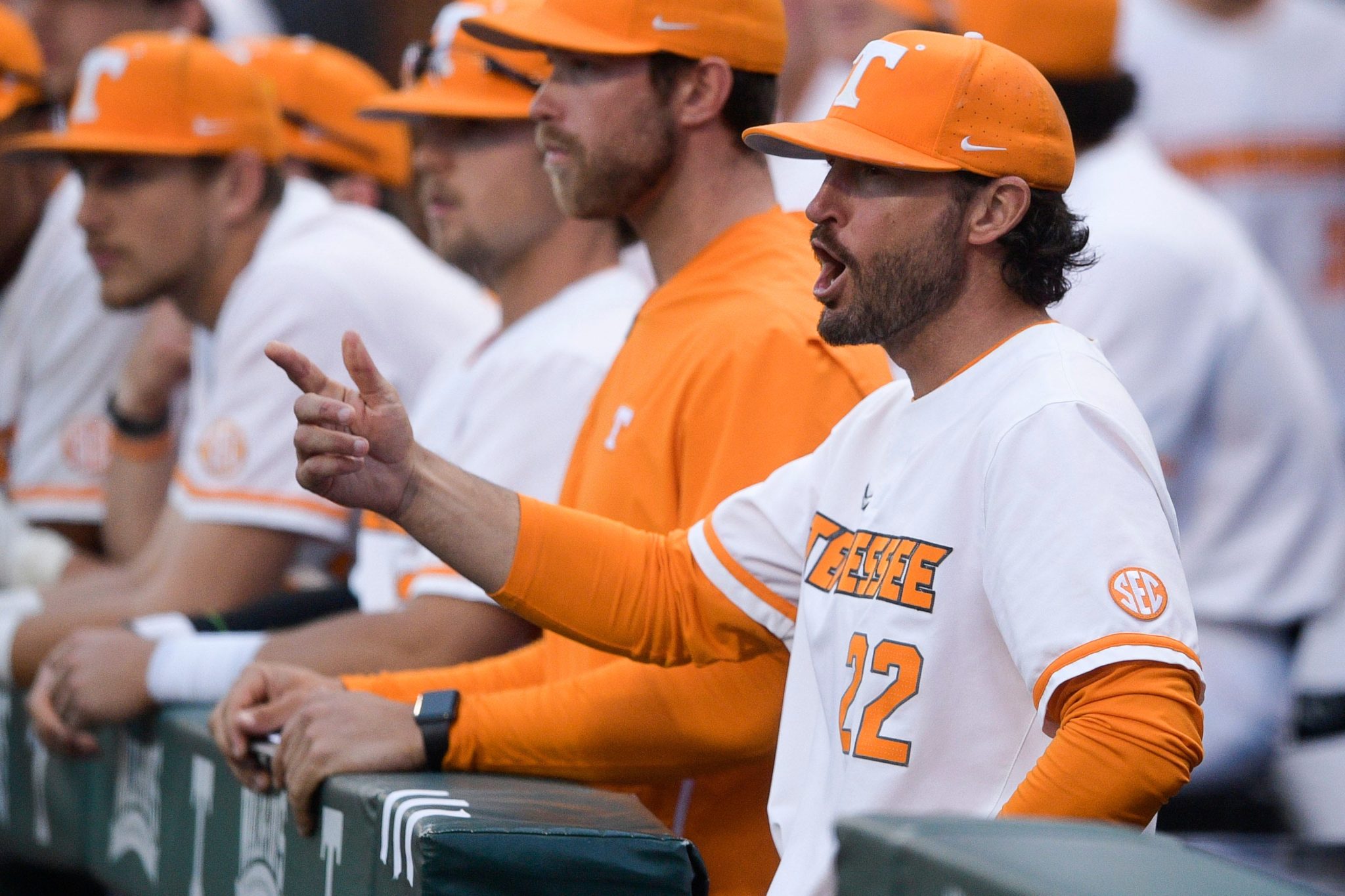 BASEBALL
Extra Innings: Ejections, suspensions, upsets, walk-off walks ... SEC baseball had quite the week
It's midseason in conference play of SEC baseball. That might be good news if you're Tennessee, 5 games up in the division race with just 15 games to play — even after losing more games last week than it had all season. But it also can be awful news, if you're, say, Kentucky or Ole Miss (!?!) both stuck 5 games under .500 with relatively few chances left to improve their postseason chances.
It was a typically wild week, with the league's unquestioned top dog temporarily losing its coach and hitting some struggles, and the middle of the league's pack growing thicker and thicker with teams that alternate being dangerous with being very, very fallible. The second half should clarify things a bit, but until then, here's the week that was.
1. Tennessee is human
After a 23-game winning streak that included the sweep of Ole Miss in Oxford that knocked the Rebels from the No. 1 spot in the nation (how long ago was that?), a sweep of Vandy, and laying waste to any trace of competitiveness in the SEC regular-season chase, UT finally lost … to Tennessee Tech. Yes, you read that right.
Playing in the park of the Double A Tennessee Smokies, UT jumped to a 2-0 lead, but fell behind in the 6th inning and took a 3-2 loss. Blade Tidwell was sharp in his 2nd start of the season and UT set a stadium attendance record (8,183). But it was a loss. And UT followed by losing the opener of their series to Alabama, before rebounding with a pair of wins over the Tide. But the major story was …
2. Tony Vitello went crazy
Alabama beat Tennessee on Friday, 6-3. That was Tennessee's 2nd consecutive loss. Remember, they entered the week 31-1.
The Tide apparently got a little rowdy, and hard feelings carried over to Saturday. When UT pitcher Chase Dollander got drilled by a line drive off the bat of Zane Denton … well, something else happened. The liner deflected to UT first baseman Luc Lipcius, who made the play to end the inning as his pitcher went to the ground in pain. And then, from nowhere, UT pitching coach Frank Anderson had a vigorous discussion with umpire Jeffrey Macias. Macias heard enough and threw Anderson out of the game, at which point, enter Vitello, who not only got himself ejected, but bumped Macias and earned a 4-game suspension in the process. The good news for UT is that the Vols rebounded on Sunday with a 15-4 win with assistant Josh Elander manning the head coaching role. He'll keep it for Tuesday's game against Bellarmine and the Vols' first 2 matchups with Florida. Wild times.
3. Arkansas all but wraps up the West
Meanwhile, as good as UT has been in the East, Arkansas ended the week 3 games ahead of the field in the SEC West. The Hogs rallied from losing a series to Florida with a sweep of LSU. Perhaps the most impressive part was that Razorback pitchers held LSU to just 6 runs. Perhaps most impressive was Hagen Smith, who held LSU to just a pair of singles in 7 innings of shutout, 7-strikeout pitching on Friday in a 4-0 win.
Arkansas' 3.46 ERA in SEC play is still over a run behind SEC-leader UT in that category … but it's also almost a full run above LSU's 3rd-place figure — while highly regarded West staffs like Ole Miss (6.58) and Mississippi State (6.25) have struggled. (In fairness, injuries doomed the Bulldogs.) The West race isn't over, but the light at the end of the tunnel for the rest of the division is getting dim.
4. A&M had an impressive series win over Georgia
Texas A&M propelled itself into a 3-way tie for 2nd in the SEC West with a series win over Georgia behind A&M's impressive offense. In 3 games, the Aggies put up 34 runs, although that was somewhat inflated by a 10-run 9th inning in the 23-9 win over Georgia on Saturday. Every player who came to bat for A&M in that game had a hit, and the Aggies had 9 extra-base knocks. The Aggies have hit .297 in conference games and have tied UT for most runs (115) in SEC play. Meanwhile, Georgia's pitching staff, struggling without injured ace Jonathan Cannon, has an 8.25 ERA in conference play — more than 1.3 runs per game worst than 13th-place Florida. All in all, UGA was lucky to grab a 4-3 win in the middle game of the series.
5. South Carolina deepens Ole Miss' misery
South Carolina lost 9-1 to Ole Miss on Thursday, leaving the Gamecocks as the lone SEC team with a losing record and giving the Rebels hopes of a big weekend that could lead to a comeback. Not so fast. Carolina rallied for a 4-2 win on Friday and then Saturday, the Gamecocks had an 8-4 lead entering the 9th inning. Backs against the wall, Ole Miss rallied to tie the game at 8 … but then a walk, a sacrifice bunt, a passed ball, and Carolina little-balled their way to a walk-off series win … one that digs that Gamecocks out of the bottom of the East and buries the Rebels a little deeper in the cellar of the West.
Walk off bombs are exciting don't get me wrong, but a sacrifice fly and good fundamental baseball out of Jalen Vasquez fires me up pic.twitter.com/1JfWnUvuJd

— Stephen Schoch (@bigdonkey47) April 17, 2022
6. Vandy moves ahead of Florida
It was definitely an odd sight to see Florida head to Nashville with … 3rd place in the SEC East on the line. But that's where it was and Vandy nearly pulled a sweep over on the Gators. The 'Dores had a walk-off 5-4 win via a Jack Bulger single on Friday.
Jack Bulger Walkoff RBI Single …. Clutch✅ #VandyBoys pic.twitter.com/8ccW6g3paJ

— GSH (@gman416) April 16, 2022
They followed that with an 8-6 victory on Saturday and came oh-so-close to the sweep after Bulger's 9th inning home run tied Sunday's game at 3. But then UF's Deric Fabian took a play from older brother Jud's playbook with a 10th inning dinger. Jud hit his 15th homer of the season earlier in the game, tying for league-high honors. The pair of Fabian blasts let Florida stay tied with South Carolina for 4th in the East. Strange days indeed.
7. State rallies against Auburn
Two teams headed in opposite directions were slated to meet in Starkville, but Mississippi State flipped the script and won its series with Auburn, and indeed, it took an impressive Tigers rally on Saturday to avoid a sweep.
State might have turned around its season on Thursday, when they went into the bottom of the 9th inning trailing Auburn 6-5. A wild pitch allowed the defending national champions to tie it and then Luke Hancock busted out the rare walk-off walk to give MSU the 7-6 win.
MSU then managed 14 hits in a 9-5 win that wasn't as close as the score. The Bulldogs went for the sweep with a 2-0 edge into the 7th inning. Auburn answered with 2 runs and added the go-ahead score in the 8th, supporting a sharp effort from Auburn ace Joseph Gonzalez, who sits 3rd in the SEC with a 2.01 ERA.
Auburn could have won the series but ended up requiring a gutsy rally to avoid the sweep. The Tigers are in a 3-way tie for 2nd in the West, and State climbed out of the basement — and is just 2 games back of that 2nd-place logjam.
8. Mizzou nabs an impressive series win
After Kentucky beat Mizzou 15-6 Thursday, outhitting the Tigers 22-5, Missouri rallied with a pair of beatdowns to claim the series. First, a 9-4 win on Friday and then, after a 6-0 deficit after 2 innings on Saturday, a 10-6 win keyed by an 8-run 3rd inning.
Mizzou's Josh Day had the painful accomplishment of getting hit by a pitch twice during that 8-run rally. It's fair to assume that nobody will ever get drilled 3 times in an inning, so Day's SEC historical mark should be safe.
Mizzou is 21-12 and 5-10 in SEC play. Considering that Mizzou has already bypassed last season's 15 total wins and seems certain to best the 8 conference wins of 2021, the season has to be a success. That big inning on Saturday typifies a solidifying Missouri team headed in the right direction.
9. It's getting late for Nick Mingione in Lexington
Kentucky finds itself 5-10 in league play, tied for worst in the league with Ole Miss and Missouri. To make matters worse, UK's remaining SEC series matchups are Vandy, at Florida, Tennessee, at South Carolina, and Auburn. In Mingione's 6th season, it seems likely that UK will not make the NCAA Tournament — they haven't done so since his first year, 2017. UK greatly improved the stadium, Kentucky Proud Park, and hasn't had much to show for it yet. UK athletic director Mitch Barnhart is a patient guy by nature, but the seat under Mingione has to be feeling pretty toasty.