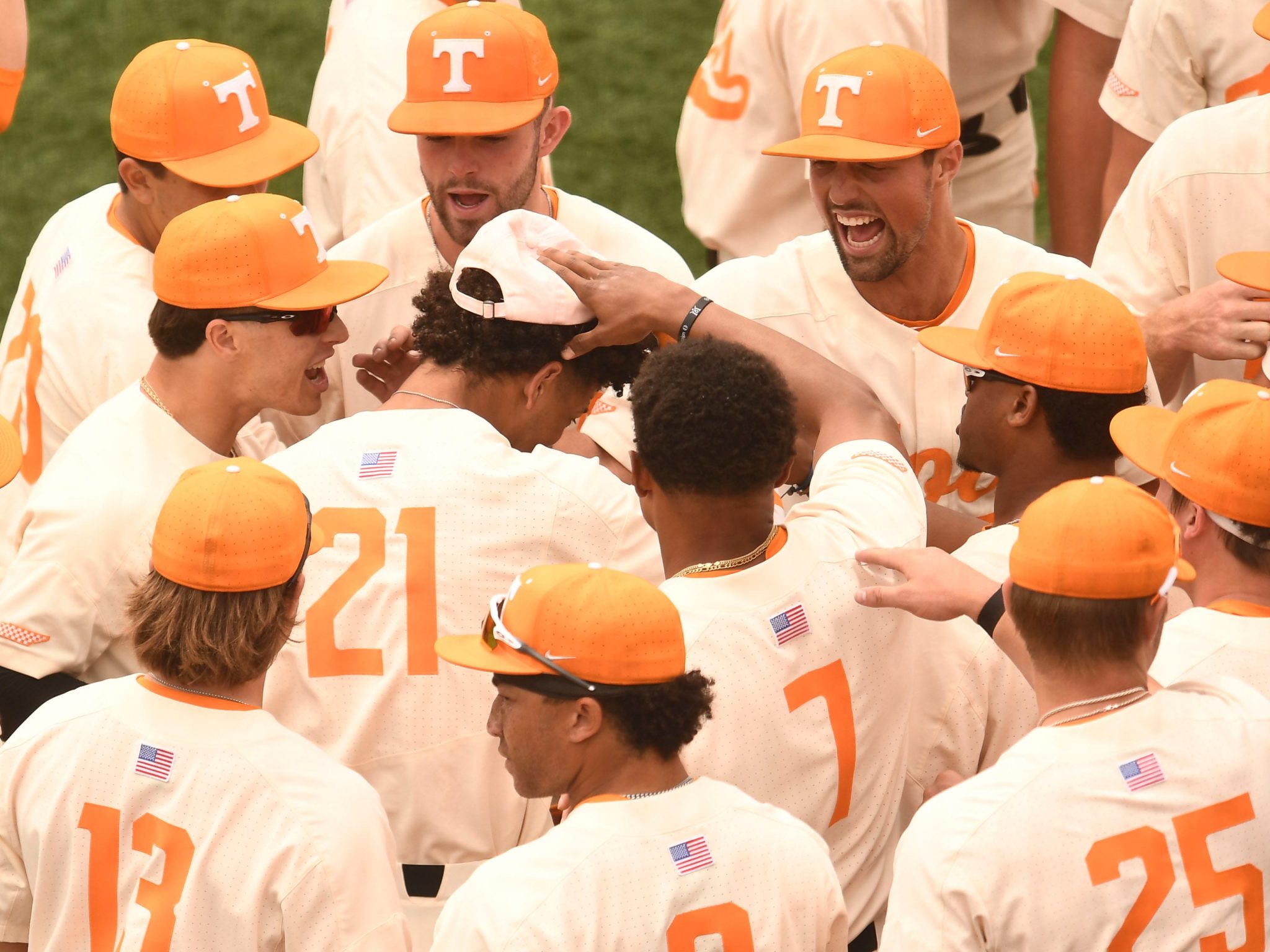 BASEBALL
Extra Innings: A series to remember in Knoxville, walk-off wonders and huge NCAA news
If the SEC baseball season were a game, we'd be somewhere around the 7th inning stretch. Instead of making you stand up and sing "Take Me Out to the Ball Game," let's just review a big week of SEC baseball. UT and Auburn gave us an epic series worthy of its own weekly summary, the West continues to clump up, in part thanks to some walk-off heroics, and the NCAA dropped some big news on everybody. Let's start catching up on the week that was.
1. On Friday, Auburn jumps ahead, gets crushed, deals with injury woes
Auburn opened its series in Knoxville by jumping out to a 4-2 lead over the Vols in the 6th inning, courtesy of a 3-run blast by third baseman Blake Rambusch. That lead held for an inning, but UT rallied in a big way, putting up 15 runs in the 7th and 8th innings, retaking the lead on a Jorel Ortega grand slam in the 7th inning.
https://twitter.com/Vol_Baseball/status/1520218167058042880
So UT won the opener 17-4 … and Auburn's bad news got even worse, with starting pitcher Hayden Mullins and closer and SEC saves leader Blake Burkhalter (who gave up Ortega's slam) both leaving the game with injuries. Mullins' was an arm problem and Burkhalter had a hamstring issue, and Auburn was definitely walking wounded after Friday.
2. On Saturday, Auburn rallied late to take down the Vols — and create controversy
It was deja vu all over again on Saturday, as Auburn took a 4-2 lead, only to watch the Vols bounce back, this time to take a 5-4 lead in the 7th inning. With Auburn down to its last strike, junior outfielder Kason Howell laced a game-tying double. After an intentional walk to Sonny DiChiara, Auburn's Bobby Peirce then blasted a dramatic 3-run homer … and flipped his bat, which rolled to the UT dugout, where a less-than-thrilled UT coach Tony Vitello threw the bat back.
THE BAT HIT A PERFECT BOUNCE RIGHT INTO TENNESSEE DUGOUT.

THIS LEAGUEEEE pic.twitter.com/6izAYiuFWF

— 11Point7: The College Baseball Podcast ? (@11point7) May 1, 2022
UT scored in the 9th, but Auburn held on for an 8-6 win, and no love was lost between the schools.
3. And on Sunday, UT rallied to claim the series … and make a few more enemies.
In the rubber game on Sunday, UT struck for 3 first-inning runs, the last 2 coming on Trey Lipscomb's 18th home run of the season. Auburn tied the game in the 6th, and had runners at first and second with no outs. Enter UT reliever Ben Joyce, who not only put out the fire, but threw 105.5 miles per hour. Yes, you read that correctly.
Ben Joyce's 105.5 MPH Fastball. pic.twitter.com/4a2R8iMw1A

— Rob Friedman (@PitchingNinja) May 1, 2022
In the UT 8th, Jordan Beck launched a 2-run homer that gave UT its final margin of 5-3 … and led to UT irritating another foe. It's hard to be on top, and UT is starting to launch a list of motivated opponents. Will the Vols have the last laugh? And will Auburn end up in the thick of things in Hoover and beyond?
4. Arkansas outlasts Ole Miss
Despite the rough season they've endured, Ole Miss brought its A-game to Fayetteville for a memorable series with Arkansas. On Friday, the Rebels upset Arkansas 4-2 behind a big start from pitcher Dylan Delucia, who gave up just a pair of runs in 7 innings while fanning 9. Saturday saw the teams battling to a 3-3 standoff into the 9th inning. But Arkansas' Kendall Diggs made his 2nd career home run count, walking off a 6-3 victory for the Hogs.
CAN YA DIGG IT pic.twitter.com/hKp2MNpSuq

— Arkansas Baseball (@RazorbackBSB) May 1, 2022
Sunday saw the Razorbacks take a 4-3 lead in the 5th inning on a homer from catcher Michael Turner. The bullpen made that lead hold up, with reliever Brady Tygart doing his best "Wild Thing" imitation by walking the bases loaded before getting dangerous Rebels slugger Tim Elko to fly to center to end the game. Arkansas now has a 2-game lead in the West with 9 conference games to play.
5. LSU walks off a series win
LSU hosted Georgia in a matchup of ranked teams that ended in dramatic fashion. LSU won 6-2 Friday. UGA evened it with a 12-7 win on Saturday. Sunday's rubber game was impressive, with Georgia grabbing a 3-2 lead in the 8th inning courtesy of a hit by pitch, an error and a sacrifice fly. But LSU wouldn't stay down, with Cade Doughty delivering a 2-run walk-off moment to remember.
THAT'S CLUTCH DOUGHTY TO YOU ?@Cadedoughty | SECN+ pic.twitter.com/L3YlAT91qI

— LSU Baseball (@LSUbaseball) May 1, 2022
6. Carolina sweeps the Tide
Don't look now, but South Carolina gained on the rest of the SEC East. After sweeping Alabama, the Gamecocks are just a game out of 3rd and 3 games behind 2nd-place Georgia. USC pulled off a 6-5 win on Thursday and a 2-1 win on Friday, largely courtesy of starter Noah Hall, who was untouchable in 7 scoreless innings of 3-hit, 8-strikeout work. The Gamecocks didn't need any suspense on Saturday, winning 11-5. With A&M, Kentucky and Florida left on the schedule, South Carolina could well play its way into the NCAA Tournament.
7. A&M over Vandy
Texas A&M continued its climb in the SEC West just as Vandy's season continued falling apart. Friday was exactly what Vandy wanted, with an 11-1 victory keyed by 7 extra-base hits, and holding the Aggies to just 5 total hits. But Thursday and Saturday had A&M winning by a combined 17-5 margin. The Aggies are in the massive cluster for 2nd in the West. Vandy hangs in 3rd in the East but seems to be falling farther behind the field.
8. Mizzou walks off Mississippi State
Two of the more surprising SEC seasons collided in CoMo this past weekend, as Missouri managed to best defending champion NCAA Mississippi State. Friday looked, well, like what we would have expected before the season, as MSU destroyed Mizzou 13-4 with the Bulldogs managing 7 extra-base hits. But from there, everything changed. Missouri bounced back Saturday with a 19-8 win that set a program record for runs in an SEC game. And then, on Sunday, MSU jumped out to a 3-0 1st-inning lead only for Mizzou to jump ahead 6-3 in the 5th, cough that lead up, and then win in dramatic fashion thanks to shortstop Josh Day.
⚾️MUST SEE WALK OFF: Josh Day (@iamjosh_5) blasts this home run to deep right field to seal a Missouri Tigers series win over the defending National Champs Mississippi State. @KOMUsports pic.twitter.com/LQT0gnOt47

— Harrison Vapnek (@harrisonvapnek) May 1, 2022
The relative rise of the Tigers continues and MSU would love to forget this season at this point.
9. Big changes on the way?
The NCAA Transformation Committee announced earlier in the week that it was looking at some seismic shifts in governing many sports, including college baseball. Potential changes include blowing up the 11.7 scholarship limit and allowing the conferences to set scholarship limits, and taking away the limitation on the number of paid coaches allowed per team, again with the conference to set the new rules. Nothing is ever certain, much less set in stone, but these changes could certainly change the landscape in college baseball, likely in a way that helps the SEC extend its advantages over the other power conferences.