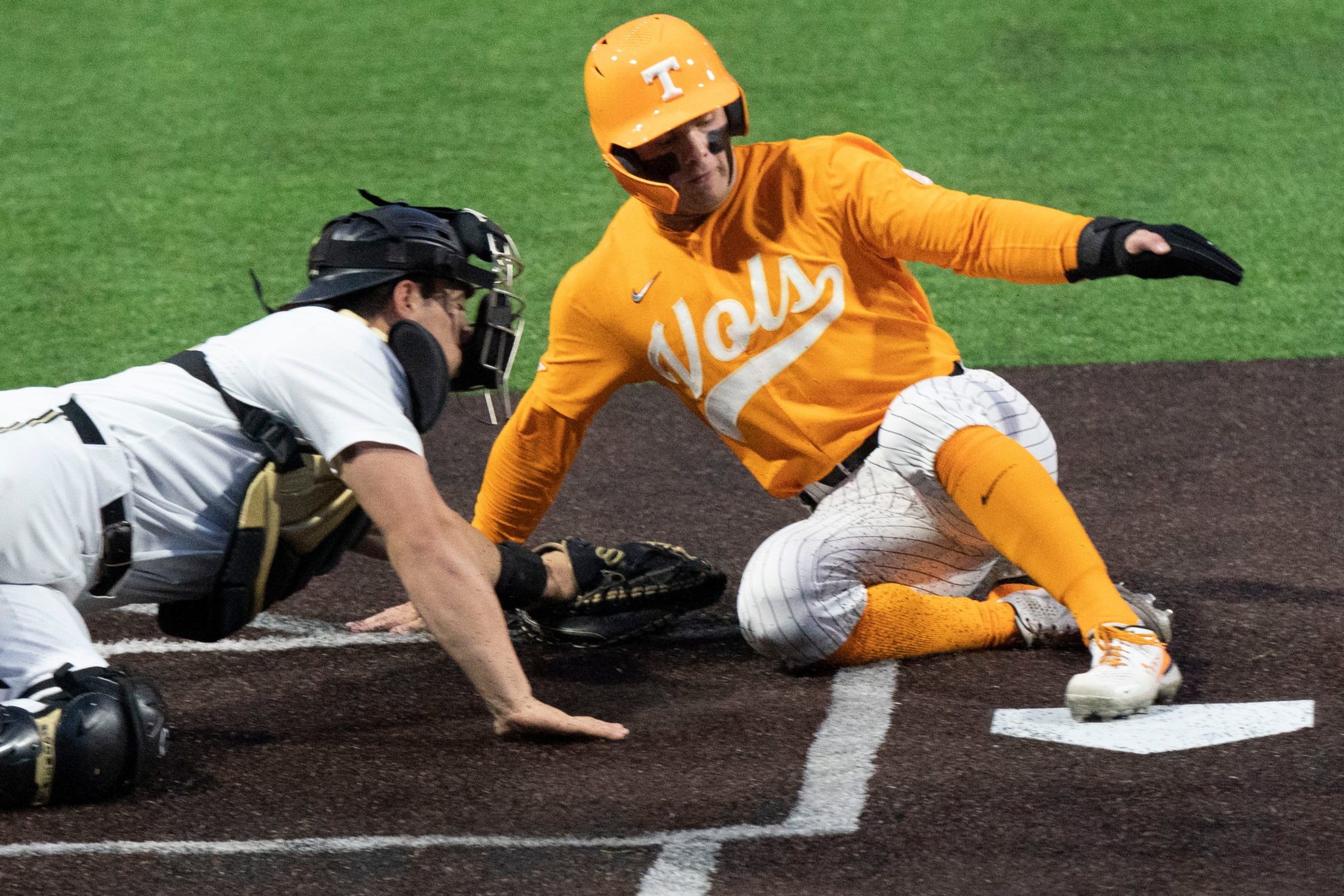 BASEBALL
Extra Innings: Stickergate a sideshow, but No. 1 Tennessee rolls as West turns into a pileup
In college sports, hoops is finishing up, so next weekend, attention can finally turn around the sports scene to SEC baseball. The good news is you can be ahead of the crowd. Hoover is closer than it seems, and another remarkable SEC season continues taking shape. Here's the recap of the week that was around SEC baseball.
1. Stickergate
Yes, No. 1-ranked Tennessee came to Nashville for the series that would ostensibly decide the SEC East. The series was kind of a non-starter, but more on that in a minute. What was an immediate talking sensation was Vanderbilt complaining after Jordan Beck hit a homer early in Friday's series-opening matchup. The NCAA pre-checks bats before every series … but Beck's bat had a sticker from a previous game … so it was illegal and Beck was out. UT coach Tony Vitello didn't care for that decision …
Tennessee just got called for using an "illegal bat" and Tony Vitello is fuming pic.twitter.com/qYbXT2DV9W

— Trey Wallace (@TreyWallace_) April 1, 2022
And then, once the situation was clarified, Vitello took a combination of the snarky road and the high road …
"MIKE HONCHO" – Tony Vitello pic.twitter.com/LH3lvH0crM

— 11Point7: The College Baseball Podcast ? (@11point7) April 2, 2022
The series continued without any further hijinks, but it's safe to say Vitello and the Vols — who didn't exactly need any motivation — won't forget this soon.
2. Meanwhile, UT absolutely crushed Vandy
The collateral damage from the Beck homer that came off the board was … basically nothing. UT wasn't rattled a bit, going on to a 6-2 win even without Beck's homer. And the bad news for the Commodores was that was as good as it got. In 3 games, UT held Vandy to 4 runs on 11 total hits. The crowning moment was Sunday's finale. UT pulled the sweep off with a 5-0 win highlighted by freshman pitcher Drew Beam (6 wins, 0.88 ERA) going the distance, allowing just 2 singles, facing one batter more than the minimum and not allowing a runner past first base.
Drew Beam completes a 2 hit Shutout. ? pic.twitter.com/DkdeEolPHe

— Rob Friedman (@PitchingNinja) April 3, 2022
UT cruised out of Nashville with a 19-game winning streak, a 9-0 start to conference play (just one game off the record for best SEC start), and a 5-game lead over Vanderbilt in the SEC standings. The Vols lead the SEC in hitting by 23 points, in home runs by 15 blasts, and in ERA by almost a full run over Vandy. Add in pitching ace Blade Tidwell coming back soon … and UT isn't just the SEC leader in the clubhouse, they're running away with the league in historic form.
3. UT's closest competitor? UGA
Meanwhile, Georgia, fresh off losing a series to Kentucky, is the only team within striking distance of the Vols (3 games back), thanks to a sweep of Florida. The Bulldogs are doing their work at the plate, racking up 27 runs on 47 hits in besting the Gators. Down to their last out on Thursday, trailing by 2 runs, Georgia refused to lose … and ended up with a 7-6 win that they followed with a pair of easy wins to build massive momentum. Was that 9th inning the turning point in 2 teams' seasons? Very possibly …
Bottom of the 9th.
Two outs.
Down 2.

????? ?????#SECBSB x @BaseballUGA pic.twitter.com/dGIRHgVoSO

— Southeastern Conference (@SEC) April 1, 2022
4. Florida's pitching woes continue
For a team with this much talent, Florida's 3-6 conference record and 4.39 team ERA (8th in the SEC) are deeply troubling. UF is 2nd in the SEC in home runs (54), but if you can keep UF from putting up a ton of runs (and they did score 15 despite getting swept this weekend), its bullpen is struggling to get anybody out and has already given away a bunch of leads. Without Hunter Barco's brilliant season (5-1, 1.87 ERA) and reliever Blake Purnell's solid work (15 relief appearances, 3 earned runs in 23 1/3 innings), Florida would be absolutely buried in the SEC. As it is, they're struggling deeply to keep up.
5. Arkansas stays ahead of the crowd
Arkansas is quietly putting together a nice season in the shadow of UT's epic excellence. The Razorbacks won 2 of 3 from Mississippi State, highlighted by a sharp outing from former QB Connor Noland on Friday. The veteran (and oft-injured) righty worked 7 strong innings, allowing 4 hits and 1 run in Arkansas' 8-1 victory.
Hogs Win game one over Mississippi State 8-1!!! Connor Noland pitched a four hitter in 7 innings. #GoHogs #WPS #ThisIsBaseball pic.twitter.com/yP6izXd2nc

— Ronnie Brashear (@RonnieBrashear) April 2, 2022
The Hogs blasted out a 12-5 win on Saturday before dropping Sunday's game 5-3 in 12 innings. Indeed, if the Razorbacks (currently 12th in the SEC in batting average and 10th in runs scored) can keep that bats going, their pitching will make them a legitimate threat in the postseason.
6. Who's in 2nd … Auburn?
Meanwhile, Auburn now stands alone in 2nd in the SEC West, just 2 games behind Arkansas. The Tigers suffered a 9-2 thumping at LSU on Friday, but bookended that with 6-5 and 6-4 wins over LSU to claim their first series in Baton Rouge since 2011. Auburn did all the little things to win, scoring 6 runs in the 5th inning on Thursday and then hanging on for the 6-5 victory and then stretching a 4-3 lead on Saturday to a 6-3 lead in the top of the 8th, then white-knuckling it out from there. Closer Blake Burkhalter worked in multiple innings to save each game — he leads the SEC with 6 saves. Auburn's Sonny DiChiara (a Samford transfer) leads the SEC in hitting at a .461 pace.
7. After that, an SEC West logjam
And after Auburn, it's anarchy. Five teams, ranging from those with national title aspirations (Ole Miss) to those expected to finish near the league cellar (Alabama), all have 4-5 SEC records. Perhaps the most puzzling is LSU, which hits like gangbusters (3rd in the SEC in batting average, 2nd in runs scored), led by Jacob Berry and Cade Doughty. Their pitching is 4th in the SEC in ERA. But the Tigers have been a defensive nightmare, with 44 errors, 13 more than 13th-place Ole Miss. LSU's pitchers have absorbed 28 unearned runs, which certainly paints a troubling picture compared with teams like Tennessee (11), Arkansas (5) or Florida (9). But in any case, more than a third of the SEC is lumped together at the bottom of the SEC West.
8. Mizzou wins a series
Missouri, generally regarded as the SEC's weakest squad, pulled out a series win over South Carolina — which, remember, was coming off a series win over Vanderbilt. After dropping the opener, Missouri put together a 5-run 8th inning to get back in Game 2, then walked it off in the 9th inning on a Tre Morris sacrifice fly.
WALK-OFF W ???#MIZ | #C2E?⚾ pic.twitter.com/gEmoQVVdlx

— Mizzou Baseball (@MizzouBaseball) April 2, 2022
They finished the weekend with a 10-3 win to claim the series. The Tigers have already eclipsed last season's win total, and even if they aren't quite ready for the NCAA Tournament, it's good to see them stringing together some positive momentum.
9. Freshman arms
We mentioned Beam from Tennessee above. Teammate Chase Burns is yet another outstanding freshman arm. And Arkansas frosh Brady Tygart — a top-100 prospect coming out of high school — also is carving up the league.
46 Seconds of Brady Tygart's Unhittable Breaking Balls. ? pic.twitter.com/86rCQbrhzZ

— Rob Friedman (@PitchingNinja) April 4, 2022
Early in the year, the SEC's top veteran arms were getting bit by the injury bug (Tidwell, Landon Sims, etc). But the longer the season goes, the more that the cream is rising to the top — and doing so in style, because it's a bunch of freshman arms who will probably lead the SEC into Omaha in a couple of months.