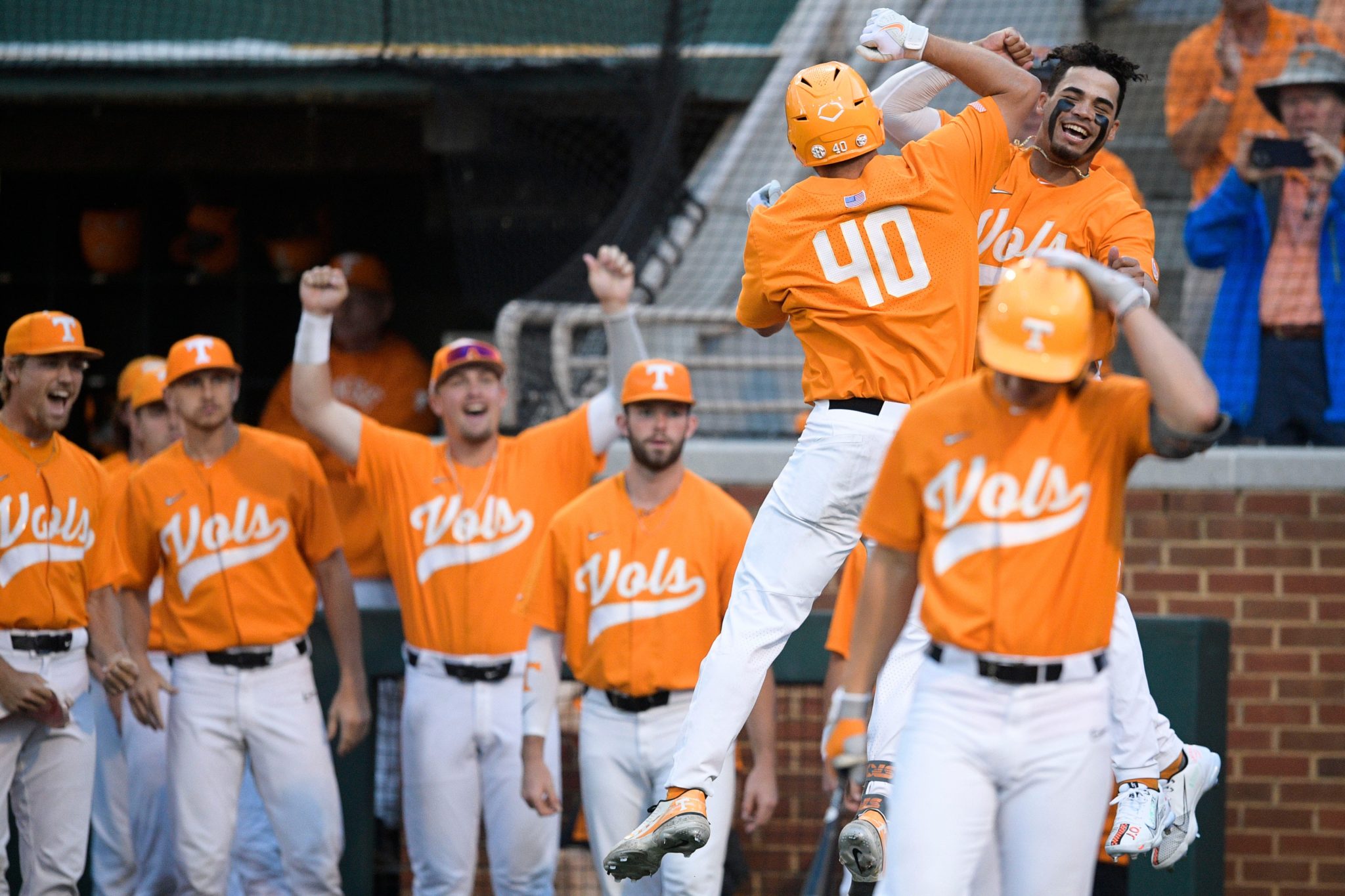 BASEBALL
Extra Innings: Vols clinch SEC regular-season title and Texas A&M pulls even in the West
We're down to a week left in the SEC regular season. Some of the events of the past week were completely expected, like UT clinching the top seed in Hoover and the regular-season league title. Some were less so — after the West has been a leapfrog game all season, there's some late distance between the squads over there, only for the East to end up in a complete toss-up (after UT, of course). Not to be overlooked, there was a canceled game on Sunday that has huge SEC Tournament implications for about half the league. Let's run back the week that was.
1. UT clinches SEC regular-season title, top seed
Despite a Saturday loss to Georgia (8-3), Tennessee won 2 of 3 in the series, formally clinching what has been a foregone conclusion since at least midway through the conference season. The Vols clinched the best record in the SEC and the top seed in Hoover in a mere week and a couple of days for the SEC Tournament. Thursday saw the return of Chase Dollander, out of the starting rotation since an arm injury from a line drive against Alabama last month. He worked 6 innings of 3-hit, 1-run baseball to raise his season ERA (yes, raise) to 1.35. Another Vols pitcher, just what they needed. Friday saw the clincher, with 4 solid innings from Blake Tidwell en route to a 9-2 win.
Alone at the Top.

The Vols are outright SEC Champions for the first time since 1995. pic.twitter.com/DopcTAT7x9

— Tennessee Baseball (@Vol_Baseball) May 14, 2022
The Vols only clinched a tie on the field — the finale came after their game when Vandy upset Arkansas to wrap up the top spot for UT. The Vols finish with a series at a Mississippi State team fighting to get a spot in Hoover.
2. A&M draws even
While UT has been a fixture atop the East, Arkansas has owned the top of the West. But with a final series to play, the Hogs have company in the form of Texas A&M. The Aggies swept Mississippi State, although it opened in hair-raising fashion on Friday. A&M went to the 9th inning with an 8-7 lead and set down the first two batters. That was followed by a single, a hit batter, a wild pitch and a walk to load the bases. The Aggies summoned Will Johnston, who got State's Hunter Hines to ground to first to end the game.
From there, life got easier for A&M. They broke a 6-6 8th inning tie on Saturday on a big double from Ryan Targac, winning 9-6 and then easing to an 8-2 win on Sunday to draw even with Arkansas at 17-10 on the season.
Timely @RyanTargac, they call him! Aggies retake the lead!

? https://t.co/ubIKBeGdAk (SECN+) pic.twitter.com/36jrvoTGqv

— Texas A&M Baseball (@AggieBaseball) May 14, 2022
A&M will finish at a suddenly hot Ole Miss squad.
3. Rebels heating up
Ole Miss, left for near dead at 8-15 in SEC play after a loss to Arkansas on May 1, has won 6 straight league games by following a sweep of Mizzou with a much more surprising sweep at LSU. Standout first baseman Tim Elko (more on him later) has the subtle observation of the week:
You heard @TimElko… Don't let the Rebs get hot pic.twitter.com/rGH332FOQf

— Everything Ole Miss (@EverythingRebs) May 14, 2022
In a doubleheader on Saturday, Rebels pitching decimated LSU, as the Tigers managed just 4 runs and 8 hits between the 2 losses (5-3 and 11-1). Without Jacob Berry in the lineup, fellow LSU slugger Cade Doughty had an 0-for-11 weekend. Meanwhile, Elko reached 19 homers for the season, 1 off the league lead (and tied for 2nd in Ole Miss history) as well as notching his 60th RBI of the year, also good for 2nd in the SEC.
The Rebels have probably played their way into the NCAA field, pulling within a game of LSU in the West standings and remaining at least theoretically in the fight for a bye in Hoover. LSU, meanwhile, continues life without Berry by facing Vanderbilt.
4. Vandy creates turmoil in the East
Meanwhile, Vanderbilt, by upsetting Arkansas in a series that threw the Hogs into a tie with A&M, also drew even with Georgia for 2nd in the East. Developments in the West mean that the No. 2 team in the East is probably still going to end up having to play on Tuesday in Hoover, rather than gaining a first-round bye. That said, the Commodores, welcomed moving back on the positive side of .500 with one last series left.
It took 10 innings and a big game from Enrique Bradfield to dispatch the Razorbacks on Friday. Bradfield hit a single, double and a homer, with 4 RBIs, and also stole 2 bases. He's 40-for-40 on stolen base attempts this season. Carter Holton threw a 2-hit shutout (in a 7-inning game) for a 5-0 win Sunday. Holton's development down the stretch (he lowered his ERA to 3.67) is a big factor for the 'Dores.
Carter Holton records his third strikeout of the day.

We're scoreless through two.#VandyBoys pic.twitter.com/ngEg16ujyG

— Vanderbilt Baseball (@VandyBoys) May 15, 2022
Arkansas reversed a 5-1 deficit into an 11-6 win in the middle game, helped by 10 walks from the Vandy pitching staff. As the 'Dores' pitching goes, so goes their season outlook. Surprisingly, the same may be true with Arkansas' hitting, as the Razorbacks are 14th in the SEC in batting average and 7th in runs scored.
5. Florida hanging in the East
With a sweep, Florida could have made it a 3-way tie for 2nd in the East with UGA and Vandy. The Gators won 2 of 3 in Columbia, dropping a 5-3 decision on Saturday to Missouri to leave them a game behind the Bulldogs and Commodores. After a 13-1 thumping to open the series, the Gators were fortunate to edge out a 4-3 win on Sunday. UF will finish the season at South Carolina and could still factor in the East.
6. Gamecocks get past Kentucky
In the most on-brand outcome of their season, Kentucky followed a series win over Tennessee by getting blasted at South Carolina, 11-3 on Friday and 7-0 on Saturday. The latter was a 3-hit beauty, with Carolina's Noah Hill working 8 innings of 2-hit ball, fanning 8 Kentucky batters. The Wildcats rallied for a 7-1 win on Sunday, but both teams are probably on the outside of the NCAA picture moving into Hoover. Kentucky could have solidified their spot, but they're still only a game ahead of 13th-place Mississippi State with a final pivotal series with Auburn looming.
7. The great tie
Speaking of Auburn, Sunday's Auburn-Alabama game was suspended in the 5th inning at 1-1 and ultimately canceled when the weather did not clear. The Tigers won the first 2 games in squeakers, 3-2 and 6-4. Blake Burkhalter converted the save Friday, his SEC-leading 12th. The rainout does help both teams in terms of Hoover seeding, although either would have gladly taken a win.
8. Hoover thoughts
So with 3 league games to play, here's where we stand:
Tennessee is the No. 1 seed. The SEC West winner will be the No. 2 seed (likely Arkansas and A&M will likely be the 2 and 3 seeds). The weather cancellation leaves Auburn 1.5 games ahead of Vandy, Georgia and LSU for the 4th seed and the final first-round bye.
Of the 3 tied teams for the 5-6-7 slots, 6 and 7 might be more desirable, because it means avoiding Auburn and Tennessee on the other half of the bracket.
Finally, a reminder that only 12 of the 14 teams qualify for the SEC Tournament. As to who falls out altogether, Alabama (10-16 SEC) and Kentucky (10-17) have the 11th and 12th spots.
Mississippi State (9-18) is a game behind Kentucky for the final spot. Last-place Mizzou (8-19) is virtually finished and State needs an upset of Tennessee to have a shot at getting in.
9. NCAA picture is, well, cloudy
Baseball America's most recent weekly check-in had Tennessee, Arkansas, Georgia, Auburn, Texas A&M and LSU projected as NCAA Tournament regional hosts. LSU probably fell off of that pace by getting swept, but the others are all in pretty good shape. Other SEC squads in the field were Vandy and Florida, with Kentucky in the "first four out" and Alabama on the "next four out." Ole Miss has definitely improved its situation, with Kentucky and Bama probably each taking a step back. It'd seem likely that South Carolina has a definite shot as well.