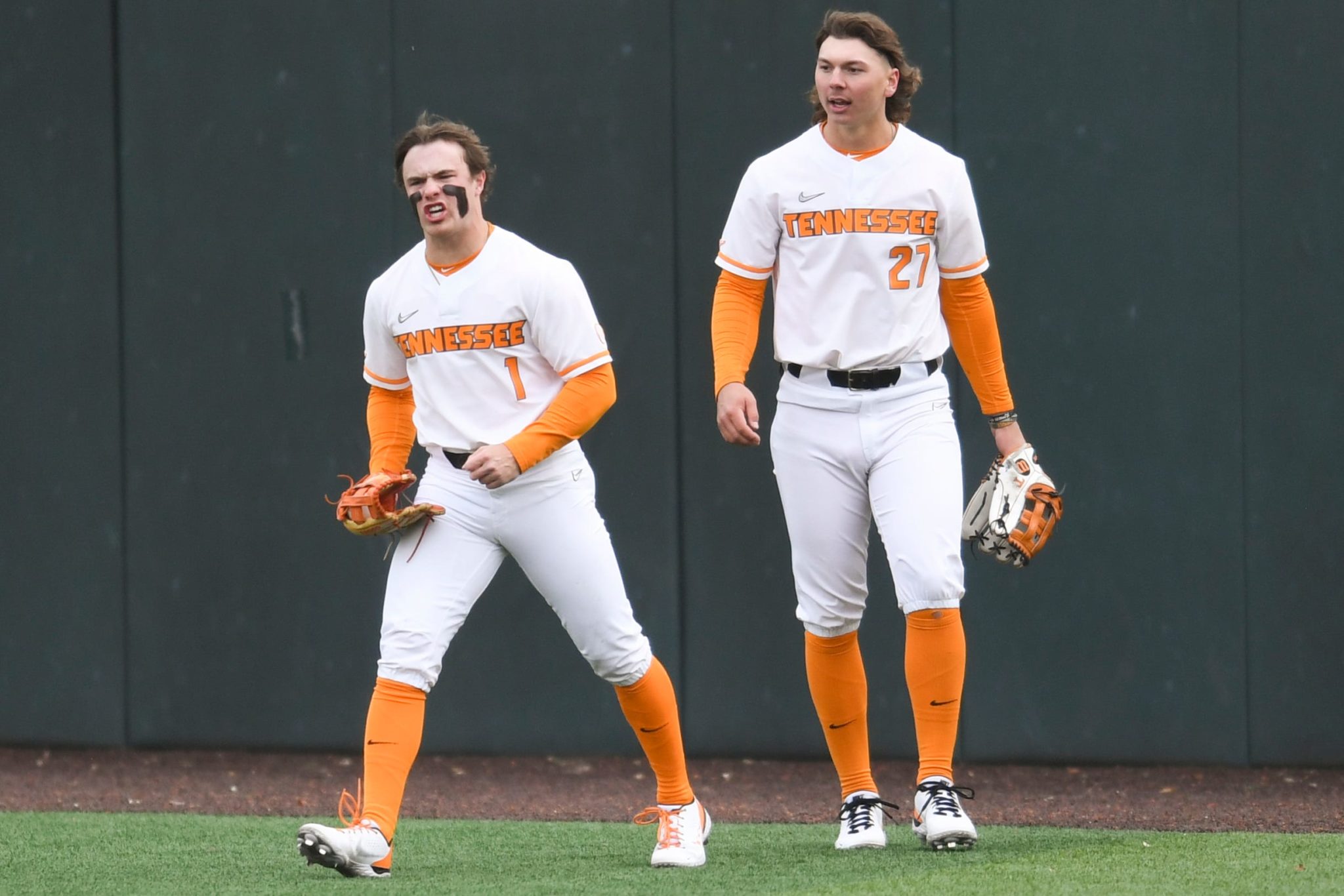 BASEBALL
Midseason All-SEC baseball honors: Tennessee's stars lead the way
We are midway through SEC conference play, which makes it a perfect time to talk about all-conference honors. Sure, we could wait for 15 more league games. But where's the fun in that? Here are our midseason All-SEC spots. A quick note: batting lines listed below consist of batting average, home runs and RBIs. With that noted, away we go.
C: Dominic Keegan, Vanderbilt
The Commodores have struggled, but Keegan hasn't. His .411/7/35 line leads the 'Dores in all 3 categories, and he's thrown out a respectable 10-of-29 base runners trying to steal.
1B: Sonny DiChiara, Auburn
The massive Samford transfer has been perhaps the best surprise of the SEC season. Between his 261-pound dad bod and his .419/11/33 line, DiChiara is changing the SEC culture one slugging performance at a time.
2B: Jorel Ortega, Tennessee
Arkansas' Robert Moore was the preseason pick at this spot, but he and Ole Miss' Peyton Chatagnier have struggled at the plate, hitting under .240. Ortega, meanwhile, is another cog in the massive UT offense, posting a .328/7/25 line.
SS: Jacob Gonzalez, Ole Miss
It's certainly been an uneven season for the Rebels and Gonzalez hasn't been exempt from that. But with a .287/11/31 line, Gonzalez has shown his offensive punch and, like the Rebels, could surprise in the second half of the season.
3B: Trey Lipscomb, Tennessee
UT's offense has been historically great, and Lipscomb swings the big bat in the biggest lineup in the nation. For the season, his .370/15/57 numbers attest to his superb season (even if that's only the 3rd-highest average in UT's everyday lineup).
OF: Enrique Bradfield, Jr., Vanderbilt
Bradfield came into the season as the SEC's top speed guy and a look at his 19-for-19 stolen base numbers show that nothing has changed. Bradfield is hitting .294 with 3 homers, but it's his speed on the bases and in the field that earn him this spot.
OF: Dylan Crews, LSU
Crews might have been slightly in the shadow of Arizona transfer Jacob Berry (see below), but he's certainly earned his own plaudits. At midseason, he's posting a .343/9/39 line and will be a key part of the dangerous offense down the stretch.
OF: Drew Gilbert, Tennessee
Perhaps the toughest spot to settle was this one: Gilbert is at the heart and soul of Tennessee's amazing season and Florida's Jud Fabian is one of the league's best power bats. But in comparing UF's struggles vs. UT's brilliance, the edge goes to Gilbert. His .378/3/36 line is definitely respectable, and his 12 doubles attest to his consistent gap power.
DH: Jacob Berry, LSU
Expectations were high for Berry, but he's living up to his billing as perhaps the top next-level prospect in the SEC. His .364/10/36 line is telling of his overall skill set and prominent role in bringing LSU baseball back after a tough 2021 season.
SP: Drew Beam, Tennessee
Tennessee's pitching staff is young but talented. But somewhere early in the season, it became young and talented. Beam is part of that revolution. At 8-0 with a 1.50 ERA and 46 strikeouts in 51 innings, he has been absolutely lights out for the Vols. How good is Beam? Opponents are hitting .127 against him. His teammate Chase Burns would be the 4th starter on this team, but Beam has been otherworldly so far.
SP: Jonathan Cannon, Georgia
How important is Cannon to Georgia? Well, watching the staff get blasted without him by Texas A&M, it's hard to say that Georgia's season isn't completely tied to Cannon's recovery from his recent arm injury. In his 7 starts, Cannon is 6-1 with a 1.71 ERA and 46 strikeouts in 47 1/3 innings pitched. Get well soon, Jonathan.
SP: Connor Noland, Arkansas
How have the Hogs gained control of the SEC West? Largely with a great year from Noland, the former quarterback who has 67 strikeouts in 54 1/3 innings. His 5-1 record and 2.82 ERA attest to his excellence in big games. He's been All-SEC good, and just edged out Chase Burns for this spot.
RP: Blake Burkhalter, Auburn
Burkhalter's 8 saves lead the SEC, but his 36 strikeouts in 25 2/3 innings are even more impressive. Opposing hitters are batting .167 against him, which has certainly not hurt an Auburn team that wins its fair share of close games thanks to the big arm in the pen.