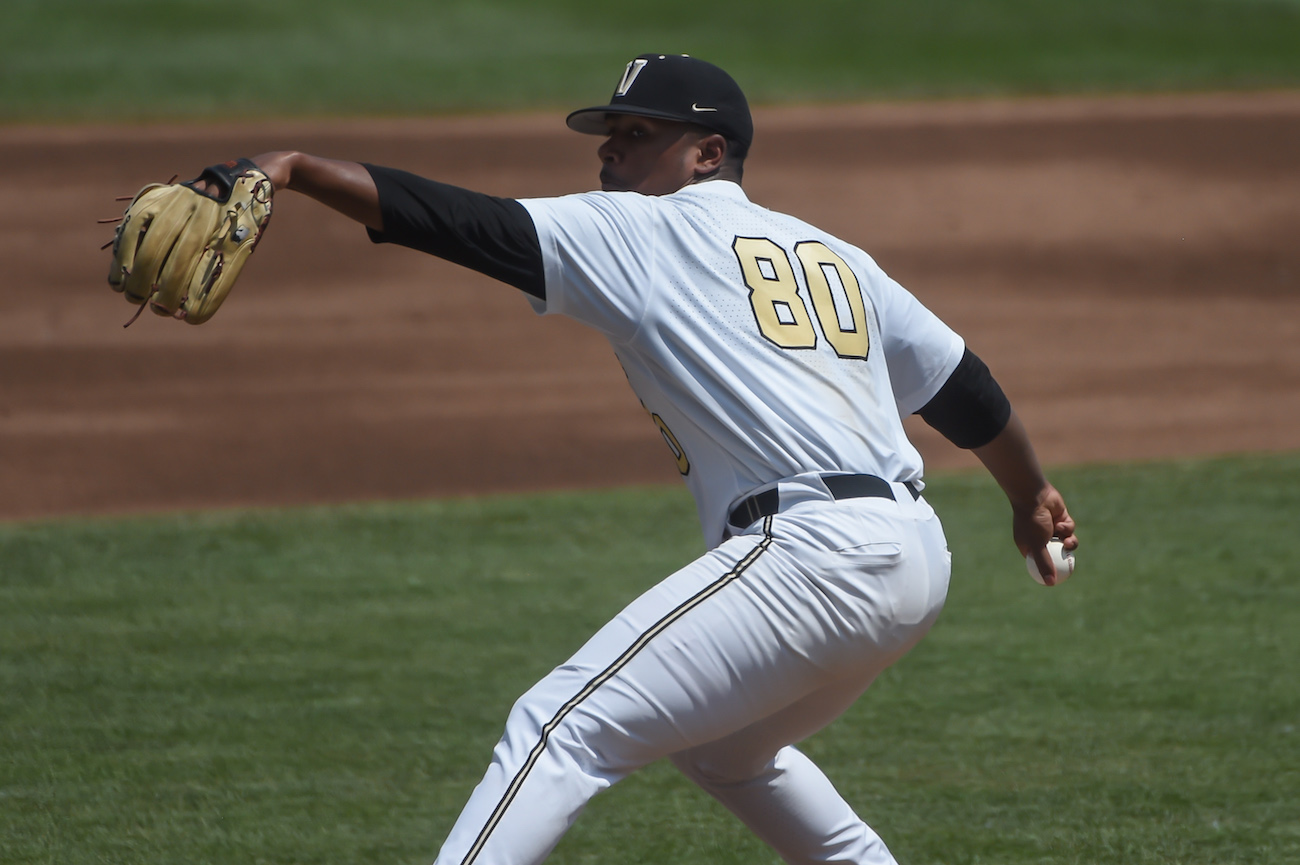 BASEBALL
MLB Draft: 10 biggest SEC takeaways
In typical fashion, the MLB Draft passed quickly and quietly. Much of the Draft's significance will come in weeks ahead, as high school and college propsects weigh whether to sign or return to/enter college. That said, even in the immediate aftermath of the 2022 draft, there are some significant SEC-related takeaways. Here are 10 that stood out.
1. Kumar Rocker was the surprise of the draft
What a path for Kumar Rocker, who was hyped as a potential No. 1 overall pick in 2021, saw rumors of arm trouble cause him to slide to the 10th pick, and then medical evidence cause the Mets to decline to offer him a contract.
Rocker didn't return to Vandy, but did pitch a few Independent League innings to show his stuff one more time. Projections were everywhere from the middle of Round 1 to the middle of Round 2 … but then he jumped to the 3rd overall pick, where the Texas Rangers will reunite him with fellow Vandy ace Jack Leiter.
Rocker's reported bonus of $5.2 million is $2.3 million below the MLB pick value. That savings should allow the Rangers to sign high school ace Brock Porter, whom they picked in the 4th round. Porter slipped because teams feared he would spurn an MLB offer to attend Clemson. What a long, strange trip it was.
2. Tough year for college talent
Rocker was the only college player selected in the first 5 picks. Overall, 14 of the top 30 picks were high school players, although that count does include JUCO standout Cam Collier, who entered JUCO early in preparation for the draft, a la Bryce Harper. It's also worth noting that some of the college picks (again, outside of Collier) came from schools like Campbell, James Madison, Coastal Carolina and UConn. After LSU's Jacob Berry went 6th overall, the SEC hit a drought until Vandy's Spencer Jones went 25th. But there were reasons …
3. Most of the top SEC arms were more likely to be in the ICU than the CWS
OK, so that's a jokey play on words, but the top SEC pitchers had a more than passing relationship with arthroscopic surgery. Mississippi State's Landon Sims went 34th, Florida's Hunter Barco went 44th, and Alabama's Connor Prielipp went 48th. The good news is that all three were big enough propsects to go in the top 50. The bad news is that Barco missed the latter part of Florida's season, and Prielipp and Sims were basically MIA all year long. Had the league's top arms not been hurt, there probably would have been several more SEC first-round picks.
4. It was a big draft for the Vols
Tennessee had 10 players selected in the 20-round draft, with 9 going in the first 7 rounds. Outfielders Drew Gilbert (28th) and Jordan Beck (38th) went high, as expected. UT's own injured ace Blade Tidwell then went 52nd, and a couple of Vols who were less certain, standout third baseman Trey Lipscomb and reliever Ben Joyce, went a few picks apart at 84th and 89th overall. With projected signing bonus values of around $700,000, it should be a decent payday for a couple of guys who impressed the SEC this spring.
5. Ole Miss: Good draft, but stay tuned …
National champion Ole Miss had 7 players drafted, but none until Pittsburgh took Derek Diamond 170th overall in the 6th round. Catcher Hayden Dunhurst and pitcher Dylan DeLucia also went in the 6th round.
All 3 juniors could choose to return to Oxford for another season.
With estimated bonus values of $280-$310K, it would certainly be defensible for any or all of the Rebels to bet on another season. Some of the potential super seniors like Kevin Graham (14th round) and Justin Bench (17th round) might even decide to stick around.
6. Vandy did lose some potential stars
Again, the signing process is early, but Vandy didn't have a particularly great day at the draft. Druw Jones, as anticipated, went very high — 2nd overall to the Diamondbacks. His $8.1 million deal is already signed. Pitchers Dylan Lesko (15th) and Brandon Berreira (23rd) are both slotted as guys who will likely command bonuses of around $3 million.
One challenge in having the top recruiting class in the nation, as Tim Corbin has, is getting those guys to campus. Some of the top 'Dores are going to be getting several million reasons not to show up in Nashville. None of this is surprising, but it doesn't make it good news for Vandy's fan base.
7. Pitchers > sluggers
As noted, even SEC hurlers who have pitched only a handful of innings (Prielipp and Ben Joyce both pitched under 50 college innings) took precedence over a couple of the league's biggest bats. Auburn's Sonny DiChiara went in the 5th round to the Angels with the 148th pick. Ole Miss's Tim Elko went even lower — in the 10th round to the White Sox.
DiChiara has the option to return to Auburn. Elko is out of college eligibility and has no real leverage, both of which contributed to his low draft position.
Still, while neither DiChiara nor Elko is likely to win many foot races or fielding competitions, to see a couple of guys who spent the year pounding top-level pitching wait and wait to be drafted was a little surprising.
8. The SEC's depth surfaced in the draft
Yes, Tennessee having the most picks in the league (and 2nd-most in the nation, behind future SEC member Oklahoma) wasn't exactly shocking. Neither was Arkansas boasting 9 picks, tying for 3rd overall. But even some of the teams nearer the bottom of the SEC produced a wealth of draft choices. Kentucky, for instance, boasted 6 picks, including back-to-back selections in the 8th round (pitchers Tyler Guilfoil and Sean Harney). The SEC squad with the fewest picks? Oddly enough, it was Texas A&M. Only 3 Aggies were selected, with Micah Dallas and Dylan Rock both going in the 8th round. Only losing 3 players to the draft certainly bodes well for Jim Schlossnagle's second year in College Station.
9. And the draft emphasizes how much tougher the SEC will get …
Meanwhile, the soon-to-be SEC duo of Oklahoma (11 picks, most overall) and Texas (8 picks, tied for 4th) just demonstrates what a wrecking ball the league is about to be. The SEC had 83 players drafted. Add those schools in and the total reaches 102. The ACC was next with 58.
10. It's not too early to think about 2023
In true 24/7/365 fashion, the minute the 2022 draft ended, some started thinking about 2023. There are some big SEC names certain to be in play — most notably LSU's Dylan Crews and Ole Miss' Jacob Gonzalez. Vandy's Enrique Bradfield is another potential high pick, although the MLB game isn't predicated on his type of high-end speed anymore.
Undoubtedly, there'll be another big-time pitcher from the SEC on the radar as well, although as Kumar Rocker has taught us, never be too sure about when a guy is entering professional baseball.