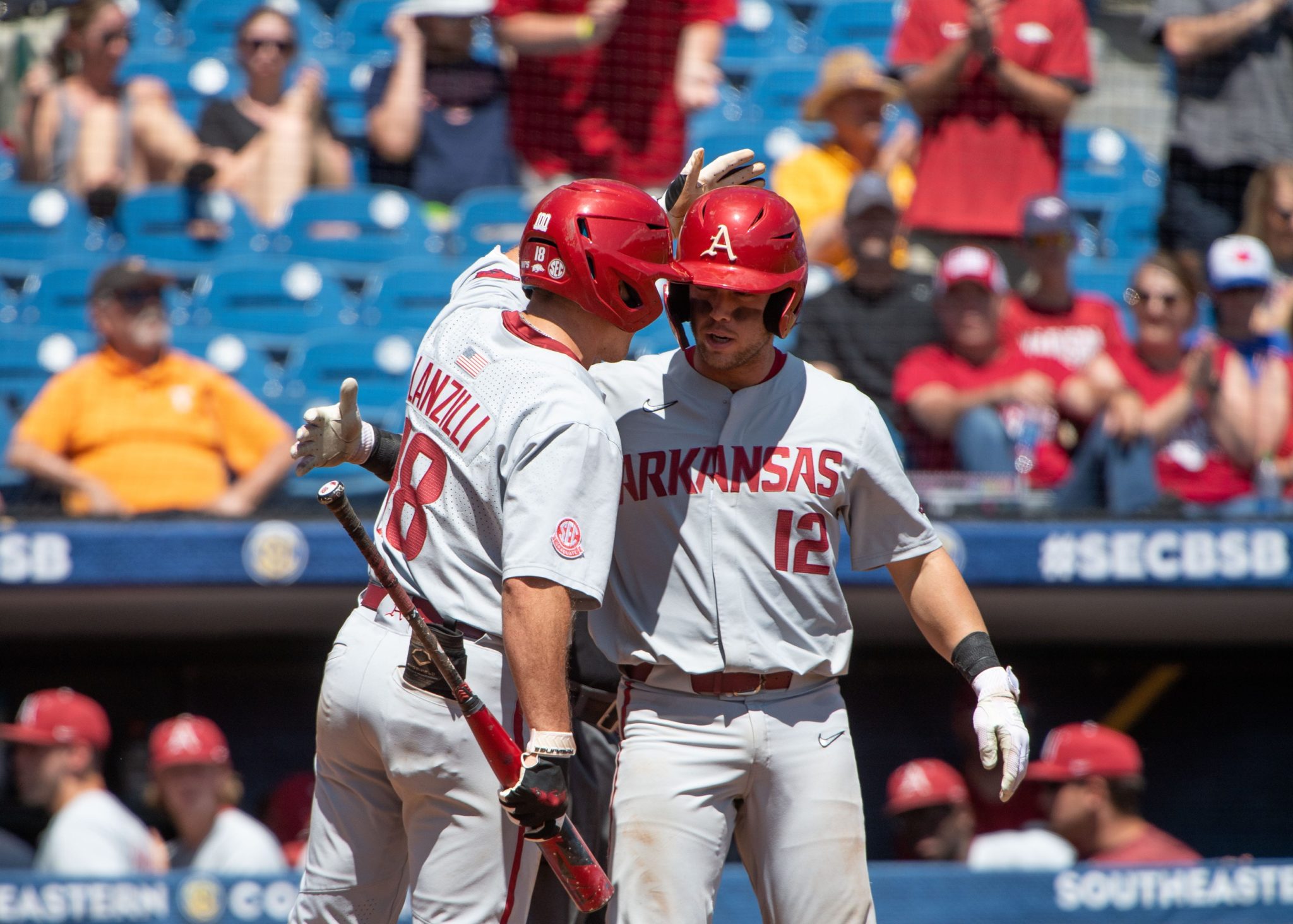 BASEBALL
NCAA Tournament review and preview: 5 SEC teams advance to Super Regionals
The SEC ended Monday with 5 teams bound for the NCAA Tournament Super Regionals. That said, 3 more Super Regional spots were lost by a single run in each case. Still, 4/7th of the SEC West is within a pair of wins of Omaha. It was quite a day.
The easiest winner was Auburn, which had a 9-0 lead over UCLA on Sunday when weather suspended the game in the 6th inning. The Tigers finished an 11-4 win and swept through their regional bracket. Sonny DiChiara had 3 hits and 4 RBIs to smooth the way onward. The Tigers scored 51 runs in 3 games. Let's just say averaging 17 runs a game would keep them in good stead moving forward.
The day's other easy winner was Ole Miss, which sat through an extra day of weather delay and then swept the Miami region field, finishing with a 22-6 beating of Arizona. This game was 5-5 after 4 innings, but with 5 runs in the 5th and 8 runs in the 6th, the Rebels made quick work of the regional final. Tim Elko blasted 3 home runs, scoring 6 runs on the day and driving in 5. Peyton Chatagnier actually drove in 6 runs, somehow besting Elko. The last team into the NCAA field cruised through a tough Miami region.
Arkansas had a tougher path after losing 14-10 to Oklahoma State on Sunday to set up a winner-take-all game Monday. A 4-run 4th inning keyed the Hogs to a 7-3 win, with a Brady Slavens homer opening the day's scoring. Oklahoma State did pull within 5-3 in the 7th inning, but they did not draw any closer. Dave Van Horn's squad washed a disappointing SEC Tournament out of its mouth and hit the ball remarkably well in Stillwater to earn the Super Regional spot, putting up 44 runs in 4 games.
On the other side, Florida had a 3-1 lead after 7 innings in its winner-take-all game with Oklahoma but allowed 4 runs in the 8th to fall 5-4, ending their season. Wyatt Langford hit a league-leading 27th homer in the 9th to pull within a run, but UF didn't get another base runner and fell just shy of advancing.
LSU had a 4-1 edge over Southern Miss after 3 innings of their winner-take-all battle but gave up 2 runs in the 4th and 4 more in the 7th inning. The Tigers rallied to tie the game at 7 in the 8th inning, but USM brought home a run on a sacrifice fly in the top of the 9th, and LSU then went down in order to end an 8-7 loss. Pinch-hitter Gavin Dugas belted the tying homer in the 8th, but the LSU bullpen couldn't hold on. The Tigers played from behind in every NCAA game, and it eventually caught up with them.
Vanderbilt, having beaten Oregon State 8-1 on Sunday had to repeat the task on Monday and also fell a run shy. OSU scored 4 in the 5th to take a 6-3 lead. Vandy rallied for 2 runs in the 6th and another in the 7th to tie the game. After Matthew Gretler broke the tie with a 7th inning homer, OSU turned to ace Cooper Hjerpe, who fanned 5 Commodores in a pair of scoreless innings to save the 7-6 victory that sent Vandy home.
Super Regional matchups
We'll have much more later in the week, but here are the SEC's Super Regional matchups:
No. 1 Tennessee vs. Notre Dame: The Vols will be a healthy favorite against visiting Irish.
No. 5 Texas A&M vs. No. 7 Louisville: The Aggies will host the Cards, who snuck past Michigan on Monday with help from a disputed replay call.
No. 14 Auburn at No. 3 Oregon State: Auburn will head to Corvallis to face Oregon State, which just knocked out Vanderbilt.
Ole Miss at No. 11 Southern Miss: These teams split a pair of mid-week regular-season games. Southern Miss just outlasted LSU.
Arkansas at No. 10 UNC: The ACC Tournament champion Tar Heels had to beat VCU twice in a row to claim their region.
And, worth noting as the countdown for inclusion continues, soon-to-be SEC teams Texas and Oklahoma also made it to the Super Regionals.