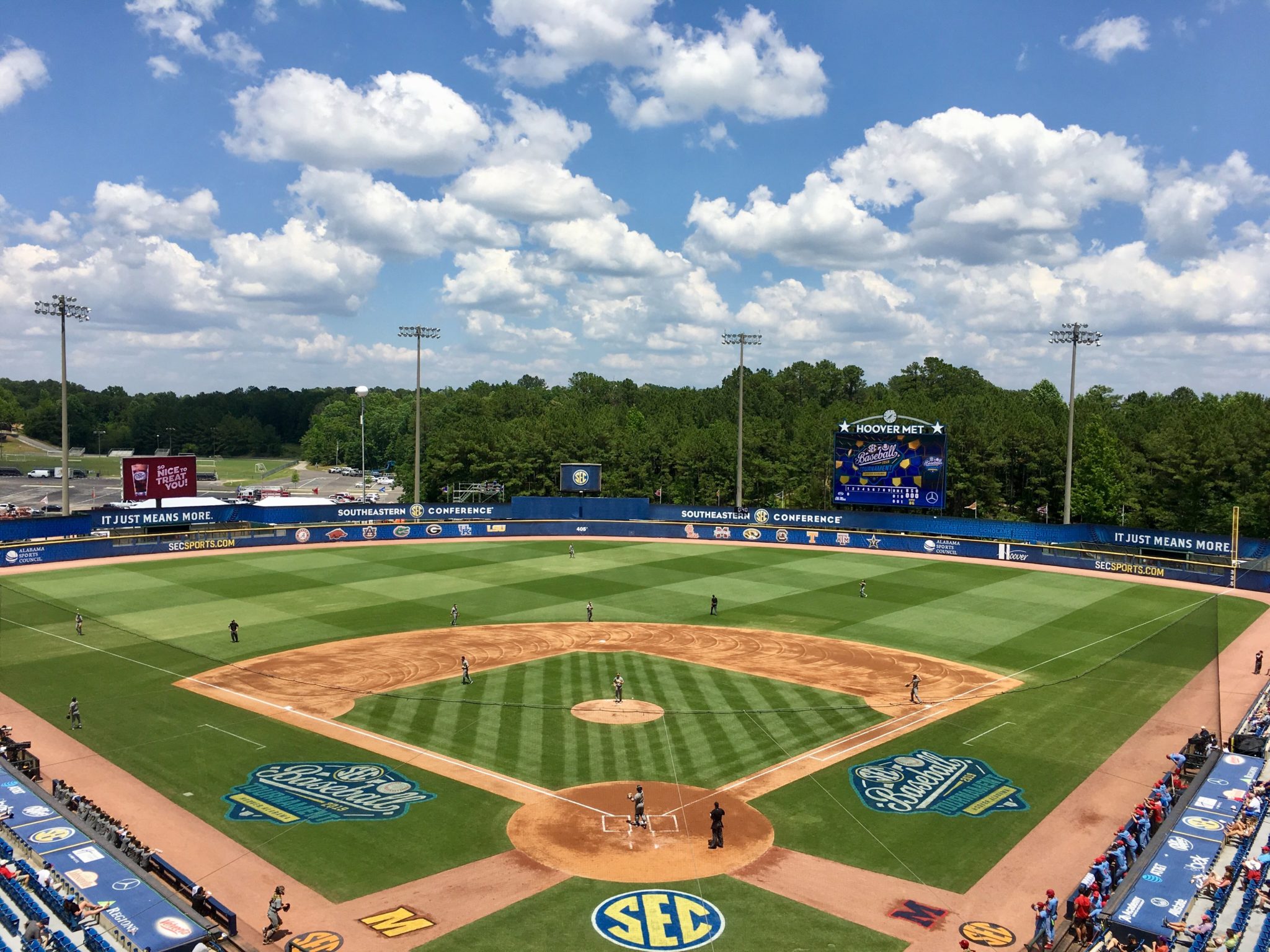 BASEBALL
SEC Tournament preview: What to watch in Hoover
So here we are. The SEC Tournament brings a dozen squads to town with various goals– some are looking to play their way into the NCAA Tournament field, some are playing for regional hosting, and some are playing to win the title. Here's our breakdown of the dozen schools, what they have to do, and how far they could go.
Category 1: They're Out
Missouri (28-23, 10-20) and Mississippi State (26-30, 9-21)
Category 2: Playing for the NCAAs
These are teams that are heading to Hoover hoping to keep flagging NCAA Tournament hopes alive.
12. Kentucky (30-24, 12-18)
What they need: Kentucky does have series wins over UT and Auburn in the last month of the regular season. If they could beat Auburn again, take down LSU and then UT, that might well get the Wildcats into the NCAA Tournament.
What they have to do: Pitch, and pitch and pitch. Kentucky's 4.86 ERA isn't great, but the Wildcats have excelled at keeping opponents in the ballpark, giving up just 48 homers, 3rd-fewest in SEC play. But with a potential path that includes Auburn, LSU, and UT, that's a ton of offensive punch to slow or silence.
How they'll do: Yes, Kentucky just beat Auburn in a series. But that was in Lexington, and the recent familiarity likely gives the Tigers the boost and knocks UK out on Tuesday.
11. Alabama (29-25, 12-17)
What they need: Two wins probably gets Bama in the NCAA conversation. Beat Georgia on Tuesday and then outlast either Arkansas or A&M and that might be enough.
What they have to do: For the Tide, it's a question of hitting. They're last in the SEC in runs scored, and while the teams they face are vulnerable, it'll take work. UGA has no pitching depth and Arkansas and the Aggies have both played a surprisingly high number of close games. But the bats have to come alive for Bama to thrive.
How they'll do: Will take the Tide over Georgia, but then losing to Arkansas and probably Florida to end their season outside the NCAA selection bubble.
10. South Carolina (27-27, 13-17)
What they need: Carolina's horrible RPI makes them a team that needs the most here to harbor NCAA chances. Reaching the semifinals would require wins over Florida, Texas A&M, and Arkansas or Georgia. Would 16 SEC wins get Carolina into the NCAAs? Very possibly not, but it would at least get them in the conversation.
What they have to do: Stay in games. Carolina's last in the SEC in batting average and next to last in runs scored. Their pitching staff is also near the bottom of the SEC in ERA. If the Gamecocks can hang around, anything can happen.
How they'll do: The Gators probably take down the Gamecocks on Tuesday.
9. Ole Miss (32-21, 14-16)
What they need: The Rebels are likely in the NCAA field, so they need to avoid embarrassment. As one of the league's hottest teams, they're capable of being very dangerous.
What they have to do: Support the bats. The Rebels have a talented pitching staff, but they've fought injuries all year. When they keep opposing hitters from teeing off, the Rebels bats can often carry the day. But when they give up 28 runs in 3 games (like the last series against A&M), it doesn't end well.
How they'll do: The Rebels are hot enough to slip by Vandy. But UT? Again, it'll be all about pitching, but the thought here is that the Vols' offense is too much. A potential game against LSU or Auburn would present essentially the same problems. The Rebels will likely be out after one win, but that's enough for the NCAA committee.
Category 3: Playing to host NCAA regional
8. Vanderbilt (35-19, 14-16)
What they need: Vandy has been in the thick of the hosting picture, but a sub-.500 league record probably changes that. Vandy probably can't fall out of the NCAA field, but they'd need a run to at least the semis to get back in the hosting discussion.
What they have to do: It's all a matter of pitching. When the 'Dores pitch well, they do things like win a series with Arkansas. When they do badly, they get blasted by LSU. Their 3.99 team ERA looked respectable, but the 'Dores have a 5.48 ERA in conference play. They walked 141 batters in SEC play, which ties for 3rd-worst, and gave up 47 homers, which is in the middle of the pack of the league.
How they'll do: Vandy could well stumble against Ole Miss on Tuesday. Even if they win, it's hard to imagine them playing consistently well enough to make the semifinals. The prediction is a 1st-round loss that doesn't impact their spot in the NCAA field.
7. Florida (35-20, 15-15)
What they need: Florida was near the bottom of the SEC and they've rallied by beating some bad teams. Can they beat good teams? Hoover is a chance to make enough of a statement to get in the conversation to host a region. They probably have to make the semifinals to give that a shot.
What they have to do: The Gators have to scrap for runs. UF relies heavily on an improved pitching staff and a homer-heavy offense. But in close games, you can't always sit back and wait for 3-run homers. UF hit just .250 in league play, and they need to work on stringing together singles and doubles in Hoover (and beyond).
How they'll do: Florida should beat Carolina, and then could make a big statement against Texas A&M. It's a game they could win — and if they lose, they're entirely capable of taking down Arkansas or Georgia. In the end, it's hard to pick the Gators to beat A&M, but they're very capable of 2 wins and keeping themselves in the hosting discussion.
6. Georgia (35-20, 15-15)
What they need: UGA was a team with a good shot at hosting, but they stumbled down the stretch and may have fallen out of that conversation. Heating back up is the goal in Hoover.
What they have to do: The 7.28 ERA in SEC play tells the story. Somebody other than Cannon has to pitch well.
How they'll do: The big offense should get UGA around Bama, but Arkansas (while also a team that's struggling) will be hard to get past. Florida or A&M are hotter than the Bulldogs, so it's hard to see more than 1 win in Hoover for UGA.
Category 4: Playing to win
5. Auburn (37-18, 16-13)
What they need: Auburn probably does have to play well to hold onto regional hosting hopes, but beyond that, it's a question of how far they can go.
What they have to do: The Tigers need to stay in games. Auburn is a good, not great sort of team.
How they'll do: Auburn has the firepower to best Kentucky, recent series situation aside. The matchup with LSU will be good. If they win, it's back to their fairly heated mini-rivalry with Tennessee. If they lose, it's Vandy or Ole Miss. Auburn is a strong enough team to go toe-to-toe with UT, but the guess here is they go down in the semifinals.
4. LSU (37-18, 17-13)
What they need: LSU wants to get Jacob Berry going and lock down a hosting gig.
What they have to do: Figure out whether Berry can keep playing one-handed, and pitch well enough to let their hitters save the day.
How they'll do: LSU and Auburn look like a great matchup. But does LSU have the firepower to best UT, even if they do get past Auburn? Don't be surprised if LSU and Auburn end up playing twice, and at this point, with Berry still something of a question mark, advantage to Auburn.
3. Arkansas (38-16, 18-12)
What they need: The Razorbacks want to get their mojo back after stumbling out of the SEC West lead.
What they have to do: The Hogs need to get better at manufacturing runs, after hitting just .254 in SEC play. A few more singles and doubles will help Arkansas move down the line from here out.
How they'll do: Arkansas is probably the SEC's sleeping giant and they needed the wake-up call of failing to win the SEC West. Says here the Hogs have enough to outlast A&M and make the finals.
2. Texas A&M (35-17, 19-11)
What they need: A&M is one of the hottest teams in the league, and they're looking to make a statement and win the league, nothing less.
What they have to do: Tighten up the defense. A&M's hitting has improved, and the pitching has been good enough to keep them in games. But 35 errors in SEC play ties for most in the league. In competitive post-season baseball, good defense can be the difference between moving on and not.
How they'll do: Arkansas' experience and superior defensive work give them an edge to sneak past the Aggies in the semifinals.
1. Tennessee (49-7, 25-5)
What they need: To do what they've done all year.
What they have to do: Not play tight. UT is the favorite and deserves to be. They've been the best hitting and pitching team in the SEC, if not the entire nation. Stay strong.
How they'll do: They'll win. And win some more after that, although we're getting ahead of ourselves.