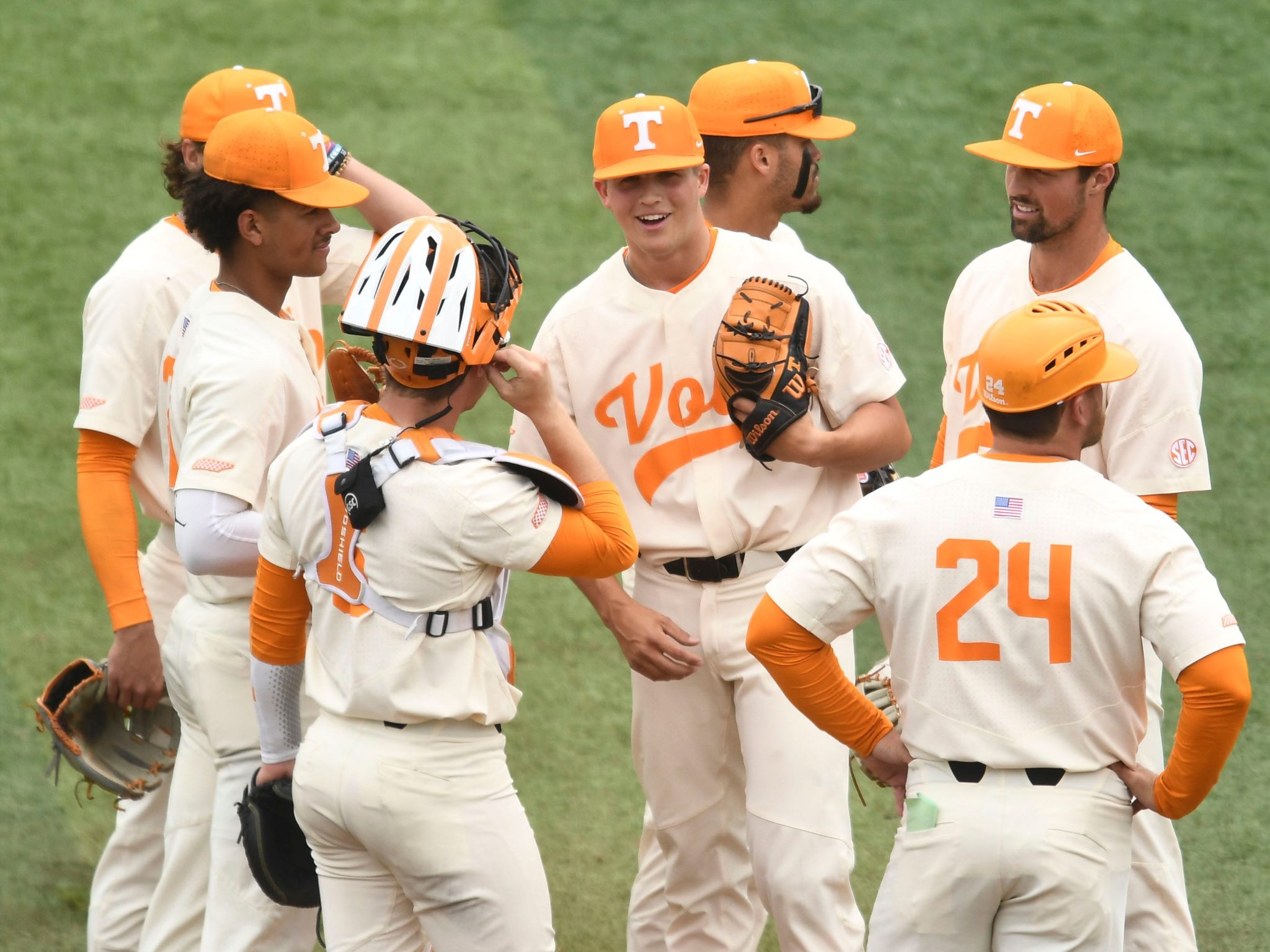 BASEBALL
Week 10 SEC Baseball Power Rankings: No catching Vols in East, unscrambling the West
If you try to make sense out of the SEC, then let's talk about the West. We all pretty much have a handle on the East — UT is great, Georgia is pretty good, Vandy and Florida are disappointing, and the other 3 are the dregs of the league.
But the West? Well, Arkansas is (barely) on top of the standings and Ole Miss is somehow stuck on the bottom. Between them? Flip a 5-sided coin maybe. That won't work for us though, so here's the best guess at our weekly rankings of the SEC.
14. Missouri (22-15, 5-13)
The Tigers didn't have an especially bad week, but 5 conference wins is the low mark for the league and they did get swept in an admittedly competitive series with LSU. Still, somebody has to be last.
13. South Carolina (19-20, 6-12)
Carolina came out of a nice series win with Ole Miss and … promptly got swept by Auburn. Yes, the Gamecocks are capable of hanging around with anybody. But they do have the league's worst overall record and are a game out of the conference standings cellar.
12. Kentucky (22-18, 6-12)
The Wildcats lost to Louisville and then lost their series against Vandy. The good news was after getting no-hit and embarrassed in the opener, UK won Game 2 and stayed competitive in a 5-3 loss in Game 3. Still, this isn't an NCAA Tournament kind of team.
11. Ole Miss (22-17, 6-12)
How on Earth was this Ole Miss team ranked No. 1 in the nation at one point? By losing 2 of 3 to Mississippi State, they fell 2 games into the West cellar.
10. Florida (23-17, 6-12)
Had the teams below them not collectively had awful weeks, the Gators might well have fallen deeper. They're 11 games behind UT with 12 conference games to play. Florida and Ole Miss both have done their part to stand as the disappointment of the SEC to date.
9. Mississippi State (24-17, 8-10)
Given the injuries that have plagued their season, the Bulldogs have less available talent than Florida or Ole Miss. The difference is that this State team continues to grind. Wouldn't be shocking to see them follow LSU's example last season — slog their way into the NCAA Tournament and then upset some favored but less tenacious opponents.
8. Vanderbilt (28-11, 9-9)
By winning a ho-hum series over Kentucky while the bottom of the East got slammed, the Vandy Boys have virtually locked down a spot not worse than 3rd in the East. For some odd reason, I projected Florida to make a late run, but it's actually Vandy that (when the offense creates enough runs) shows signs of late-season life.
7. Alabama (24-17, 9-9)
Alabama lost its series to Georgia but did pick up a win and stayed in competition for the top spots in the West. The struggles of the Mississippi teams have all but locked the Tide into the NCAA Tournament. A series with South Carolina gives Bama a shot to gain some ground ahead of 3 tough division series matchups to end the regular season.
6. LSU (27-12, 10-8)
The Tigers swept Missouri, which wasn't surprising. But they did it by winning close games, which is good news for a team that's been an offensive juggernaut but sometimes struggled to do the small things well. This week's series with Georgia is tough, but it gets lighter after for the Tigers, who climbed to within 2 games of Arkansas in the West.
5. Texas A&M (25-14, 10-8)
The No. 23 Aggies got the best of Arkansas, managing to win both pitching duels (2-1) and high-scoring offensive battles (11-10). Winning consecutive series matchups with Georgia and Arkansas is a good sign for an A&M squad that finishes with Vandy, Carolina and the Mississippi schools. Hold serve this weekend and the Aggies could sneak in and steal that West crown.
4. Arkansas (31-9, 12-6)
The No. 10 Razorbacks dropped a surprising series at A&M and trimmed their West division lead to a single game over Auburn. This weekend's series at home against Ole Miss is key. Arkansas then finishes at Auburn, home against Vandy, and at Bama, so picking up a game on the field this weekend would be big.
3. Auburn (29-12, 11-7)
So No. 21 Auburn over Arkansas? Well, the Tigers swept Carolina and pulled within a single game of their division rival. But now they go to Tennessee while the Razorbacks host Ole Miss. If Auburn can come out of the weekend within 2 games of Arkansas, they can still win the division — particularly because they host the Hogs the following weekend.
2. Georgia (28-12, 11-7)
So why is No. 16 Georgia 2nd? Because Jonathan Cannon made it back and was doing Jonathan Cannon things. Pitching has been the question mark for UGA and while winning 2 of 3 from Alabama, they also started their 2 top starters, Cannon and Liam Sullivan, for the first time in a series in conference play. Playing at LSU and at Tennessee in the next 3 weeks will tell whether UGA stays here or slides to, say, 4th or 5th.
1. Tennessee (37-3, 17-1)
Another week, another series sweep to become the first SEC team to start 17-1 in league play, another reason to note how far ahead of the field the No. 1-ranked Vols remain in the SEC — and nation.