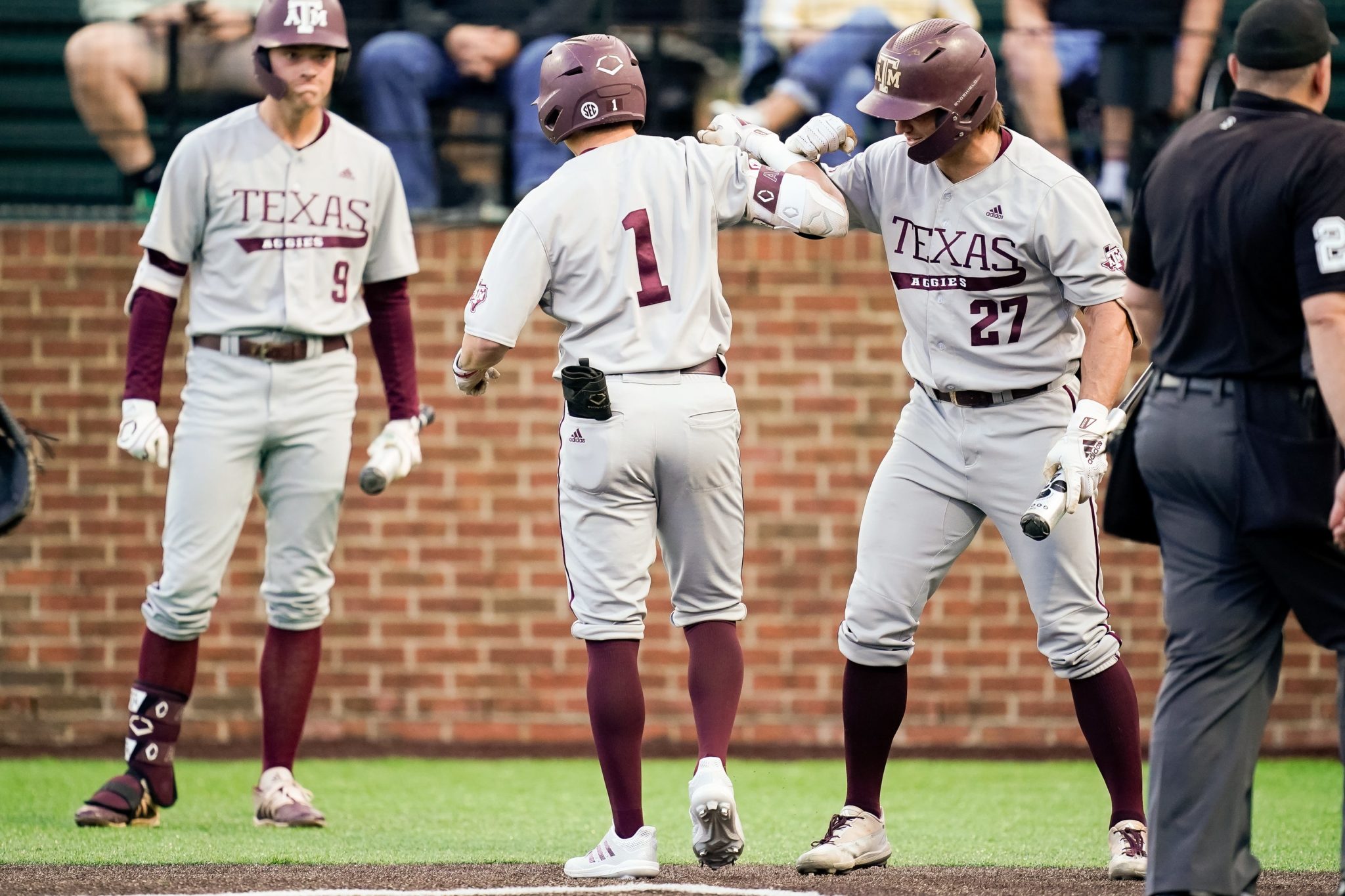 BASEBALL
Week 13 SEC Baseball Power Rankings: How the league stacks up entering final regular-season weekend
Hoover is waiting. SEC baseball's regular season is down to its final week, and the SEC Tournament is literally a week away, with the NCAA Tournament awaiting immediately thereafter. The story of last week has to be Texas A&M making its climb in the West, but that said, how do the squads of the SEC stand heading into the final weekend? Here's our best guess.
14. Missouri (26-22, 8-19)
The Tigers lost another series to Florida, and head to the last week of SEC play 2 games out of a spot in Hoover. They need to sweep Georgia in Athens to have any real chance at a spot in the SEC Tournament, and that looks unlikely.
13. Mississippi State (25-27, 9-18)
Likewise, the Bulldogs, who were swept by Texas A&M, have a tough path to even reach Hoover. Down a game on Kentucky and a game and a half on Bama and closing the regular season with a series against Tennessee, State looks all but certain to be a defending national champ that finds itself shut out of postseason play just a year later.
12. Kentucky (27-23, 10-17)
Coming off its series win over Tennessee, Kentucky dropped a series at South Carolina that could have put UK solidly on the NCAA bubble. Instead, Kentucky hosts Auburn probably needing a win to seal up a spot in Hoover, and probably needing 3 or 4 more wins to feel good about the NCAA Tournament.
11. Alabama (27-24, 10-16)
Alabama is a half-game ahead of Kentucky because of the weather cancellation of Sunday's game against Auburn, which was a 1-1 tie in the 5th inning. The Tide have a tough series at home against Arkansas, and like Kentucky, they could use a win to solidify their spot in Hoover. Also like Kentucky, they probably have too tall of a hill to climb to reach the NCAA Tournament absent some Hoover heroics.
10. South Carolina (26-24, 12-15)
The Gamecocks picked up a pivotal series win over Kentucky and have all but locked up a place in Hoover. They play a series at Florida and are just a game behind the Gators going into the series. If Carolina could win the series, they've got a decent NCAA Tournament case despite their poor overall record. Without that series win, they definitely need a decent showing in Hoover to keep the ball rolling.
9. Ole Miss (31-19, 13-14)
The Rebels did finally wake up after all, picking up 6 consecutive SEC wins to climb out of the SEC West basement and make a run at a successful season. Given their talent, the Rebels will be a dangerous foe in Hoover, and could well leapfrog their way into the NCAA Tournament.
8. Florida (32-19, 13-14)
The Gators won a series at Missouri, but a sweep would have jumped them into a 2nd-place tie in the East with Georgia and Vanderbilt. A home series against South Carolina leaves Florida with another chance to make one final climb in the East. Given a strong strength of schedule, the Gators are virtually assured an NCAA Tournament spot.
7. LSU (33-18, 14-13)
The Tigers were swept by Ole Miss and have a tough matchup at Vandy. LSU has been one of the most dangerous offenses in college baseball, but the loss of Jacob Berry to injury has dropped the Tigers' momentum and plunged the team into the middle of the pack of the SEC. Can Berry come back? How close to his usual standard of play will he be if he does? LSU's postseason probably depends on the answers.
6. Georgia (33-18, 14-13)
UGA fell into a 2nd place tie with Vandy by losing their series to Tennessee. The Bulldogs do get to finish with Missouri at home, which gives them an excellent shot to remain in 2nd place in their division, although likely off pace for a first-round bye in Hoover.
5. Vanderbilt (34-16, 14-13)
No. 21 Vandy picked up a significant series win over Arkansas and could be rounding into postseason form as they prepare to play LSU in their final series. The Commodores' youth hasn't always gelled, but it's talented youth, and Vandy could easily turn into last year's LSU — a team that pushes its way deeper into the NCAA Tournament than most expected.
4. Auburn (35-16, 15-11)
The No. 20 Tigers won both games over Alabama, but did lose 1 game to weather. They're 1.5 games behind Arkansas and A&M in the West, although in good shape for the No. 4 seed and a first-round bye in Hoover. With a series against Kentucky to finish the regular season, the Tigers should be in good form heading into Hoover and likely hosting an NCAA regional after that.
3. Arkansas (37-14, 17-10)
The No. 7 Razorbacks dropped a series to Vandy and fell into a first-place tie in the West. This is a talented Arkansas team, doubtlessly an NCAA regional host, and a potential CWS team. But frankly, the Razorbacks have rarely been exceptional this season. They also feel like the highest-regarded SEC squad that could be at real risk of an early NCAA upset.
2. Texas A&M (33-16, 17-10)
The No. 4 Aggies pulled even for the SEC West, locked up a first-round bye in Hoover, and have likely won an NCAA regional hosting slot. Can they win the West? They finish with a suddenly dangerous Ole Miss team while Arkansas plays Alabama. The Aggies head into the weekend as the SEC's hottest team, and college baseball as a whole has noticed.
1. Tennessee (45-7, 22-5)
The Vols, who returned to No. 1 in Baseball America's weekly Top 25, wrapped up the SEC regular-season title and remain the most dangerous team in the country. That said, they've gone 5-4 in their past 9 conference games. Did Tony Vitello's squad peak too soon? Probably not, but a focused performance this weekend against Mississippi State and then in Hoover will go a long way to still those worries.