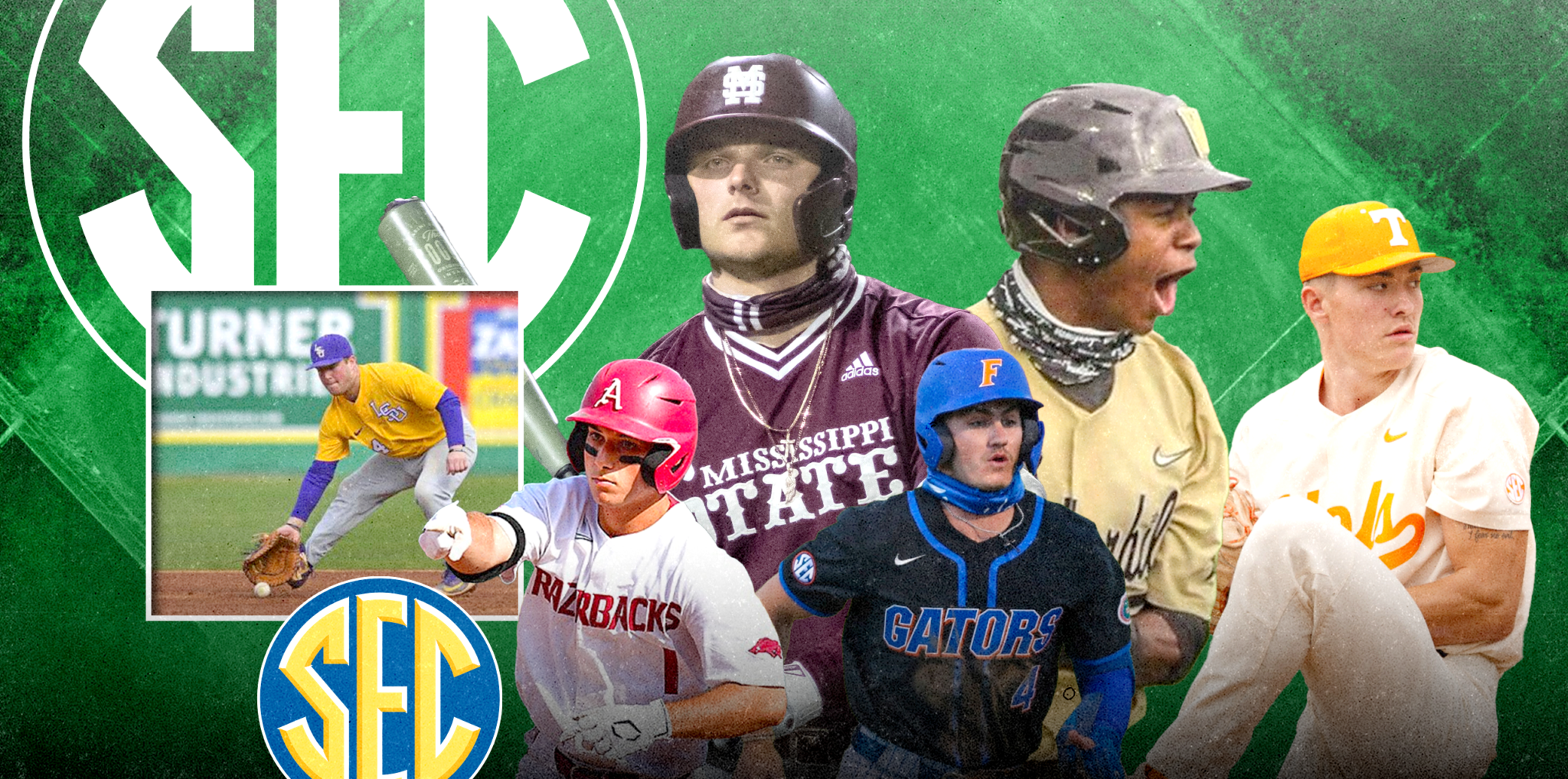 BASEBALL
Week 5 SEC baseball Power Rankings: The race for No. 1 is heating up
Conference play has arrived and SEC baseball is getting serious. The days of a weekend series with Nowheresville Tech are over, and the wins are hard-earned. Five SEC teams are in the top 10 of Baseball America's Top 25 poll, headlined by No. 1 Ole Miss. Here's where we've got the SEC hardball pecking order after the opening series of conference play.
14. Missouri (12-5, 0-3)
The Tigers crashed back to Earth in a series with Vanderbilt. No shame in losing, but Mizzou struggled at the plate and on the mound. The pitching difficulties were a recurring problem last year, but there was some reason to hope the Tigers have turned the problem around. If not, it's going to be a long season in CoMo.
13. South Carolina (10-9, 0-3)
It hasn't been that long since the Gamecocks upended Texas. But it feels like it's been awhile. UT had absolutely no problem with Carolina, which in and of itself isn't the problem. The Vols are going to beat plenty of good teams this year. But they might not beat them by a 23-5 combined margin. Carolina is last in the conference in batting average and next to last in ERA. Yikes.
12. Kentucky (14-7, 0-3)
The Wildcats are the last of the 3 SEC squads to get swept on opening weekend. Arkansas is a quality team, so no real shame there. But the Wildcats' league-high 5.41 ERA is certainly a cause for concern. The offense is better for Kentucky, but the pitching has a ways to go … and not much time to get there.
11. Alabama (13-8, 1-2)
The Tide lost their opening series with Florida but avoided getting swept and did a good job battling the UF bullpen. If Alabama or Auburn are going to sneak into the NCAA Tournament picture, they need to manufacture wins. The difference between a sweep and a series loss and a close series loss and a close series win will be key. This weekend's series with Mississippi State is big.
10. Auburn (14-6, 1-2)
Give the Tigers some credit. Sure, they lost their series to now-No. 1 Ole Miss, but they did beat them on Friday by a 19-5 count. That's a win that wasn't enough to swing the series but gives some real credibility in terms of the eyeball test, particularly on offense.
9. Mississippi State (12-9, 1-2)
State dropped their opening series with Georgia, coming close in the middle game and leveling UGA 20-3 on Sunday. At this point, State doesn't look able to compete with Ole Miss or Arkansas. But what about LSU, A&M and the Alabama schools? That will tell the tale of the Bulldogs' season.
8. LSU (15-5, 1-2)
Consider this a probationary move down for LSU. The Tigers are better than this, but in losing their opening series to A&M, LSU showed some issues. Most of those issues were on the mound, where the Tigers allowed 23 runs on 39 hits over the series. The offense is still there — although there were some struggles with leaving runners on base against the Aggies. But LSU has to get right on the mound — and on defense, where they made 6 errors in their first SEC series. Incidentally, they are last in the SEC in errors with 35 — a ton more than 13th-place Ole Miss with 22 (SEC leader Arkansas has 9).
7. Texas A&M (12-7, 2-1)
The Aggies leapfrog their way into the middle of the SEC pack by winning their opening series at Baton Rouge. Until last weekend, it seemed like Jim Johnson's rebuilding job at LSU was well ahead of Jim Schlossnagle's at A&M. But the Aggie bats came to life and won a statement-making series. Hosting Auburn this coming weekend provides a great opportunity to gain some ground on the bottom teams in the West standings … or to slide back down several spots.
6. Georgia (16-4, 2-1)
The Bulldogs took care of business against Mississippi State … but did it barely. After blasting MSU 11-0 on Friday, they eeked out a 12-11 win on Saturday, only to get blasted by 17 runs on Sunday. There is still an element of whether Georgia's solid early-season play is legitimate. They travel to Kentucky this weekend in a game that will either prove their status as one of the East's big four … or as one of the East's bottom four.
5. Florida (15-5, 2-1)
The Gators rolled the Tide despite an 8-7 Sunday loss. Hunter Barco was brilliant on Friday, but UF's bullpen nearly gave the game away. Right now, that bullpen is the difference between the Gators and the Vols and Dores on top of the East. But offensively, the Gators are strong. Florida's 41 homers are 2nd only to Tennessee among SEC teams, and Jud Fabian and Wyatt Langford (each with 8 homers) have outhomered 2 SEC teams on their own. This weekend's series with LSU could be two flammable pitching staffs and a pair of offenses that will react like gasoline.
4. Arkansas (16-3, 3-0)
The Razorbacks could well be No. 1 in these rankings at this point, in total honesty. There's very little to separate the top of the SEC and if Arkansas is No. 4, it's only because they've accumulated fewer style points than the teams above them. The Razorbacks are 11th in the SEC in batting average and 10th in runs scored. Will that be enough offense to get past some of the offensively loaded teams in the league? If so, they're as good as anybody. If not, they're probably still a top 10 team nationally.
3. Tennessee (19-1, 3-0)
The Vols, on the other hand, have absolutely unloaded on pretty mediocre competition — including South Carolina to open SEC play. UT leads the SEC in batting average, runs scored and ERA. But is that a function of a weak nonconference schedule, a supremely talented team, or a little bit of both? This weekend's showdown with Ole Miss in Oxford will tell the story.
2. Vanderbilt (17-2, 3-0)
Vanderbilt opened the season by losing a series to Oklahoma State. Since then, the Dores have won 16 in a row. If there's a weakness for Vandy, it's that they don't have a ton of power — despite being 2nd in the SEC in batting average, the Vandy Boys are 8th in runs scored. But meanwhile, Vandy's pitching staff has allowed just 4 homers in 166 innings. They'll outpitch anybody.
1. Ole Miss (15-4, 2-1)
The Rebels, ranked No. 1 in Baseball America's poll, aren't the most consistent team in the SEC — they lost 2 games last week. But their balance is astonishing. There are better hitting teams, and probably a couple of better pitching teams, but there might not be any more balanced teams. That said, is it too early to say this weekend's series with UT feels a little definitive?