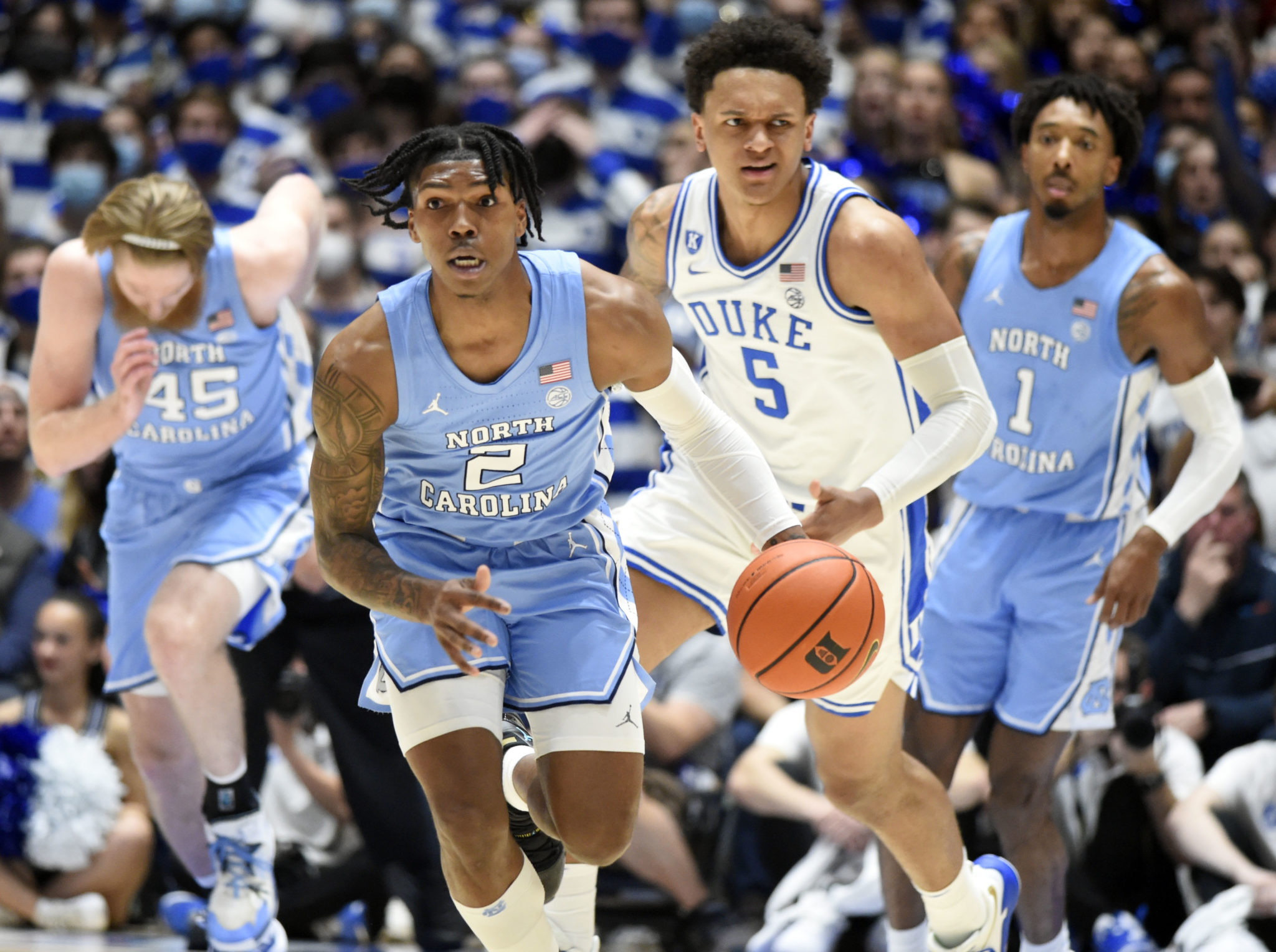 COLLEGE BASKETBALL
Blue heaven? Finally, thankfully, we get UNC vs. Duke in the Final Four
Duke had not even closed out its dominant Elite 8 victory over Arkansas on Saturday night before the thought started creeping from our collective college basketball fan subconscious to the tips of our tongues.
Duke and North Carolina were just a smashed Cinderella slipper from meeting in the Final Four. UNC smashed it Sunday, dominating Saint Peter's.
After 102 years of basketball games between the schools, separated by just 8 miles but joined forever at the hip in discussions about the sport's history, the long-talked about and dreamed-of scenario will occur: Duke vs. UNC in the Final Four.
There were plenty of close calls: 15 previous times, in fact, both reached the Sweet 16 together. In 1991, they both made in the Final Four.
But this year, which is perhaps the most unlikely of years for the matchup to happen, it is finally happening.
We love sports because of storylines. We love the spontaneity of sports, the surprise and emotion. We know, as fans and journalists and broadcasters and even as casuals, that championship seasons don't come often and magical moments are rare. But we watch waiting for them anyway. We live for the moments when things don't play out according to script.
An 8 seed North Carolina team that didn't have a Quad 1 win until late February meeting a 2 seed Duke team that limped into the NCAA Tournament after a humbling ACC Tournament championship loss to Virginia Tech meeting in the Final Four?
And did we mention it's happening in Mike Krzyzewski's final NCAA Tournament, raising the very real possibility that Coach K coaches his final game against, of all teams, UNC?
Of course, the other possibility is that, one last time, Mike Krzyzewski bests the bitter rival in the lighter shade of blue. The stakes in North Carolina-Duke are always higher than your typical basketball game. It's the greatest rivalry in college basketball for a reason. But now: a Final Four game that could also be the final game of the Krzyzewski era and one that could send North Carolina to the national championship game in its first season under new head coach Hubert Davis?
The whole plot is stranger than fiction, but as sports fans, we live for the scripts that would be too far-fetched to put in a storybook. It's why we still talk about things like the Miracle on Ice, Dave Roberts stealing second base, Michael Jordan and the "Flu Game," or that shot hit by Christian Laettner. Every so often, sports delivers what a novelist or screenplay cannot: honest, raw, reality.
Just a month ago, we thought the days of North Carolina vs. Coach K were dead and gone.
The Tar Heels had exacted a measure of final revenge, saying goodbye to Krzyzewski by spoiling his farewell appearance in Duke's fabled Cameron Indoor Stadium, defeating the Blue Devils 94-81. Duke spent 48 hours, with ESPN in tow, building toward a crescendo of the 42 year Krzyzewski era in Durham, only to see Coach K exit stage left a double-digit loser who struggled to shake his counterpart's hand as the handful of Tar Heels fans who had paid the price of a few month's mortgages to be in attendance roared in delight.
One has to wonder what impact Coach K's cold handshake — or lack thereof — will have on the emotion of next Saturday's game in New Orleans. This rivalry has had tense, deeply personal moments, from Krzyzewski suggesting the ACC referees had a "double standard" as it related to UNC's Dean Smith to the "bloody Montross game," to Gerald Henderson's elbow to Tyler Hansbrough's face in 2007. But all of that bad blood was cultivated in the regular season or at the ACC Tournament. It's hard to fathom it will compare to a rubber match at the Final Four!
Despite the bitter taste left in their mouth in March, Duke, as the fates would have it, has given Krzyzewski one last shot at redemption. One last shot at proving that after 13 Final Fours and 5 national championships, the thing he still relishes most is beating North Carolina.
The Tar Heels, well — they get the greatest opportunity of all — the chance to end the Krzyzewski era themselves on the sport's grandest stage. North Carolina has won big games. The program has won 6 national championships, after all. But a win over Duke in the Final Four? That would be the 142nd win for North Carolina in the history of the rivalry, and none would be bigger or more satisfying.
The game promises to rival the Magic vs. Bird 1979 NCAA final as the most-watched college basketball game in history.
This is as it should be, given the rivalry's stature not just in the college basketball universe, but the sporting landscape as a whole. Is there an equivalent to Duke-UNC at the Final Four? There aren't many. Yankees-Red Sox, Game 7 of the ALCS comes to mind. Auburn-Alabama or Ohio State-Michigan, if by some miracle those games ever happened in a College Football Playoff semifinal, perhaps. We've had the occasional Red Sox-Yankees Game 7, and FSU and Florida once played for a national championship just weeks after meeting in the regular season. But there's little else to provide a point of reference for what will occur in New Orleans next weekend, and we've never seen this type of thing happen as a legend prepares to leave the game forever.
It would all be the stuff of fantasy.
If it weren't actually about to happen at the Final Four.