COLLEGE BASKETBALL
Predicting how far every SEC team goes in 2021-22 basketball season
The SEC had an outstanding season in college basketball in the 2020-2021 campaign.
During the regular season, 4 SEC teams spent time ranked in the top 10 of the AP poll and the league held off the Big 12 in the SEC-Big 12 challenge. The league posted its second top 4 overall finish among the Power 6 basketball conferences in the past 3 seasons, per KenPom, and finished second nationally in out-of-conference wins against the Power 6. These numbers are a testament to the continued improvement of the SEC as a basketball conference, a commitment made by Greg Sankey several years ago when he took over as commissioner.
Regular-season success carried over into March as well. Six SEC programs advanced to the NCAA Tournament, with the league posting a 4-2 mark in the first round and advancing multiple programs to the second weekend (Alabama, Arkansas).
The 2021-22 season may be the best yet. Advanced metrics like KenPom and Bart Torvik each peg the SEC as one of the top 3 leagues in the country, and there are as many as 9 SEC teams that should compete for berths in the NCAA Tournament. While 9 aren't likely to get in, the competition should make for one of the most memorable SEC basketball seasons ever.
Here's the SDS prediction of how far each team will go in March, where marvelous seasons are remembered.
Alabama: Top 6 in SEC, Round of 32
Nate Oats made a big statement in Year 2, capturing Alabama's first SEC title since 2002 and winning the Crimson Tide's first SEC Tournament title in three decades.
As an encore, the Tide enter the 2021-22 season with one of the league's top 2 players in 4th-year guard Jahvon Quinerly, one of the league's best shooters in junior guard Jaden Shackelford, and an elite top 20 recruiting class led by 5-star point guard JD Davison. The McDonald's All-American has been as advertised in fall camp, and he'll only get better as the season goes on for Alabama. The Tide also added a high-profile transfer in Noah Gurley, a transfer from Furman who was one of the best mid-major players in the country a season ago.
The injury to former McDonald's All-American Nimari Burnett hurts because the Tide won't be able to overwhelm teams with their guard depth, as they did a season ago. But Alabama made their living last year on defense anyway, riding a group that rose from 114th to 3rd in KenPom's  Adjusted Defensive Efficiency, exhibiting the scary combination of hyper-fast tempo + elite points per possession defense.  They are hard to play against and should ride that to another tournament bid and quality season in 2021-22.
How they overcome the losses of SEC Player of the Year and All-American Herbert Jones (Round 2, New Orleans Pelicans), prolific shooter John Petty Jr., and NBA talent Josh Primo (1st round, San Antonio), will dictate whether I'm underrating the Crimson Tide or not.
Arkansas: Double bye in SEC Tournament, Sweet 16
A season ago, "The Importer" Eric Musselman incorporated 9 new faces beautifully to advance to the Elite 8 before falling to eventual national champion Baylor. This year, they replace a good portion of the core of that team, including Moses Moody (1st round, Golden State), Justin Smith, Jalen Tate and key role player Desi Sills. They do return JD Notae, who can score from anywhere, Devo Davis, who was quietly one of the SEC's best players from February onward a year ago.
Musselman will be challenged replacing Smith and Moody defensively, and the Hogs are unlikely to be a top 10 defense again. But they add Chris Lykes from Miami, who is absolutely lethal in transition thanks to his speed and hard to guard despite his 5-7 height thanks to a strong midrange game (47.3% in 2019-20, per Hoop-Math). Au'Diese Toney, a transfer from Pitt, can also stress defenses in a number of different ways, and he should help this be Musselman's best offense yet in Fayetteville.
The other "X-factor?" Musselman, for the first time in his career as a head coach, showed the ability to adapt his offense to his talent. He ran less dribble-drive isolation than at any time in his career last year, per Synergy. The result was an offense that incorporated various looks and optimized having a roster with 5-6 people who could score at a high level. Sound familiar? It should because that's the kind of team he has again this season.
Auburn: Double bye in SEC Tournament, Round of 32
After 3 dominant basketball teams that included an SEC Champion (2017-2018) and a Final Four team (2018-2019), Bruce Pearl's program took a step back a season ago when the Tigers went 13-14 and missed the postseason entirely. The delay in star guard Sharife Cooper (Round 2, Atlanta Hawks) being cleared to play by the NCAA didn't help, but the real issue for Auburn was that they were terrible defensively. The Tigers ranked outside the top 100 in Adjusted Defensive Efficiency, per KenPom, and they were particularly awful on the glass (307th!) and at getting steals (226th), the latter being a Pearl ball-pressure defense staple.
To remedy this problem, Pearlk hit the portal, grabbing 5-star transfer Walker Kessler from North Carolina, who can rebound and was one of the country's better rim protectors (10.7% of opponent's shots when he was on the floor) a season ago.
Kessler will help the half-court defense, but can they get better at defending in transition, or will teams continue to get easy buckets on the break?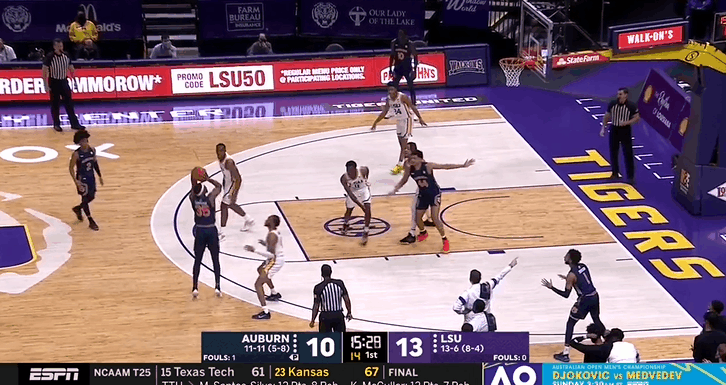 At a minimum, the addition of College of Charleston veteran Zep Jasper will help, as he gives Auburn a senior (they had zero last year). The Tigers also expect KD Johnson, a big, physical guard who transferred from Georgia and can really score, to improve defensively.
At a minimum, this team will defend a little better and it is a year older. That will spell good things for Pearl and Auburn, who should e a tough out in SEC play and will return to the NCAA Tournament where they are plenty good enough to win a game.
Florida: Top 5 in the SEC, Sweet 16
After 3 seasons of being one of the youngest rosters in college basketball, Mike White now has one of the oldest, with the Gators average age over 22 years old for the first time since the 2013-2014 SEC championship, Final Four group. The Gators have the SEC's longest NCAA Tournament appearance streak (4) and are one of 6 programs to win a game in each of the past 4 NCAA Tournaments.
But Florida fans want more under White and to get it, they'll need the Gators to stay healthy, which hasn't happened in the White era, and play better defense.
The Gators finished in the top 25 in Adjusted Defensive Efficiency in years 1 through 4 under White, but have not been in the top 40 since. This team can be better: White hit the portal for Summit League Defensive Player of the Year Brandon McKissic and Big South Defensive Player of the Year Phlandrous Fleming, who, along with All-SEC big Colin Castleton, give Florida a nice defensive core.
That's a start, but what will make this Florida team tough to beat is their scoring balance. Much like last year's Arkansas team, the Gators have at least 5 players who will flirt with 10 points a night, led by Castleton and B1G sharpshooter transfer Myreon Jones, a career 40% shooter from deep who can also create his own look in the lane if called upon to do so.
Last season, Florida's ability to overcome 3 COVID pauses and the painful, horrifying loss of All-American Keyontae Johnson made their run to the second round one of the league's better stories. This year, they'll be underrated — and a great story yet again, but for happier reasons.
Georgia: When does spring football start?
Georgia hasn't won an NCAA Tournament game since 2002. That was a big reason the Dawgs moved on from Mark Fox, who went to 2 NCAA Tournaments, posted a record of 163-133 in 9 seasons and guided Georgia to winning seasons in each of his final 5 years in Athens. The grass isn't always greener, and Tom Crean, who ran a blue-blood program in Indiana to the ground, was always a risky hire. Risky has turned into disaster in Athens, but at least Crean's buyout shrinks significantly after this season.
Kentucky: Double bye in SEC Tournament, Final Four
Kentucky responded to its worst season since the Eddie Sutton era by hitting the transfer portal for perhaps the SEC's best point guard in Sahvir Wheeler (Georgia), landing a dynamite midmajor scorer in Kellan Grady, and inking one of the deadliest shooters in the sport in CJ Fredrick (Iowa). They also added an outstanding big, West Virginia's Oscar Tshiebwe, as a midseason transfer last winter.
Of course, Kentucky fans already know all of this, but here's why Cal rebuilding his roster in the portal (while also signing a top 10 recruiting class led by TyTy Washington) matters so much: For the first time since Kentucky went 38-1 in 2014-2015, the Wildcats' starting lineup age is above 20 years old. Cal will still tell the media at every opportunity that his team is "young and figuring it out," but they aren't — they are older and good with some NBA-type talent youngsters — and that makes them lethal. I expect Kentucky to return to the Final Four this March.
LSU: Top 8 in SEC, Round of 64
Is the guillotine finally going to drop on Will Wade? It certainly seems so, as the NCAA is finally close to finalizing an investigation that began in the autumn of 2017 and coincided with an FBI investigation of college basketball corruption implicating Wade at the same time. According to longtime LSU scribe Glenn Guilbeau, Wade is unlikely to survive the whole mess, no matter how much LSU would like to keep him.
If this is Wade's last team in Baton Rouge, it will be similar to the ones that came before it in many ways: very talented offensively, chock full of talented freshman, and not particularly interested in playing defense. I don't know if the Tigers will be "give up 23 3s to Alabama" bad on defense again — the addition of Cincinnati transfer Tari Eason and a maturing Mwani Wilkinson will help — but they'll still have issues.
Still, it will be really fun to watch Efton Reid and Jerrell Colbert, both big-time frontcourt players with complementary skill sets, as "twin towers" at times and Justice Williams and Alex Fudge, who enrolled early, add playmaking dynamism on the wing.
Mississippi State: Top 10 in SEC, NIT
In classic Ben Howland style, there is plenty to like about the frontcourt, which features All-SEC center Tolu Smith, who led the SEC in rebounding last season. The addition of Garrison Brooks, who joins after an up and down career at North Carolina, gives Howland his preferred natural 4 to complement his 5. Whether this team is just an NIT team, as we project, or an NCAA Tournament team, will depend on how much the backcourt gets from Michigan State transfer Rocket Watts and NC State transfer Shakeel Moore, who had some brilliant moments for the Wolfpack last season.
Missouri: No postseason
Cuonzo Martin hasn't quite gotten over the hump at Missouri, but he has taken the program to 2 NCAA Tournaments in his 4 seasons in CoMo. Last year, had the Tigers in the top 10 in the country before Mizzou spiraled to a 3-7 finish and lost in the first round.
This season, the losses of Dru Smith, Jeremiah Tilmon, Xavier Pinson (transfer to LSU), and Mark Smith (transfer to Kansas State) will be too much to overcome.
Ole Miss: Top 10 in SEC, Round of 64
Like Florida, Kermit Davis has a team full of veterans, including 3 key transfers, who should help his team weather the grind of conference play. How will a team that the NCAA committee said was one of the "first four out" find its way in the field this March, you ask?
Simple. They'll improve offensively. Yes, the Rebels lost leading scorer Devontae Shuler and leading frontcourt scorer Romello White. But Jarkel Joiner returns, and is a better shooter than his 26% numbers showed last year. And Matthew Murrell was one of the top shooters in the 2020 recruiting class — there's just no way he shoots as poorly as a sophomore as he did as a freshman (31%).
Throw in Georgia transfer Tye Fagan and Miami transfer Nysier Brooks, who will fit right in within Kermit's pick-and-roll scheme, and they'll score a little more than they did last year and win a little more in the process.
They'll also continue to play great defense, deploying an unpredictable mixture of zone and man and changing defenses to keep teams confused.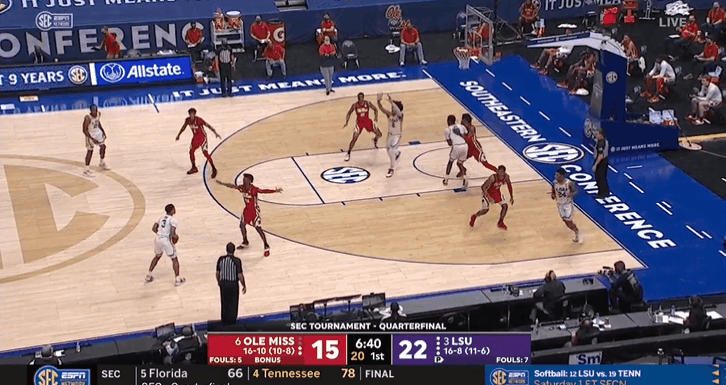 This is also one of the best frontcourt defenses in the county, and the backside of Ole Miss' zone, with players like Luis Rodriguez and Robert Allen (stuffing Trendon Watford, above) is especially stingy (0.737 points per possession, per Synergy).
South Carolina: Top 10 in SEC, NIT
AJ Lawson left for the G League and Justin Minaya left for Providence, but this will be the most "Frank Martin" type team the Gamecocks have had since the program's run to the Final Four in 2016-2017. Martin infused this roster with a number of transfers, including defensive stopper James Reese (North Texas) and a great shot blocker in AJ Wilson (George Mason). The Gamecocks will be big and physical on the glass again as well, making them difficult to play against — always a Martin calling card. But the lack of top-end talent offensively will hold them just short of the NCAA Tournament.
Tennessee: SEC champions, Sweet 16
Rick Barnes and the Vols fell short of expectations last season after being a trendy preseason Final Four pick. The Vols struggled to score in their halfcourt offense (88th in KenPom Adjusted Offensive Efficiency), spoiling a defense with stoppers like Yves Pons and defensive menaces Josiah-Jordan James and Keon Johnson.
Teams don't usually lose 2 NBA first-round draft picks (Johnson, Jaden Springer) and get better, but this year's Tennessee team will thanks to a massive recruiting class featuring brilliant point guard Kennedy Chandler, power forward Brandon Huntley-Hatfield and top-50 center Jonas Aidoo. That top-5 class will blend beautifully with a healthy James, 6th-year senior John Fulkerson, and a trio of outstanding shooters in Auburn transfer Justin Powell, guard Victor Bailey and a "finally playing off the ball" Santiago Vescovi.
The Vols are as deep as any team in the SEC, well-coached and should capture their 2nd SEC crown under Barnes and slay the dragon that is the first weekend of the NCAA Tournament as well.
Texas A &M: Hey, Jimbo beat Alabama!!
The Buzz Williams era to date is just proof you can't always go home again. Williams left a Virginia Tech program he had just taken to the precipice of the Elite 8 for a Texas A&M program that made just 2 NCAA Tournaments in 7 seasons in the SEC prior to Kennedy's arrival. Two years later, Williams is 24-24 overall, the Aggies have spent 0 weeks ranked, are 3-12 in games against teams in the KenPom Top 50, and have 0 wins over ranked opponents.
Williams is a good coach, and there are plenty of resources in College Station.
But for now, this will be another long campaign where most of the discussion is about Jimbo Fisher's football program. Hey, did you hear the Aggies beat No. 1 Alabama!?
Vanderbilt: Scotty Pippen Jr. is fun! (NIT)
Has a team that will almost certainly finish in the bottom half of its conference ever been appointment television? Vanderbilt might be. That's how good Scotty Pippen Jr. is.
This guy is back.

Scotty Pippen Jr. scored or assisted on 40% of Vanderbilt's field goals last season and set a school record for points per game for a sophomore (20.8).

Should be a preseason All-SEC first teamer entering his junior year. pic.twitter.com/RuWPhdcWrV

— Justin Hershey (@justinhershey26) July 8, 2021
He's also a dynamite passer, finishes in a number of ways at the rim and he drops bombs from deep:
Run it back, @spippenjr ?

Scotty Pippen Jr. will return for his third year. @VandyMBB pic.twitter.com/NbNd3azKKA

— SEC Network (@SECNetwork) July 16, 2021
It's going to be fun to flip to Vanderbilt games this year and see him do his thing, and he'll help Jerry Stackhouse guide the Commodores to the NIT this March.