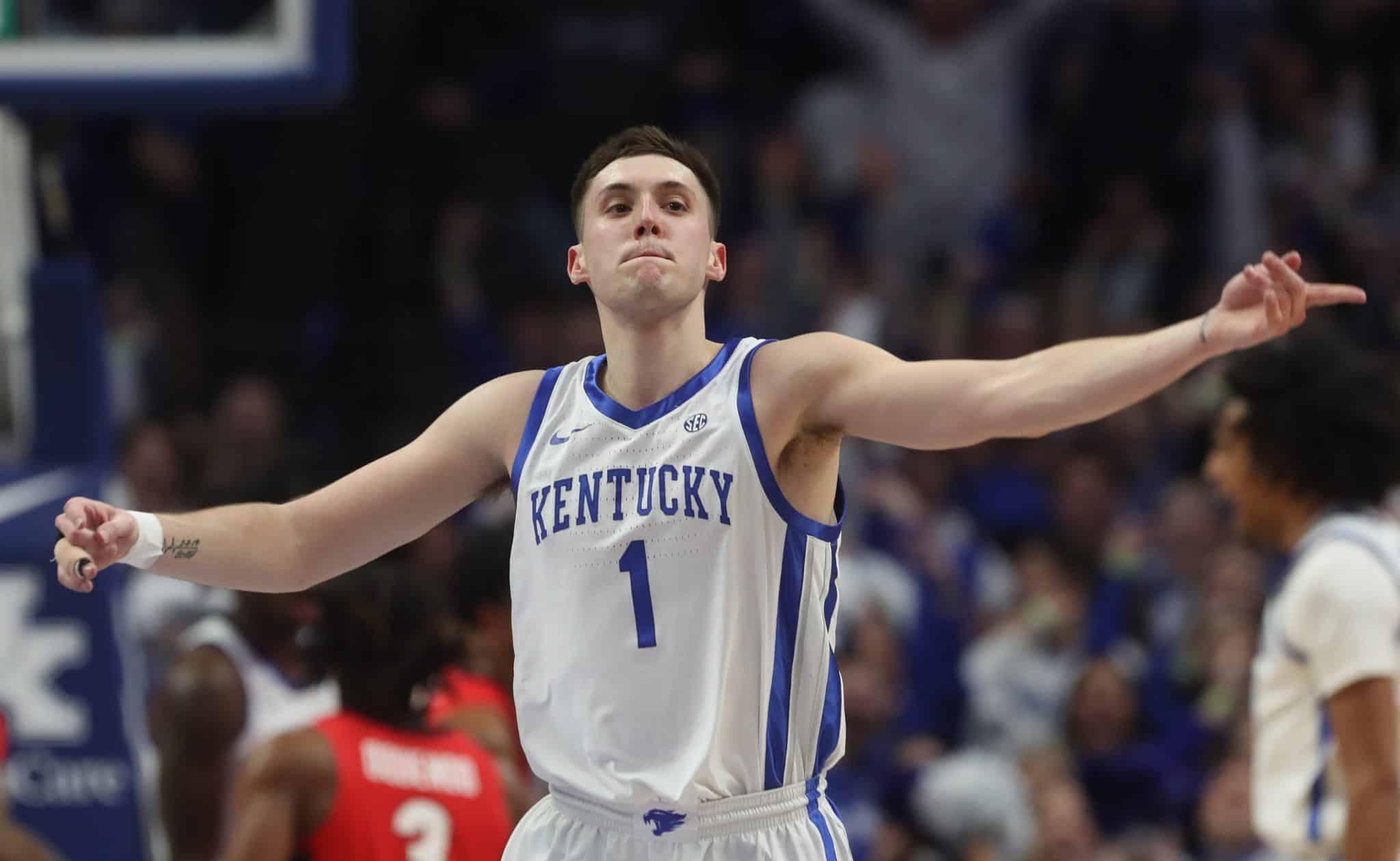 COLLEGE BASKETBALL
SEC basketball notebook: A&M arrives, Alabama thrives, Kentucky revives (maybe?) and more
Some of the things we thought we knew about SEC basketball have turned out wrong. Or at least shaky. But don't blink, because if the past week has taught us anything, it's that the league can flip faster than luck at a blackjack table. Here's a look around the SEC.
A&M arriving
Coming off a season where the Aggies were basically backdoored out of the NCAA Tournament, Buzz Williams's team had some expectations entering the season. Then, they did things like lose to Colorado by 28, lose to Boise by 15, and lose to Wofford. But A&M has opened SEC play at a 4-0 clip. Granted, their biggest win yet has been to Missouri, but when the Aggies go +20 and +30 on the glass, as they did in their past 2 games, then Buzz Williams' guys might just make some March noise. Wade Taylor is averaging 16 points per game in league play, and was 7-for-14 in A&M's past 2 games. Will it continue?
Will the real Kentucky please stand up …
Which UK is real? I'm not sure John Calipari even knows.
Kentucky 1) lost a soul-crushing home game against lowly South Carolina, then 2) won in Knoxville, and then 3) let Georgia score at will in a home game in the first half Tuesday, trailing by 8 at intermission, and finally 4) blew Georgia away in the second half on a 37-and-24 game from Oscar Tshiebwe.
Which UK is the real UK? All of them? None of them? Who knows. Sahvir Wheeler's inconsistency at both ends of the court have made it harder for John Calipari to keep leaning on him, and UK might finally just cast its team behind Cason Wallace at point guard. Or something else bizarre and unexpected might happen.
Bama balling
Alabama obviously is dealing with some very serious issues off the court.
On the court? Alabama is 6-0 in the league with an average victory margin of 21 points. Brandon Miller is leading the league in scoring in conference play, and has done so while shooting almost 58% overall, including a cool 22-for-44 from 3-point range. But defense might be the hidden key here — Bama has held SEC foes to 33.4% shooting. That's 1.5% ahead of 2nd-place Tennessee, and a full 4.2% better than 3rd-place Florida. The Tide are also hitting 11 3-point shots per game in SEC play, which is miles ahead of UT in 2nd place with 7.5 treys per game. Can it last? It's worth noting that Alabama has yet to lose a game in which it hasn't had 19+ turnovers. Protect the ball and the Tide should be fine.
Arkansas' struggles continue
On the other hand, Arkansas hasn't been fine. The "will he/won't he" Nick Smith situation is doing no one any favors, and who knows when or if Smith will ever play for Arkansas again. And the Hogs opened SEC play at 1-4. A big problem is, frankly, shooting. Arkansas is 343rd in D1 basketball in 3-point percentage, shooting a sickly 29.1% from long range. And two of the better shooters were Smith and Trevon Brazile, who is out for the year. In their past 2 SEC games, meanwhile, Arkansas has allowed Alabama and Vandy to shoot a combined 19-for-38 from 3-point territory as the Hogs lost both games. Considering that the schedule still includes trips to Alabama, Mizzou, Baylor, and Tennessee, the 12-5 Hogs could well lose double-digit games. And could still be dangerous in March.
Bracket update
BracketMatrix's most recent projections have just 5 SEC teams in the NCAA Tournament field — and Joe Lunardi agrees. In the BM bracket (which is a combination of dozens of alleged expert bracket predictions), Alabama has earned a top seed and UT is a No. 2 seed. Auburn is slated for a 5 seed, Arkansas for a No. 6, and Missouri for a No. 9 seed. Kentucky and Mississippi State are the No. 3 and 4 teams out in BM's bracket, while Lunardi has UK as the last team out of the NCAA field, with Texas A&M 2 spots below.
Games to watch
A few highlights from the week to come:
Arkansas at Mizzou (Wednesday): This game probably wasn't circled on preseason calendars, but the Tigers are a slight home favorite over the Hogs, who could use a win to not fall to 1-5 in SEC play. Meanwhile, Mizzou has stumbled a bit lately and will be looking to rebound.
Texas A&M at Kentucky (Saturday): Is either team for real? Can either team score enough to put the other away? Feels like an olden day slugfest of the 58-50 nature.
Tennessee at LSU (Saturday): The Vols did lose to Kentucky, but it felt a little fluky, particularly in light of how many open UT shots just fell off the rim. The Vols bounced back and want to keep momentum with a road win.
LSU at Arkansas (Tuesday): The Tigers have lost SEC momentum and particularly if the Mizzou game doesn't go Arkansas's way, Arkansas could really use a win here.