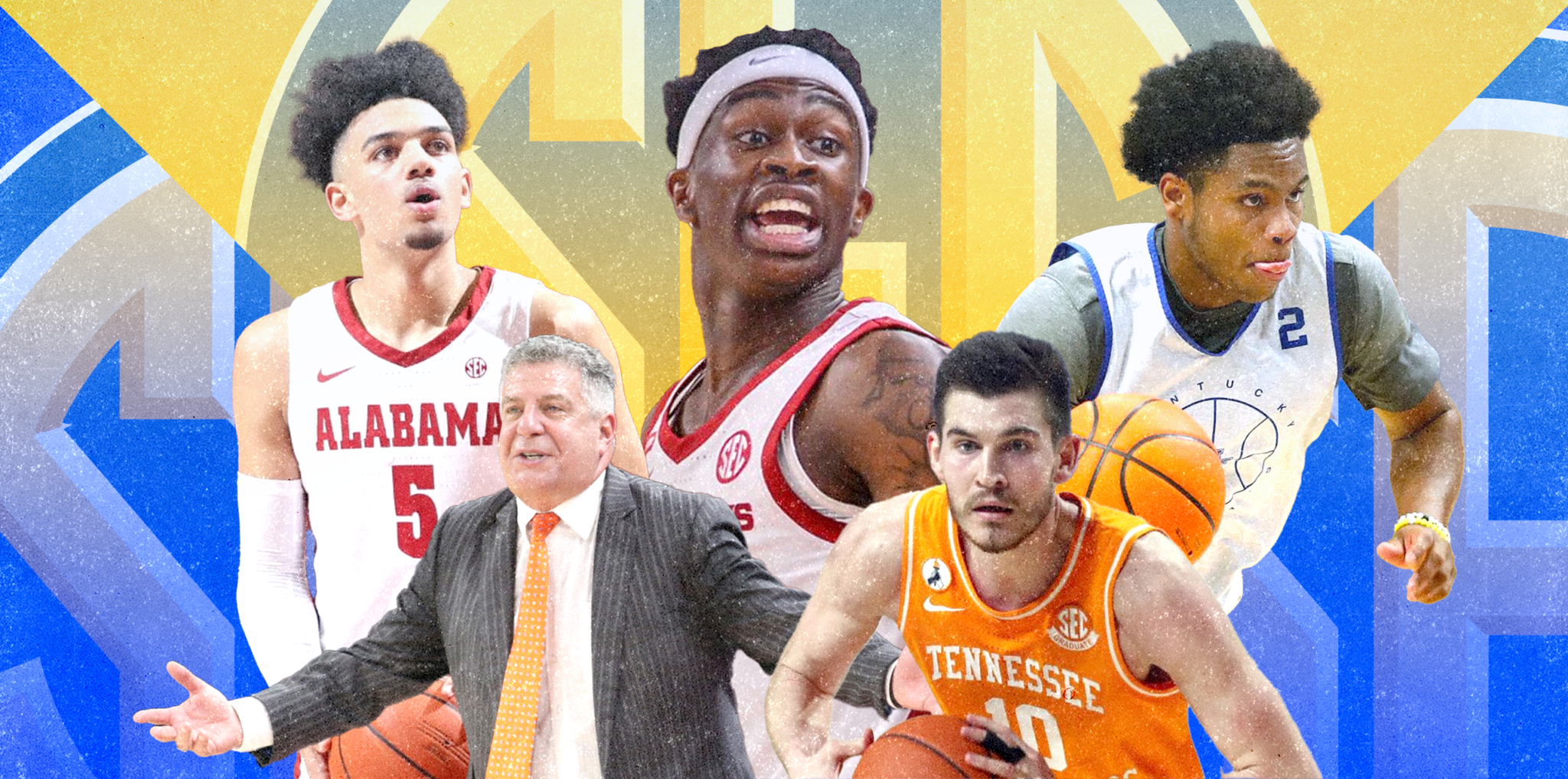 COLLEGE BASKETBALL
SEC Basketball Power Rankings: Florida continues to rise, Arkansas picks up impressive win
There has been plenty of college basketball action on TV the past few days, with plenty more to come as holiday tournaments continue this week.
It's been a busy few days for SEC teams, many of which are playing in aforementioned holiday tournaments. But, the tournaments are just getting started, which means there are going to be some even bigger matchups for many teams as this week progresses.
So, how have the games that have been played affected things in the SEC?
Here's a look at our weekly SEC men's hoops power rankings:
14. Georgia (2-3 overall, Last week: 13)
Georgia gave Virginia a run for its money in the Roman Legends Classic on Monday night, but that probably is more about the Cavaliers being bad this year than it is about the Bulldogs being any good this season. The Virginia offense is brutal to watch. Georgia had plenty of opportunities to win, but fell apart down the stretch. That's going to have to change if the Dawgs are going to put up many SEC victories this year.
13. Vanderbilt (3-1, LW: 10)
Yeah, maybe I was a bit too high on the Commodores coming into the season. Their 48-37 home loss against VCU on Wednesday really soured me on them. Was it a 1-game disaster or a sign of tougher times to come moving forward? Well, we'll find out on Wednesday of this week, as the Commodores head to Pitt for a Power 5 showdown.
12. South Carolina (3-1, LW: 12)
It's hard to evaluate this team without Keyshawn Bryant in the lineup. Bryant is serving a 5-game suspension, meaning he'll miss Tuesday night's game against Wofford. It's fair to think that the Gamecocks might be 4-0 right now if Bryant had played in every game. The 66-62 loss to Princeton is still a bad one, though, with or without Bryant. Don't be surprised if the Gamecocks lose to the Terriers on Tuesday night, too.
11. Mizzou (3-2, LW: 14)
Yeah, the Tigers got absolutely demolished by Florida State in the title game of the Jacksonville Classic on Monday night, but this team showed some fight during the event. First of all, there aren't 25 teams better than the Seminoles in college basketball, so I have no idea why they dropped out of the AP Poll this week. Kobe Brown scored 24 points and had 7 rebounds to lead Mizzou to an overtime win over SMU in the opener of the Jacksonville Classic. Clearly, the Seminoles watched that and decided to use their length and athleticism to keep him from hurting them in the final.
Brown went 3-for-3 for 6 points in the first half, but the Tigers were having trouble getting him the ball. Other teams are going to copy that strategy moving forward. Cuonzo Martin is going to have to scheme up some ways to get Brown some space to shoot. Unfortunately, drawing up plays offensively isn't exactly a strength of this coaching staff.
10. Ole Miss (3-2, LW: 9)
Going 1-2 at the Charleston Classic with losses to Marquette and Boise State probably wasn't what Ole Miss fans had in mind. The Rebels' only win in the tournament came against Elon. In the 60-50 loss to the Broncos, Jarkel Joiner led the team with only 10 points. The Rebels also only went 2-for-10 from 3-point range. They're going to have to find a way to take (and make) more 3s moving forward. Ole Miss has 2 easier games to get back on track before No. 9 Memphis comes to town on Dec. 4.
9. Texas A&M (4-1, LW: 11)
The Aggies went cold in the second half against Wisconsin on Monday in the first game of the Maui Invitational in Las Vegas, but I'm still higher on Buzz Williams' squad than I was entering the 2021-22 campaign. Quenton Jackson is just so fun to watch when he has the ball in his hands. He's always good for a highlight or 2:
​​https://twitter.com/aggiembk/status/1462887421046054917
The Aggies take on Butler on Tuesday in the Maui Invitational. I expect them to beat the Bulldogs. Then, that should set up a good game for the Aggies in the finale on Wednesday.
8. LSU (5-0, LW: 8)
LSU continues to roll, knocking off Belmont 83-53 on Monday night. Mizzou transfer Xavier Pinson had a nice game, scoring 14 points. He's going to need to continue to grow into the leader of this offense if LSU is going to keep winning:
X has no mercy for anyones ankles https://t.co/XltjiRPBkt pic.twitter.com/Xflda880Sq

— LSU Basketball (@LSUBasketball) November 23, 2021
But, the Tigers have yet to leave Baton Rouge for a game this year. That'll change on Friday, when they begin the Emerald Coast Classic against Penn State in Destin, Florida. That should be a game the Tigers win.
7. Mississippi State (4-0, LW: 7)
The Bulldogs' defense is for real. They've held 3 of their 4 opponents under 50 points so far this season. But, they face their first big-time test on Thursday night in the Bahamas Championship against Louisville. That'll be a great test for Ben Howland's squad in an interesting environment. Win that one and I'll have to find a way to bump Mississippi State up in these rankings.
6. Kentucky (4-1, LW: 6)
Kentucky had 5 players score 10 or more points against Albany on Monday night. That's a good sign, even if it is against an inferior foe. We won't learn anything more about this Wildcat team for a few games yet. Their next 3 contests are against North Florida, Central Michigan and Southern, all in Lexington. Then, finally, they hit a stretch of games at Notre Dame, vs. Ohio State in Las Vegas and vs. Louisville at home. We'll see what happens in those games.
5. Arkansas (4-0, LW: 5)
That. That was what I was waiting for from the Razorbacks. This team has gotten off to slow starts all year, but that wasn't the case in Kansas City. The Hogs took their foot off the gas pedal late in the second half, letting Kansas State close to within 72-64 for the final score. I still want to see them play a full game on Tuesday against a tough Cincinnati team.
But, I did like that the Hogs won even on an off night from JD Notae. He had 11 points on 4-for-17 shooting (2-for-10 from 3). But, he had 5 assists, including this beauty:
GIMIME DAT turns into AND ONE pic.twitter.com/7SGMk9jk9d

— Arkansas Razorback Men's Basketball ? (@RazorbackMBB) November 23, 2021
Winning when you shoot 3-for-22 from long range isn't anything to turn your nose up at, even if Kansas State isn't a great squad. We'll see if the Hogs can continue to improve moving forward.
4. Auburn (3-0, LW: 2)
I'm bumping the Tigers down a couple spots after they struggled to beat USF this past week. In the 58-52 win, the Tigers only shot 19.2% (5-for-26) from 3-point range. That's the problem with teams that live by the 3. They also sometimes die by the 3. However, I'm not giving up hope yet. Far from it. If Auburn picks up a win over a ranked UConn team on Tuesday in the Battle 4 Atlantis in The Bahamas, I'll be back aboard the bandwagon.
3. Tennessee (3-1, LW: 3)
Oh, hello there, Zakai Zeigler! Tennessee had a busy weekend, losing to Villanova at Mohegan Sun in Connecticut before bouncing back and beating North Carolina handily. That's a big-time win — perhaps the best win any SEC team has so far in this young season (Florida's win against Florida State being the other).
Zeigler, a 3-star freshman, was overshadowed in this year's recruiting class by 5-star players Kennedy Chandler and Brandon Huntley-Hatfield. But, he showed out on Sunday, scoring a team-high 18 points to go with 5 assists:
? ? Zakai Zeigler 18pts 5assts. #18 ranked Tennessee beat #17 ranked North Carolina. @Realzakaiz ? pic.twitter.com/tXjRi44P46

— RealScoutBasketball (@RealScoutBBall) November 22, 2021
Villanova, being an experienced, veteran team, was a bad matchup for a Tennessee team that doesn't have too many games together under its belt. But, the Vols showed what they could do in that 89-72 victory over the Tar Heels. The Vols are going to be dangerous moving forward.
2. Florida (4-0, LW: 4)
I had Monday night's game against Cal in the Fort Myers Tip-Off circled. Cal is not a good team. But, coming off a big win over Florida State recently, this is exactly the type of game previous Mike White teams have struggled in. Not the case on Monday. The Gators dominated, thanks in large part to their big man, Colin Castleton. He finished with 16 points, 8 rebounds and 3 assists. This steal and assist was pretty nifty:
▶️??Great transition bounce pass and slam by Colin Castleton and Anthony Duruji with bonus NBA on NBC Tesh theme. #Gators pic.twitter.com/vgpxbeN8Qq

— OnlyGators.com: Florida Gators news (@onlygators) November 23, 2021
If he can pass the ball like that, too, the Gators will be even harder to beat. We'll see if they can pick up another big win against Ohio State on Tuesday.
1. Alabama (4-0, LW: 1)
Alabama hasn't been tested yet this year, but that will change on Thanksgiving night. The Tide head to Orlando for the ESPN Events Invitational, where their first opponent will be undefeated Iona, led by coach Rick Pitino. Fortunately for the Tide, Jaden Shackelford is heating up. He's led the team in points the last 2 games, dropping 20 in 29 minutes against Oakland over the weekend. When he hits in-rhythm 3s like this, he's tough to stop:
There's one thing for sure — Jaden Shackelford gets buckets pic.twitter.com/onuyhAxXbn

— Hunter Cruse (@HunterCruse14) November 20, 2021
He only went 3-for-11 from long range, but he's not afraid to keep shooting. More will start falling soon, I'm confident. He'll need to keep being a leader against this tough Gaels squad.