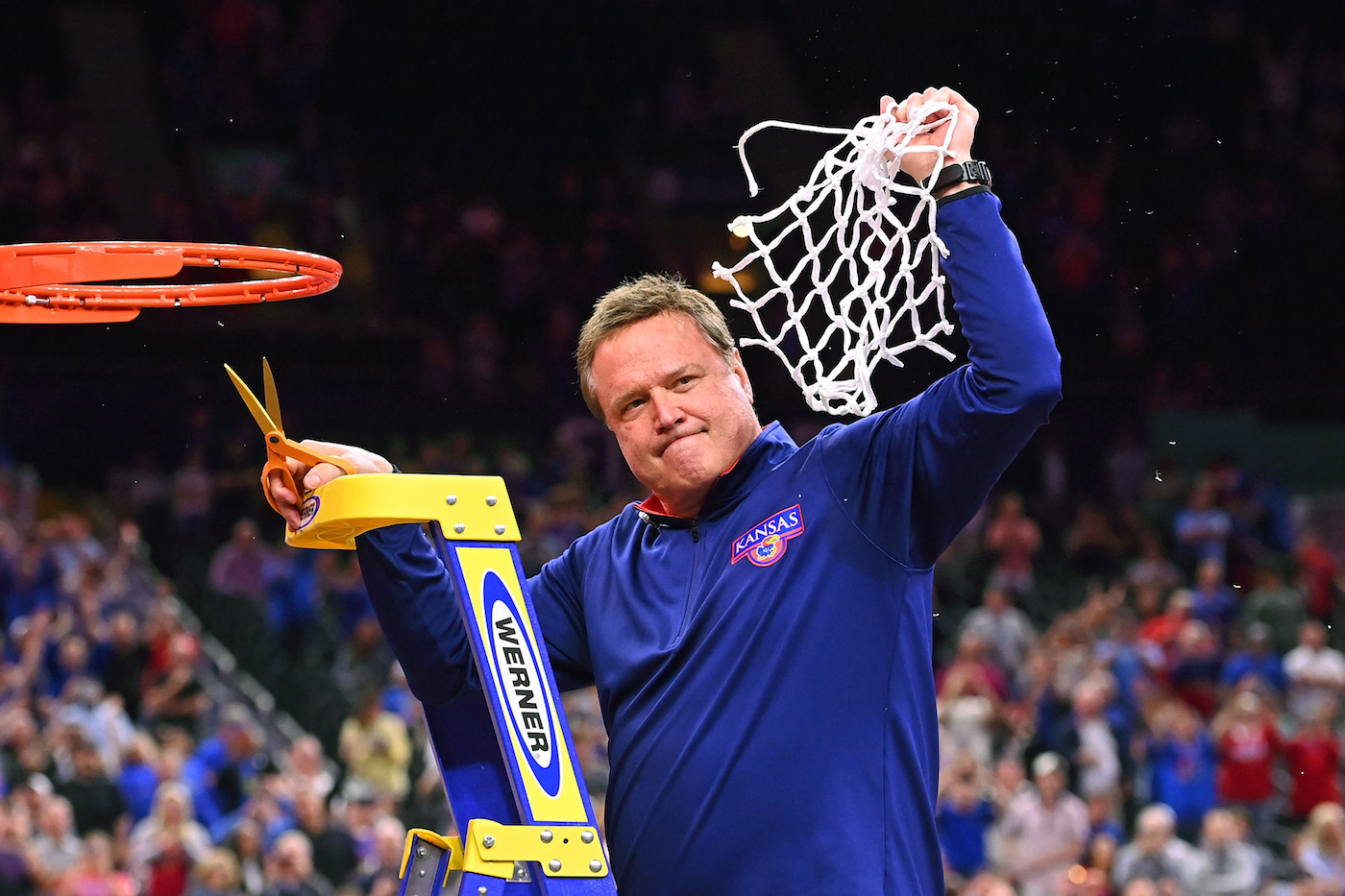 COLLEGE BASKETBALL
Starting 5: Kansas's historic comeback, Mark Emmert is a clown, transfer portal news and next year's top 5 teams
Welcome back to the Starting 5. The Starting 5 is written multiple times per week by Adam Spencer to keep you up-to-date on all the news and events in the world of college hoops. You can follow Adam on Twitter at @AdamSpencer4 and @BlueChipGrit.
1. Opening tipoff
Who needs first halves?
That seems to be Kansas's motto these days. The Jayhawks trailed Miami at the break in the Elite Eight. And, on Monday night in New Orleans against North Carolina, they were down 40-25.
But, the final 20 minutes were a different story. The Jayhawks outscored the Tar Heels 47-29 to win 72-69.
NCAA president Mark Emmert handing the trophy to Bill Self, who has been accused of several serious Level I infractions, was a moment of pure comedy. But don't take my word for it:
Mark Emmert handing accused-of-five-level-1-violations-Kansas a national championship trophy is the most NCAA the NCAA has ever NCAAed

— Derek Peterson (@dr_petey) April 5, 2022
Just a reminder that the @NCAA themselves referred to Kansas basketball infractions as "severe" and "egregious" and in 5 minutes will be presenting them with the championship trophy for said sport.

How @MarkEmmert still has a job is ab-fucking-surd. #NationalChampionship

— Chris Marler (@VerneFUNquist) April 5, 2022
The moment Mark Emmert hands the national title trophy to a guy facing a handful of Level I violations is an all timer. pic.twitter.com/y5yacrCYjB

— Rob Dauster (@RobDauster) April 5, 2022
via @DanWetzel:
"absurd & awkward scene… NCAA president Mark Emmert handing a national title trophy to Bill Self, the very Kansas coach still awaiting resolution on an infractions case involving five Level I charges. The NCAA has called the violations "egregious" & "severe." pic.twitter.com/vsFr9paJCk

— Doug Brotherton (@CoachBrotherton) April 5, 2022
Oh, and he also fumbled the name of the freakin' school:
NCAA President Mark Emmert knows his stuff: "Congrats to the Kansas City Jawhawks"

— Brett McMurphy (@Brett_McMurphy) April 5, 2022
Mark Emmert just called them the Kansas City Jayhawks.

And I wasn't sure his stock could fall any further.

— Jeff Goodman (@GoodmanHoops) April 5, 2022
What an absolute clown.
Once UNC big man Armando Bacot went out after reinjuring his ankle, it was all over for the Tar Heels. Kansas's David McCormack scored the dagger basket for the Kansas City Jayhawks:
MCCORMACK

HUGE BUCKET pic.twitter.com/vVZMQg7KBb

— CBS Sports (@CBSSports) April 5, 2022
McCormack finished with a double-double, scoring 15 points and grabbing 10 rebounds. After not being able to buy a bucket in the first half, Christian Braun bounced back in a big way, recording 12 points and 12 boards.
The Kansas City Jayhawks were not to be denied on Monday night. Congratulations to the University of Kansas Jayhawks.
2. North Carolina notes
Armando Bacot playing on one ankle is better than most people playing on two ankles. Despite suffering a rolled ankle late against Duke, Bacot played 38 minutes against Kansas, recording an unfathomable 15 points and 15 rebounds.
He suffered another ankle injury in the final minute and had to come out of the game, but wow, what an effort from him. He's a guy you want in your corner for any big contest in life.
Caleb Love had a rough night, going 5-for-24 from the floor. But, he also rolled his ankle. It was a rough night for the Tar Heels physically, as Ken Pomeroy notes:
Manek came up gimpy after slipping on the final play. UNC played 6 guys: 3 ended up with sprained ankles and another puked.

— Ken Pomeroy (@kenpomeroy) April 5, 2022
And, Brady Manek took an elbow to the head early in the game and looked to be dazed. This UNC team certainly left it all on the floor.
A lot of the key players on this team have important decisions to make regarding the 2022 NBA Draft. Hubert Davis led them to the Final Four and within striking distance of a national title in his first year as a head coach. The future is bright in Chapel Hill, even if Monday night's historic loss stings for the entire offseason.
Next, let's take a look at a couple of top transfer portal stories.
3. Transfer portal notes
Transfer portal season is in full swing, and there are a couple of key things I want to hit on really quick in this section. First, Arkansas landing a commitment from former Mizzou forward Trevon Brazile is absolutely massive for next year's team.
Look at how stacked Eric Musselman's squad will be in 2022-23 even without any additional reinforcements that might be coming to Fayetteville:
My projected Starting 5 for Arkansas next year:

1 – Anthony Black
2 – Nick Smith Jr.
3 – Au'Diese Toney
4 – Jordan Walsh
5 – Jaylin Williams

Devo Davis and Trevon Brazile first 2 off the bench.

— Adam Spencer (@AdamSpencer4) April 3, 2022
There's a reason people are high on the Hogs heading into next year. An Elite Eight is at the lower end of what this team should be able to do!
Morehead State forward Johni Broome entered the transfer portal this week, and his name is going to be one you'll hear a lot over the next few weeks until he picks a new school. That's for good reason, as he is hearing from almost every major program in the country:
Morehead State transfer Johni Broome, one of the top transfers to hit the market, tells @247SportsPortal that he's heard from Alabama, Arkansas, Auburn, Cincinnati, Indiana, Florida, Georgia, Gonzaga, LSU, NC State, Ohio State, Texas, Texas Tech and West Virginia amongst others.

— Travis Branham (@TravisBranham_) April 4, 2022
He was the OVC's Defensive Player of the Year in 2021-22 and averaged a double-double (16.8 points and 10.5 rebounds) to go with 3.9 blocks per night. His highlight reel is impressive to watch:
Who is Johni Broome?

?16.8 PPG
?10.5 RPG
?3.9 BPG
?55.5 FG%
?'21-'22 OVC DPOY

Broome is one of the best shot blockers in the nation and is a solid athlete. Definitely a name to monitor as he has declared for the Draft. #NBADraft #DraftTwitter pic.twitter.com/zI89UPUs3E

— No Ceilings (@NoCeilingsNBA) April 1, 2022
If he stays in college and heads to a major program to boost his NBA Draft stock, he'll be an immediate impact player. Selfishly, I hope he ends up in the SEC, because he seems like a player who would be a ton of fun to cover.
Next, let's take a look at some NBA Draft prospects.
4. Top 5 NBA Draft prospects
Now that the college basketball season is over, some of this year's best players will be heading to the NBA ranks. So, who should be the top 5 picks in the 2022 NBA Draft? Here's who I'd rank as the top 5 on my big board if I were an NBA GM:
Jabari Smith Jr., Auburn – When a guy is a legitimate comparison to Kevin Durant, I want him on my team. End of story. Durant went No. 2 overall in his draft, behind Greg Oden. We'll see if the NBA has learned from that mistake. Smith's offensive game is ready for the pros already. Give me Smith and I'll watch him average 20+ points a night for the next 15 years.
Paolo Banchero, Duke – I really came around on Banchero during the NCAA Tournament. What impressed me the most was his ability to facilitate the offense. He made some great passes and was superb with the ball in his hands. Plus, he showed he isn't scared of big moments. That's something you can't teach, and it'll play well at the next level.
Chet Holmgren, Gonzaga – Holmgren belongs in the top 3. But, I would only have him at No. 3 at this point. He was exposed a bit against a physical Arkansas team. Well, the NBA is going to be physical like that on a nightly basis. He'll still score plenty of points. He's great offensively. I just worry about his defense at the next level. And, yes, you still do have to play defense in the NBA, especially in the playoffs.
Jaden Ivey, Purdue – Consistency is an issue for Ivey, but when he's playing well, he's absolutely electric. There's not a shot he can't make on the court, and he's dynamic with the ball in his hands. His defense will be suspect at the next level, but his offensive game is elite, and that warrants a top 5 pick.
Bennedict Mathurin, Arizona – Watching Mathurin at the Pac-12 Tournament sold me on him. He is a scorer, plain and simple. I don't think he'll go in the top 5, but if I were an NBA GM, I wouldn't pass up a chance to get him on my team. He is going to be a great wing in the NBA for the next decade.
Now, let's take a look at the players who are staying behind and try to predict next year's top 5 teams!
5. Next year's top 5
Yes, it's way too early to be trying to predict next year's top 5 teams. But, what the heck, I'll do it anyway! Some looming transfers and draft decisions could impact this list, but for now, here are the teams I think should be ranked in the top 5 when the preseason AP Poll comes out ahead of the 2022-23 campaign:
Arkansas – The Hogs are going to be absolutely loaded next year. JD Notae is leaving and Jaylin Williams is testing the NBA Draft waters. But, if Williams comes back, the Hogs have 3 5-star freshmen coming in, Au'Diese Toney potentially returning, Devo Davis and recently added Mizzou transfer Trevon Brazile. Eric Musselman might not be stopped at the Elite Eight next year!
Duke – No, Coach K isn't going to be back. But, the cupboard won't be empty for John Scheyer. The Blue Devils bring in the nation's top recruiting class, including 3 of the top 5 2022 players – Dereck Lively II (No. 1 overall), Kyle Filipowski (No. 3) and Dariq Whitehead (No. 5). Duke is going to be big and it is going to be strong in 2022-23.
North Carolina – The Tar Heels suffered a devastating loss in the championship game on Monday night. But, Bacot might be back. Love might be back. There's the potential to grab another impact transfer like Manek for next year. Hubert Davis is going to have plenty of guys he can count on in 2022-23.
Houston – The Cougars were decimated with injuries during the NCAA Tournament this year and still made it to the Elite Eight. Kelvin Sampson is an incredible coach and should have plenty of talent returning to Houston. That's a recipe for a team to make a Final Four run.
Kentucky – The Wildcats could get National Player of the Year Oscar Tshiebwe back. PG Sahvir Wheeler will likely be back, too. Meanwhile, it's likely safe to say the Wildcats will be active in the transfer portal. They're also bringing in another great recruiting class. Daimion Collins will be back in Lexington. John Calipari will have plenty of talent to work with.
Arizona, Baylor, UCLA, Kansas and Gonzaga also warrant discussion when it comes to the top 5, but one thing is for sure – next year is going to be a lot of fun. The blue bloods will have plenty of talent, while Arkansas will try to put together its best team since 1995.
Enjoy the Starting 5? Have a question? Want to yell at me about something? Follow me on Twitter @AdamSpencer4 or email me at ASpencer@SaturdayDownSouth.com.