COLLEGE FOOTBALL
College football rankings: How BCS would rank top 25 after Week 13
The BCS ended when FSU and Auburn played for the 2013 national championship. The BCS formula, though, lives online.
BCSKnowHow.com continues to crunch the numbers to show college football fans what a BCS Top 25 would look like. Interest in the simulated BCS rankings increases around the time the College Football Playoff selection committee starts to release its weekly rankings.
The post-Week 13 simulated BCS rankings were shared Sunday. Most notable is how the formula ranks Nos. 4 and 5.
While the AP Top 25 has USC at No. 4 and Ohio State ranked No. 5, the BCS formula has the Buckeyes still ahead of the Trojans. We'll find out how the selection committee ranks the 2 teams on Tuesday. A No. 5 USC still has a chance to move up with a win in the Pac-12 Championship Game over No. 12 Utah.
Here's the full simulated BCS top 25: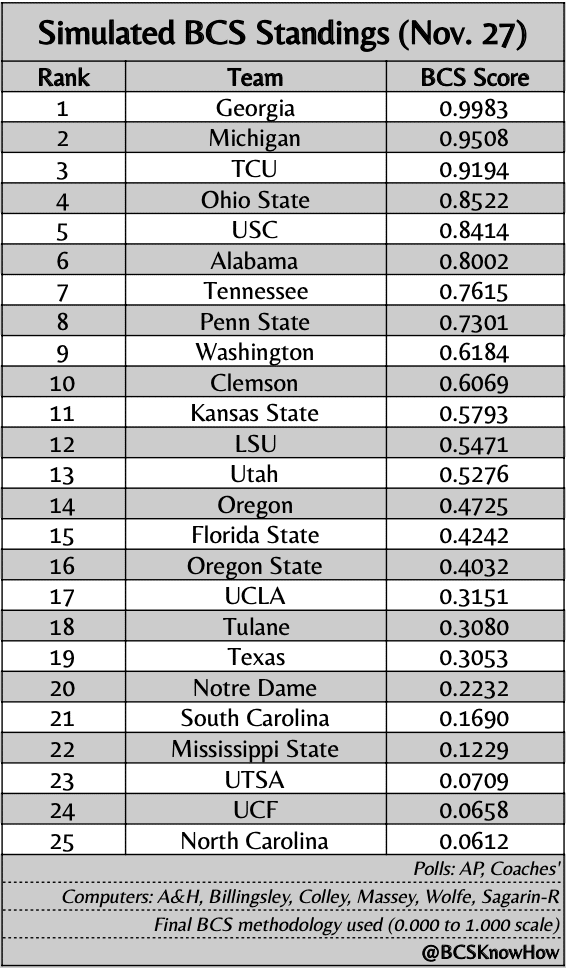 Our simulated #BCS rankings are here early and with fascinating potential implications for the final week of the season. Ohio State holds on to a top-4 spot, USC is comfortably No. 5 and Alabama is within striking distance: pic.twitter.com/GpDWZy9NIH

— BCSKnowHow.com (@BCSKnowHow) November 28, 2022