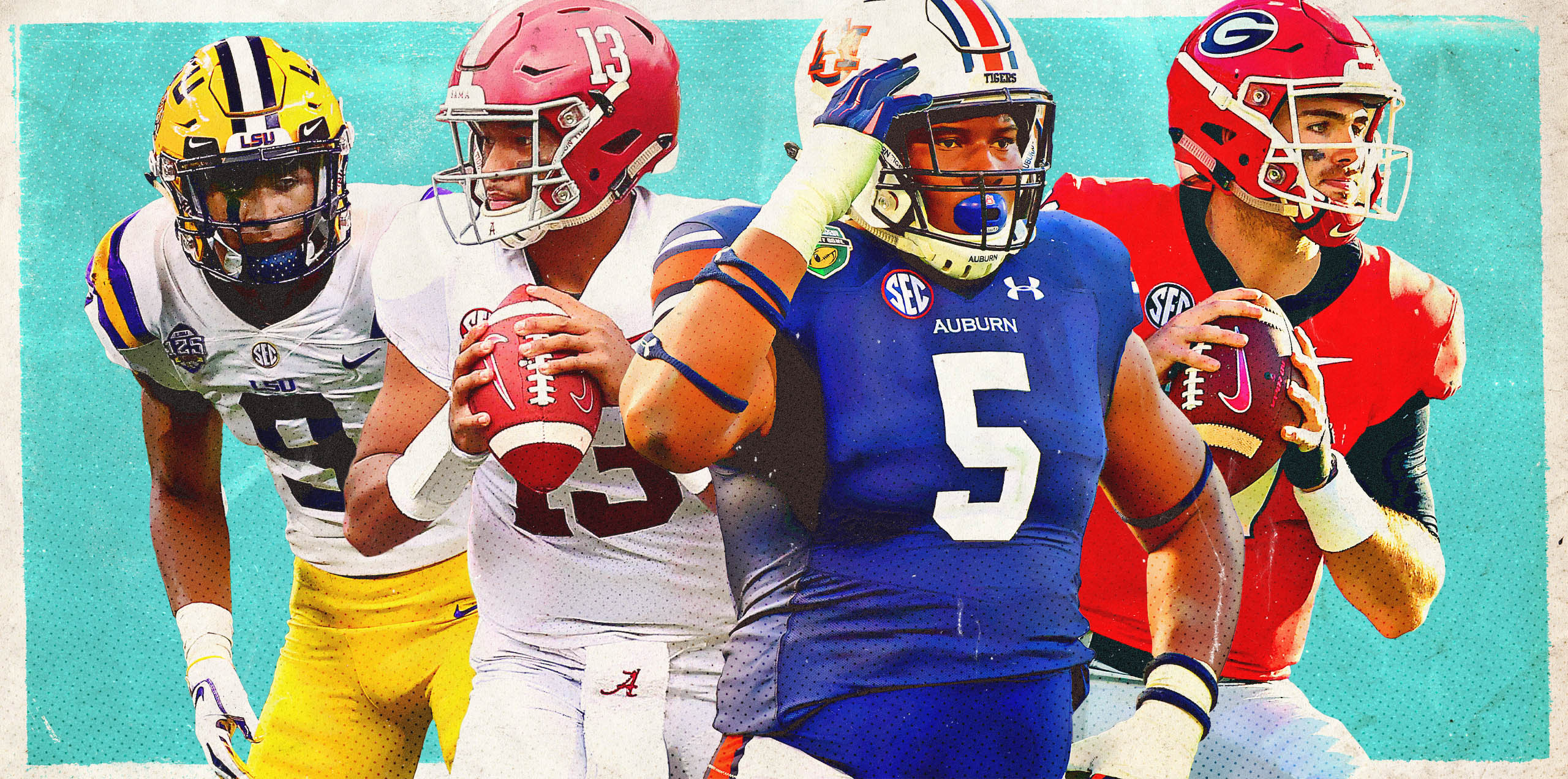 SEC
The SDS Top 25: Ranking the SEC's best players for 2019
Editor's note: SDS Top 25 Week continues with a look at the SEC's best players. Later Tuesday: The Top 25 QBs in the nation.
If we're being honest, ranking SEC players heading into a season is hard, Like, harder than Alabama makes kicking look.
The task is difficult for one reason and one reason only — there's a lot of talent in the SEC in 2019. Even tougher, there's a lot of proven talent in the SEC in 2019.
That means there are plenty of players who didn't make this Top 25 who could wind up with first-team All-SEC or even All-America honors by season's end. It's that kind of year.
Then again, doesn't it feel like we always say that?
Oh well. Here are my Top 25 SEC players for the 2019 season.
25. De'Jon Harris, Arkansas LB
Trivia question: Who led the SEC in tackles last year? It was Devin White. But who is the SEC's top returning tackler? That would be Harris, who racked up an impressive 118 stops last year, 62 of which were solo. That was the second consecutive year he hit triple-digit tackles, which was needed for a team that was a mess defensively for far too much of 2018. With 270 career tackles, Harris has a fair chance of passing Tony Bua (408) for as the program's all-time leading tackler.
24. Jabari Zuniga, Florida DL
Zuniga returning was a blessing for Todd Grantham's defense. While some were frustrated to see Jachai Polite go, Zuniga's return will give the Gators a proven force off the edge. Zuniga has 3 consecutive seasons of 8-plus tackles for loss, including last year when he racked up 11. Watching Zuniga against LSU made me realize how much he can take over a game. There's definitely first-team All-SEC potential with him in that system this year.
23. Erroll Thompson, Mississippi State LB
Don't think that just because MSU lost 3 defensive players to the first round that it suddenly lacks All-SEC caliber players. Thompson was extraordinary in coverage at the linebacker position last year.
In 302 coverage snaps last season, Erroll Thompson only allowed 15 catches for 106 yards, nabbed 2 interceptions and limited receivers to 0.35 yards per cover snap. pic.twitter.com/VBaglTVPyT

— PFF College (@PFF_College) May 28, 2019
Thompson moves so effortlessly and seems to make up ground without even breaking a sweat. He's going to be the leader of that group this year, no questions asked. I might actually be too low on him in this ranking because while his numbers are impressive (87 tackles, 10 TFLs, 4 sacks, 2 interceptions), his productivity goes beyond the box score. I fully expect him to take another step in 2019.
22. Drake Jackson, Kentucky C
Benny Snell was great, no doubt. But he'd be the first to admit that he wouldn't have been the back he was if not for Jackson paving the way up the middle. UK's center enters 2019 riding a streak of 20 consecutive starts, which is key for a backfield that's going through an identity shift in the post-Snell era. The former U.S. Army All-American is the anchor for that line, and he could be one of the reasons that the Wildcats — dare I say — improve on offense.
21. Kellen Mond, Texas A&M QB
I have Mond as the No. 3 quarterback in the SEC heading into 2019, which is saying something considering how down I was on him coming into last season. But Mond's versatility grew on me, and it reminded everyone that Jimbo Fisher knows how to develop a quarterback. The sack numbers need to come down, which I expect they will in Year 2 in Fisher's system. Coming off a breakout year, Mond also has his top 5 wide receivers back from a season ago. It's not crazy to think that Mond could rack up 35 touchdowns and 4,000 yards from scrimmage.
20. Raekwon Davis, Alabama DL
I know. I'm lower on Davis than you are. Here's my reason: As talented as he is, what does it say about him that with Quinnen Williams taking up so much space and attention on the defensive line, Davis had just 5.5 tackles for loss and 1.5 sacks? It says he's probably not as good as we thought he was. It also probably says something that his most noteworthy play of 2018 was landing a combination of punches to a Mizzou defender who was on the ground. But the size and talent is still there for someone who showed such promise as a sophomore. Maybe the bounce-back year is coming and this ranking will look stupid by season's end.
19. Justin Jefferson, LSU WR
LSU had a 1,000-yard receiver transfer from Texas Tech along with several blue chip receiver recruits, yet who was it who turned into Joe Burrow's go-to target last year? Oh yeah. Jefferson, the former 3-star recruit. You know what impressed me about Jefferson? Against Miami, Auburn, Georgia, Alabama and the Fiesta Bowl against UCF, Jefferson had 26 catches for 454 yards. That's an average of 5 catches for 91 yards against some extremely talented secondaries. He's a big-time, legitimate No. 1 receiver who Burrow is going to turn to a ton in 2019.
Overlooked by all the so called recruiting experts…Justin Jefferson has become a dominant receiver in the #SEC…
pic.twitter.com/kTxgPB9mIu

— Josh Lemoine (@LsuFBallTruth) February 1, 2019
18. Kalija Lipscomb, Vanderbilt WR
Lipscomb had one of the quieter breakout years in the SEC. The average fan probably didn't realize that among SEC receivers he was first in receptions and he trailed only Jerry Jeudy and A.J. Brown in yardage. He might not be considered the pro prospect that those guys were, but Lipscomb was extremely productive and efficient in that offense, which will get a bit of a facelift with a new offensive coordinator and quarterback. He and Jared Pinkney are going to catch a ton of passes again this year and the Vandy offense is going to be better than people realize.
17. Alex Leatherwood, Alabama OL
Jonah Williams and Ross Pierschbacher are gone, which means Leatherwood is next up to become an All-American and get picked in the first round. OK, I'll chill on that for now, but there's a lot to like with Leatherwood. The former 5-star recruit emerged as the starting right guard, which is probably a more important position than one might realize with a lefty quarterback. Now, he'll be switching back to left tackle. Something tells me we'll see the best season yet out of the 6-6 junior.
16. Najee Harris, Alabama RB
Finally, Harris has the opportunity he's been waiting for. Gone are the likes of Josh Jacobs and Damien Harris, both of whom were too good not to get consistent touches. As they say, there's only one ball. Now, that one ball is going to wind up with the former 5-star recruit more than it has in either of his first 2 seasons. We've seen flashes from Harris — I don't think Alabama wins the 2017 title without him — and there's reason to believe his Adrian Peterson-like running style will yield a breakout year as the new starter.
15. Justin Madubuike, Texas A&M DL
Mike Elko needed some playmakers on that defensive line, that's exactly what Madubuike was. He was part of a massive turnaround to the Aggies' run defense. He had 10.5 tackles for loss and 3 forced fumbles as a sophomore. Even better, he had the most quarterback pressures of any SEC returning interior lineman (via Pro Football Focus). A&M's Defensive MVP is the only returning member of that line, though that's not a bad place to start.
14. Albert Okwuegbunam, Mizzou TE
The preseason All-American might not have repeated his absurd double-digit touchdown performance from 2017, but his production increased despite only appearing in 9 games again. Even though Okwuegbunam no longer has Drew Lock throwing him passes, he's still an intermediate passing-friendly system, which is where Kelly Bryant thrives. I'm sure it won't be long before the Clemson transfer makes Albert O his safety valve.
13. Jaylen Waddle, Alabama WR/PR
You can't talk about Waddle as a player without mentioning his ability as a punt returner. He's as slippery as anyone in the conference, and maybe as slippery as anyone nationally. Not many true freshman receivers put up numbers like Waddle (848 receiving yards, 7 TDs, 18.9 yards per catch). That was with him sharing looks with the likes of Jerry Jeudy, Henry Ruggs III, Irv Smith Jr. and DeVonta Smith, nearly all of whom are back. Waddle could easily rack up 1,000 yards, double-digit touchdowns and a couple return touchdowns.
12. Xavier McKinney, Alabama S
Is it even a list if we don't have at least 1 member of the Alabama secondary? Yeah, but it would certainly be strange. McKinney did a variety of things well on the back end of Nick Saban's defense last year. Not only did he prove to be a sure tackler in space (74 tackles) and a lights out cover guy (10 passes defensed), he also became a key playmaker with 6 tackles for loss, 3 sacks, 2 interceptions and 2 forced fumbles. He's now in a leadership role with that defense that figures to be much better than it was at times last year.
11. Ke'Shawn Vaughn, Vanderbilt RB
I believe in Red Mamba, and you should, too. And not just because he has the SEC's best nickname. Vaughn, when healthy, was a home run-hitting, defender-splitting machine for the Commodores.
https://twitter.com/SECNetwork/status/1056226643671425024
Once Vandy finally realized what he was capable of, he took off in that offense. Vaughn is not just a good player who racks up meaningless stats for a non-contending team. He can play with anyone, which SEC defenses will find out the hard way if he's not at the top of scouting reports on a weekly basis.
10. Kristian Fulton, LSU CB
If Fulton were healthy around NFL Draft time, there's a good chance he would have been gone. It's a good thing for LSU that he isn't because few in the country were better than Fulton last year. When teams were avoiding Greedy Williams, they were attempting to pick on Fulton. That was a bad idea, too.
Kristian Fulton allowed a MERE 6 total first downs plus touchdowns in coverage ALL SEASON. pic.twitter.com/qlHMcMSYoA

— PFF College (@PFF_College) June 16, 2019
Fulton is physical, able to make up ground and clearly not someone who gets exposed the more he's targeted. And don't you know it, he isn't even the highest-rated member of the LSU secondary on this list.
9. C.J. Henderson, Florida CB
There are some stud lockdown corners in the SEC this year, and Henderson is right there at the top of the list. Maybe that All-SEC snub last year fueled one of the best bowl performances we saw. What I like about Henderson is that he doesn't shy from contact and he doesn't panic when he isn't in the best position. Some of the best plays he made last year were him recovering and making the better play on the ball. Henderson will lock down plenty of No. 1 wideouts in the SEC this year.
8. Dylan Moses, Alabama LB
Has Moses lived up to the incredible hype he entered college with? Probably not. At least not yet. Is he still expected to be one of the nation's top linebackers after leading Alabama in tackles as a sophomore? Absolutely. Moses is now the lone veteran of that group of inside linebackers, but he's a more complete player than Mack Wilson. In his third season, Moses is ready to be the leader of that group, which had its ups and downs last year. It feels like if Alabama is going to make a national championship game for the fifth consecutive year, Moses will be a consensus All-American and a sure-fire first-round prospect by season's end.
7. Jake Fromm, Georgia QB
Isn't it funny how some went from saying Jake Fromm didn't do much in Georgia's offense to now saying he's the most valuable player in the SEC? Well, I think it's funny at least. Fromm's post-LSU performance got a bit lost in the shuffle because of the way Georgia's season ended. But in Georgia's final 6 games against Power 5 competition, Fromm had a 16-2 TD-INT ratio with 67% accuracy. Oh, and 4 of those games were against top 20 defenses. He can spin it, he's been in as many big-time games as any quarterback in the country and he has complete control of that locker room. But am I worried about him having none of his top 5 receivers back from last year? A little.
6. D'Andre Swift, Georgia RB
Some believe Swift is the best back in America. There's a case to be made for that, but for this discussion, I'll settle on "best back in the SEC." Even though Swift didn't compete for a Heisman Trophy or put up as gaudy of numbers as some believed he would, he and Arizona State's Eno Benjamin were the only backs in America who had 1,000 yards rushing, 10 rushing scores and 30 receptions. And now, Swift will get to run behind arguably the best offensive line in America. He won't have to share carries with Elijah Holyfield, either. Even if Zamir White turns into the next big thing, Swift is still in line for a massive workload and massive year.
5. Derrick Brown, Auburn DT
Brown is the type of player who usually doesn't make this list. Why? Usually dominant 3-year starters leave for the NFL and we're instead talking about the massive hole left behind. Brown is massive, but all he's going to do this year is plug up holes (sorry). Brown has the best chance of becoming this year's Quinnen Williams because of his versatility. From the defensive tackle position, he can pressure the quarterback and he's an elite run-stopper. On a defensive line that looks like it can be one of the nation's best, Brown is leading the charge.
4. Andrew Thomas, Georgia OT
From what I've seen, Thomas is the unanimous top offensive lineman in the SEC, and some would argue he's the best in America. That's high praise for someone with only 2 years of experience. But so far, that's how good Thomas has been. Even though he dealt with an early-season injury last year, Thomas still protected Fromm's blindside all but 1 game — he only allowed 11 quarterback pressures in 657 snaps (PFF) — and he paved the way for a top 20 rushing offense that really found its groove in the second half of the regular season.
3. Jerry Jeudy, Alabama WR
There was a belief with Jeudy that the lack of production as a freshman in 2017 was more a product of Jalen Hurts only having trust in Calvin Ridley than a lack of skill. Um, 2018 confirmed that. Jeudy was a worthy Biletnikoff Award winner after posting 1,315 yards and 14 touchdowns for the runners-up. But it wasn't just the numbers with Jeudy. It was the cuts on a dime, the ability to catch jump balls and just the overall trust that Tua Tagovailoa developed in him that made him break out in the biggest way last year.
Jerry Jeudy: Ankle Destroyer #GiantsPride #NFLDraft pic.twitter.com/4EtA6cYpJ4

— WBG84 (@WBG84) June 29, 2019
Jeudy is absolutely capable of repeating his 2018 performance with all the talent Alabama returns at the receiver position. My only hope? Jeudy doesn't get the same treatment that Julio Jones got in the red zone from Steve Sarkisian the past couple years.
2. Grant Delpit, LSU S
I almost feel like it's unfair to call Delpit a specific position. Like, he should just be known as "All-American Player." That's how good the LSU junior is. The all-around numbers are ridiculous (74 tackles, 9.5 tackles for loss, 5 sacks, 5 interceptions, 1 forced fumble, 1 fumble recovery). That's not a fluke. That's a product of someone who just has an unteachable nose for the football combined with extraordinary athletic ability. As much as Dave Aranda is probably missing Devin White, you can bet he's sleeping a little better knowing that he's got Delpit for another year to terrorize SEC offenses.
1. Tua Tagovailoa, Alabama QB
I know, I know. The end of the season didn't do Tagovailoa any favors. We saw human moments from him. But let's still not forget that Tagovailoa did things that we'd never seen before at the position. It's worth reminding that we're talking about someone who had 69% accuracy with 11.2 yards per attempt who didn't throw an incomplete pass in the fourth quarter all regular season. His historically efficient season was forgotten about because of the way things ended, but as long as he's healthy — not a given — the Alabama quarterback should be even better this year with the weapons he has returning at receiver.
Rare it is that we talk about someone in the preseason with the realistic expectation of going undefeated with a Heisman Trophy and a national title, but that's the bar Tagovailoa set for himself. Nobody would be surprised to see him reach it.
Best of the rest (in no particular order):
TE Jared Pinkney (Vanderbilt), RB Kylin Hill (MSU), OL Jedrick Wills (Alabama), LB Jacob Phillips (LSU), WR Bryan Edwards (South Carolina), RB Larry Rountree (Mizzou), RB Lamical Perine (Florida), DL Nick Coe (Auburn), LB Anfernee Jennings (Alabama), CB Cameron Dantzler (MSU), S J.R. Reed (Georgia), RB Scottie Phillips (Ole Miss), WR Lynn Bowden (Kentucky), P Braden Mann (Texas A&M), K Rodrigo Blankenship (Georgia).