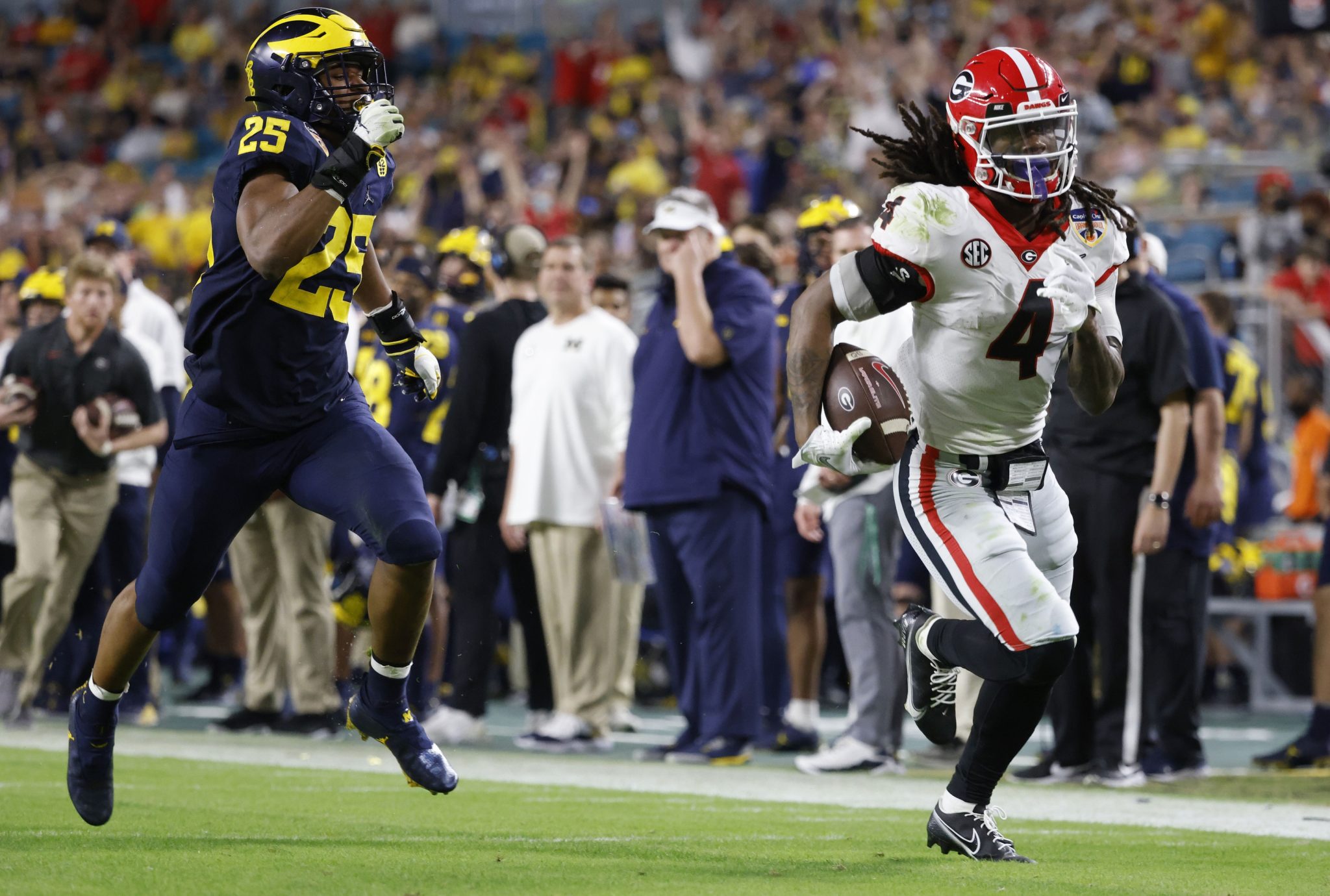 COLLEGE FOOTBALL
So the Big Ten is discussing a 16-team Playoff? That speaks to the conference's awful CFP showing so far
Close your eyes and think back to when you were a little kid at the batting cages.
If you were bold, you'd step into the cage with the 85 MPH heaters coming in. Your goal was simply to make contact. A foul tip was followed up with a quick turn of the head to your dad/buddies and a "did you see that?!?!" But ultimately, you'd whiff at pitch after pitch until reality set in — you couldn't keep up.
That meant making your way over to the slow pitch softball or the 55 MPH meatballs. Nobody goes to the batting cages to whiff at pitch after pitch. Everyone wants to make some solid contact, even if it means sheepishly admitting that you can't get around on college-level pitching.
That's essentially what the Big Ten is doing by discussing the idea of a 16-team Playoff. As we found out on Tuesday at Big Ten Media Days in Indianapolis, those talks are indeed happening:
One new wrinkle that came up when Big Ten ADs met this week about the playoff is increased conversation about a 16-team playoff. OSU AD Gene Smith to ESPN: "Sixteen just seems to be out there. You can't ignore it."

— Pete Thamel (@PeteThamel) July 26, 2022
For what it's worth, Greg Sankey told Thamel that the 16-team model was being discussed. I suppose a variety of possibilities are on the table now that The Alliance is no longer a thing (what a blessed short life it lived).
But if this is something that's actually being discussed, who do we think is driving the bus? The commissioner of the league who dominated the 4-team Playoff in overwhelming fashion or the commissioner of the league who won just 1 Playoff game in the 7 seasons after Ohio State claimed the first title of the 4-team Playoff?
It's the latter.
In this instance, 2014 Ohio State was certainly more than a foul tip on the 85 MPH heater. But since then? Yikes. In those last 7 seasons of the Playoff, the Big Ten:
A) Went 1-5
B) Had its 2 non-Ohio State teams get outscored 72-11
C) Had its conference champ get left out 3 times
D) Had a 4-season stretch without a Playoff point
E) All the above
It's "E." It's always "E."
Yes, the conference who had 1 program play for a national title in the 21st century had a rough go in the last 7 years. I'm old enough to remember when the Big Ten overtaking the SEC as the premier conference in the sport was a real discussion heading into the 2015 season. Since that moment, the SEC played in every national title game and had 3 different programs win a combined 5 titles.
The current 4-team Playoff might not have stopped the Big Ten from setting up a wealthy annual TV revenue check — it'll be in the billions once it's announced in the coming days/weeks — but from a competitive standpoint, the system really hasn't been kind to the conference.
Hence, why a 16-team field would make sense. For them.
It's not that the Big Ten lacks depth. It has that. It just doesn't have teams who can win a title outside of that squad in Columbus. We've got 2 decades worth of data that proves that point.
But what the Big Ten would benefit from is a system that would reward a Round of 16 winner. Penn State, Michigan, Michigan State, Wisconsin and shoot, even Iowa could all win games like that. The conference could brag about its depth instead of the reality that there's really only 1 team with enough talent to outlast a 16-team field.
Instead of having the Big Ten take it on the chin when the SEC has half of the 4-team field, I actually think the conferences could have a similar number of teams make a 16-team field. If you look back on the last 5 years, they have the same number of combined teams in the top 16 of the final Playoff poll.
That's the sweet spot for the Big Ten. It's getting 3-4 teams into a 16-team field and hoping that Ohio State wins it all OR hoping that actually winning a Playoff game or 2 can elevate the talent level of Penn State, Michigan, Michigan State, Wisconsin and Iowa to at least make the final 4.
Speaking of Wisconsin, former CFP selection committee member and current Badgers athletic director Barry Alvarez is an obvious advocate for Playoff expansion:
Big Ten football advisor (and HOF coach) Barry Alvarez on CFP expansion: "Someone talked to me about 16. I can live with that. I can live with 12. I can live with eight. We just need to get more than four. We need more access to teams. I think it makes college football better."

— Scott Dochterman (@ScottDochterman) July 26, 2022
And by "make college football better," Alvarez means "make Wisconsin better." His team has as many Playoff appearances as you, me and that 11-year-old kid whiffing in the batting cage.
How many times has Wisconsin been in the top 8 of the final Playoff poll? Three times. All of those came in the last 6 seasons, too. As in, every other year, the Badgers would've been a Playoff team or depending on the automatic qualifiers, they at least would've been in prime position to get an at-large spot in the field.
Also of note? Wisconsin is 0-6 vs. AP Top 4 teams in the last decade. Wisconsin, Penn State, Michigan, Notre Dame, Texas, Miami and Florida State are a combined 6-41 against AP Top 4 teams since 2012.
You can argue all you want that "having more teams involved is for the better of the sport." Shoot, Sankey admitted that. But any notion that having more teams involved will suddenly flip the obvious gap between Tier 1 and Tier 2 is absurd. The SEC is the only conference with multiple teams who won a Playoff game:
SEC: 3
Big Ten: 1
Pac-12: 1
ACC: 1
Big 12: 0
Group of 5: 0
By the way, don't let anyone tell you that their motives are simply "for the good of the sport." At least not anyone in power. Even Sankey can admit that we're in a business in which there are billion-dollar TV contracts at stake.
We heard Big Ten commissioner Kevin Warren speak at Media Days about being "bold" and how this is indeed a business.
B1G's Kevin Warren: "I'm a big believer the reason we are dealing w/a lot of issues we're dealing w/today is business of college athletics has grown faster than structure & the governance of college athletics."

— Brett McMurphy (@Brett_McMurphy) July 26, 2022
Say what you want about Warren and his obvious shortcomings as a commissioner so far, but it's refreshing to hear the Big Ten pivot away from its stance that everything is about preserving the integrity of amateur athletics. It's not. If it was, we wouldn't have billion-dollar TV contracts on the horizon. We do, though.
Playoff expansion is coming, and it's probably coming when the current deal runs out at the end of the 2025 season. The Pac-12 and ACC are no longer voting against their expansion desires because the Big Ten told them to. The Alliance is dead, and soon, whether we like it or not, the Playoff will expand. You don't have to like it. I expect many readers of this column won't be on board with that.
Reality is that all the non-SEC conferences have more incentive than ever for Playoff expansion. A richer TV contract and more national relevance is at play, even if the SEC continues to dominate the national championship (I think we can agree winning 12 of the last 16 titles makes the verb "dominate" appropriate).
The 4-team Playoff was too much heat for the Big Ten. No matter what the field expands to, it's clear what the mindset will be.
Find a more approachable speed and attempt to make some solid contact.