College World Series 2023: Bracket, schedule and history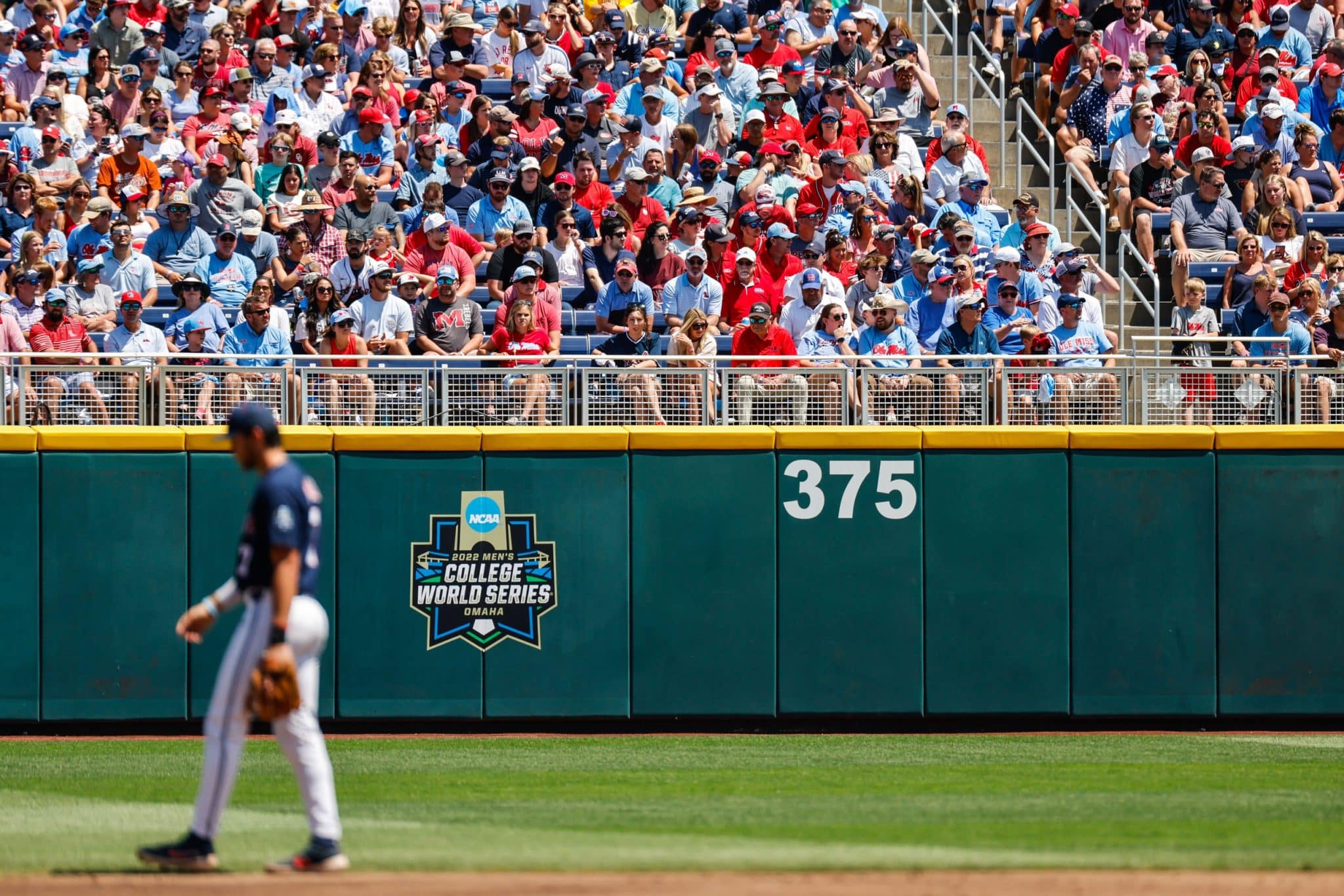 Omaha.
Long before Peyton Manning adopted and popularized the word as part of his expansive football vocabulary, "Omaha" was synonymous with college baseball.
More specifically, the pinnacle of college baseball.
Omaha is home to the College World Series. It is the dream destination of every player and coach, every year. It has been that way since 1950, when the NCAA moved its postseason baseball tournament there after playing the first 3 years of the CWS in Kalamazoo, Michigan and Wichita, Kansas.
One city. One goal. A town that lives year-round for 2 spectacular weeks of college baseball in June.
Since 1950, only the venue has changed, relocating from venerable Rosenblatt Stadium 3 miles north to Charles Schwab Field, a state-of-the-art shrine that opened in 2011 — just in time for South Carolina to become the most recent team to win back-to-back College World Series crowns. That also meant the Gamecocks were the last team to celebrate a CWS title at Rosenblatt.
Will there be a repeat winner in 2023? Stay tuned …
College World Series Bracket
The NCAA Tournament divides 64 teams into 16 Regionals, each with four teams. Those teams play a double-elimination tournament. The 16 Regional winners advance to the Super Regional round, a best-of-3 series between predetermined Regional winners. There are eight Super Regionals.
Those eight winners advance to Omaha and the College World Series.
The CWS bracket features two pods, each with four teams. Each pod plays a double-elimination tournament. The winner of each bracket meet in a best-of-3 series to determine the College World Series champion.
College World Series Schedule
The 2023 CWS begins with an annual Celebration Day on Thursday, June 15.
Play begins on Friday, June 16 and continues until both brackets produce a champion.
The best-of-3 championship series starts Saturday June 24.
NCAA Tournament/College World Series Expansion
Much like its basketball counterpart, college baseball's NCAA Tournament format has changed dramatically over the years. There were just eight teams in the inaugural NCAA Tournament in 1947. In 1954, the tournament expanded to 23 teams. It eventually grew to 32 and then 48 in 1987.
In 1999, the tournament expanded to 64 teams and added the Super Regional round. Similar to the NCAA Basketball Tournament, the baseball tournament field features automatic qualifiers and at-large teams. The split is roughly even; 30 or 31 automatic qualifiers and 34 or 33 teams receiving an at-large invitation.
The best-of-3 championship series was adopted in 2003.
College World Series history
USC has won the most CWS crowns with 12. LSU and Texas are next with 6 titles apiece. Not surprisingly, USC also holds the record for most consecutive CWS titles, winning 5 straight from 1970-74.
South Carolina (2010-11) is the most recent of 6 programs to win consecutive baseball national championships.
The SEC and ACC are the only conferences to send 4 teams to the same CWS. The SEC has achieved that feat 5 times, most recently in 2022. The ACC sent 4 teams to the 2006 College World Series.
Just getting to Omaha is an accomplishment. Only 8 programs have made it to the CWS for 5 consecutive years — and Stanford (1999-2003) is the only program whose streak stretched into the 2000s.
Notable College World Series records
Most home runs in a single CWS: 4, Record held by 11 players, most recently Bryan Holaday, TCU in 2010
Most career home runs in CWS: 6, Edmund Muth, Stanford (1997, 1999, 2000)
Most wins in a single CWS: 4, Kevin Abel, Oregon State, 2018
Most career wins in CWS: 5, Matt Price, South Carolina (2010, 2011, 2012)
Most strikeouts in a single CWS: 38, Bob Garibaldi, Santa Clara, 1962
Most career strikeouts in CWS: 64, Carl Thomas, Arizona (1954, 1955, 1956)
Most home runs by team in a single CWS: 17, LSU, 1998; USC, 1998
Most strikeouts by team in a single CWS: 74, Coastal Carolina, 2016
No-hitters in CWS: Jim Ehrler, Texas vs. Tufts, 1950 (W 7-0); Jim Wixson, Oklahoma St. vs. UNC, 1960 (W 7-0)
College World Series Champions
2022: Ole Miss
2021: Mississippi State
2020: Canceled (COVID)
2019: Vanderbilt
2018: Oregon State
2017: Florida
2016: Coastal Carolina
2015: Virginia
2014: Vanderbilt
2013: UCLA
2012: Arizona
2011: South Carolina
2010: South Carolina
2009: LSU
2008: Fresno State
2007: Oregon State
2006: Oregon State
2005: Texas
2004: Cal State Fullerton
2003: Rice
2002: Texas
2001: Miami
2000: LSU
1999: Miami
1998: USC
1997: LSU
1996: LSU
1995: Cal State Fullerton
1994: Oklahoma
1993: LSU
1992: Pepperdine
1991: LSU
1990: Georgia
1989: Wichita State
1988: Stanford
1987: Stanford
1986: Arizona
1985: Miami
1984: Cal State Fullerton
1983: Texas
1982: Miami
1981: Arizona State
1980: Arizona
1979: Cal State Fullerton
1978: USC
1977: Arizona State
1976: Arizona
1975: Texas
1974: USC
1973: USC
1972: USC
1971: USC
1970: USC
1969: Arizona State
1968: USC
1967: Arizona State
1966: Ohio State
1965: Arizona State
1964: Minnesota
1963: USC
1962: Michigan
1961: USC
1960: Minnesota
1959: Oklahoma State
1958: USC
1957: Cal
1956: Minnesota
1955: Wake Forest
1954: Missouri
1953: Michigan
1952: Holy Cross
1951: Oklahoma
1950: Texas
1949: Texas
1948: USC
1947: Cal
College World Series Top Ten Moments
Typically, such lists are revealed in inverse order, building suspense as the reader creeps closer to No. 1.
Alas, there is no such drama or debate about the greatest moment in College World Series history.
From the top, let's begin the countdown of some of the greatest moments with the blast heard 'round the globe.
1. Warren Morris' walk-off blast gives LSU the 1996 title
Books have been written, documentaries filmed about college baseball's version of Joe Carter's home run that won the 1993 World Series.
There is an important difference, however, between Morris' CWS and Carter's MLB title-winning home runs. In 1996, the CWS final was a 1-game, winner-take-all showdown. The best-of-3 format debuted in 2003. Carter's blast to win the 1993 World Series came in Game 6. Had Toronto lost that game to Philadelphia, there would have been a Game 7.
LSU had no such opportunity to atone. Trailing Miami by 1, with a runner on and down to their last out in the bottom of the 9th, Morris walked to the plate to face Canes closer Robbie Morrison.
The historic at-bat didn't last long. Morris turned on a first-pitch curveball, lofting a 2-run home run down the line, into the right-field bleachers, into baseball history. As Morris circled the bases, several Canes lay on the turf, in disbelief.
It was Morris' only home run of an injury-marred season that limited him to 22 games and called into question his ability to even play in the CWS.
1a. Pat Burrell's almost grand slam …
Nobody remembers this, but Morris very likely never makes history if Burrell's bases-loaded blast to centerfield in the 6th inning finds its way to the bleachers. Only a strong wind blowing kept Burrell's towering drive it in the ballpark. A grand slam that would have extended Miami's lead to 9-3 instead became a sacrifice fly and 6-3 advantage — one that LSU erased.
"When he hit it, he thought it was a grand slam," teammate Alex Cora told ESPN. "That ball would've been out. We would have crushed them, you know? But it was just a sac fly."
2. Miami shocks Wichita State speedster with hidden ball trick
You've seen the video. There's even a documentary about "The Grand Illusion." Here's a bit of the backstory: Wichita State baserunner Phil Stephenson was college baseball's version of Rickey Henderson — utterly unstoppable on the bases. In 1982, Stephenson stole 86 bases on 90 attempts. He remains college baseball's all-time steals king with 202 swipes.
Throwing him out by traditional means was a wasted effort. So Miami devised the greatest hidden ball trick in college baseball.
As Stephenson took his lead off first base, Mike Kasprzak came to a set, peered over his left shoulder, quickly stepped off and appeared to fire a pickoff throw to first. Stephenson dived back to the bag. First baseman Steve Lusby lunged and then took off down the right field line, chasing a ball that had never been thrown. Miami's bench pointed excitedly toward foul territory. Everybody was fooled, including the announcers.
Stephenson reacted to the faux overthrow by running to second, at which point Kasprzak threw the ball to shortstop Bill Wrona, who easily tagged out the shocked Stephenson.
Miami went on to beat the Shockers in that game and again in the championship game.
3. Coastal Carolina overpowers the Power 5
Power 5 conferences have dominated the CWS this century, winning 18 of the 22 available titles. The gap has been even more acute recently.
Power 5 programs won every CWS title from 2009-2022 — except 1.
In 2016, Cinderella Coastal Carolina crashed the party. The Chanticleers rallied out of the loser's bracket to win the Regional, then swept host LSU in the Super Regional to reach Omaha for the first time.
After dropping their 2nd game of pool play, the Chants won 3 close games to reach the best-of-3 finals against historical power Arizona.
They split the first 2 games, setting up a decisive Game 3 that was decided in the most inconceivable way: Arizona made 2 errors on the same play, leading to 4 unearned runs. Coastal Carolina held on from there, winning 4-3 and becoming the first team since Minnesota in 1956 to win a CWS title in their first attempt.
4. Robin Ventura passes Joe DiMaggio
The No. 56 is etched in baseball history, one of the sport's magic numbers. It represents Joe DiMaggio's 56-game hitting streak, the longest in major league history.
Leave it to a college kid to upstage it. Oklahoma State star Robin Ventura entered the 1987 CWS riding a 56-game hitting streak.
Ventura "broke the record" in the Cowboys' opening game and stretched it to 58 with a hit against LSU. That's where the streak ended, but it remains the longest in college baseball history.
5. A football game in Omaha …
The 1990s belonged to hitters and bat companies, which competed to arm batters with the most explosive weaponry machinery could build.
No one game symbolized The Gorilla Ball era more than the 1998 CWS final.
USC outslugged Arizona State 21-14, the highest-scoring game in finals history and tied for the most runs in any CWS game.
They combined for 9 home runs — the most in a finals game and second-most in any CWS game. The record-holder? LSU and USC combined for a CWS-record 10 home runs earlier in pool play.
LSU and USC hit 17 home runs apiece in Omaha, sharing a CWS record.
6. None for you … or you!
We'll lump them together because there have only been 2 no-hitters in CWS history.
Texas' Jim Ehrler recorded the first, tossing a no-no in a 7-0 victory over Tufts in a 1950 losers' bracket elimination game. Texas went on to win the 1950 CWS title, too.
A decade later, Oklahoma State's Jim Wixson no-hit North Carolina, also winning 7-0 in a losers' bracket elimination game. Alas, the Cowboys did not go on to win the title.
7. Mississippi State tosses 1-hit shutout to win 2021 crown
Mississippi State's march to its first CWS title in 2021 was the stuff of legend. The Bulldogs rallied out of the losers' bracket to reach the CWS championship series against 2019 champ Vanderbilt, which won their 3-game series in the regular season and featured one of the most dominant rotations in college baseball history with Kumar Rocker and Jack Leiter.
Leiter overwhelmed MSU in Game 1 of the best-of-3 finals. MSU rebounded with a 13-2 win in Game 2 to even the series.
All they had to do was take down Rocker in a winner-take-all Game 3.
They did more than that.
MSU ace Will Bardner delivered the game of his life, combining with closer Landon Sims on a 1-hit shutout — the fewest hits allowed in a finals game.
Bardner pitched 6 hitless innings. Vandy broke up the no-hitter with a single off Sims in the 8th. No matter. Sims slammed the door on the 'Dores and the Dogs were soon celebrating the program's first national title in any sport.
8. Dave Winfield dominates the 1973 CWS
You know Dave Winfield as a Hall-of-Fame outfielder and frequent sparring partner with New York Yankees managers and owner.
What you might not know is that Winfield was more than just a powerful hitter.
As a true dual-threat in college, he led Minnesota to the 1973 College World Series, where he struck out 29 batters in 2 games. That's tied for 3rd all-time in a single series.
9. Roger Clemens wins it for Texas
Dozens of players have won a College World Series title and a World Series ring.
Roger Clemens isn't the first or last to accomplish the feat, but he's among the most famous.
Before embarking on a Hall-of-Fame worthy professional career, Clemens was an ace for the Texas Longhorns.
In the 1983 CWS final against Alabama, Clemens struck out 9 in a complete-game effort to lead Texas to its 4th national title.
10. Blast off!
Long before he became a Major League All-Star Home Run Derby champion with the New York Mets, Pete Alonso was a slugging star at the University of Florida.
Alonso didn't just hit home runs. He belted no-doubters.
In the 2015 College World Series, Alonso crushed the 2 longest home runs in Charles Schwab Field  history. His first shot was a 421-foot blast against Miami. A few nights later, he mashed a 429-foot homer against Virginia.
He wasn't done. A year later, Alonso he hit a 425-foot homer against Texas Tech — giving him, at the time, the 3 longest home run in the ballpark's history.
Alas, records are meant to be broken, and last year, Arkansas' Brady Slavens hit a 436-foot homer against Ole Miss to set the new standard.
Still, Alonso has 3 of the 6 longest home runs in stadium history.
We do not target any individuals under the age of 21. We support responsible gambling. If you feel like you're losing control over your gambling experience, call 1-800-GAMBLER (NJ, PA, WV), 1-800-9-WITH-IT (IN), 1-800-BETS-OFF (IA), 1-888- 532-3500(Virginia) 1-800-522-4700 (NV, TN), 1-800-522-4700 (CO, TN), 1-855-2CALLGA (IL), 1-800-270-7117 (MI).
About Saturday Down South | Ethics and Editorial Standards | Privacy Policy | Terms and Conditions | Do Not Sell My Personal Information