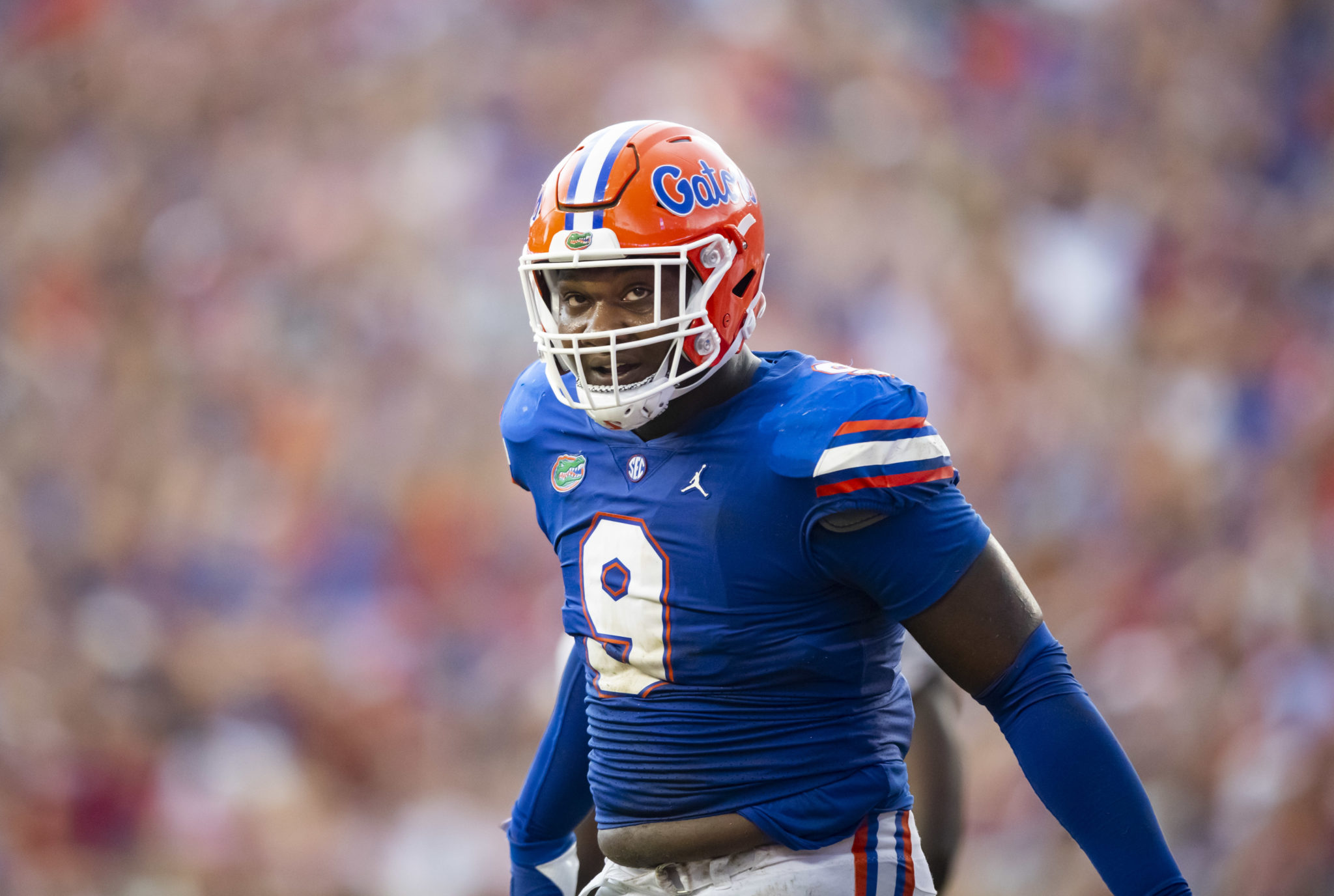 FLORIDA
Better or worse? Previewing Florida's defense in 2022
In Gainesville, where good defenses have typically been as reliable as warm Florida sunshine, it is year 1 AG. After Grantham.
There's hardly anywhere to go but up for a Florida defense that spent a second consecutive year outside the top 50 in total defense. Florida finished 51st last year, marking the first time since the statistic was measured that the Gators spent back-to-back years outside the top 50.
How bad was the Grantham era from Florida's standard on defense?
From 1990 to the end of the 2017 season and Grantham's arrival, Florida finished in the top 20 nationally in total defense 22 times, more than any program other than Alabama and Ohio State. Grantham's defenses finished in the top 20 twice, then fell off a cliff in 2020, when they finished 83rd and managed to lose 4 games despite boasting one of the best offenses in Florida history.
The Gators weren't just bad in the "yards per game" total defense statistic. Florida finished 85th in yards allowed per play in 2020 and 59th in 2021, both well below the SEC and program standard. The Gators also ranked 91st and 62nd in opponent success rate over the past 2 seasons, meaning for the most part, offenses stayed on schedule and did what they wanted schematically.
Enter Patrick Toney and Sean Spencer.
Toney brings one of the most modern, fun-to-play-in schemes in football with him, moving away from Grantham's 3-4 concepts and toward more 4-2-5 looks with staggered and simulated pressures and a whole lot of eye candy for quarterbacks in mixed coverages. Joining him is Sean Spencer, who brings sideline fire and swagger and over 20 years of NFL and college experience.
With a better scheme, the Gators should improve immediately. The question is how much? Senior Amari Burney told the media at the end of the spring that the staff "focused on technique and fundamentals more than any coach I've played under." A lack of technique and consistency contributed to Florida missing more tackles than any team in the SEC other than Tennessee over the past 2 seasons. Tackle better. Scheme better. It all sounds good.
How good?
Pressuring the quarterback: Slightly better
Toney's sheme alone should improve Florida's blitzing strategy, making it less predictable or, at a minimum, eliminating the boundary blitzes that never seemed to get home once CJ Henderson and Chauncey Gardner-Johnson's blazing speed left campus.
Brenton Cox Jr. has his sights set on Alex Brown's 2-decade old school single-season school sack record (13). Cox Jr. ranked 3rd in the SEC in 2022 in pressures and closed the year with 8.5 sacks, a team-high. He returns for his senior campaign with an NFL contract to play for and an offseason where he's stepped into a leadership role and earned consistent praise from Spencer, who knows a thing or two about great defensive lineman. Cox Jr. has work to do as a run stopper. That's no secret. But he's one of the best pass rush guys in the SEC and, in a better scheme, that could translate into big things.
Gervon Dexter should give Florida its best pass rush threat from the inside since Taven Bryan. In 25 career games with 11 starts, the 6-8 Dexter has 2.5 sacks and 5.5 tackles for loss. Those numbers are OK, but his potential suggests he's capable of much more. Princely Umanmielen, a former high 4-star who is now a junior, will step into the spot vacated by captain Zachary Carter (3rd round, Bengals). Umanmielen has an NFL-type burst and is exceptionally strong, but he's yet to put together a string of quality football in college.
Florida should also get something from the linebackers in the pass rush, especially if a bulked-up, former high 4-star Diwun Black is as advertised. He was a menace in the spring.
Run defense: Better
It starts with Dexter, but look out for Jalen Lee, who has a great frame and long wingspan, to step up and provide stability at nose. Chris McClellan enrolled early and will back up Dexter. Desmond Watson, who at 405 pounds is obviously a load, moves well for a human the size of a tractor and should be useful in short-yardage situations, holding gaps and keeping things clean for the linebackers.
The biggest thing for Florida's run defense?
Getting back All-SEC middle linebacker Ventrell Miller, the team's most reliable tackler and one of the roster's smartest football players. Miller will give Florida an instinctual run-stopper in the middle for the first time since the graduation of David Reese. A pair of former high 4-stars, Scooby Williams and Derek Wingo, add vast potential, with Williams a true playmaker who can deliver a big hit and get physical with ball carriers. He'll be a much tougher guy to block on the second level than the departed, undersized but smart Mohamoud Diabate.
The focus on technique and tackling in the spring also should pay dividends, and the reality is there's hardly anywhere to go but up for a run defense that allowed LSU and South Carolina to run for program single-game rushing records against the Gators last autumn.
Pass defense: Better
At a school that used to have a legitimate claim to the "DBU" mantle, the Gators would settle for modest improvement.
In 2020, Florida ranked 96th nationally in pass-efficiency defense, 88th in yards per attempt and 126th in passing touchdowns allowed (28). Last year, the unit improved to 33rd in efficiency, 26th in yards per attempt and 53rd in touchdown passes (19 allowed) — but it's fair to ask how much of that was about having a porous run defense as opposed to a genuine change in trajectory.
Still, it is tempting to go "Much Better" in this area, except that Florida's safety room remains a mystery behind Atlantan Rashad Torrence II, who is a bona fide first-day NFL prospect.
Super senior Trey Dean will have first crack at the rotation with Torrence, but with Mordecai McDaniel dismissed from the program, there's always a chance 5-star signee and early enrollee Kamari Wilson, former top-100 safety Corey Collier, or Kamar Wilcoxson crack the rotation.
Florida's corners will be the strength of the defense, with Jason Marshall Jr. a 1st-team All-SEC type talent and Avery Helm, Georgia transfer Jalen Kimbler, and 4th-year player Jaydon Hill, a former starter, all capable in coverage.
Special teams: Same
Florida needs more in the punting game, but most of that is about coverage, where the Gators finished 11th in the SEC last season. The Gators finished 2021 ranked 97th in SP+ special teams production, their worst mark in the history of the SP+ rankings and a stunning fall for a program that has had 4 punters advance to the NFL since 2010.
Jeremy Crawshaw made the All-SEC freshman team a year ago, but had the SEC's largest disparity between net and average and acknowledged he needed to work on his coffin corner punting after missing a few red zone punts in 2021. Typically, a coaching change improves things at the margins, at least initially, but Florida's lack of depth may make special teams a work in progress again in 2022.
Overall: Much better
The combination of a competent staff, modern scheme, and the return of an All-SEC linebacker in Ventrell Miller will return this Florida defense to its customary spot as one of the nation's best.
This is a top-20 unit. Now can they score enough points?