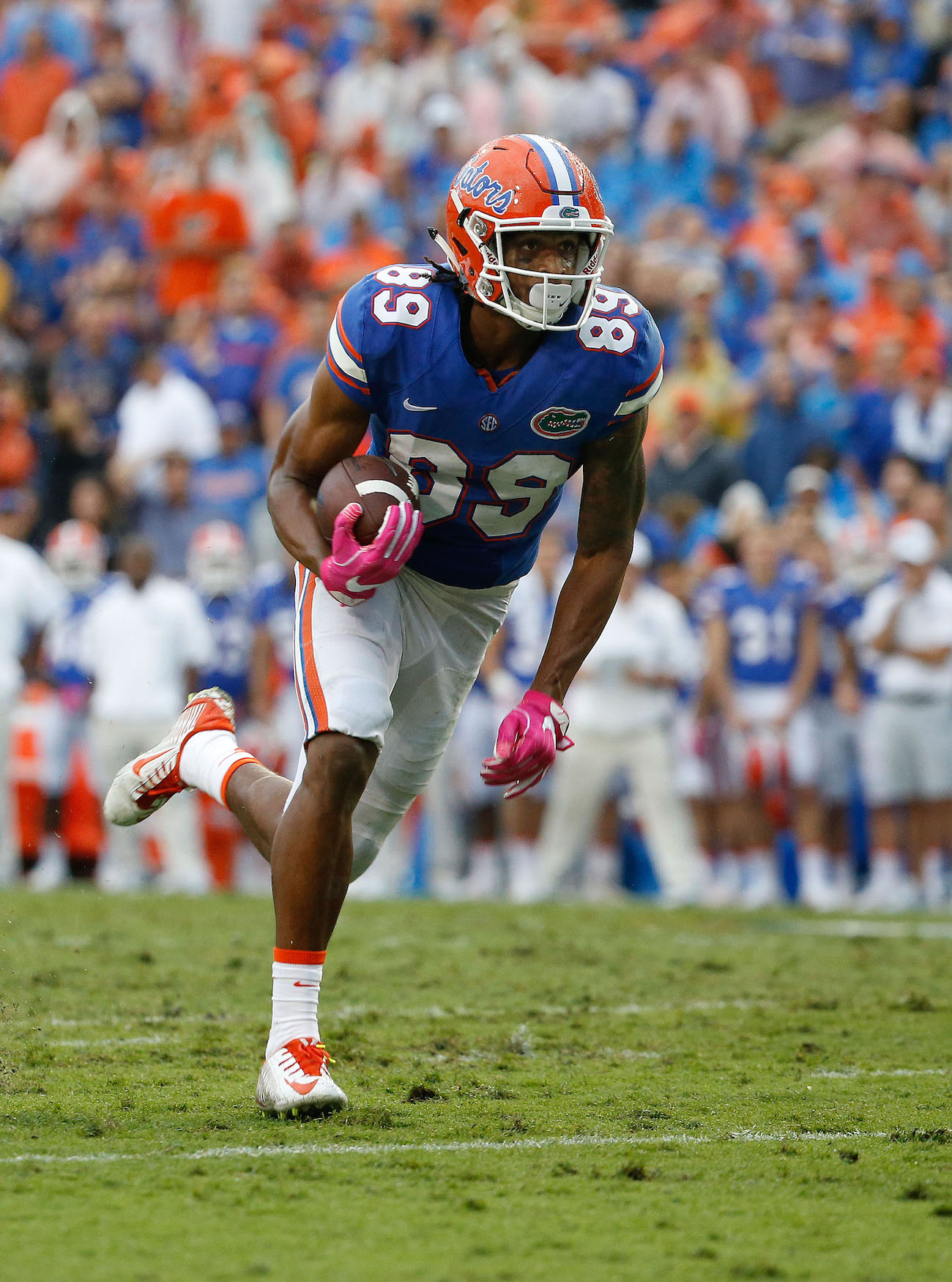 FLORIDA
Can Florida's receivers step up in Antonio Callaway's absence? The talent is there
GAINESVILLE, Fla. – The Gators had one proven, elite offensive playmaker on their roster heading into the season. Now he's suspended for the opener against Michigan.
Antonio Callaway was one of seven players suspended by coach Jim McElwain for reported improper use of financial aid. It's a big loss, as no other Gators pass-catcher has shown the ability to take over a game or command a defense's attention on every down.
With five former 4-star recruits on the depth chart, however, Florida certainly has the talent to overcome the loss of Callaway. The question is if the receivers will play up to that potential.
Tyrie Cleveland
The No. 2 wide receiver prospect of the 2016 class was already poised for a breakout year, but now he might face the challenge of going up against Michigan's best cornerback. Dealing with a campus BB gun incident and a hamstring injury last summer, Cleveland was playing catch-up at the start of his freshman season.
He finally showed why he's a threat in the vertical passing game in Week 7 against Missouri, hauling in three passes for 79 yards.
Tyrie Cleveland @Tyrie_1 to the house with a quick pass from Luke Del Rio pic.twitter.com/TDSoCfvdnJ

— Ashlyn Sullivan (@ashlynrsullivan) October 16, 2016
In Week 12 against LSU, Cleveland famously shook Tigers DB Donte Jackson around the Florida 45-yard line to turn an already big play into a 98-yard touchdown. He finished his freshman season with 14 catches for 298 yards and two touchdowns, No. 4 on the team in receiving. Only Callaway and DeAndre Goolsby (3 apiece) had more receiving touchdowns.
After a year on campus, Cleveland has added weight to his 6-2 frame, bulking up from 196 pounds to 205. With his height, size and speed, Cleveland looks the part of a go-to receiver. On Sept.2, he needs to step into that role.
Brandon Powell
A converted running back, Powell was second on the team in receiving yards last season (45 receptions, 387 yards). His height (5-9) is an obvious limitation, but Powell's speed makes him a threat anywhere on the field, especially in the slot.
Josh Hammond
The sophomore got a leg up on depth chart competition this spring while multiple receivers (Freddie Swain, Dre Massey and Rick Wells) were limited or out. A former 4-star recruit listed at 6-1, 187 on the current roster, Hammond opened camp as a first-team wideout, opposite of Callaway (as opposed to Cleveland).
He's shown himself to be a potential deep threat if the Gators can get the vertical passing game going. Among his 14 catches last season was a 53-yard grab.
Next play LDR to Josh Hammond play action pitch and catch. Perfect route, perfect throw. pic.twitter.com/PTaQCWcb0L

— Swamp Music (@Swamp_Music2) September 18, 2016
"A lot of us have grown from me, Freddie to Dre, just understanding the game and getting the game speed down," Hammond said recently. "Now all of us know what we're doing and now it's just playing football and having fun."
Freddie Swain
Another 4-star signee in the 2016 class, Swain was emerging in fall camp a year ago, but shoulder problems hampered him his freshman season. McElwain spoke highly of him at a recent press conference.
"He's a new guy," McElwain said. "I think he was hindered. He's a tough guy. He played injured, obviously, for us to have to go in and clean it up as we did. He really attacked his rehab, and he was one of those guys that was a model for what you've got to do to get back. He's added some weight which has helped with his speed. He's got really good ball skills and he's going to be a big part of what we do."
Listed at 187 pounds last season, the 6-foot receiver is now up to 194 pounds.
Dre Massey
He's yet to play a full game at Florida, but Massey is regularly praised by the coaches. The speedy, 5-9 junior college transfer was talked about as being a weapon for Florida in the slot and as a possible Wildcat quarterback last season. Those plans were scrapped when he tore his ACL in the season opener against UMass. Now that he's fully healthy, look for Massey to be a key part of the offense this season.
Daquon Green
A true freshman, the 6-1, 195-pound wideout out of Tampa was rated the 2017 recruiting class' No. 34 wide receiver and No. 35 Sunshine State product.
James Robinson
The highest-rated offensive signee in Florida's 2017 class, Robinson is raw in his technique and route-running. He's Florida's least-developed wideout, but after the Gators posted a red zone touchdown percentage of only 50 percent last season, the 6-4, 205-pound jump-ball target might see some action.
Kadarius Toney
Another wideout Florida might turn to in the red zone is Toney, who impressed as a potential Wildcat quarterback this spring. With plenty of depth at quarterback, Toney has focused on wide receiver lately.
"Every day he gets better," McElwain said last week. "Here's the amazing thing, you look the production piece, just the sheer production piece. Now some of it is also who they're against … but when you look at our third down and red area, this guy has showed up in the production piece of it. He's got natural hands. He's got some make-you-miss ability."
The tight ends
DeAndre Goolsby was Florida's No. 3 pass-catcher last season, notching 38 receptions at an impressive 9 yards per catch (342 receiving yards, 3 TD). At 6-4, 230 pounds with impressive speed and athleticism for his size, Goolsby has mismatch written all over him, especially in the red zone.
DeAndre Goolsby @thebasedone30 with an amazing catch to get the #Gators offense going in #outbackbowl pic.twitter.com/gpt5BCyZtb

— Ashlyn Sullivan (@ashlynrsullivan) January 3, 2017
C'yontai Lewis was No. 5 on the team in receiving yards last season (18 catches, 184 yards, 2 TD). Early enrollee Kemore Gamble impressed the coaches in spring practice and is expected to contribute this season.
Callaway might be Florida's best — and best-known — option, but the Gators have plenty of talented options ready to fill his void.
MORE GATORS: It's time McElwain said good-bye to oft-troubled Callaway