FLORIDA
3 matchups that will define Missouri-Florida, and a prediction
Florida welcomes Missouri to Gainesville for Homecoming this Saturday (noon ET, ESPN U) in a matchup of teams searching for their 1st SEC victory.
It has been a while since either program tasted a win in the SEC. The Gators have dropped their past 6 SEC games, with their last league win coming in their 2021 Homecoming tilt against Vanderbilt.  Missouri has lost its past 3 SEC games, with its last league win coming against the Gators last November. Eli Drinkwitz and the Tigers have lost 5 of their past 6 games against FBS opponents, while Florida is just 4-6 in its past 10 contests against the Power 5. In other words, this is a game between 2 programs that desperately need a victory.
Florida-Missouri has been one of the stranger series in the SEC since the Tigers joined the league in 2012. In just the past 5 seasons, we've seen coaches cosplay as Darth Vader and recite lines as Jedi Knights, bench-clearing sideline brawls, SEC Media Days jabs, a quarterback controversy emerge after an upset win, an interim head coach and a coach get fired after losing the game. It's also strange that Florida continues to schedule MIssouri for Homecoming. The Gators are 1-2 against the TIgers on Homecoming and have been blown out in The Swamp in both of the losses. Is a 3rd Missouri rout set to ruin Florida's Homecoming again? Or will the Gators grab Billy Napier's 1st SEC win?
Here are 3 matchups that will help define Saturday's game in The Swamp.
Missouri's stretch power run game against Florida's front 7
The path to a Missouri victory depends on whether the Tigers can continue to have success running the football. In Missouri's 3-touchdown win over the Gators in The Swamp in 2018, the Tigers ran for 221 yards at a 5.3 yard-per-carry clip. They'll need a similar number to win Saturday.
The good news for Missouri fans is that what it does well in the run game is something the Gators have struggled to stop in 2022. Missouri likes to use eye candy motion to hold the linebackers in place and then run stretch power with either Nathaniel Peat or the very productive transfer Cody Schrader.
Nathaniel Peat just hit Mach 10… pic.twitter.com/8Hdrk22APg

— Barstool Mizzou (@BarstoolMizzou) September 2, 2022
Peat is faster, but Schrader, who ran for more than 2,000 yards in his Division II career, has exceptional vision and a low center of gravity, which makes him difficult to take down. The Tigers rotate Peat and Schrader almost equally: Peat has 262 yards on 56 carries this year, and Schrader 261 on 46. Collectively, the duo has accounted for 4 touchdowns and pace a Missouri ground game that deceptively ranks just 56th in the country in yards per rush but has posted those numbers against 2 tremendous defenses in Auburn and Georgia.
MISSOURI BREAKS OFF A 63 YARD RUN AGAINST GEORGIA'S DEFENSE ? pic.twitter.com/Oih30iLTRG

— Brian Y (@byysports) October 2, 2022
Florida has not dealt well with stretch power or off-tackle concepts in 2022. While Florida's run defense is much better with Ventrell Miller on the field (only 4.5 yards per carry against vs. 5.9 without him), the Gators have held only 1 FBS opponent under 200 yards rushing (Kentucky). Whether it has been USF's Brian Battie or Utah's Tavion Thomas, the Gators have struggled to stop backs at the point of contact all season.
Brian Battie's week 3 highlights ?@battie941@SoFloBulls#EAMGFam pic.twitter.com/t0G1STgYyT

— Elite Athletes Marketing Group (@EAMGSports) September 19, 2022
Whether that happens again Saturday will be one of, if not the, defining matchup in the game.
Anthony Richardson vs. Missouri's aggressive 1 safety man-to-man coverage
Missouri defensive coordinators D.J. Smith and Blake Baker deserve a ton of credit for the way they slowed both a mediocre offense (Auburn) and an elite offense (Georgia) in their first 2 SEC contests this season. While the coordinators are new to the gig, they have shown a tremendous understanding of Missouri's personnel. Notably, they know that with bookend All-SEC defensive line talents Isaiah McGuire and Trajan Jeffcoat, along with disruptive tackle Darius Robinson, they can get pressure on quarterbacks quickly. The Tigers came up with 21 pressures on Georgia's Stetson Bennett IV, and it was, in truth, only Bennett's ability to make the proper decision consistently under duress that saved Georgia's bacon.
When you know you can get pressure reliably, you can be aggressive with your coverages. Missouri has done this against both Auburn and Georgia, playing a 1 safety high coverage and trusting its corners to win 1-on-1 matchups that won't last as long because it will inevitably get pressure.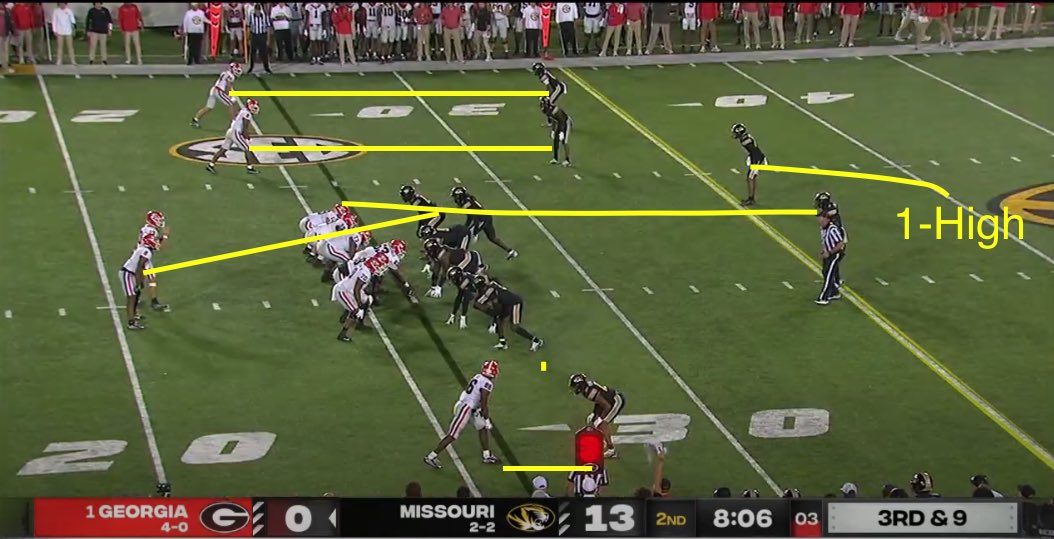 Another reason Missouri has done this? It doesn't believe — or at least didn't believe against Auburn and Georgia — that the opponent had anyone who could beat it vertically and take the top off the defense. Fearing no vertical threat, the Tigers could gang up on the run by playing closer to the line, or make Bennett make precision throws all night in 1-on-1 coverage under pressure.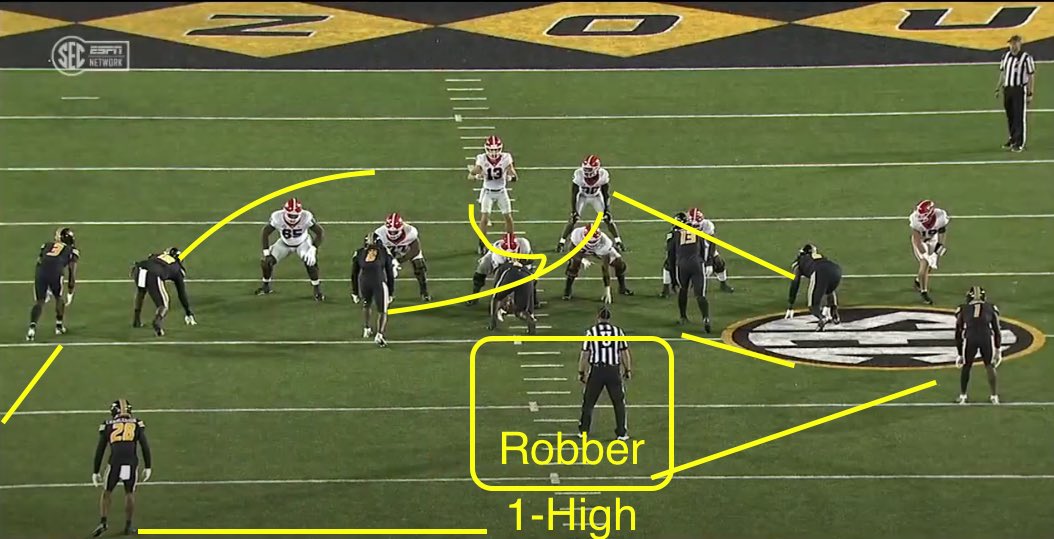 Florida is 2 recruiting classes from having vertical playmakers, meaning the Gators won't scare Missouri over the top, either. That guarantees Anthony Richardson will see a heavy dose of 1 high man. Can Richardson be patient and make precise throws? That's not really his strong suit. Missouri may feel a bit reticent to be quite as aggressive with starting corner Kris Abrams-Draine listed as doubtful with an injury, but Miami transfer Marcus Clarke played well against the Bulldogs and should be an adequate replacement on Saturday afternoon.
Napier has raved about Richardson's growth since the Kentucky game, and save 1 horrible decision in both the Tennessee and Eastern Washington games, he has looked like an improved quarterback. But Saturday will be a huge test against an aggressive defense.
Florida's talented OL vs. Missouri's excellent DL
We tipped this off in section 2, but the matchup between Florida's offensive line, which is grading out as a unit as the best in the SEC this season per Pro Football Focus, and Missouri's defensive line, which has the Tigers ranked 34th in sack percentage and 27th in pressures, as well as 40th in SP+ defensive efficiency and 33rd in succcess rate against in the run game, will be a dandy.
Missouri's overall numbers above really don't do their defensive quality justice. The Tigers have really come together as a defensive unit over the past 2 games, as they held Auburn to just 217 yards and a really good 3.3 yards per play and limited then-No. 1 Georgia to just 6.1 yards per snap, well under the Dawgs' 2-season average of 7.2.
Missouri's defensive strength is its line, and Florida's team strength is its offensive line.
O'Cyrus Torrence grades out as the top offensive guard in the country, per PFF, and is the nation's best run blocker. But the Gators' offensive line isn't just a 1-man star show. All 5 of Florida's starters rank in the top 150 offensive linemen in the country, and freshman offensive tackle Austin Barber joins Torrence in the top 50 among all linemen at any position. The Gators have a great running back room — one of the nation's best — and those talents, like Montrell Johnson Jr. below, get to run through holes the size of double doors frequently.
?? Montrell Johnson does it like nobody does … 62-yard TD to open the second quarter for the #Gators pic.twitter.com/Vea11CzhHn

— OnlyGators.com: Florida Gators news (@onlygators) September 18, 2022
It's a scary combo and will present the biggest challenge Missouri's excellent front has faced this year, at least hat on hat with an opposing offensive line.
Prediction: Missouri 23, Florida 21
The Gators and Tigers played a spectacularly close game in CoMo last season, with Florida's maligned staff making its last stand under Dan Mullen but falling in double overtime.
Drinkwitz isn't necessarily on the hot seat: The Tigers are basically a false start penalty on the goal line against Georgia and a field goal away from being 2-0 in the SEC. But Drinkwitz does need to start winning, and backing up the good work he has done putting that roster together with more talent than it has had since the SEC East winners last decade.
Florida will hang tight with the run game and what is expected to be a huge Homecoming crowd (the game is nearly sold out, which would mark Florida's 4th sellout this year, ranking 1st in the SEC).
But the matchup isn't a great one for the Gators, and it's hard to see Richardson avoiding mistakes against an aggressive defense that will pressure him and force him to make precise throws. Expect a turnover or 2 to be the difference in another Missouri win over the Gators in The Swamp.