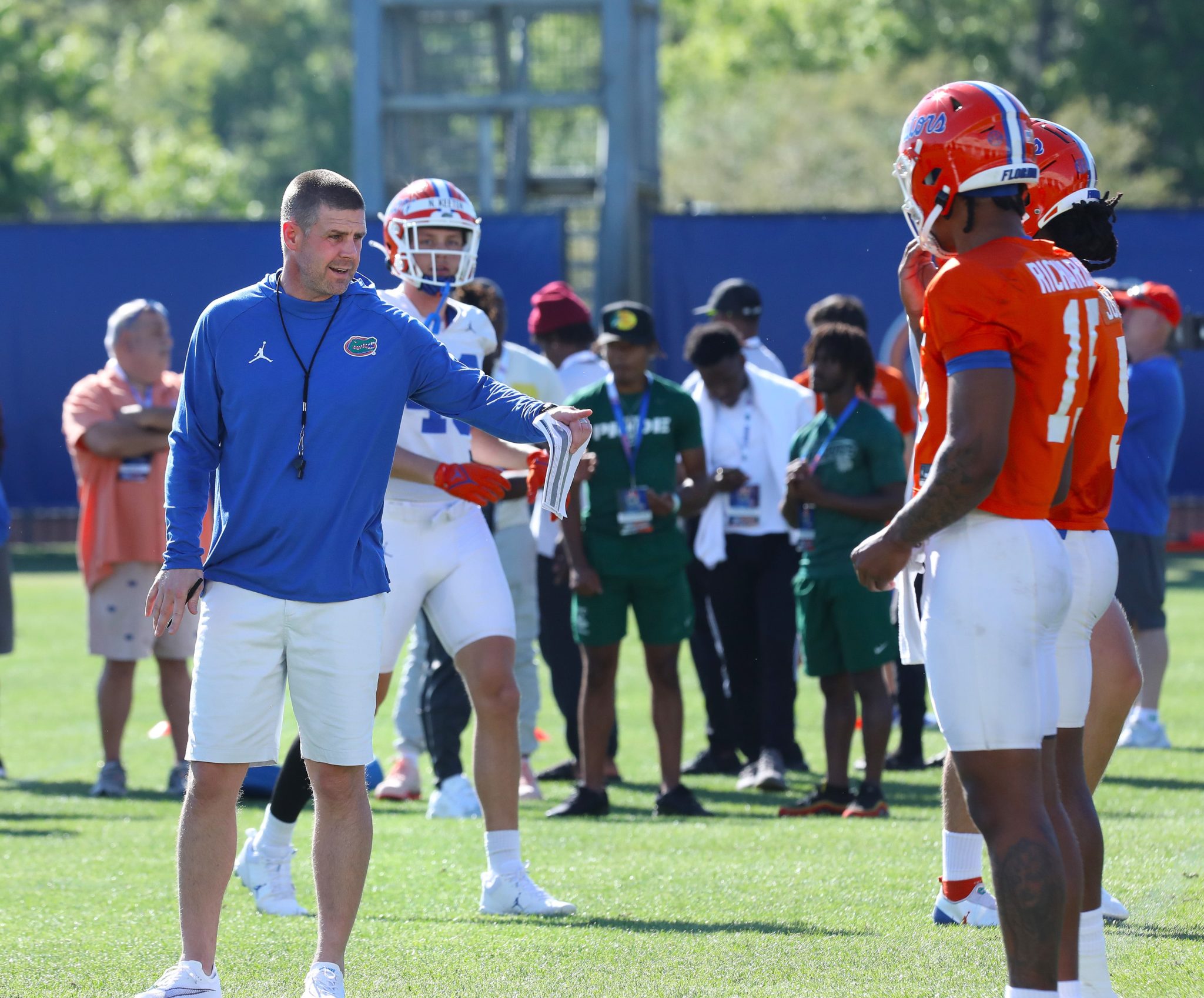 FLORIDA
Florida football: 5 players we can't wait to see in Thursday night's spring game
The first spring of the Billy Napier era in Gainesville wraps up this week with Thursday night's Orange and Blue game (7:30 pm, SEC Network). The Thursday night time slot is a first for the annual spring football finale, but it makes sense given the upcoming Easter weekend, the availability of an exclusive television time slot, and the chance for Napier and the Florida recruiting team to get as many visitors on campus as possible.
"It's a big deal," Napier told the media this week."We can't wait for Thursday night in The Swamp. Obviously it's an open invitation, it's free. We're excited that this is our first opportunity to engage the student body."
Florida will hope to put on a show after a spring where Napier saw a talented roster, but one that lacks maturity, especially at the playmaker positions.
"I think we have a group of players that can play winning football, if that makes sense," Napier said this week. "There are a handful of players in that room that I think we could run out there and we can depend on them to do their job and play winning football for Florida. We need more."
Florida will likely be active in the transfer portal all spring, trying to find players who can make the roster more explosive. That's the nature of program-building these days, especially in a division where your archrival is the reigning national champion and a conference that contains Alabama and 2019 national champion LSU, an annual Florida opponent.
"I think the team as a whole lacks depth," Napier told the media. "We need more players as a whole that do their job consistently and play winning football. The receiver position is much like every position on the team. We have a good group of ones and a couple twos we can put in the game, but after that, we have to prove more."
But who can play winning football? And who's ready to show that Thursday night?
Here are 5 players SDS can't wait to see in Thursday night's spring game.
Ventrell Miller, LB
Miller's decision to return to Gainesville for his senior season after suffering a debilitating knee injury against USF and missing the remainder of the season in 2021 was a boon to the defense, which desperately missed the All-SEC linebacker's production. Due to a class conflict, Miller hasn't practiced as much as he would have liked this spring, but Napier and the staff told him graduation was the priority, and Miller has listened. Still, the veteran has been a leader and difference-maker when he has practiced, and inside linebackers coach Jay Bateman has raved about Millers' physicality and his intangible qualities.
Florida's run defense really suffered without Miller to clean things up, and while Miller may not play a ton on Thursday night, it will be exciting just to see him in orange and blue again, healthy and helping his team excel.
Amari Burney, LB
If you are noticing a theme here, you should be. Florida's inside linebackers have shown out this spring, and Burney, long a mystery wrapped in an enigma under prior defensive coordinator Todd Grantham, is one of the Gators who seems to be benefitting the most from the coaching change. Burney has had a terrific spring, consistently earning the praise of Bateman and defensive coordinator Patrick Toney. The senior played his best football in the Gators' most recent scrimmage, where he intercepted a pass and broke up another and looked steady and fast in run support.
Burney was a high 4-star recruit out of high school, an athlete who just "looked different" getting off the bus. Unfortunately for Florida fans, he's never lived up to the hype and often has been a disappointment. The great thing about a fresh start is none of that matters. Burney has played the best ball of his career this spring, and he should be revved up to show Gators everywhere what he can do this year, beginning Thursday night.
Lorenzo Lingard Jr., RB
Finally healthy, the former 5-star recruit has been one of the best stories from Florida's spring camp. Lingard has rocketed up the depth chart at running back, scoring touchdowns in both of Florida's spring scrimmages and proving to be an adept weapon in the passing game as well, consistently getting open and making catches out of the backfield. Lingard has top-end speed, has added muscle, and is comfortable in Napier's offensive scheme. Will he start over Nay'Quan Wright? Probably not. But the Gators' best playmakers offensively all play running back, which suggests Florida will spread the football and wealth around to those guys to maximize the playmakers they do have on the roster.
Montrell Johnson, RB
Florida is trending toward having a 4-headed monster at running back. Johnson, the Louisiana transfer who was an All Sun-Belt Conference running back under Napier last season, is another member of the running back stable that has impressed all spring. Johnson is a physical runner who is rarely knocked backward, and often, he's the player in 1-on-1s delivering the big blow and firing up the sideline. He should be relied upon heavily in red-zone packages but is strong enough and fast enough to be effective between the red zones as well. Thursday night will be his first taste of action in The Swamp and under the SEC's bright lights. It will be interesting to see how he responds to that moment, but there's plenty to be excited about with Johnson moving forward.
Jack Miller III, QB
Anthony Richardson is Florida's projected starter, and he should be. Richardson can be a bona fide star.
But Miller III has been the established No. 2 since early in spring camp, and he'll have every opportunity to show why Thursday night. Like another Ohio State transfer that wore No. 9, Miller III could never win the starting job at Ohio State. But like Joe Burrow, Miller III has pro size (6-4, 210), mobility and terrific arm strength. He isn't nearly as accurate as the 2019 Heisman winner and national champion, and he won't have the stable of receivers to throw to Burrow had when he arrived in Baton Rouge. In other words, don't expect Miller III to be Joe Burrow.
But Miller III can be an effective SEC quarterback.
What has impressed the staff the most this spring has been his decisiveness with the football — something that is still an issue at times for Richardson but is not for Miller, who seems to quickly process things and put the football where he's asked. He also has an outstanding work ethic, often staying after practice to work on routes and cultivate chemistry with the Florida wide receivers and running backs, not just the reserves that he reps with in live situations.
That's the type of "extra work" that goes a long way with a new staff, and if Miller III can show Florida's fan base Thursday night what he's shown the coaches this spring, the Gators will have plenty of reasons to feel good about their quarterback room — and not just Anthony Richardson's potential — as spring turns to summer.