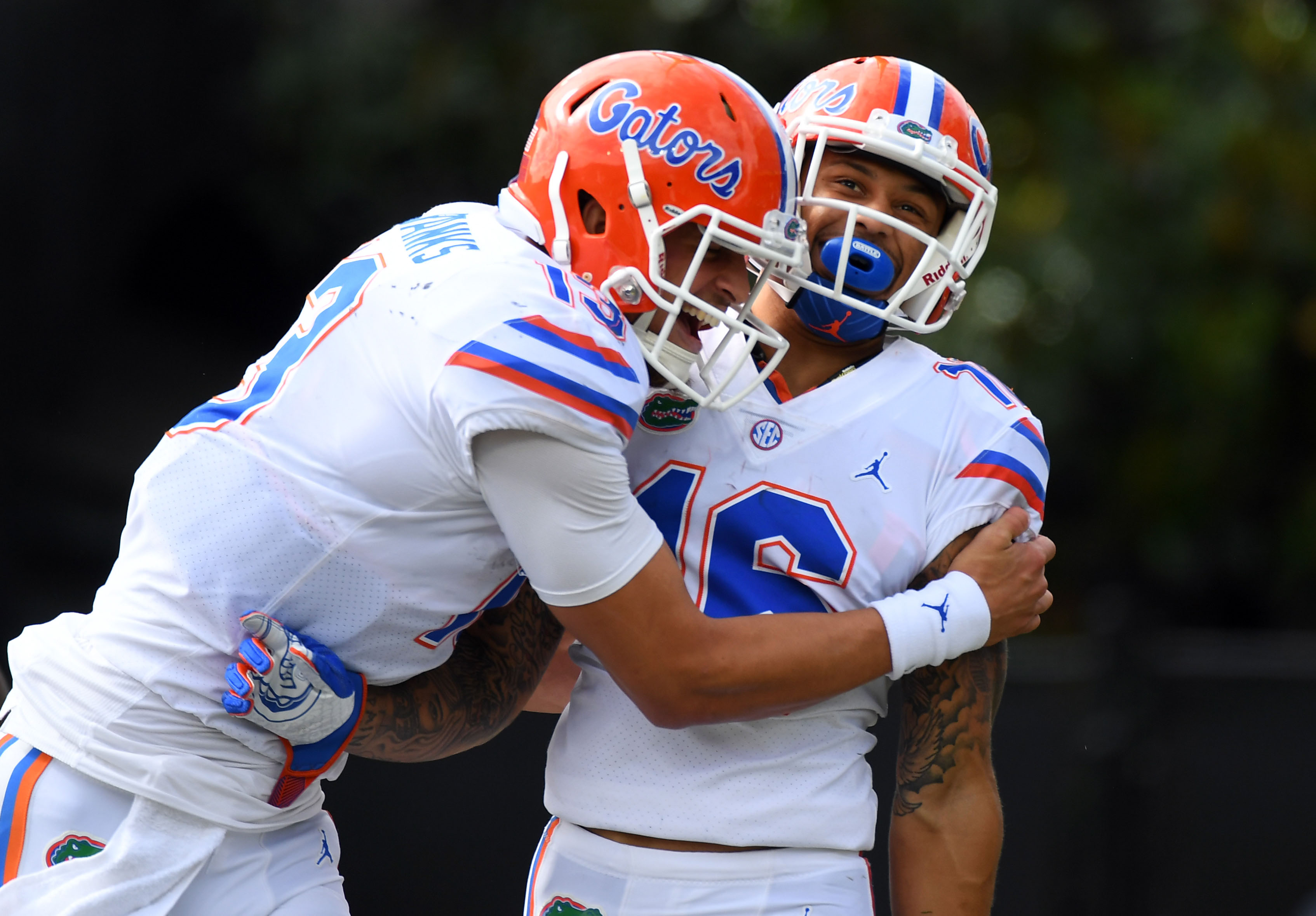 FLORIDA
Florida football: First look at Gators' keys to success in the Cocktail Party
Week 8 is behind us and it's time for the Cocktail Party for Florida and Georgia.
It's the 96th meeting between the two southern universities (97th according to Georgia), and it's set to be the World's Largest Outdoor edition since at least 2012, with the winner leaving Jacksonville very much in the thick of the College Football Playoff race and in great shape to the be the SEC East's representative in Atlanta come December.
Both Florida and Georgia had bye weeks, with plenty of improvements to make and video to dissect for each coaching staff.
The Dawgs are coming off their first loss, a 36-16 pasting at the hands of a more physical LSU team in Baton Rouge. Georgia will hope it has resolved issues on both sides of the line scrimmage, put in a package of plays for Justin Fields to help diversify the offense, and perhaps most crucially, reclaim the mental toughness and edge that had the program on the precipice of a their first national championship since 1980 last year.
The Dawgs are more talented than Florida, and for all the respectful rhetoric out of Athens this week, should enter Jacksonville confident after last season's 35-point rout of Florida.
Meanwhile, the Gators are a surprising 6-1 in the first year under Dan Mullen, having established an increasingly effective power running game in victories over Tennessee, Mississippi State and LSU. But the Gators needed four quarters to come-from-way-behind at Vanderbilt, playing sloppy football in the opening half on both sides of the football and leaving much room for improvement as they ready for the biggest game the program has had since the 2016 SEC Championship Game.
Florida has a new team, an improved culture and is winning as a team in 2018. But doing it against an elite Georgia team with the country paying attention will be an immense challenge.
Here's a quick look at the four main concerns for the Gators as they ready for their archrival:
1. Slow the Georgia power running game
The Dawgs didn't look it against LSU, but this is a dangerous and balanced offense led once again by an effective power running game.
Despite being limited to 113 yards rushing and only 3.8 yards per carry at LSU, Georgia still ranks 24th nationally in rushing offense and averages 5.8 yards per carry on the ground. Georgia likewise ranks No. 6 nationally in rushing efficiency offense despite the LSU debacle and is 20th in explosive runs.
If Elijah Holyfield is coming at you, just get out of the way. pic.twitter.com/pDqfIAldCZ

— CBS Sports (@CBSSports) October 13, 2018
Elijah "The New Deal" Holyfield, a powerful and fast back who loves to square up tacklers downhill, is the most frightening runner for a Gators defense that enters the game ranked a concerning 10th in the SEC in tackling rate. Holyfield averages 7.5 yards a carry and ranks second in the SEC in yards gained after contact, behind only Kentucky's Benny Snell (Florida's Jordan Scarlett is third).
Florida ranks 12th nationally in S&P+ defense and 21st nationally in total defense, but they rank only 73rd in rushing defense, largely thanks to missed tackles and the lack of a truly effective three-technique or pile-mover along the interior of the defensive line.
Georgia knows this, and this matchup is the biggest concern for the Gators and the key to the football game.
2. Limit explosive plays down the field
This matchup is slightly more favorable for Florida, but it's still "Advantage Georgia," in our view.
Florida's defense is outstanding at limiting successful plays by opposing offenses (opponent success rate 33.4 percent is 9th best nationally), but the Gators have two clear defensive weaknesses.
The first is run defense, discussed above.
The second is the Gators give up too many explosive plays.
Some of that goes with the Todd Grantham territory, but against a team with Georgia's perimeter playmakers, that's a big worry.
Georgia will enter the Cocktail Party an impressive 18th nationally in explosiveness and they'll face a Gators defense that ranks 63rd nationally in limiting explosive plays.
Jake Fromm has improved in some areas this season, but he desperately misses Javon Wims in the deep passing game pic.twitter.com/rlLOs48i1h

— CFB Film Room (@CFBFilmRoom) October 18, 2018
As the above graphic demonstrates, Jake Fromm has improved as a passer in 2018 but struggled to hit big throws downfield this year in the aftermath of Javon Wims's departure for the NFL.
Still, Georgia isn't without home run hitters, as Mecole Hardmon (15.0), Terry Godwin (21.4) and Jeremiah Holloman (21.3) each average 15 yards or more per reception.
If Florida is forced to bring extra help into the box to tackle Holyfield and D'Andre Swift in the running game, Georgia will be in an excellent position to take shots downfield and, as Kentucky demonstrated, Florida has been susceptible to big plays in the downfield passing game this season.
3. Get the pass rush going again
The Gators' pass rush dominated Mississippi State and LSU, but was asleep at the wheel for much of the 11 a.m. Central Time kickoff at Vanderbilt last weekend. Not until a late sack by Jachai Polite stalled a Vanderbilt drive in the fourth quarter were the Gators able to sack Vandy quarterback Kyle Shurmer, and Florida struggled to get any consistent pressure against a Vanderbilt front not regarded as one of the SEC's best units.
This is an area of the game that should favor Florida.
Polite leads the SEC in quarterback pressures on the season (23) and Jabari Zuniga is fourth (19). LSU is not quite as good up front as Florida defensively, but the Tigers whipped Georgia at the point of attack —which should make protecting Fromm better in Jacksonville a personal challenge to the Georgia line. Florida will need to rise to the occasion and get loose in the backfield against Georgia to limit the success of Jim Chaney's offense in the passing game. All four of Fromm's interceptions this year have come under pressure, and part of Florida's formula for winning all season has been producing takeaways and short fields. This is a battle Florida must win to have a chance.
4. Stay composed and in the moment
Most of Florida's upperclassmen have played in two SEC title games, meaning they have experience in a game of this magnitude.
It's different when you are a leader, though, and it's different when you haven't played a game this big in a season or two.
Against a team as good as Georgia, adversity is inevitable. Bad plays will happen, and the Gators will need to rally and focus on the next play constantly, something they did successfully in the upset win over LSU.
Florida needs to stay in the moment and remember it earned the chance to play a football game this big by winning two other big football games — at Mississippi State and home against LSU —during the past month.
Florida's composure and ability to stay in the moment will set the tone for limiting mental mistakes, something the Gators have struggled with at times this season. Florida has had double-digit penalty performances and unsportsmanlike conduct penalties in wins over Mississippi State and at Vanderbilt. the Gators simply aren't good enough to give Georgia free yards and plays Saturday if they want to win.