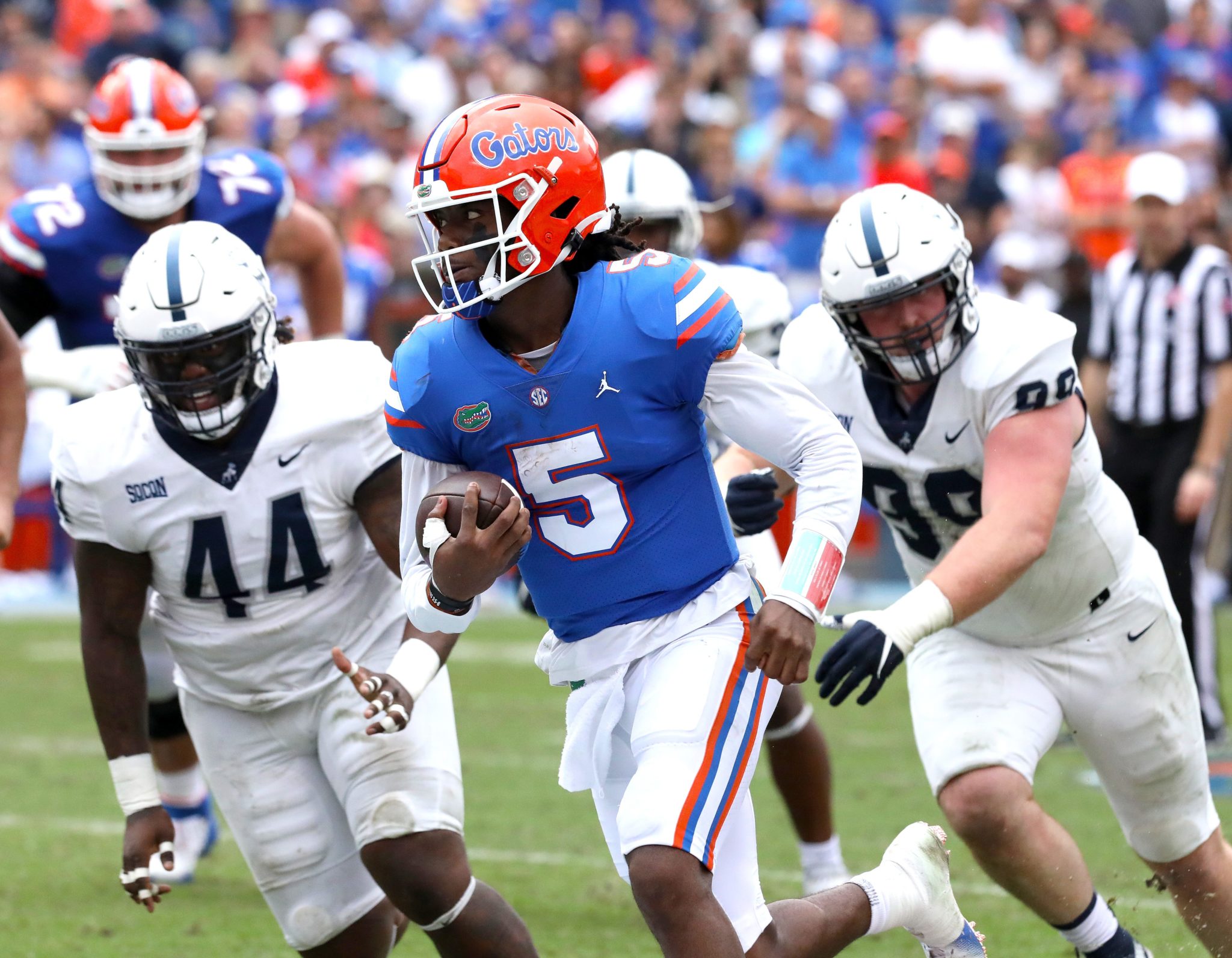 FLORIDA
Florida football: Grading the Gators in win over Samford
Florida won a football game for the 1st time in more than a month Saturday, defeating Samford 70-52 at The Swamp. The win evened the Gators' record at 5-5. Florida will need to win 1 of its final 2 games — a road trip t0 Missouri and the Senior Day finale against rival Florida State — to become bowl-eligible. The Florida State game will function as a de-facto "state championship" game following FSU's 31-28 victory over Miami on Saturday in Tallahassee. While the Samford win gives Florida plenty to play for, there was little that transpired that suggests the Gators have what it takes to win either of their final 2 games.
Here are SDS grades for the Gators' performance on Saturday.
Offense: A+
If Florida has any chance at all of going to a bowl and defeating FSU for the 3rd consecutive time, it will need to ride its explosive offense. The Gators posted 717 yards and 70 points on Saturday, averaging 10.4 yards per play.
Emory Jones was magnificent, completing 28 of 34 passes for 464 yards and 6 touchdowns and adding 86 yards rushing on 10 carries. He fell just short of a school record for passing yards in a game, broke the school record for total yards in a game (550) and tied a school record for touchdowns. You simply couldn't ask for more from a quarterback.
Florida also got a monstrous performance from Kemore Gamble, who posted 6 receptions for 122 yards. Gamble was playing with his mom watching for the first time in weeks, which made for a wonderful story.
Kemore Gamble's mother has been in the ICU for two months. She was able to watch the game today for the first time in a while.

She was able to come home last Wednesday.

— Nick de la Torre (@delatorre) November 13, 2021
Gamble was a reliable target for Jones in Florida's games against Alabama and Georgia as well, but he wasn't even targeted in 3 games this season. That raises questions about the coaching staff — but more on that later.
Defense: F
Playing its 1st game without Todd Grantham, the defense, which bragged about "flying around" and "being chippy and physical" Monday in practice, failed to even show up.
The Gators surrendered 35 defensive points (Samford scored a touchdown on a kickoff return) to an FCS team in the 1st half. It helps to read that sentence out loud, for effect. 35 POINTS. AT HOME. IN 1 HALF. TO FCS SAMFORD.
In the game, Florida gave up 530 yards to the Bulldogs, who ran a staggering 85 plays thanks to Florida's inability to get off the field on 3rd down (Samford converted 7 of 15 3rd downs, including 6 of 7 in the 1st half!).
Florida forced just 1 punt in the 1st half, and Samford — yes, Samford — scored the most points ever against a Florida team in the 1st half. Samford's 52 points were an NCAA record for an FCS program against a Power 5 opponent.
It was an embarrassing performance, and one that doesn't escape "F" simply because Florida did what it should do and slowed Samford down in the 2nd half.
Special teams: F
Florida missed tackles and didn't really compete on Montrell Washington's 98-yard kickoff return for a touchdown.
Washington became the first FCS player in NCAA history to record a rushing touchdown, receiving touchdown and kickoff return touchdown in a single game against a Power 5 opponent.
Following the Washington kickoff return, Malik Davis was nearly murdered because no one blocked. It was just more evidence of a team that has either quit or has a plethora of problems that will take a while to fix.
Florida also continues to be miserable in the kicking and punting games. Starting punter Jeremy Crawshaw averaged just 33.5 yards per punt, continuing a disappointing season. But hey, at least Florida made it through the game without missing an extra point!
Coaching: F
Setting aside the tire fire that was the Florida defense and special teams, the Gators also had 12 penalties, a sign of an undisciplined team that lacks focus and attention to detail.
Players might say the right things and tell the media that Dan Mullen hasn't lost the locker room. But when you fall behind by 14 at home to FCS Samford, the actions speak louder than words.
Speaking of actions speaking louder than words, the dance party in the Florida locker room after the win was a great visual of where Florida is as a program under Mullen.
Mullen is really dancing after giving up 52 points to Samford? ??‍♂️ pic.twitter.com/mZuvT4CvXy

— SEC Football Vids (@SECFootballVids) November 13, 2021
Mullen called Saturday's win "a great win," which I guess is fair when you haven't won in a month.
But this type of celebration, after giving up 52 points at home to a mediocre FCS opponent, is perhaps the best evidence yet of how far away Florida is from meeting "the Gator Standard" under Mullen. This was the type of locker-room celebration Florida had after beating a top-5 LSU team in Year 1 under this staff. Late in Year 4, the Gators are celebrating like this after a win over Samford.
This isn't fabricated death threats levels of embarrassing. But it should be enough for Scott Stricklin to do what must be done and make a change at the top.
The Gators were unprepared, undisciplined and disinterested Saturday afternoon. Isn't that enough?