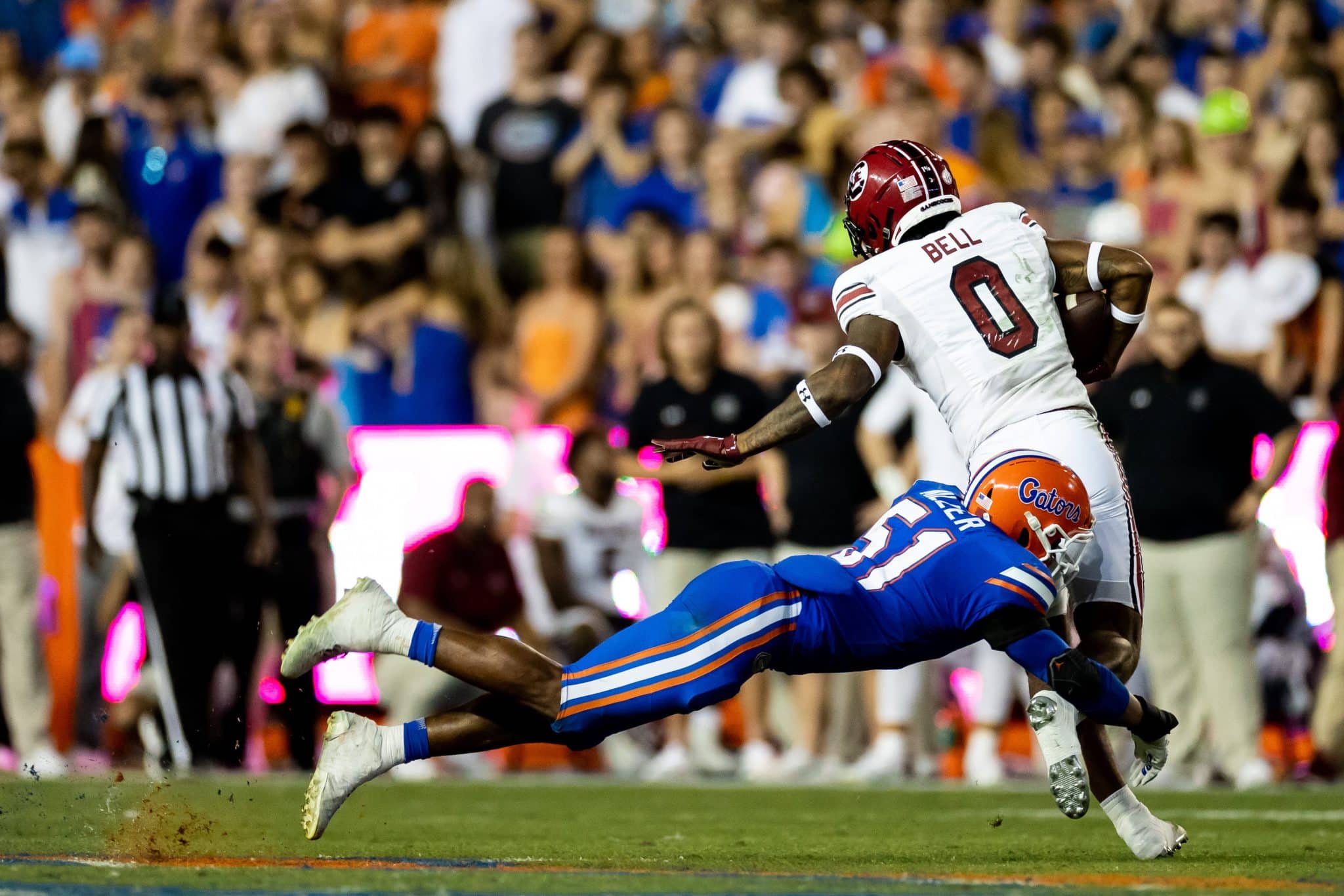 FLORIDA
Ventrell Miller, Florida's ultimate foundational player, shines in Gators' romp over Gamecocks
After the fight song and alma mater were sung and most of the fans at a sold-out Swamp had joyfully filed out of the stadium and into the Gainesville night, only 1 Florida player lingered on Steve Spurrer-Florida Field, shaking fan hands and signing every last child's autograph. Florida super senior linebacker Ventrell Miller, the captain of the defense and the team's best player, wanted to soak in every last moment of his final Saturday at The Swamp,
"It was my last time walking out into that Swamp, and I just was soaking it all in," Miller said after the game. "Doing senior introductions and getting that roar from the crowd and seeing the fans cheer for me — what a great feeling. It was great to lead the team out of the tunnel into The Swamp one last time, and I just wanted to make sure fans knew how much gratitude I feel toward them and about being a Gator."
Miller showed his gratitude with his play as well in Florida's impressive 38-6 victory over South Carolina.
He led a Florida defense that dominated, forcing 3 turnovers, allowing 0 scores by the South Carolina offense and limiting the Gamecocks to just 237 total yards and 11 1st downs. A liability most of the season, the Gators' defense, led by Miller's sparkling play, has not allowed an offensive score in 6 quarters. The result of the mini-revival of Florida's proud defensive tradition is that the Gators — who were 4-4 and unable to stop anyone through halftime of the Texas A&M game — are now 6-4, bowl-eligible and pointing toward 2023 thanks to a promising November.
At the center of the Gators' November reversal of fortune is Miller. Even Saturday, with the Gamecocks doing just enough to hang around in the 3rd quarter, it was Miller who made the game's defining tackle, a sensational open-field stop on Jaheim Bell to prevent the Gamecocks' back from turning the corner, where there was only green and 1 Florida safety in front of him.
Come for the tackle, stay for the celly ?@ventrell_miller | @GatorsFB pic.twitter.com/Gongj16o1h

— SEC Network (@SECNetwork) November 13, 2022
These are the types of plays Florida fans have come to expect from Miller, one of the nation's most underrated defenders and the heart and soul of Billy Napier's 1st Gators team.
"The biggest thing about Ventrell is how he loves to compete, and he embraces the work required to compete," Napier told the media this week. "Off the field, this is a young man who has raised money for hurricane victims and their families, been active in his community. On the field, he loves to play and compete, and how many times does it seem like the other team has something going and Miller makes a huge play. I've said it before, but as far as what we want to be here, Ventrell's an example of what Florida Gator football is all about."
Every program that has ever become great has a Ventrell Miller, the ultimate foundation builder who shows his teammates, young and old, what it means to be a part of the program.
Miller led the Gators in tackles Saturday with 4 and tallied 2 tackles for loss and 3 pressures in the process. But what he has done, most of all, is lead. He has led with his work ethic, as Napier alluded to, and he has led with his production, with 63 tackles (2nd on the team), 8 tackles for loss (2nd on the team), 1 forced fumble, 18 pressures and 7 quarterback hurries. In the process, Miller has rocketed up draft boards, elevating his status from a late-round pick with injury questions to a 2nd- or early 3rd-round projection in multiple mock drafts.
Miller, like this Florida program, has been through the ringer. He has spent 6 years in Gainesville, suspended as part of the Credit Card 9 that doomed Florida and Jim McElwain in 2017, coming back and earning the respect of a new staff under Dan Mullen in 2018 and becoming a starter for the Gators in 2019, when he earned Orange Bowl Defensive MVP honors. Miller blossomed into an All-SEC linebacker, overcame 2 season-ending injuries, graduated a top-5 public university with honors and edged close to a graduate degree this autumn, all while playing tremendous football. Miller heads into his final 2-3 games as a Gator grading out as one of the SEC's top 5 linebackers, per Pro Football Focus, which helped him land on multiple midseason All-America watch lists last month.
Saturday, in Florida's revenge wipeout of a Gamecocks team that clobbered it just a year ago, Miller had his final say at The Swamp, leaving Florida's biggest win over a SEC opponent with a winning record since 2020 as a final brick he has added to Napier's foundation in Gainesville.
Florida's 2-game win streak isn't anything to get too excited about — not yet. A Black Friday test at a really good Florida State team looms, and the Gators will have a bowl game after they face the Seminoles. But we've seen these types of Year 1, season-ending pushes in the past — in places like Tuscaloosa, where Nick Saban's 1st Alabama team upended a solid Colorado team in its 2007 bowl game, setting the stage for a brilliant 12-2 campaign in 2008; or in Athens, where Kirby Smart's 1st Georgia team beat a top-10 Auburn team in November and nipped an excellent TCU team in a bowl to set the stage for a College Football Playoff run in Season 2. Just a season ago, Tennessee and Josh Heupel closed the season 3-2, with an outstanding win over a ranked Kentucky team and an epic bowl battle with a strong Purdue team marking the Vols as a team to watch in 2022. Florida, which is starting to find itself on defense and has 1 of the nation's most prolific run games and a pair of blossoming stars at running back, will have an opportunity to turn a big corner in Year 2 under Napier as well.
If that happens — or even if takes Napier longer to restore Florida to greatness — Miller will be remembered and celebrated by the Florida faithful. That much was evident when he received the longest applause, and the only universal standing ovation, during Senior Day ceremonies Saturday.
Florida fans cheered so loud because they recognize, like Coach Napier, that Miller represents what Florida football wants to be. Being that type of bridge to a brighter future? That's a heck of a legacy.
That's why for a few minutes Saturday night, it made all the sense in the world for Miller to be the last triumphant Gator on the field, soaking in the scene and 6 years of sweat and hard work in, cheered by the fans who adore him.