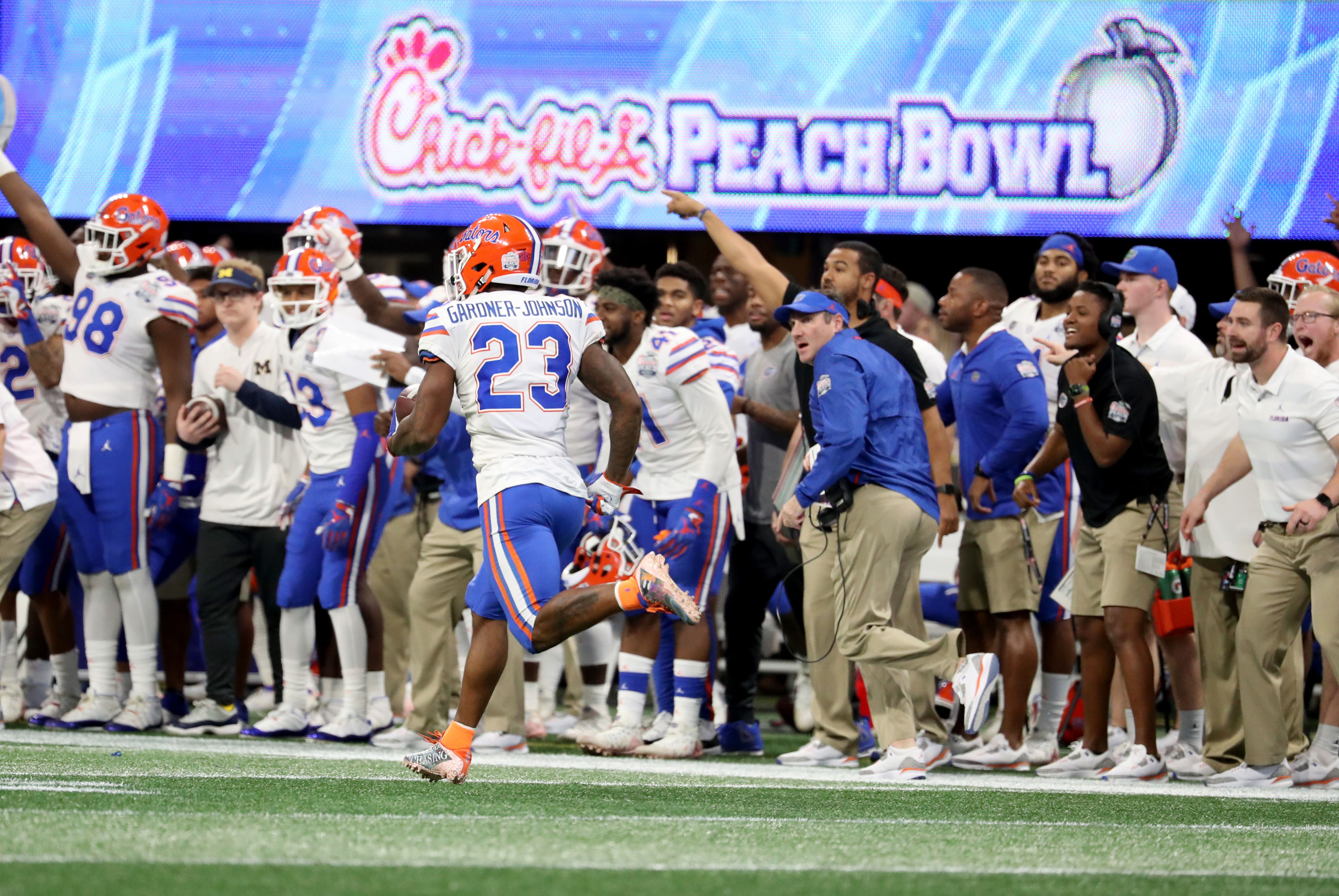 FLORIDA
In brilliant final game as Gator, Chauncey Gardner-Johnson's legacy is secure
ATLANTA — Chauncey Gardner-Johnson arrived in Gainesville as the latest blue-chip recruit to want to be a part of DBU.
He leaves the Defensive MVP of a New Year's 6 bowl game, with his legacy as a Gator great secure.
Gardner-Johnson, a senior defensive back, intercepted two passes to lead a dominant performance by the 10th-ranked Gators defense in a 41-15 victory over No. 7 Michigan in Saturday's Peach Bowl. The Wolverines offense came into Atlanta ranked 25th nationally in yards per play and 24th in S&P+ Offense.
Gardner-Johnson's first interception snuffed out a Michigan drive early in the third quarter, with the game still very much in doubt, and his 53-yard interception return put Florida's offense in business in Wolverines territory. The Gators scored six plays later to take a 20-10 lead. That pick was one for the team, an All-SEC player making a big play in a big spot.
Gardner-Johnson said film study was a big part of that interception.
"We knew they took shots and figured they would go after our freshmen early and pick on them," he said. "We just kept our ground and stayed over the top against that look. It was a one-high with me and the safety exchanging and (Michigan QB Shea Patterson) read it as the safety just sitting there. I recognized, speed-turned, and the ball came right to me."
Michigan linebacker Chase Winovich reflected on Gardner-Johnson and Florida's performance after the game.
"Sometimes you're the Gators, and sometimes, you're the bait," Winovich said. "They made plays like Gardner-Johnson made, just out there making winning plays. You can make excuses all you want for stuff. The impact players we were missing from the last time we played Florida. But guys like him made plays and they were the better team. Hats off to them."
Gardner-Johnson's second interception was another winning play.
That one was a legacy-sealer with the game already very much decided.
Florida DB Chauncey Gardner-Johnson.

Underclassman.
Declared for NFL Draft.
Didn't skip the Peach Bowl.
Has 2 INT (including a pick six).
Florida Gators just beat the brakes off Michigan.

R-E-S-P-E-C-T. pic.twitter.com/6FlTCoUtkG

— Football Recruit. (@FootballRecruit) December 29, 2018
Gardner-Johnson took that one 30 yards to the house, giving Florida a 41-15 lead and putting the exclamation point on Florida's dramatic season turnaround. The Gators went from four wins in 2017 to 10 wins and a New Year's 6 bowl victory in twelve months.
Florida wouldn't be DBU without a DB winning a bowl game MVP, and while Gardner-Johnson was on campus, no Gator DB loved bowl games more than Chauncey. In two bowls, Gardner-Johnson intercepted four passes. That's almost half the nine he collected in his career.
After the game, Gardner-Johnson said collecting two interceptions and Defensive MVP honors at a Peach Bowl was especially meaningful.
"This game changed the program's perspective on how Florida football can be," he said. "When we got here, when you look up in the stadium, it doesn't just say Peach Bowl. It says 2019 Semifinal Hosts. So, for the young guys, I mean, now they've been here before. They know what's expected. And for those us leaving, for the older guys, we leave champions."
More than the tremendous bowl performances, the leadership and example Gardner-Johnson set will be his biggest legacy at DBU.
"You saw it today, what he means to this program, the way he approaches practice and football and winning," Florida cornerback C.J. Henderson said. "He's going to the NFL because he makes plays, but it's the example he set that the young guys will mimic. That's what lasts."