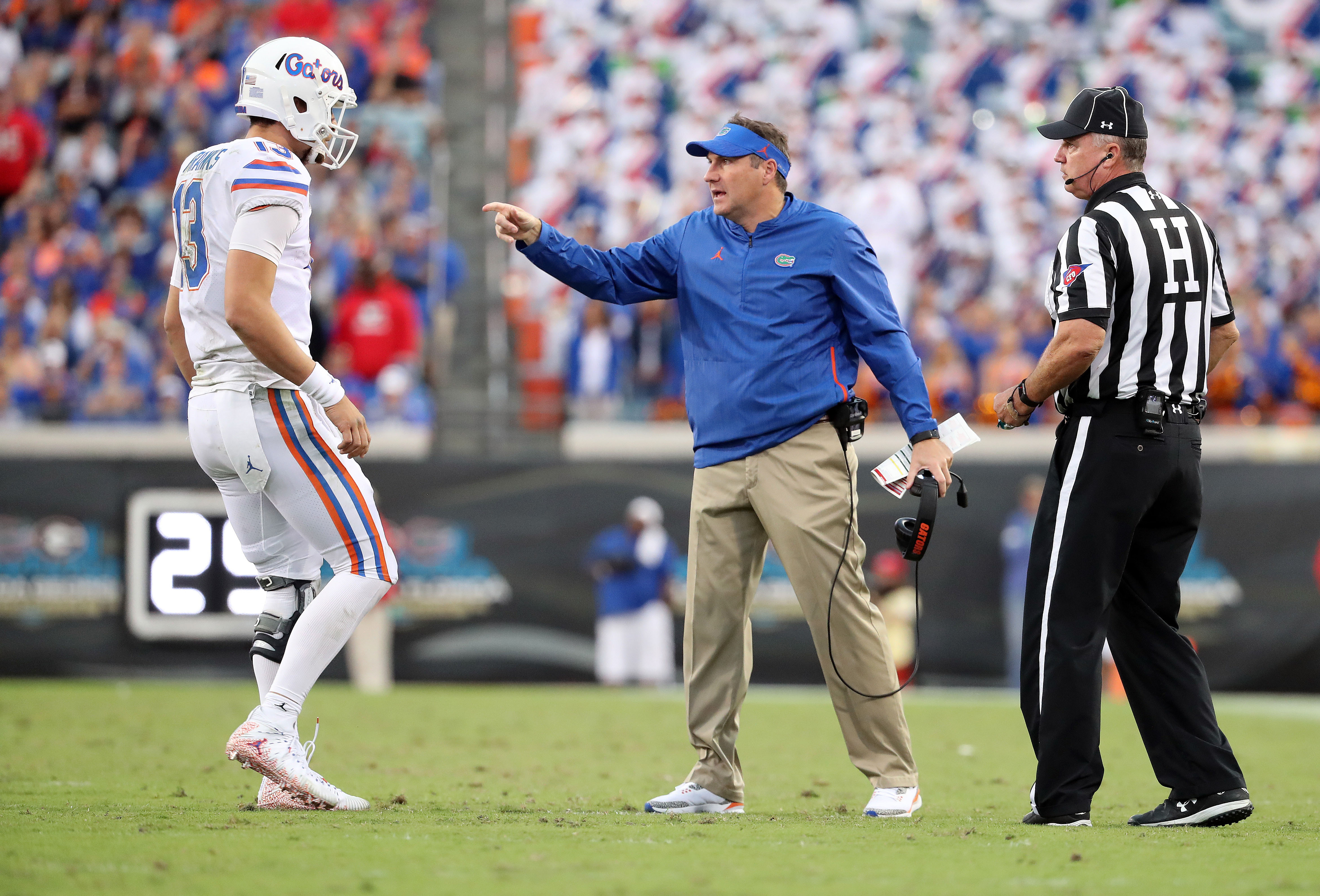 FLORIDA
On day Florida needs him most, Feleipe Franks takes step back
It was the biggest Georgia-Florida game in a decade, a battle royale between two bluebloods on the banks of the St. John's River with the winner in excellent shape to represent the SEC East in Atlanta and in the mix for a College Football Playoff spot when the first rankings are released next week.
For Georgia it was a chance to wash the stench away after the disappointing loss to LSU two weeks ago and, maybe more vitally, an opportunity to show it was still the gold standard program in the SEC East.
For Florida it represented a chance, after nearly a decade in the wilderness, to firmly situate the program back on the national college football map in Year 1 under new coach Dan Mullen.
In the end, the differences between the two storied rivals boiled down to one position: Quarterback.
Jake Fromm, the much-maligned sophomore who won a SEC Championship as a freshman and made about every play he could make to nearly win a national championship too, was ready for this moment and stage.
Feleipe Franks wasn't.
Every time Georgia needed a big play, Fromm made it.
When Florida needed a play, Franks, who finished 13 of 21 for only 105 yards, a touchdown and two costly turnovers, simply couldn't.
For Fromm, it was redemption.
After the worst game of his career at LSU (16-34 with 2 INTs), many in the media — and plenty of others who refuse to come forward in the Georgia fan base — called for a change to much-ballyhooed freshman Justin Fields, a 5-star recruit.
Instead, Georgia coach Kirby Smart stuck with his "other" 5-star quarterback, the one who nearly won him a national championship a year ago.
Smart proved yet again why he's a championship-caliber coach building a Death Star in Athens. Fromm was mesmerizing against the Gators. The sophomore connected on 17 of 24 passes for 240 yards and three touchdowns, repeatedly making elite throws to the back shoulders of receivers, especially on a sequence of third and forevers in the second half, when Georgia recovered from an early Florida haymaker to rattle off 23 of the game's final 26 points and put the game to bed.
For Franks, it was regression.
Franks' improvement has been such an important part of Florida's surprising season. But on Saturday, when his teammates needed him the most, he didn't answer the bell.
Again and again, Franks missed chances to put his team in command of the game, despite excellent protection and the support of a power running game.
After an impressive opening drive from Georgia yielded only a field goal, Mullen dialed up a perfectly designed flea flicker on Florida's first play from scrimmage. In a way, it was delicious irony, as Smart and Chaney had rattled Mullen and Mississippi State's cage a year prior when Fromm connected on a flea flicker on Georgia's first play from scrimmage to key a rout. On Saturday the play worked masterfully, and Van Jefferson had separation and nothing but green in front of him, only to have Franks badly overthrow him and let the Bulldogs off the hook.
Jordan Scarlett fumbled two plays later and Georgia recovered, rumbling to the UF 13-yard line on the return. Three plays after that, on third and long, Fromm didn't miss, finding Jeremiah Holloman on a back-shoulder corner route to give Georgia an early 10-point lead.
Just like that, Fromm's team was in command and Franks' team was reeling.
On Florida's next possession, the Gators moved the ball well until another errant Franks throw stalled the drive. This time, facing no pressure, Franks bypassed two wide open receivers to throw a wounded quail in the direction of the only Gator the Dawgs decided to cover. The pass was intercepted, snuffing out a Florida drive where the Dawgs were clearly on their heels.
As tends to be the case with Franks, there were moments, plays and possessions where you saw the blue-chip talent Jim McElwain and Doug Nussmeier worked so hard to flip from LSU.
Florida cut Georgia's lead to three with a beautiful 14-play, 76-yard drive that spanned parts of two quarters. The Gators converted a fourth down and on third and long. Franks scored on a 1-yard plunge that followed a marvelous 14-yard, ankle- and tackle-breaking gallop by Jordan Scarlett.
But every time Franks made a play, Fromm had an answer.
Taking over on his own 20 with only 45 seconds left in the first half, Fromm connected four times with tight end Isaac Nauta, moving the Bulldogs to the Florida 15 in 30 lightning-quick seconds. Florida held Georgia to a field goal, but Fromm's poise and accuracy stole three points in a quarter dominated by the Gators.
Franks' best throw of the game came early in the third quarter, when he threw an NFL-caliber rope into a tiny window to Freddie Swain on a seam route for a score to give Florida its only lead.
But Fromm has won a conference title and a CFP semifinal against a Heisman Trophy winner. He answers the bell and did so again, leading a seven-play, 72-yard drive he capped with another inch-perfect touchdown throw to Holloman.
Two possessions later, Franks fumbled inside his 5-yard line as the Bulldogs set up shop inside the Florida red zone for a second time. Florida held Georgia to a field goal despite six cracks at the end zone inside the Florida 2. But with the Gators down nine, the game was suddenly on Franks' shoulders.
He led UF to a field goal early in the third quarter, but once again, Fromm answered on the ensuing possession.
This time, Fromm hit Holloman on third and 11 to keep the sticks moving. Six plays later Fromm found Terry Godwin on a gorgeous corner route to again stake Georgia to a two-score lead.
In two starts against Georgia, Franks is 20-for-40 passing for 135 yards (yes, both 2017 and 2018 combined), one TD and two INTs.
Florida is in good hands under Mullen. He wants to be the guy in Gainesville, has a vision for the program and, as the fight in the six-play goal-line stand demonstrated, his players are buying in.
But Saturday was a step back for Feleipe Franks, who looked a step behind the speed of the game and failed to take care of the football. Florida, already behind its oldest rival on talent, had razor-thin margins for error.
Florida has a vital November ahead, with a chance to end a five-game losing streak to in-state rival Florida State — UF's longest in series history — at the end of the month, and a decent chance at reaching a New Year's Day 6 Bowl.
But perhaps no player has more to prove moving forward than Feleipe Franks. Now closing the door on his redshirt sophomore season, he's not a young quarterback anymore.
How he finishes will define the rest of Florida's season.
It will also inform the conversation about what role Franks is to play in Florida's future.