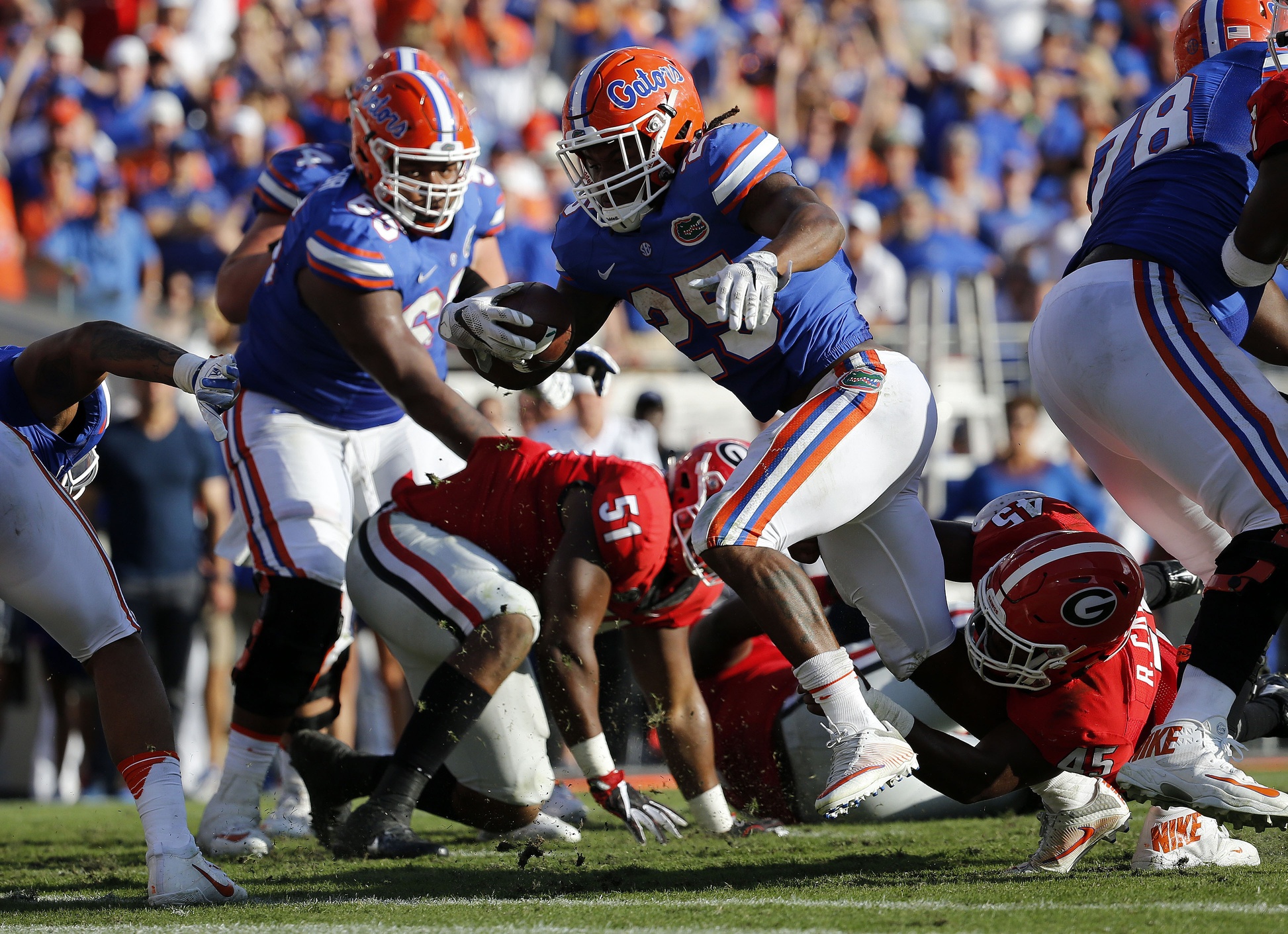 FLORIDA
Gators switch from four-headed monster to one-two punch, showcase Jordan Scarlett
GAINESVILLE, Fla. – In Week 9 against Georgia, Florida's running back rotation was trimmed from four to two, and it didn't involve the stat sheet or the injury report. Jim McElwain had his decision seemingly made for him as two Florida ball-carriers, Mark Thompson and Jordan Cronkrite, did not make the trip to Jacksonville.
Thompson's absence was due to a citation for marijuana possession. The junior transfer running back ran a stop sign on campus and UF police discovered marijuana while searching the car. The team's official Twitter account wrote that Thompson would not be traveling with the team "due to some choices and decisions he's made" – McElwain's preferred terminology for suspensions.
The reason behind Cronkrite missing the game is more complicated. While Florida officially attributed the sophomore's absence to an undisclosed injury, McElwain referenced issues of another kind in his post-game press conference.
"He's right now kind of trying to figure out whether he wants to play or not and our door's always open for him until he finds his way in what he wants to do we're here to support him," McElwain said.
Fellow running back Jordan Scarlett was part of the 2015 recruiting class alongside Cronkrite, and the two took similar paths to UF. The South Florida products, from Fort Lauderdale and Miami respectively, both backed off pledges to the University of Miami and committed to McElwain and the Gators late in the 2015 recruiting cycle. Media members often ask about the two backs in the same question as "the Jordans."
In Year 2 on campus, the Jordans have experienced drastically different seasons. Scarlett has played in all seven games, and leads the team in rushing with 93 carries for 468 yards and six touchdowns. Cronkrite has dealt with multiple injuries and only recorded 26 carries in six games for 112 yards.
For the time being, Scarlett is letting Cronkrite work things out on his own.
"He's just going through some things right now and I think he'll be all right in the end," Scarlett said. "I'm letting him have his space. I'll let him have his personal time and just let him figure out what's best for him."
With Thompson in the doghouse and Cronkrite's status unknown, the four-headed monster has become a one-two punch of Scarlett and Lamical Perine until further notice. But while the pair have been Florida's top two backs this season, they didn't exactly gash the Georgia defense, combining for 126 yards on 41 carries.
Scarlett led the way with 93 yards, 2 coming on a TD run that put the Gators ahead to stay.
McElwain, however, found positives despite a lack of explosives.
"I thought those guys did a good job," McElwain said. "I thought Lamical got winded a little bit. But for the most part, I thought they did a good job. I thought Lamical gave us a heck of a first down there we needed kind of on that swing. Those two guys are really good backs, so they'll keep playing off each other."
With 26 carries, Scarlett showed the staff that he can handle a feature back's workload. Fans and media members alike have been wondering when Florida's top back would separate himself from the rest of the rotation.
He might not have won it on the field, but it's guaranteed that Scarlett will make the most of his new opportunity as the de facto feature back.
"I felt great," Scarlett said of his season high in carries. "I was glad to get all the touches I did. I got to show Coach Mac that I can get through tough sledding."
If Scarlett can get through the tough sledding that is Florida's November schedule, the Gators' offense could be getting a much-needed spark.