FLORIDA
LOOK: Florida fan trolls FSU by writing hilarious check to help pay for a Willie Taggart extension
The Florida Gators snapped a losing streak against rival Florida State in blowout fashion, winning 41-14 in Tallahassee on Saturday.
That snapped the Seminoles record streak of making bowl games, so the win was extra sweet for Dan Mullen and the Gators. It also led to some calling for FSU coach Willie Taggart to be fired after just one season with the program.
As you can see below, one Florida fan hilariously decided to troll the Seminoles, sending a check for $41.14 to the FSU athletic department to help pay for Taggart's extension:
Florida #Gators fan decided he would donate money to the FSU athletic department. $41.14 to help with a Willie Taggart extension to be exact. Troll on, troll on… https://t.co/dgKenUUVDo pic.twitter.com/4lleEn3Ir6

FREE DOWNLOAD FROM SDS

Enter your email below and we will send you the Florida records graphic to be used for your phone background.

By adding your email address, you agree to receive emails with Florida football related news. You can unsubscribe at any time.

— Swamp247 (@Swamp_247) November 27, 2018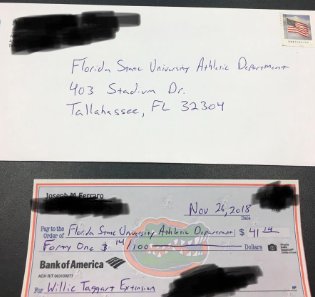 Clearly it's a good time to be a Gator fan, and a not so good time to be an FSU fan. These programs are going in different directions at the moment.
FSU can turn things around quickly, though, so Mullen will need to keep the upward trajectory going in Gainesville.