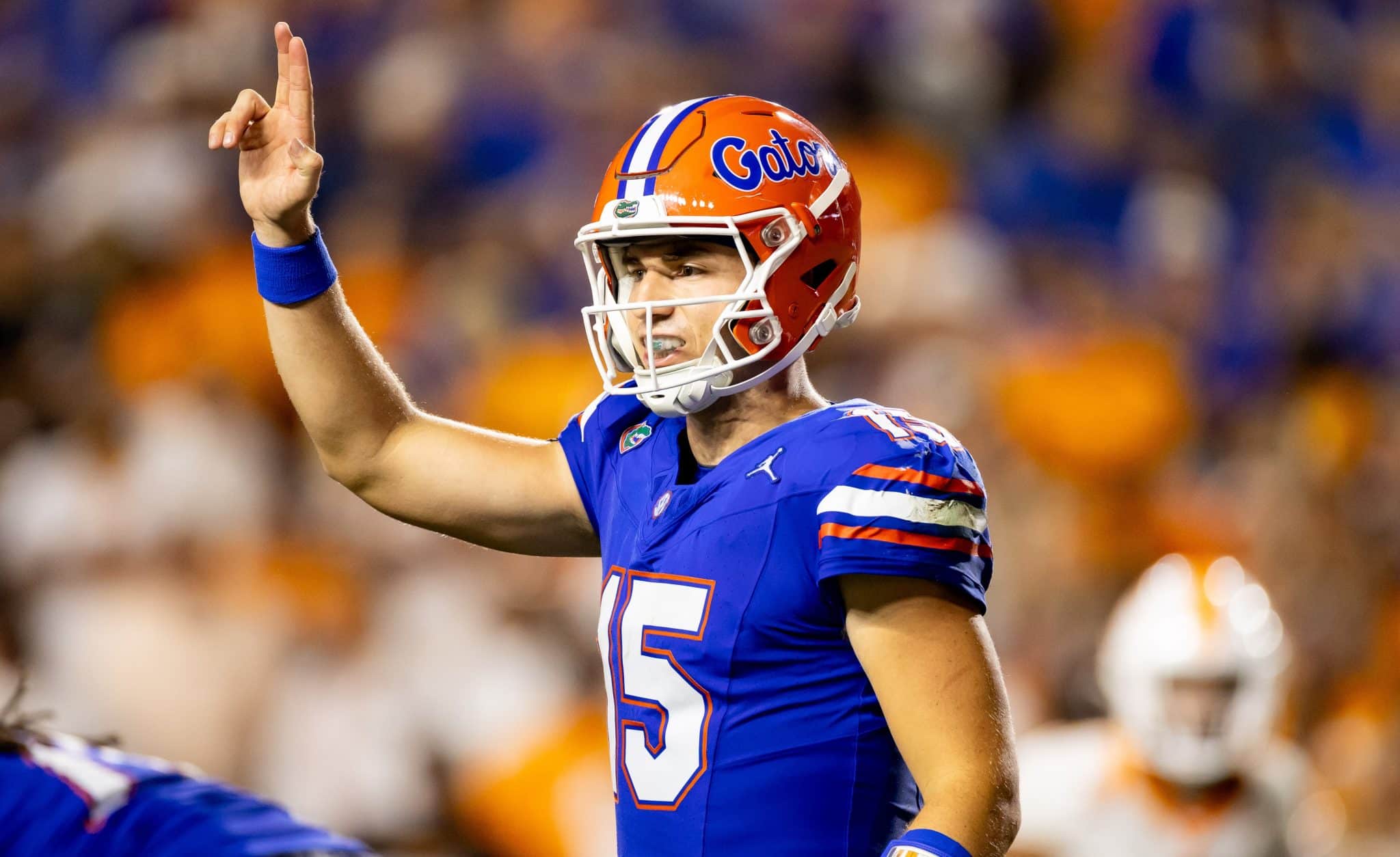 FLORIDA
Mailbag: Answering burning questions about the Florida Gators after 4 games
It's hard to believe we're already 4 weeks into the college football season. The painful length of a college football offseason often makes turning the calendar from September to October so quickly quite painful, and we're just 1 week from having to make that sacrifice.
The Gators hit the turn at 3-1, with a huge trip to Kentucky looming on Saturday. If you told Gators fans in July they would start 3-1, most would have taken it, though the path to that record has been a bit unorthodox. The Gators have had 1 excellent performance (McNeese State), 1 good performance (Tennessee) and 2 poor outings (at Utah, Charlotte). Florida has freshmen or sophomores at 21 of the 24 positions on their 2-deep, which helps explain the inconsistencies. As the season drags on, however, Florida fans and, more crucially, Florida's staff, would like to have a better idea of what to expect from week to week. The good news is Florida is 3-1 and there's a genuine path to 6-1 before the Cocktail Party if the Gators can find some consistency.
As tends to be the case with a young team whose performances have ranged from bad to brilliant, there are plenty of questions to be answered moving forward. Thanks to the many Gators fans who sent a few my way for this week's mailbag.
What's the biggest concern on offense moving into the meat of SEC play? (David, Tampa)
Red-zone offense might be what many suggest, but I think a closer look confirms it's the offensive line and the lack of explosive plays. Florida is last in the SEC — by a wide margin — with only 5 plays from scrimmage that have gained at least 30 yards. Only 3 Power 5 teams have fewer. Vanderbilt has 15.
I mention those areas together because they are interrelated. Florida has to block better to hit explosives in both the run game and the downfield passing game. The pass protection has been better on intermediate throws than their few deep ones, where Graham Mertz has faced consistent pressure (Mertz has faced pressure on 5-of-8 attempts of 20 yards or more, per Stats Solutions).
The Gators have allowed 9 sacks, "only 2 of which were situations where Mertz held the football too long," according to coach Billy Napier. Florida ranks just 85th in pass plays of 20 yards or more this season — and it's more about protection than a lack of open receivers. After all, Florida's receivers are open enough to have an impressive 57.8% success rate passing the ball in 2023 (success rate being the number of pass plays that yield gains considered "successful" given down and distance — for example, 6 yards or more on 1st down for a pass play is "successful.")
To win a fair share of the remaining difficult games on Florida's schedule, starting this weekend at Kentucky, Florida needs to be more explosive in the passing game.
The run game is also less "explosive" than it was a season ago, though it is instructive that in the one game Florida played with All-SEC C Kingsley Eguakun, Florida's explosive runs doubled. Without Eguakun, and missing 2 other starters for a half last week, Florida struggled mightily on the ground.
Without Jean's reverse padding Florida's cushion, Charlotte limited the Gators to a 1.5 YBC clip. Over a third of tries were stuffed but over a fifth gained at least ten yards. Etienne had 6 broken tackles, Johnson had 4. The former put up a +5.1 YAC avrhttps://t.co/pwPfpA28ex pic.twitter.com/QBVvv3bULc

— Clark Brooks (@SEC_StatCat) September 25, 2023
The Gators have only 3 runs this year of 20 yards or more. A season ago, the Gators ranked 20th nationally in that category with 26.
If the line plays better, Florida's offense, which has been plenty productive between the 20s but woeful in the red zone, should be good enough to complement a solid defense and help the Gators to 8 or 9 wins. If not, well … you get the idea.
Graham Mertz has been a pleasant surprise, no? (Bentley, Clearwater, Fla.)
I don't think Napier is getting enough credit for the decision to bring in Mertz.
Sam Hartman wasn't going to go to Florida because Hartman wanted a chance to go to the College Football Playoff in 2023. He rightly decided after visiting Florida and Notre Dame that he was more likely to have that opportunity in South Bend. Had Notre Dame simply put 11 players on the field on the final play of the Ohio State game last week, that would look like an even smarter bet right now.
Florida flirted with other quarterbacks too, but at present, only Hartman looks like a surefire upgrade over Mertz. Look around the SEC to see the evidence. Tyler Buchner transferred from Notre Dame to Alabama and his only start was nearly disastrous. Devin Leary has been up and down for Kentucky despite their Kleenex-soft September schedule. Auburn's quarterbacks, including transfer Payton Thorne, were a fiasco against Texas A&M last weekend.
Mertz has quietly been the best of the SEC 2023 portal group. He's completed an outstanding 77.8% of his passes, averaged a very good 8.8 yards per attempt, and thrown only 1 interception (a tipped ball that "wasn't his fault." according to the receiver who "ran a poor route and wasn't in position to catch the ball" on the play, Ricky Pearsall.)
Mertz's reputation as a check-down king, which I bought into, hasn't been warranted, either. He's been excellent on 10-20 yard intermediate throws (59.3% success rate!), a problem area for Anthony Richardson a season ago. There's plenty of football left, but every analytical analysis confirms Mertz is much better than my SDS colleague, Matt Hinton, ranks him (11th!)
Kentucky stops the run and has electric wide receivers: Is this Florida's worst "toss-up" game matchup? (JC, Jupiter, Fla.)
In a word? Probably.
The problem against Kentucky the past few seasons has been matching the Wildcats' physicality.
Kentucky has won 3-of-5 in the series and in all but 1 of the games, they've been visibly more physical than Florida. Given Florida's offensive line issues, this is a test of culture for the Gators on Saturday against a Kentucky defense that ranks 10th in SP+ defense and rushing defense through 4 games. If you can stop the run against Florida and force Mertz to win a game with his arm, the "effective game manager" aspect of Mertz is negated. That's when the Gators struggle, as we all saw at Utah.
Devin Leary has been worse than Mertz in basically every meaningful way in 2023, a surprise given he was a bona fide ACC Player of the Year quarterback at NC State. Leary averages fewer yards per attempt, has thrown 4 more interceptions, and has a completion percentage nearly 20 points lower than Mertz.
But what he has that can test the Gators is downfield passing threats in Barion Brown, Tayvion Robinson and Dane Key. The Gators give up big plays. That's endemic to Austin Armstrong's scheme and we've seen it through 4 games, with Florida surrendering long touchdown passes to Tennessee and Utah and multiple long gainers against Charlotte.
While Florida's defense ranks 1st in success rate defense (proving they are marvelous play-to-play), they rank 6th in the SEC in yards allowed per play. That's what happens when you allow big plays, and Kentucky hitting a few could be the difference Saturday if Florida can't run the football.
Every other "toss-up" matchup for Florida — namely Missouri and South Carolina — is a better matchup. Florida should be able to run the ball against the Gamecocks and pressure Spencer Rattler. The Gators should stifle the Mizzou run game and make Brady Cook and the Tigers one-dimensional. Kentucky can negate what Florida does best on offense and exploit Florida's weakness on defense. That's the definition of a bad matchup.
What ranked team left on Florida's schedule do the Gators match up best with? (Julie, Bristol, Tenn.)
Either Missouri or Florida State.
The reason it's an "either" is that Florida has to go to CoMo for the Missouri game and the Gators haven't shown they can handle adversity on the road yet under Napier.
As for Florida State, Clemson showed what Florida State's weaknesses were throughout Saturday's 31-24 overtime Seminoles win. FSU struggles to run the ball and while they are improved as a run defense, they are hardly elite. Florida should be able to run the football at home against FSU and if you can make Jordan Travis rely on only his legs and the passing game, you have a chance.
Of course, Florida will struggle to cover Johnny Wilson and Keon Coleman, the twin tower FSU receivers who might be the best 1-2 punch at the position in college football, but that issue is hardly unique to the Gators. Those two — along with the All-American Travis — are really good.
The reason Florida can hang with the Seminoles is that the Gators should be able to slow FSU's run game with 4 or 5 up front, the same way that Clemson did. If Florida does that and can run the ball at home, they'll have a chance to beat FSU in The Swamp.