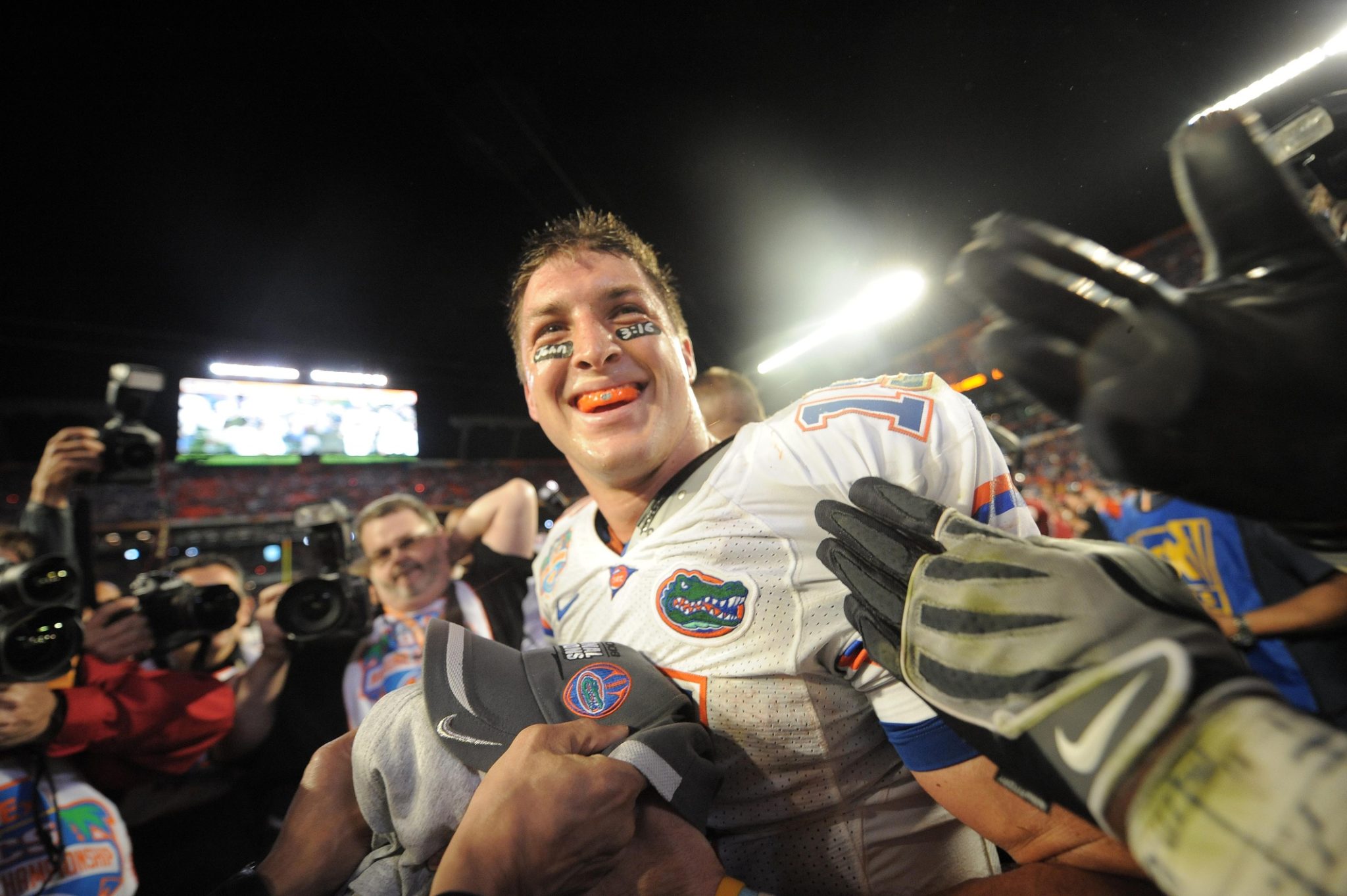 FLORIDA
Why Tim Tebow should join the highly exclusive list of first ballot College Football Hall of Fame inductees
Say what you want about Tim Tebow.
You thought he preached about his faith too much. He had a wonky throwing motion. His NFL experience was nothing like his 4 years at Florida. The comeback attempts in baseball and football were both unremarkable.
There. We got the criticism out of the way.
None of those things can or will impact whether the Gators great and current ESPN/SEC Network analyst earns immediate enshrinement into the College Football Hall of Fame. We found out Monday that Tebow is on the ballot for the first time. He's 1 of 80 FBS players on the ballot, which also includes 9 FBS coaches, 96 non-FBS players and 33 non-FBS coaches.
It was the first time that Tebow showed up on the ballot because, in case you forgot, he attempted a comeback with the Jacksonville Jaguars at this time last year. Players aren't eligible until they're at least 10 full seasons removed from their college career and they're done playing at the professional ranks. Hence, why guys like Peyton Manning and Charles Woodson weren't enshrined until 2017 and 2018, respectively.
Those 2 were part of an extremely exclusive group of first-ballot inductees. Since 2015, there were 10 FBS players who earned enshrinement following their first appearance on the ballot:
Vince Young, Texas
Darren McFadden, Arkansas
Joe Thomas, Wisconsin
Charles Woodson, Michigan
Ed Reed, Miami
Calvin Johnson, Georgia Tech
Peyton Manning, Tennessee
Marshall Faulk, San Diego State
Derrick Brooks, Florida State
Ricky Williams, Texas
We've seen others earn immediate enshrinement. Desmond Howard did so in 2010, as did Danny Wuerffel in 2013. Then again, we've also seen all-time greats like Tommie Frazier and Derrick Thomas wait years after they first appeared on the ballot.
There are similarities between Frazier and Tebow. Both won multiple national championships and both were dominant running quarterbacks who never really got their footing at the next level. Of course, Frazier never won a Heisman Trophy and Tebow became the first sophomore to win the award in 2007. Then again, Tebow's status as a first-ballot inductee shouldn't be based on how many years Frazier took to get in, nor should there be any unwritten rule about the Hall of Fame not electing players from the same school in consecutive classes.
(That shouldn't matter either way. Florida's last inductee was Lomas Brown Jr. in the 2020 class.)
The better question should be whether Tebow stacks up with that aforementioned group of first-ballot inductees in recent memory (or since 2015). It's hard to compare his accomplishments to running backs like Faulk or Williams, and I suppose you can't really do any statistical breakdown of Tebow next to defensive players like Reed and Brooks, though from a leadership standpoint, you can see the similarities all of those Sunshine State stars had.
But Tebow delivering "The Promise" or riling up the locker room with a fiery speech against Florida State isn't necessarily grounds for immediate enshrinement. Let's instead do the side-by-side breakdown of Tebow compared to Manning and Young:
College stats
Manning
Young
Tebow
Passing yards
11,201
6,040
9,285
Yards/attempt
8.1
8.4
9.3
QB rating
147.1
144.9
170.8
Rushing yards
-181
3,127
2,947
Scrimmage yards
11,030
9,215
12,232
Record as starter
39-6
30-2
35-6
Top-5 finishes (as starter)
1
2
2
National titles (as starter)
0
1
1
Top-3 Heisman finalist
1
1
2
Heisman Trophy wins
0
0
1
(I know that Young was essentially a starter for 2.5 years.)
We should all be able to look at that and make the not-so-bold declaration that Tebow absolutely belongs alongside Manning and Young.
If you want to discount all of Tebow's accomplishments because of this notion that he had far superior talent around him, that's on you. The "but Tebow had Percy Harvin" argument doesn't really hold up considering the fact that Harvin was his lone skill player teammate who came off the board in the first 2 rounds of the NFL Draft. Young had 1 (Cedric Benson) and Manning had 3 (Joey Kent, Marcus Nash and Peerless Price).
If you want to say "Tebow didn't deserve the Heisman Trophy because Darren McFadden should've won it," fine. Shoot, that person would probably also say that Young deserved it in 2005, and we all know how Tennessee fans feel about the Manning-Woodson debate of 1997.
(Please don't get mad that I called it a "debate," Vol Twitter. At the very least, that's what it became. Also, I was 7 at the time and I didn't have a Heisman vote so please don't hurt me.)
I'd still argue that Tebow having 2 top-3 Heisman seasons would make him worthy of first-ballot induction. That's something neither Manning nor Young did.
But that's not really the point of this discussion. At least it shouldn't be. Manning, Young and Tebow all check that box of no-doubter, first-ballot inductees. They were, by any measure, legends. You can't tell the story of college football without describing their brilliance.
That's really what all of those 10 recent first-ballot inductees have in common. Any chapter about college football that details the last 30 years is including all of those guys. The list of college football players who impacted the sport like Tebow are few and far between. We might not ever see another quarterback who plays the game like he did. That's not to say he undoubtedly played the position better than the rest, but 13 years later, he's still tops in the SEC in rushing touchdowns and total touchdowns (he's No. 9 in FBS history).
One day, maybe we'll see someone break Tebow's SEC records or the 28 school records he owns. Who knows? Perhaps the combination of booming offenses with NIL possibly keeping kids in school longer could yield that scenario.
Still, though, his legacy is safe. It wasn't the byproduct of media hype, either. To keep a player of his caliber on the ballot for longer than a year would be the byproduct of some construed narrative within the group of National Football Foundation voters. I wouldn't bet on that, though.
I'd instead bet on nothing getting in the way of Tebow and imminent college football immortality.