Noted FSU alum Danny Kanell trolls Florida with 'Jortville' tweet
Rivalry games bring out the, er, best in people.
ESPN analyst Danny Kanell, who played at Florida State, trolled his arch nemesis Gators on Saturday morning with a 'Jortville' tweet hurled in Florida's direction.
Kanell hasn't made many friends in the SEC (not that he cares) and this remark won't help: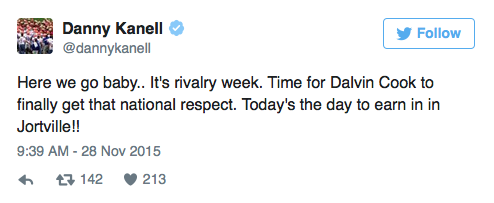 Florida State-Florida kicks off tonight at 7:30 EST. The Gators need a win to stay alive in the College Football Playoff race with an appearance in next week's SEC Championship Game looming.