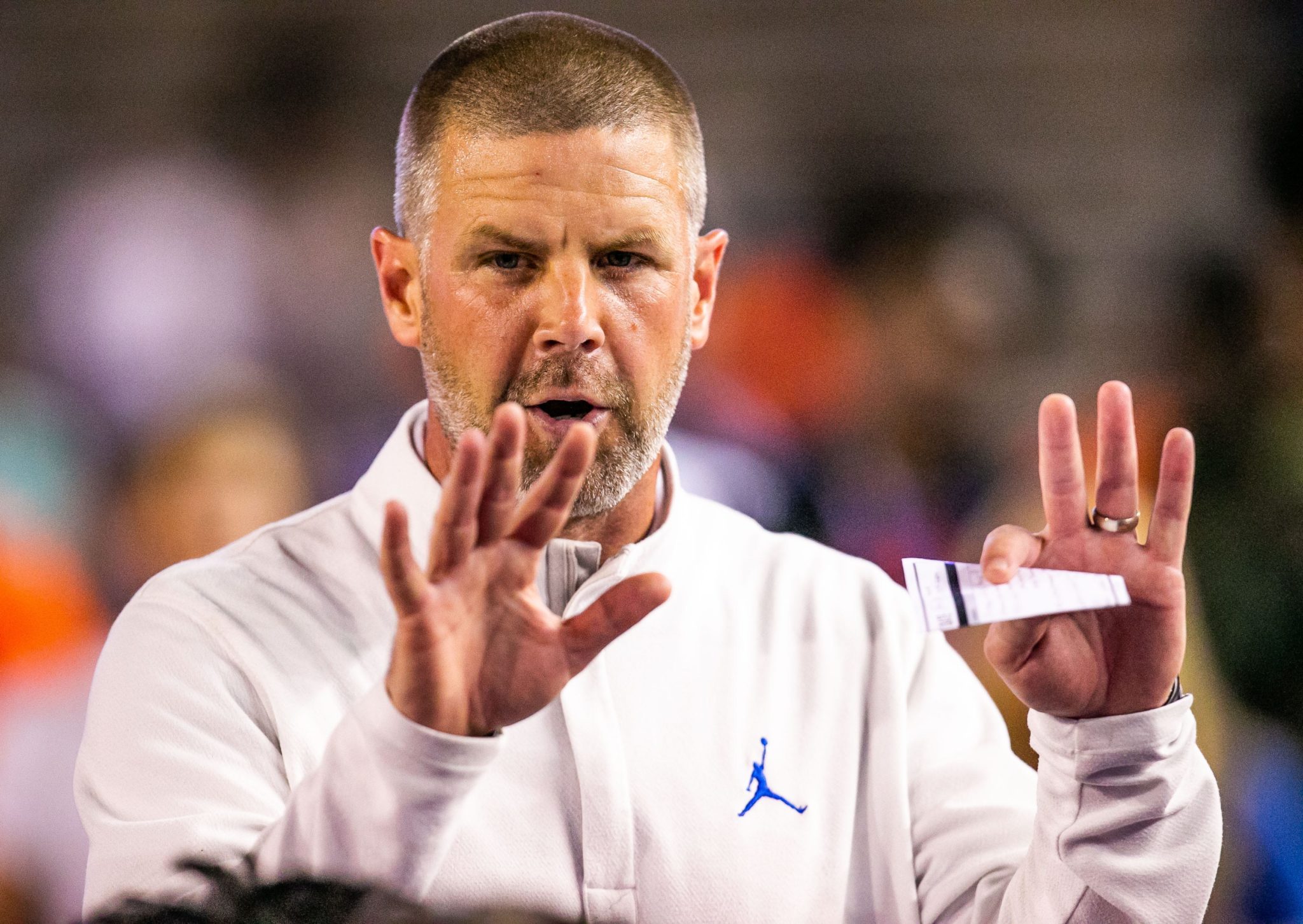 FLORIDA
Patience in Gainesville? Billy Napier's July shows it may be worth it
Patience isn't a virtue often on display in the cutthroat SEC.
Programs cut ties with coaches, moving on to the next big thing, always in search of the quick fix.
For every Mark Stoops, who was given years to lay a foundation for winning in Lexington and is now reaping the benefits, there are 3 stories like Jim McElwain, Matt Luke, or Joe Moorhead, quickly dispatched for the next, better thing. Even national championship coaches aren't safe. Both Ed Orgeron and Gene Chizik won national championships only to be gone less than two full years later.
Whether there's too much money at stake, fan bases are too passionate, or some combination of both, athletic directors get downright reptile-brained when it comes to exercising restraint and giving a coach time to build.
Nowhere is the lethal coach's future cocktail of lack of fan base patience and high expectations more pronounced than in Gainesville.
Gators fans are so bent on returning to Spurrier and Meyer's halcyon days that they've chewed up and spit out 4 head coaches in the past 12 seasons. At least 2 of those coaches: Will Muschamp and Dan Mullen came with immense expectations. Muschamp was "the next big thing," hired while the coach-in-waiting under Mack Brown at Texas. Mullen was the co-architect of 2 national champions at Florida as Urban Meyer's offensive coordinator and a proven winner at Mississippi State, a program that had struggled to sustain any consistency until Mullen arrived and righted the Starkville ship. Both Muschamp and Mullen were gone in less than 4 full seasons. Another head coach, Jim McElwain, won 2 consecutive SEC East titles but fabricated death threats to his players just to escape the Gainesville pressure cooker in Year 3.
The point? If you aren't built right, the Florida job will chew you up and spit you out. It may do that even if you are built right. Urban Meyer was a zombie in 2010, one of his worst seasons as a college head coach, and he resigned before Florida's Outback Bowl win over Penn State.
Steve Spurrier went 10-2 with arguably one of his best teams at Florida in 2001, but a loss to Tennessee in The Swamp kept Florida out of a Rose Bowl national championship game and Spurrier has never forgotten or forgiven some Gators fans for ripping his coaching job that year despite the dominant fashion in which Florida won 10 of its 12 games.
By the end of Spurrier's tenure, the Gators' legend had become a victim of his own success.
To be fair to Florida fans, every fan base in the SEC wants to win and, in the main, every SEC fan base deserves to expect winning.
But the pressure cooker seems hotter and less rational in Gainesville.
Don't believe me? Fine. Take the word of Florida football alumni for it instead.
Rex Grossman, an All-American quarterback and the 2001 Heisman runner-up (he was jobbed, and you'll never make a rational argument otherwise), recalled that "playing at Florida was one of the best things to ever happen to me, but we won the SEC when I was a freshman and were a top-5 team the entirety of my sophomore season and as soon as we lost to Tennessee, it was a failure. (Spurrier) was winning, what, 10, 11 games a year and that was happening."
Chris Doering, another former Florida All-American, sounded off this week in an interview with Jake Crain of the "Crain and Co. Show."
"I'm a lifelong Gator fan, so I feel like I can say this" said Doering, who grew up in Gainesville. "Our fan base has become the worst in terms of criticism and a lack of patience."
Doering's comments were centered around early talking season criticism of new head coach Billy Napier — the program's 5th full-time head coach since 2010.
Napier entered July with the largest support staff and recruiting budget in Florida program history but little to show for it on the trail. The Gators whiffed on 4-star quarterback Jalen Rashada, a longtime target, in late June, when Rashada committed to Miami. At the time, the Rashada miss was a brutal blow, its sting compounded by a series of victories by in-state competitor Miami and its new head coach, Mario Cristobal, on the trail early this summer.
Florida entered July with a class ranked around 40th in the country in the 247 Composite, and when he published an open letter to Florida fans addressing recruiting concerns and program goals in late June, it was a move that, while well-intentioned, felt a little more Butch Jones than Head Ball Coach. Coaches don't usually write "open letters" to the fan base before they even coach a game.
The negative vibes and skepticism surrounding Napier hit a fever-pitch just before SEC Media Days, and that ruffled the feathers of former players, who don't believe Florida fans understand just far the program has fallen behind the likes of Alabama, Georgia, and LSU over the past decade.
"Napier hasn't even coached a game yet and his popularity has been up and down because of recruiting," Doering told Crain. "Recruiting cost Dan Mullen his job. I just don't think people understand the disarray (Napier) inherited. The lack of elite SEC talent on the roster. Florida fans need to understand where they are right now."
Where they are, of course, is starting over, and still recovering from the program's worst decade from a winning percentage standpoint since the 1970s.
Late July, however, showed why giving a coach patience in Gainesville — for once — may pay off.
No one in college football had a better July. Sharif Denson, a 4-star corner rocketing up composite rankings, committed to end June, choosing the Gators over FSU and Miami (Alabama recently offered, a reflection of Denson's improving stock). July was even better. The Gators added 8 blue-chip recruits, including 4-star Miami Northwestern wide receiver Andy Jean, 4-star running back Treyaun Webb, 4-star safety Jordan Castell, and 4-star speedster Aidan Mizell, who committed to Florida with live alligators, earning Florida's recruiting efforts a spot on Sportscenter.
HE BROUGHT OUT THE GATORS @AidanMizell ? pic.twitter.com/O3ZLmqgFkd

— Barstool Florida (@UFBarstool) July 29, 2022
Florida ends July with a class just outside the 247 top 10 (12th) and as of Aug. 2, only Ohio State, Notre Dame and Clemson have more blue-chip recruits lined up for the 2023 class than the Gators. A top-10 class is well-within Florida's reach, and Florida could enter the top 10 with a commitment from 5-star corner Cormani McClain (Alabama/Florida) or 4-star corner Dijon Johnson (former Ohio State commit).
The Gators still have needs at both offensive and defensive line, but high profile targets on both sides attended Florida's Friday Night Lights event last weekend, and top-100 defensive tackle Kelby Collins, who will announce in August, is trending toward Florida. It was always going to take some time, but Napier appears to have recruiting headed in a positive direction at Florida again, and the Gators appear poised to sign a class that is both blue-chip heavy and balanced.
Of course, in Gainesville, you're only as good as your last recruiting victory, and if Florida loses McClain to Alabama (which seems likely, especially if Johnson commits), or whiffs on a "lock" like Jacksonville lineman Jordan Hall, fans may get paranoid and impatient again, and that's before you consider that preseason Pac-12 favorite and a likely top-5 team in Utah visits The Swamp to open the Napier era.
Winning cures all in SEC country.
But given Florida's lost decade, perhaps its time for Florida fans to give a head coach a little more time to build a winner?