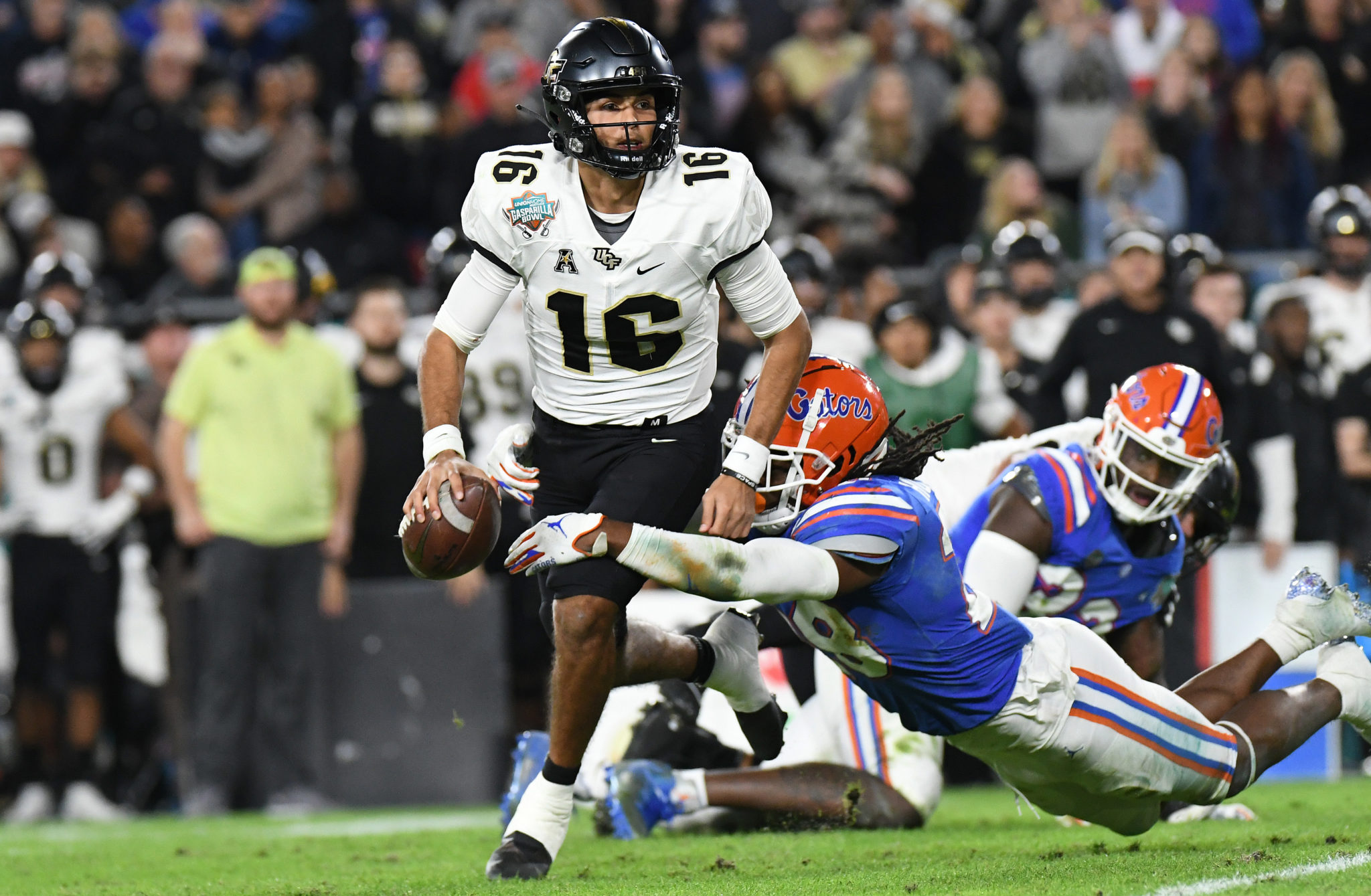 FLORIDA
Rapid Reaction: Gators end poor season with loss to UCF in Gasparilla Bowl
Florida was playing its bowl game with an interim coaching staff, a quarterback with one foot out the door and a top-notch defensive player sitting out.
It all added up to an uninspired performance in a 29-17 loss to UCF on Thursday at the Gasparilla Bowl at Raymond James Stadium in Tampa. UCF coach Gus Malzahn, who spent the previous 8 seasons coaching at Auburn, won in his first shot to beat an SEC team after leaving the conference.
And that was how a Florida team that entered the season as defending SEC East Division champions, and with designs on at least another New Year's Day bowl bid, ended its season at 6-7.
Gators quarterback Emory Jones, who has reportedly already entered the transfer portal but opted to play on Thursday, made some good plays as a runner but was off in the passing game (14 for 36, 171 yards), pretty well summing up his tenure as a Gator.
UF was playing under interim coach Greg Knox, who took over after Florida fired Dan Mullen with one game remaining in the regular season.
Gators receiver Justin Shorter, a junior, was carted off the field with 2:38 left in the game after he took a hit while trying to make a catch.
UCF quarterback Mikey Keene hit Ryan O'Keefe for a 54-yard touchdown with 1:08 remaining in the third quarter for a 26-17 lead. O'Keefe, a big-play machine on the night, beat Florida safety Tre'Vez Johnson one-on-one on his way to the end zone. Keene was 14-of-22 for 144 yards and a touchdown. Isaiah Bowser ran for 155 yards and 2 TDs on 35 carries and O'Keefe, a receiver, ran for 110 yards on just 4 carries.
Daniel Obarski's 3rd field goal of the night gave UCF a 29-17 lead with 2:41 left.
Obarski's 21-yard field goal gave UCF (9-4) a 19-17 lead in the third quarter, 3 points that the Knights settle for after having 1st and goal.
O'Keefe ran 74 yards down the left sideline to set up Bowser's 4-yard touchdown run to give the Knights a 16-10 lead early in the third quarter. O'Keefe gained 34 rushing yards on a similar play in the second quarter. To make things worse for Florida, linebacker Ty'Ron Hopper was ejected on the extra point, with officials ruling that he threw a punch.
The Gators took the lead right back on the next possession, driving 82 yards in 6 plays, capped by Malik Davis'19-yard touchdown run. Davis went to high school at Tampa Jesuit, a little over a mile from Raymond James Stadium.
Florida led 10-9 at halftime after Chris Howard hit a 26-yard field goal with 1:36 left in the second quarter. Howard missed a 51-yard try earlier.
The Knights took the lead at 9-7 in the second quarter on Obarski's 34-yard field goal, which UCF settled for after Hopper sacked Keene on 3rd down.
Johnny Richardson's 38-yard run late in the first quarter got UCF going on offense and the Knights converted a 4th down on a pass from Keene to Nate Craig-Myers. That set up a 3-yard TD run by Bowser, but UF stayed ahead 7-6 when a 2-point conversion pass failed.
Florida reached the UCF 27-yard line on its third drive but passed on a 44-yard field goal try and went for it on 4th and 5 but Jones' pass was incomplete.
But the Gators were gradually winning the field position game early, taking over on their own 42 on the next drive. A 3rd-and-4 pass to tight end Kemore Gamble went 15 yards to the UCF 4-yard line and Dameon Pierce scored on a 2-yard run to put UF ahead 7-0 with 1:22 left in the first quarter. Pierce contributed a memorable quote this week when asked about his motivation for the bowl game.
Thursday's game was the second of the SEC's 12 (at least) postseason matchups. It would have been 13 but Texas A&M has pulled out of the Gator Bowl, and of course Alabama and Georgia could play two games each in the College Football Playoff.
Florida was without defensive lineman Zachary Carter, who opted out of the game.