FLORIDA
UCF fans cancel GameDay 'takeover' following online threats from Florida fans
Earlier this week, UCF fans began making plans to invade Jacksonville and take over College GameDay as it features Saturday's Florida-Georgia game.
But that scheme has been called off by its organizers in the wake of online backlash, including threatening comments, from Florida fans. The Twitter account @UCFKnightsWatch tweeted a lengthy statement Thursday explaining why the bus trip had been canceled.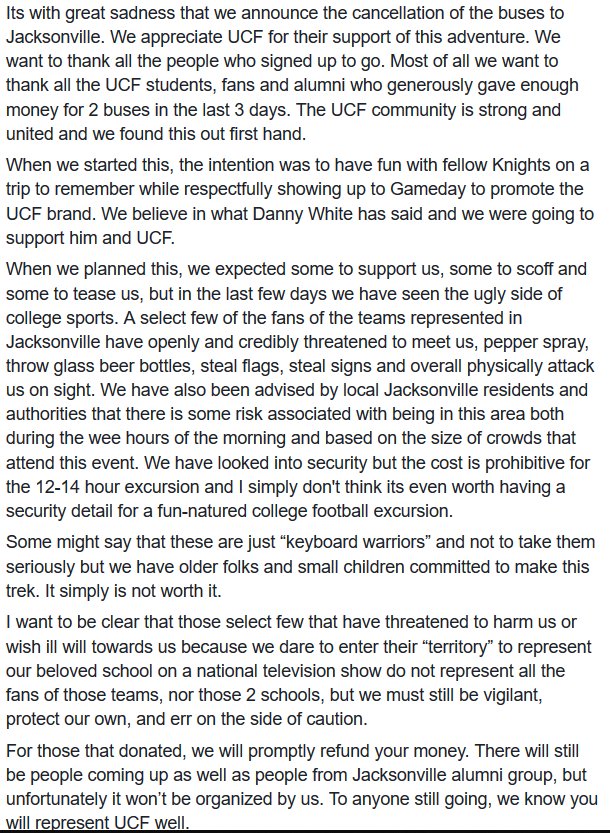 An except of the tweet states that, "A select few of the fans of the teams represented in Jacksonville have openly and credibly threatened to meet us, pepper spray, throw glass beer bottles, steal flags, steal signs and overall physically attack us on sight.
"Some might say that these are just 'keyboard warriors' and not to take them seriously but we have older folks and small children committed to make this trek. It simply is not worth it."
Shortly after, the same Twitter account provided screenshots of a few comments they received from Gators fans.
These are just some of the tweets. There were people in our groups finding out where we were going to be while others were planning on doing things on our way back to the buses. We had kids and some older folks in our group. We couldn't risk them getting hit with a glass bottle. pic.twitter.com/J5jqsVM5KJ

— UCF Knights Watch (@UCFKnightsWatch) October 25, 2018