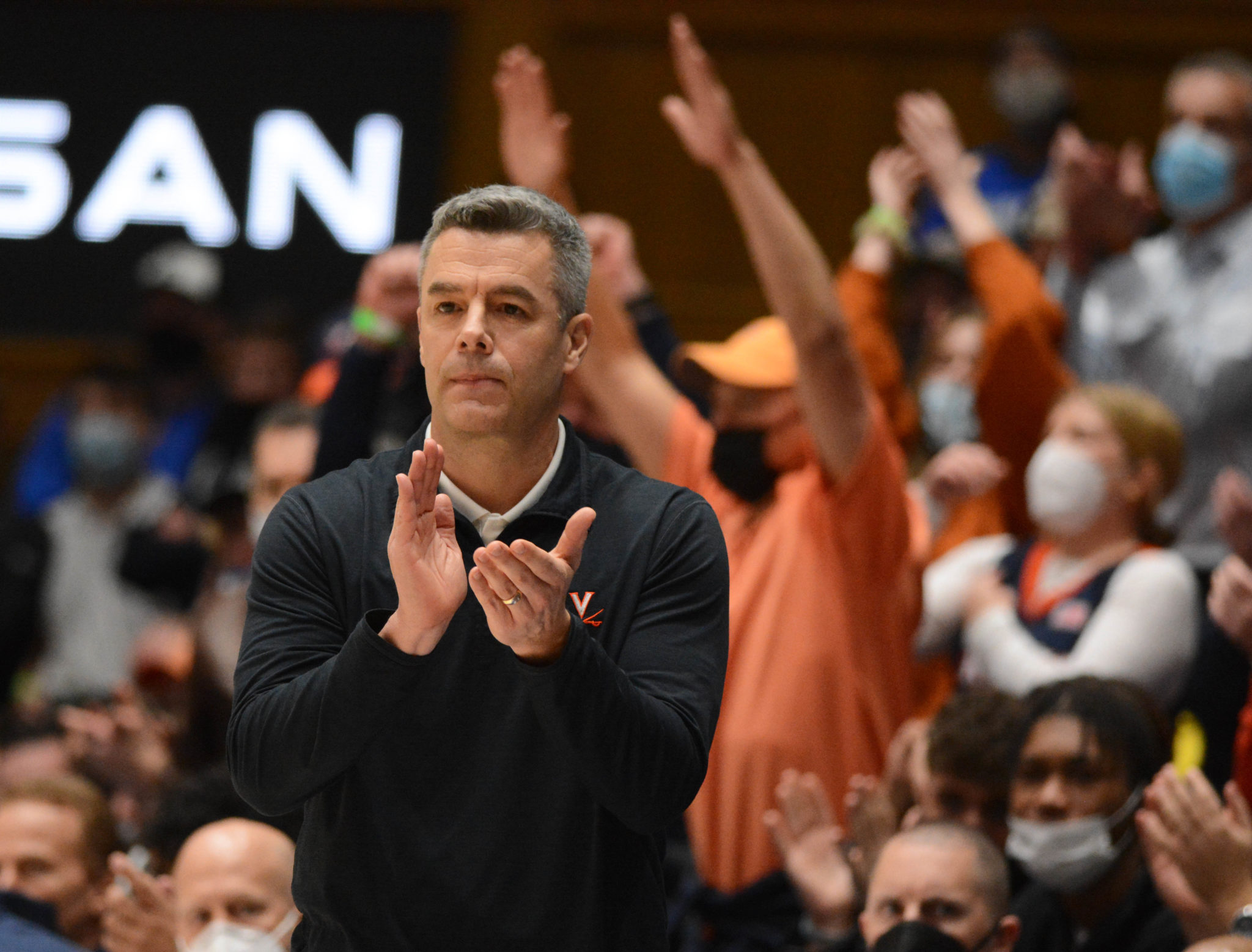 FLORIDA
Florida basketball: Picking the 5 best candidates to replace Mike White
Florida will be hiring a new basketball coach this spring following the departure of Mike White for Georgia, a surprising move announced by the Bulldogs late Sunday afternoon.
Florida missed the NCAA Tournament for just the 2nd time in White's 7-year tenure, but the Gators will play in the NIT, beginning their tournament Wednesday night against Iona.
Florida, of course, is not a program that celebrates NIT berths. The Gators have missed the NCAA Tournament just 5 times in the past 25 seasons, and have won more NCAA Tournament games this century than any program in the SEC. Florida trails only Kentucky among SEC programs in wins this century. White departs having failed to truly compete for SEC championships over the second half of his tenure, and his departure is a terrific chance for the Gators to start fresh with a new voice that energizes a proud program.
Who will Florida athletic director Scott Stricklin tap to replace White?
Here are 5 names the Gators will need to evaluate seriously.
Tony Bennett, Virginia
Bennett, who won the national championship at Virginia in 2019, would be the toughest to lure to Gainesville but is the one guy Florida should make say no.
Bennett makes $4.15 million per year in Charlottesville but may be ready for a new challenge after 13 seasons at Virginia. Florida is a program with a deeper tradition than Virginia, and instead of contending with bluebloods Duke and UNC on a yearly basis, Bennett would only have one blueblood to reckon with in the SEC. Of course, the SEC has been a better league than the ACC over the past 2 seasons, so this talking point could work both ways.
The biggest reason Florida should pursue Bennett, however, is he checks almost every box in terms of fit. He's a high character coach in a grimy business, just like Billy Donovan and Mike White. But like Donovan, Bennett has won a national championship at a place most felt it wasn't likely to happen. Bennett's defense-first style might not be terribly attractive to Florida fans who miss Donovan's high-octane offenses, but the truth is Bennett's blocker-mover offense is very efficient — the Hoos just control tempo and play slowly because they defend so well it makes sense to limit possessions. Finally, he's used to working at a job where expectations are high but not insane, and he's used to recruiting at an elite academic institution, which is an added challenge at Florida.
So would Bennett come? I think he would certainly listen.
Bennett rules the roost in Charlottesville and gets most anything he wants from the athletic department, which prioritizes baseball and basketball over the football program. That wouldn't be the case at Florida, but Bennett would command the attention of recruits and the respect of the fan base, and given White left without any buyout, Florida has money to spend. The Gators' search may not end here, but it should start with this phone call.
Mike Young, Virginia Tech
Florida has a long-established Virginia Tech transfer pipeline that has featured All-SEC performers Dorian Finney-Smith and Kerry Blackshear Jr., among others. Why not pursue Hokies head coach Mike Young, fresh off winning Virginia Tech's first ACC Tournament championship? Young would also check two critical boxes that were lacking under White. First, he maximizes talent and develops both frontcourt players and backcourt players. Second, he runs one of the more innovative and effective offenses in the sport. Florida fans were spoiled by Donovan's masterful ball screen offense. They would fall quickly in love with the stuff Mike Young runs:
Let me tell you from the bottom of my heart, I LOVE Mike Young's offense at Virginia Tech. pic.twitter.com/jSEZWNtHmu

— Eric Fawcett (@Efawcett7) March 14, 2021
Would Young come?
This is trickier. Financially, Florida wouldn't need to break the bank. Just make him an offer it would be tough to refuse. But Young is building something at Virginia Tech, and he's also Virginia born and bred, having grown up near Blacksburg in Radford and having played his college ball at Emory and Henry. He may be reluctant to leave the Commonwealth, even if the Florida job is alluring.
Matt McMahon, Murray State
McMahon is the "hot" mid-major name in 2022, just as Nate Oats of Buffalo was in 2019.
The Racers finished the 2021-22 regular season with an astonishing 30-2 record and earned a No. 7 seed in the NCAA Tournament, where they will be a trendy pick to reach the second weekend.
McMahon has reached the NCAA Tournament 3 times in his 7 seasons at Murray State, and would have reached a 4th but for the COVID postponement in 2020. McMahon has won 4 Ohio Valley Conference regular-season titles, 3 Ohio Valley Conference Tournament titles, and been named the Ohio Valley Conference coach of the year twice.
McMahon's teams don't play fast — they average around 200th in tempo in his tenure — but they have been a top 50 KenPom Adjusted Offensive Efficiency offense 3 times in his tenure, including this season. The Racers score and McMahon always seems to have better talent than his opposition, which speaks to how well he evaluates talent at the mid-major level.
Florida might not want to go with another up-and-comer after the White hire, but if the Gators do go the mid-major coach route, McMahon is the one who would offer the loftiest ceiling while, at a minimum, keeping the high program floor set under White in place.
Jerome Tang, Baylor (Associate Head Coach)
Tang has been a trendy name the last few coaching carousels, but his stock is even higher this spring, as the Bears followed up their national championship campaign with another strong regular season and high NCAA Tournament seed.
Tang is the right-hand man of Baylor head coach Scott Drew, and has long been Drew's main talent evaluator and recruiter. Any credit given to Drew for building Baylor from the heap of ashes Drew inherited to the beast the Bears have become must be shared, at least in part, with Tang. He's never been a D1 head coach, but he has spent 19 years next to Drew in Waco and is more than ready for his moment. He won't get it at Baylor, where Drew is only 51 and unlikely to go anywhere.
If Florida fans are reticent about hiring an associate head coach from a nationally relevant program, they need only to look at the renaissance of Arizona basketball in Year 1 under Tommy Lloyd. Lloyd spent 20 years on the bench next to Mark Few at Gonzaga, helping Few build the Zags into a national power. When he finally left for his own gig, he landed a Florida-type gig at Arizona and is 31-3 with a 1 seed in Year 1.
Tang's success might not come that immediately, but it will come when he's a head coach. Why not in Gainesville?
Anthony Grant, Dayton
It was tempting to list Dana Altman of Oregon or Kelvin Sampson of Houston in this space. After all, both coaches have won at a high level at programs that aren't in Florida's tier from a national standpoint. But Sampson and Altman come with NCAA baggage, and Altman's is of especially recent vintage, with the Ducks named in the FBI inquiry into college basketball corruption. While both could get a look, they are unlikely to meet Florida and Stricklin's "championship experience with integrity" qualifications.
A coach who would, and one with ties to Florida's rise to national relevance, is Dayton's Anthony Grant.
Grant has extensive ties to Gainesville, where his children were born and he was an assistant on Florida's first national championship team in 2006. Grant, a Miami native, is known as an elite recruiter, but as a head coach, he's built a reputation as a coach with solid defenses who has won at every stop, suffering only 2 losing seasons in 14 seasons as a Division I head coach. Florida fans may balk at Grant, however, because in his one Power 6 coaching gig, at Alabama, he went just 117-85 (59%) over 6 seasons (2010-15) and reached only 1 NCAA Tournament. Would Grant fail again in a big-time Power 6 gig?
That question is fair, except that Grant has grown immensely as a head coach since the Alabama tenure. He spent 2 seasons on Billy Donovan's staff in the NBA with the Oklahoma City Thunder and incorporated a number of new, modern offensive wrinkles into his offense in the process. Grant's new offense has blended with his astute defensive mind to build Dayton into a perennial Atlantic 10 contender, and the Flyers were a prohibitive favorite to be a No. 1 seed in the 2020 NCAA Tournament before it was canceled by COVID.
Grant recruited Obi Toppin out of Florida to Dayton and helped him develop into the National Player of the Year and a lottery pick in 2020, and that, along with his Miami roots and NBA experience, would help him clean up in recruiting in Florida.
In other words, Grant would be a great fit. But his past at Alabama is a caution flag, and Florida might feel like it is settling if this is ultimately the hire.