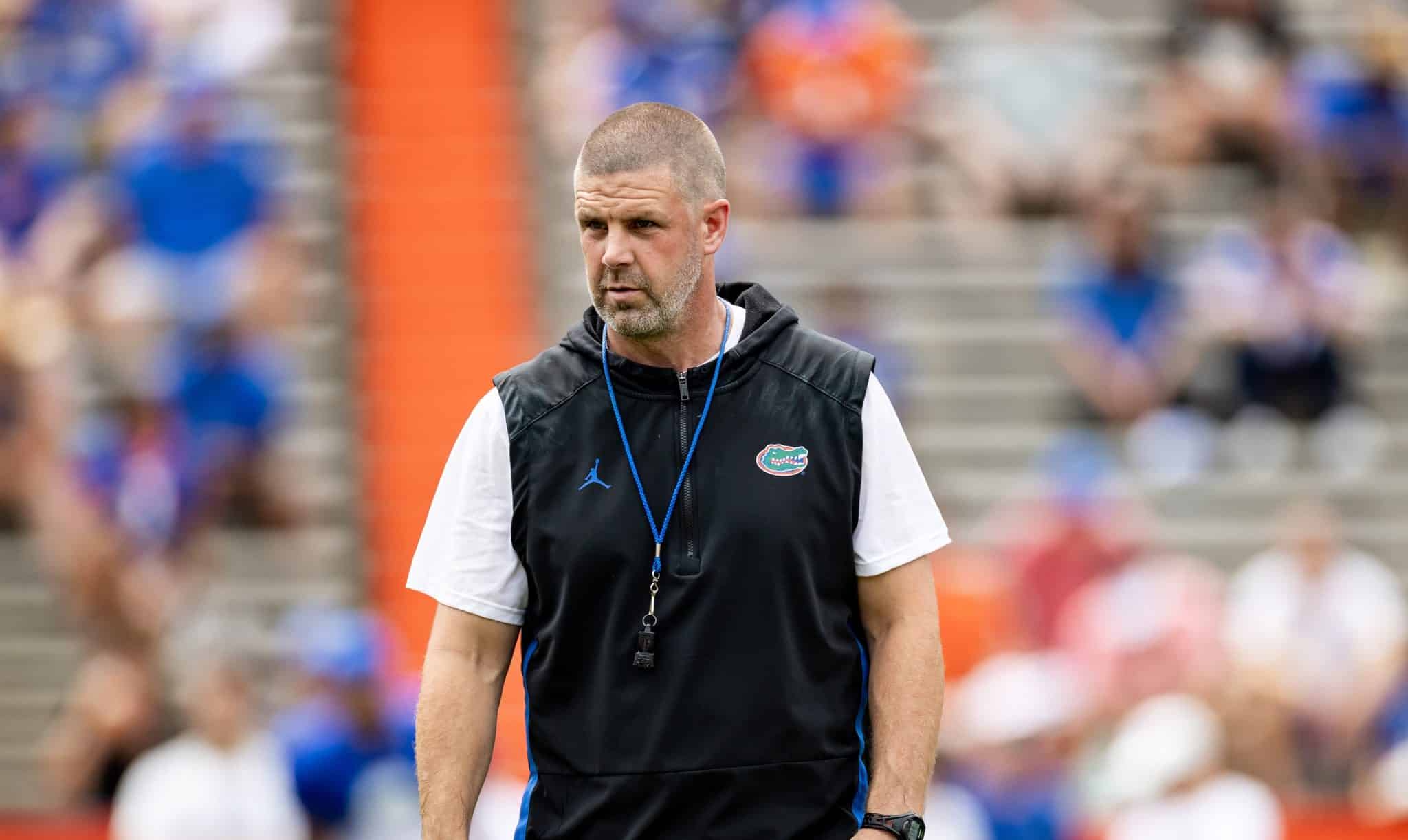 FLORIDA
Billy Napier needs a rivalry win, and Saturday night in The Swamp is his chance
Billy Napier comes from the foothills of northwestern Georgia, a place where the days move slow and patience is an expectation, not simply a virtue.
That's where Napier watched his dad, Bill Napier, methodically build a state power in tiny Chatsworth with three fundamental principles: meticulously make a plan, focus on the process of executing that plan, persist and persist, even in the face of adversity.
"If you do those three things, and you do it with class and without compromising your integrity, you're going to succeed more times than not. That's what Billy believes and it's definitely something he took from his Dad," Kirby Smart recalled when speaking about Florida's new head coach last October. "That belief and commitment is what has made him so successful so far."
Napier's commitment to patience and process made him an assistant coach Nick Saban called "invaluable" and a coach whose intellect and work ethic Smart praised. It made him successful at Louisiana, where he he inherited a mess of a program but turned it around to win consecutive Sun Belt championships.
What it hasn't done is earn him patience from the Florida fan base.
This is hardly a surprising development.
Florida is the SEC's second-winningest program (Alabama) since the league fully integrated in 1972. The Gators had 2 SEC titles vacated by the league in the 1980s, won 5 SEC championships in the 1990s under Steve Spurrier and seemed to compete for the national title annually. The next decade Florida won 2 national championships under Urban Meyer and nearly captured another before falling to Alabama in the SEC title game in 2009. That extended stretch of success created an environment where Gators fans felt as entitled to win as Floridians are entitled to sunshine. The little details, like Florida falling behind in the facilities arms race, being one of just a few SEC programs without a stand alone football building, and having a miniscule recruiting budget compared to fellow SEC behemoths Alabama, LSU and Georgia, didn't matter to Gators fans. This was Florida, and they were supposed to roll the ball out, pitch it around the lot, and win ball games.
The pressure cooker of the SEC isn't unique to Florida but history suggests it is especially pronounced in Gainesville, which has had only 1 coach — Meyer — make it to Year 5 since Spurrier left in after the 2001 season.
Napier took the job aware of all this, of course.
"You might hate me at first," he famously warned Gator nation at his introductory press conference, trying to hint at the time he felt it would take to restore Florida to national prominence.
What Napier didn't expect, I imagine, was that many Florida fans would turn on him early in Year 2.
That's what happened, however, when the Gators fell 24-11 at No. 14 Utah in their season-opener on August 31.
It wasn't that Florida lost to the back-to-back Pac-12 champions on the road.
It was the way Florida lost. Five red-zone possessions with only 1 score. Ill-timed penalties, including one where 2 players wore the same number on the field, gifting Utah a first down. A quarter of football where they gained 108 yards to Utah's 12 and were outscored 7-0 due to a disastrous turnover. Florida looked poorly coached and ill-prepared.
Perhaps Florida fans could stomach a long rebuild. After all, it has been 15 years since the Gators won the SEC championship, and only 4 of their teams since (2009, 2012, 2019, 2020) felt like they truly could have won the coveted conference crown. What they can't stomach, what they have dealt with too often in the past 15 years, is being embarrassed.
The list is truly long and includes: a Sugar Bowl flop against former defensive coordinator and favored son Charlie Strong's Louisville, a home loss to FCS Georgia Southern, a run of FSU dominance that coincided with their own futility, a 5-touchdown loss in the 2016 SEC Championship Game, a coach who made up death threats and was (falsely) accused of being intimate with a shark, allowing a 50-burger at home to Samford, and the rise of archrival Georgia to dynasty mode.
Through it all, one common thread has largely remained.
The Gators have beaten rival Tennessee.
Florida has won 16 of the past 18 against the Vols and hasn't lost at home to Tennessee since George W. Bush's first term as President.
Even woeful Florida teams have beaten the Vols in The Swamp, managing the feat in 3 of Florida's 4 losing seasons over the past 10 years (2013, 2017, and 2021, respectively).
Napier, though, has yet to win a rivalry game. He went 0-4 against Florida's 4 main rivals last year (Tennessee, LSU, Georgia and Florida State), becoming the first Florida coach since Charley Pell in 1979 to go winless in rivalry games during his first season in Gainesville.
Florida fans are tired of losing. They are even more tired of losing to rivals.
Part of this is generational, a chip-on-the-shoulder mentality that has surrounded Florida football since the Gators' early days in the SEC. Always viewed as "outsiders" in a league dominated by "Deep South" institutions, Florida has collected rivals like a young boy collects Avengers toys. The Gators are the lone SEC program with 4 annual rivalry games, and only SEC scheduling prevents Florida from playing a 5th rivalry game (Auburn) each season. Miami, another dormant Florida rival, also only occasionally pops up on Florida's scheduling radar.
Not long ago, before his passing, I walked through a hydrangea and rose garden with Napier's fellow Georgian, Vince Dooley, and asked the Georgia coaching legend what it was that made Florida so easy to dislike. Dooley, a humble man who taught Sunday School and rarely took himself too seriously, was uncharacteristically animated when I brought up the Gators.
"Nobody likes Florida," Dooly told me. "From the beginning, they just never seemed to fit in with the rest of our league. Is that fair? I don't know. I suppose maybe not. Maybe that's like judging who is new money in a church pew on Sunday morning. But it was easy to want to beat the Gators because everyone wants to beat them. Tennessee, Auburn, LSU. Georgia just wanted to more than others."
Florida fans are a prideful bunch and always seemed keenly aware of this level of neighborly disdain.
That's why these rivalry games, as many as them as they have collected, matter so much.
Saturday night in The Swamp, Napier needs to win one of those for the fans.
The impact on Florida's fan base would be immense.
A win would calm the stormy waters of doubt surrounding Napier's future and earn Napier trust and patience as he moves forward. It would suggest that on the field, things are slowly looking up, an encouraging thing given how well things are going off the field (Napier's 2024 recruiting class ranks 3rd nationally and Florida's facilities are now the best in the league after years of investment and construction).
The impact on this year's team would be massive, too.
It's easy to buy in, to believe in a process in summer camp and spring workouts.
It's harder when all the buy-in doesn't result in winning.
Doubt and despair creep in and slowing the tailspin is a tall order.
Tennessee will be a tall order, too. The Vols won 11 games last season — including a 38-33 streak-ender over the Gators. They are well-coached, and bring their best team to Gainesville since 2015, when Florida needed a 4th-quarter miracle to win. To win, Florida will need to play a clean, complete game, something they haven't done often, if at all, under Napier.
In the SEC, patience is a virtue rarely earned.
To gain a bit of it, Napier must win Saturday night in The Swamp.
Unfair or not, it will grow more difficult to trust the process if Florida and Napier fail.