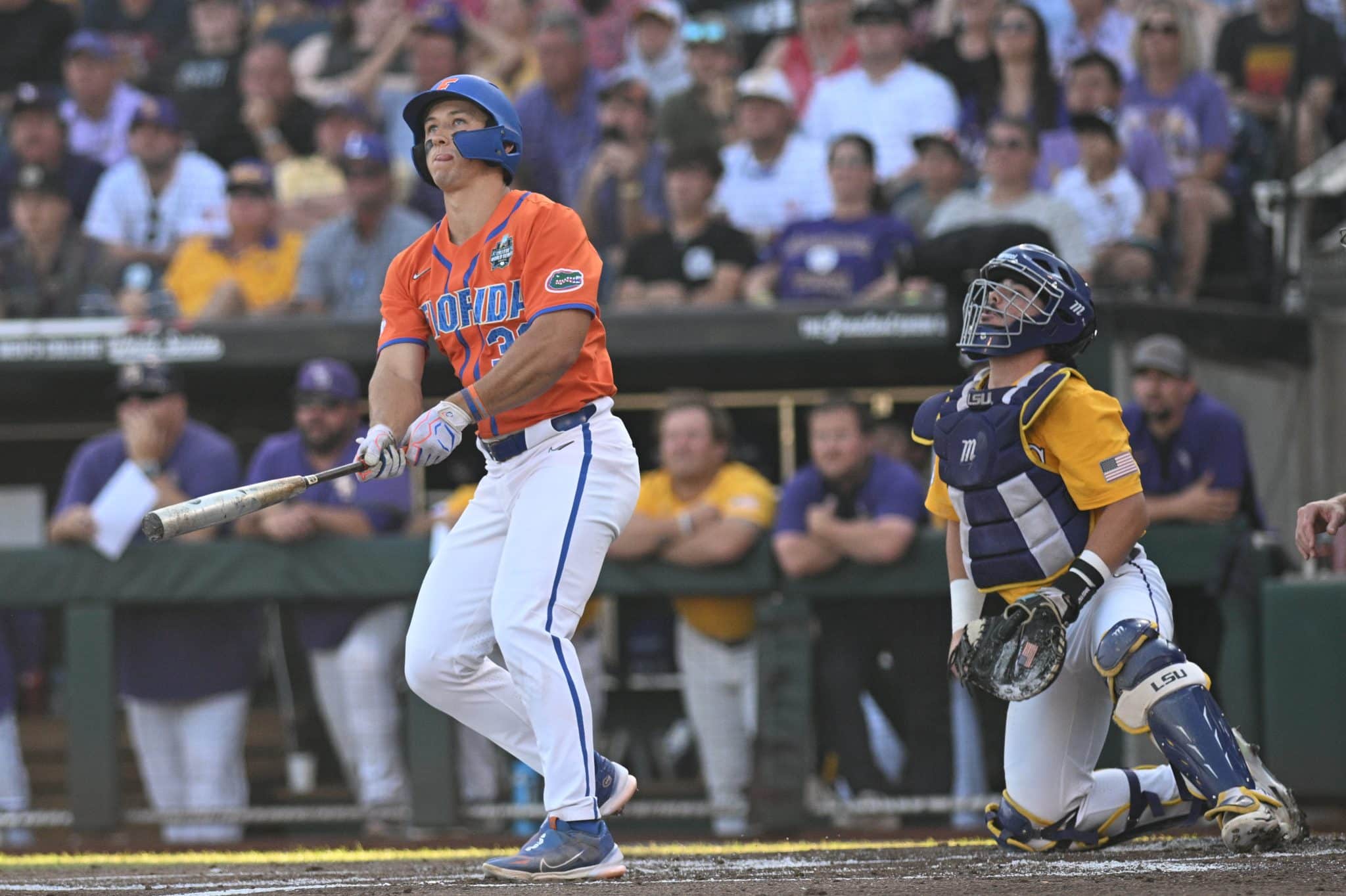 FLORIDA
Wyatt Langford, Florida's small town hero, is about to hit baseball's big time
Take a trip west on State Road 26 out of Gainesville, through the green rolling hills west of town and past swampy forests and cattle farms and open stretches of road where you feel like it is just you and the orange and blue sky, and eventually, you'll hit Gilchrist County and Trenton, a tiny town of 2,000 where everyone knows everyone.
Trenton especially knows Wyatt Langford, the son of a physical therapist and a former athlete who grew up there, became a star for the Trenton High baseball team and went on to become the first son of Trenton to receive a scholarship to play at the University of Florida. In his Trenton career, Langford hit .394 with 114 runs batted in and 13 home runs in 402 plate appearances. Those numbers are even more impressive given that the COVID-19 pandemic shut down Langford's 2020 senior season after 8 games.
More than the stats, though, it was the day-to-day work ethic and values embedded in Langford that his high school coach, Scott Hall, remembers.
"It's just the way he prepared himself, even when he first became a varsity player," Hall recalled shortly before Florida took the trip to Omaha for this year's College World Series.
"It wasn't just that Wyatt was early to practice or constantly there putting in hours in the cage or getting better defensively," Hall said. "It was the poise, the approach, and the way he treated other people the way he'd like to be treated. His level-headed nature, his intelligence about baseball and his interest in learning lessons about life, which helped him prepare better — that's what you get with Wyatt. It isn't just a hard worker. It's a young man who works with purpose and humility."
Those life skills are about to pay off in a big way, as Langford is expected to go among the top handful of picks in the MLB Draft, which begins Sunday evening (7 p.m. ET, ESPN). He and 2 standouts from national champ LSU are widely considered this year's top 3 prospects.
Purpose and humility go a long away in a place like Gilchrist County, one of Florida's smallest counties from a population standpoint but a place critical to the heart of Florida's agricultural and farming industry. Gilchrist County is a place where folks wake up early and seize the day, and Langford, a self-proclaimed early riser who is as comfortable on a hunting stand at 6 a.m. as he is in the batting cage, has embraced the humble, "keep your head down and work hard" ethos of his community.
Watch Langford play, and there's no flash or swag to his game. He typically eschews batting gloves, going full George Brett in stepping to the plate with just his bare hands and a bat. Langford doesn't wear any of the other trendy things you see these days, either. There's no bright yellow arm guard, no shin protector, and no bling. Langford just lets his big bat, which earned him the nickname "Trenton Thunder," do the talking. Langford's game-tying, no-doubt laser to tie Florida's CWS opener with Virginia was about as emotional or "showy" as you'll ever see Langford on a baseball field. Anything grander is just not his style.
"I've always been taught to respect my opponents or it's disrespectful of the game. Baseball is fun. I don't need to do anything but play to enjoy it," Langford said in Omaha.
Wyatt Langford just hit a 456 foot home run that is headed to Gainesville to tie it up for Florida in the 9th against Virginia.

"Should've had a stewardess"
-Crash Davis

That call by @MikeMonaco_ ?

"This is hammered! Left field & we are tied!" ?pic.twitter.com/SaZDhAt9Hk

— Jack Benjamin (@JackBenjaminPxP) June 17, 2023
Those characteristics are what made his meteoric rise from a backup player as a freshman to All-American as a junior at Florida possible. It's also what made the journey so gratifying.
"I've always played as hard as I can," Langford recalled before the CWS Finals against LSU, which the Tigers won in 3 games. "I've always just focused on what I can control, which is me, and let my hard work translate into my game. That's how I was raised. And it's been so special to share that with my community back home in Trenton. It's meant so much to have such a special career just a short trip from home."
The journey from small-town hero to SEC legend is just the beginning for Langford, though.
This weekend, he may make a little more history. He could become the first Florida Gator to be selected No. 1 overall in the Major League Baseball amateur draft.
If that happens, Langford could usurp country music crooner Easton Corbin, who has a No. 1 song to his name and has graced the stage at the Grand Ol' Opry, as Trenton's most famous son.
"It won't change who he is one bit, either," teammate BT Riopelle reflected last month when asked about the possibility of Langford being picked 1st overall. "He'll still just be the hardest working, most approachable guy in the locker room."
Langford has currently moved to the No. 1 pick on both ESPN and The Athletic's mock drafts, largely because many scouts believe his upside is higher than LSU Golden Spikes Award winner Dylan Crews, and also because the Pirates, who have the 1st pick, are believed to value an everyday player like Langford over LSU's second-coming-of-Strasburg pitcher Paul Skenes. There's also a belief that Langford may sign for "slot" value, while Crews will command an all-timer of a first-year contract, but that will play itself out regardless of where the 2 incredible players are drafted.
Wherever Langford is taken, a team will get a 5-tool player who will arrive in the big leagues quickly and has the capacity to be a future All-Star.
"He's the closest thing we've seen to Mike Trout at the college level," Vanderbilt coach Tim Corbin told SDS. "The strength, the build, the bat speed and how hard he hits the ball, the intelligence. He has all of it."
What he doesn't have, at least yet, is a genuine position. A catcher in high school (because "we needed a catcher," according to Hall), Langford has been a corner outfielder and, this season, a center fielder. The instincts, arm, speed and work ethic to stick in center are there, but the repetitions aren't just yet. If Pittsburgh, Washington or Detroit take Langford, chances are they'll give him the opportunity to figure out how to play center consistently in the minor leagues. But even if he's "just" a corner outfielder in the big leagues, Langford's other tools, including his rocket arm, will make him a player with an All-Star and beyond ceiling.
He won't get out-worked. It wouldn't be a reflection on who he is, or where he came from, if that happened.
"I'm going to miss having all the people I'm close with coming to see me play, that's for sure," Langford said in Omaha, before adding, "but I'll make them proud, too."
Langford already has made Trenton proud.
It's just that the best is yet to come.